'Silent Walks': The Daily Routine Boosting Mental Health Through Listening To Yourself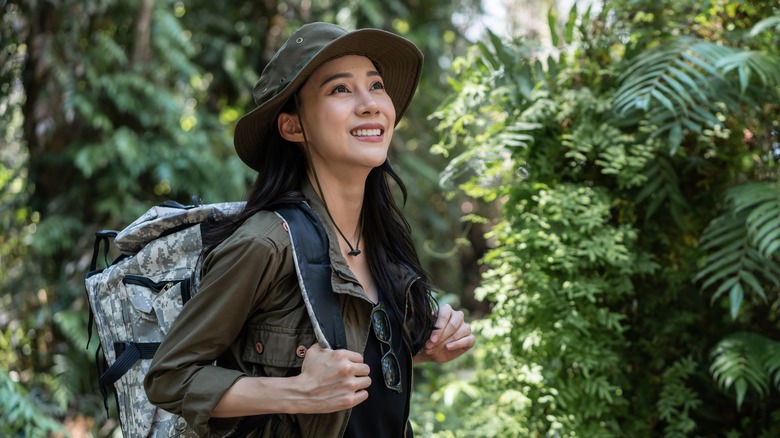 Hananeko_Studio/Shutterstock
By now, we all know the physical benefits of incorporating more walking into our daily routine. After a few years in lockdown due the COVID-19 global pandemic, where we all had to work from home, we might have gotten used to the sedentary lifestyle, but as the world opens up, we need to get back outdoors and pounding the pavement. And in this post-pandemic world, there are a lot of different, fun, wacky, and addictive ways to hit your 10,000 steps a day target. There's the hot girl walk, there's the weird walk, there's even a Kendall Roy stomp (you read that right. "Succession" forever!). 
Now enter the latest walking trend that is taking over TikTok: silent walks. TikTok influencer Mady Maio posted a two-minute video to the platform, explaining how silent walks are the mental health boost you've been looking for. In the vid, which has been liked more than 46,000 times, she advises that her 30-minute daily walks are unencumbered by distractions. That's right, no iPods, no phones, no music, nothing. She says that walking in this manner has boosted her mental health. Here's why she swears by it, and how you can get started.
No distractions allows you to hear the whispers
Saying silent walking will "change your life," TikTok influencer Mady Maio explains in her video that when you ditch the Air Pods and the distractions, it may feel like "mayhem" for the first two minutes, but then suddenly, "your brain just gets into this flow state where everything is quiet." She feels that "the universe and your intuition comes to you through whispers" and when you walk silently, you can hear them. "After 30 minutes of silent walking, I suddenly had the clarity I had been looking for — brain fog lifted!" She went on to say she experienced more ideas and cosmic signs because she gave them a music/podcast-free space to let them enter. She recommends starting with just five minutes of no-distraction silent walking.
It turns out, the silent walk isn't a new concept, we've been aware of it for centuries. Dating from 16th and 17th century France, the act of "flânerie" has been very much the same thing and with the same goal. Flaneur Life describes that flânerie involves walking aimlessly without a goal destination because the ultimate objective is to truly experience the environment around you, be mindful, observant, boost creativity, increase your happiness, and sense of calm. "Flâneurs," or people who engaged in flânerie, are those who take in "all the physical manifestations (sounds, sights, smells) of everything around him." And you definitely can't do that with Air Pods!
Join a community of silent walkers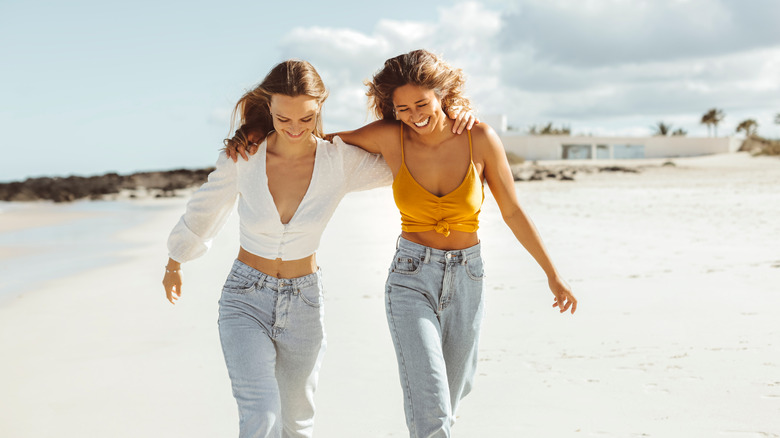 Merla/Shutterstock
Silent walking has also been associated with the practices of mindful meditation. Danny and Katherine Dreyer, authors of "Chi Running, Chi Walking and Chi Marathon" wrote for HuffPost, "A walking meditation practice allows a quiet, focused mind to become an integral part of your life, whether you are walking through your office halls, walking in your neighborhood after dinner, or walking for fitness."
And if you feel like you can't get started on your own, there are community organizations that will facilitate a silent walk for you with other likeminded walkers. The Guardian reported on the British Pilgrimage Trust which offers one-day silent walks in Britain for anyone looking for mindfulness. Author Phoebe Smith wrote, "Their reasons for taking part ranged from thinking of loved ones who had recently died or were seriously ill, to coming to terms with a health diagnosis and trying to make peace with a religion that had scorned them for their sexuality. Then there were those who, like me, were in no way religious and simply wanted some peace in the outdoors."
There are also silent walks offered for those wishing to commemorate fallen soldiers. Veterans in Tillsonburg, Ontario in Canada organized a silent walk for those wishing to pay homage to soldiers who made the ultimate sacrifice for the country in the both World Wars, per Norfolk & Tillsonburg News. The outlet reports that it began in 2005 and has been an annual tradition ever since.