The Most Popular Nail Polish Color Worldwide Is A Moody Classic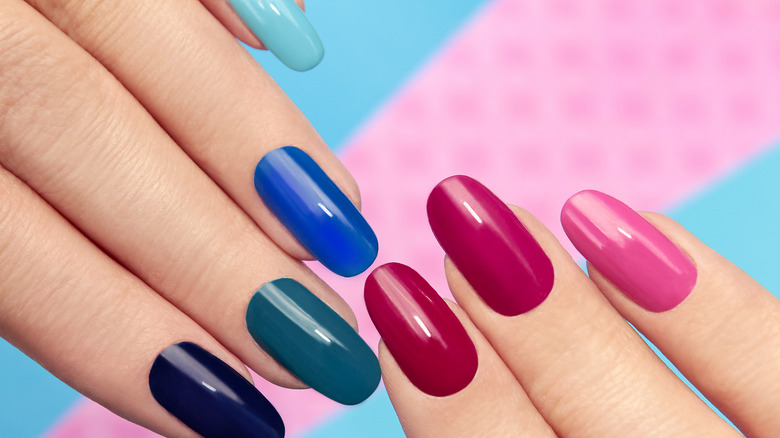 marigo20/Shutterstock
Nail polish fads are constantly changing, and with social media keeping trend cycles revolving at breakneck speeds, it's hard to know how people are actually wearing their nails. You can track microtrend colors such as Barbie pink or slime green, but to determine which nail polish shades are holding our attention for the long run, you'll need to take a deeper dive into the world of nail design. Luckily, the artificial intelligence beauty company Perfect Corp. has already gathered and analyzed the data for us. A report based on data from the virtual try-on app YouCam Nails reveals the most popular nail polish colors on a global scale, and the top nail polish color might not be what you'd expect.
The most popular nail polish color worldwide is ... black. Per the report from Perfect Corp, the public's preference for neutrals has gone in a decidedly moodier direction, with black being tried out on the global app more than any other nail polish color.
Black nail polish and the neutral nail trend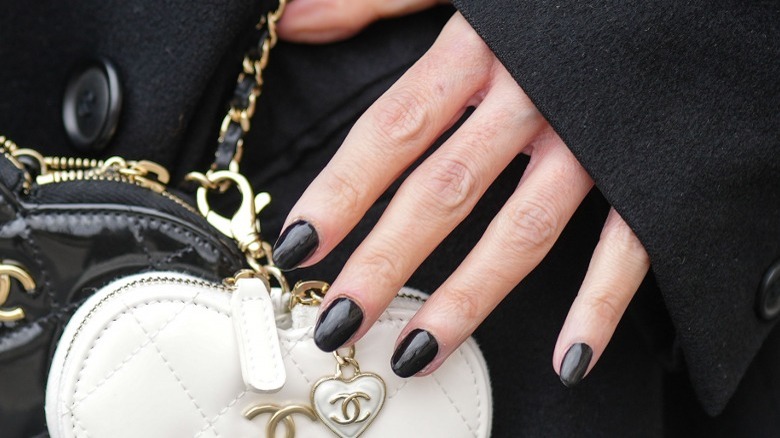 Edward Berthelot/Getty
With all the colors of the rainbow to choose from, beauty fans have a significant interest in black nail polish. While once associated primarily with punk and emo styles, black nail polish is now considered a standard neutral shade that can look good on just about anyone. Black can give you a sleek, clean finish, and you rarely have to worry about dirt or stains, making it an excellent, everyday, neutral nail polish shade. For those who feel that black is still too heavy as a neutral, you're not alone — the Perfect Corp. report indicates that light neutral shades are extremely popular as well.
The love for neutral shades should be no surprise for anyone following overarching trend patterns: From designer collections to consumer habits, elevated simplicity is definitely having a moment. Flashy purses are being swapped out for quiet luxury handbags, neutrals are the "it" colors of the summer, and "linen blond" is the understated light hair shade du jour. It was only a matter of time before the trend reached our nails, too. With such a classic, sophisticated look, black nails can work for any aesthetic, making the dark, moody neutral the perfect staple color for a minimalist nail polish collection.
How to style black nail polish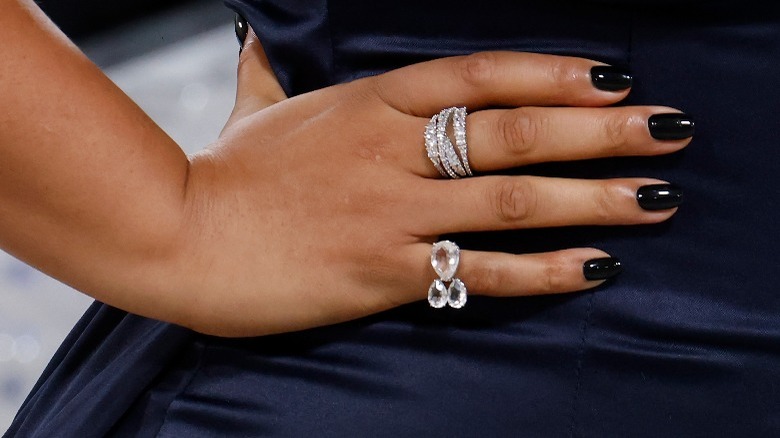 Taylor Hill/Getty
If you're ready to join the masses in wearing black nail polish, you'll have plenty of style options. There are many chic ways to wear black nail polish, whether you prefer an edgier vibe or something clean and simple. For an easy, everyday look, try out a shiny black polish on short or mid-length nails. If you want to mix it up, you can also experiment with a matte finish on black polish. Give black nail polish a fancier feel with metallic and chrome variations on the shade. Or, for a creative monochrome aesthetic, wear clear polish with black accent details.
Black nail polish goes well with most other colors, so styling the rest of your ensemble should be a breeze. Just be wary of neon colors that might make the black polish feel less sophisticated. Bright tones can work with black nail polish, but you'll need to make the outfit feel balanced and intentional. The only other trouble colors for black nail polish are the other dark neutrals. Deep navy blues and chocolate browns can potentially clash with black nails. When pairing different neutrals, try matching the undertones — if your nail polish is a cool black, look for an equally cool neutral shade for your clothes.
The popularity of black nail polish is certainly a departure from more traditional neutral shades, but the widespread embrace of the moody, classic color is an exciting shift into a more original take on timeless minimalism.