Should You Shave Before Or After You Fake Tan?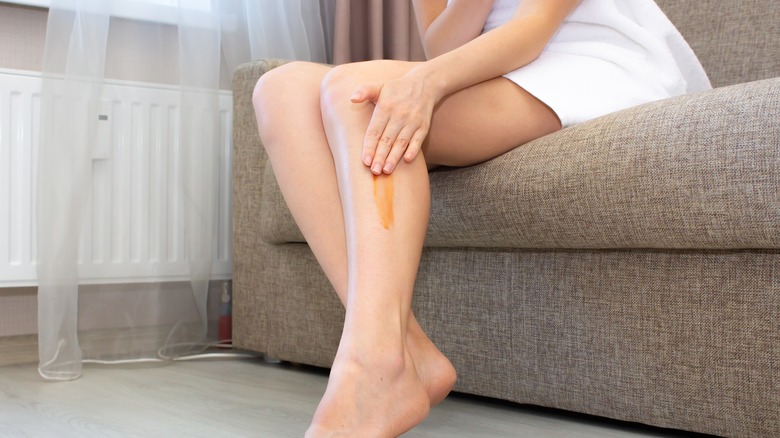 TatianaBor/Shutterstock
If you struggle to tan naturally or if you are simply trying to avoid the harsh effects of the sun's rays, a fake tan is probably where you will turn for your summer glow. That said, there is a thin line between a great fake tan and an awful orange tint featuring tiger stripes — which is why it's important to execute all of the steps in the tanning process perfectly. The goal is to get a "natural" glow that looks like the real thing. Though there are hundreds of fake tan products on the market, no matter the formula you choose, you must ensure you follow some basic rules to avoid the ultimate fake tan failure.
One of the most commonly asked questions by those who are inexperienced with fake tanner has to do with hair removal, and whether they should shave before or after tanning. Most professionals say that shaving before a fake tan is the way to go. Jimmy Coco, who has served as the tan artist of Kim Kardashian and Cardi B,  revealed to Cosmopolitan that you should "plan to do a shave or wax the day before you apply your tan."
Why shaving can make or break your fake tan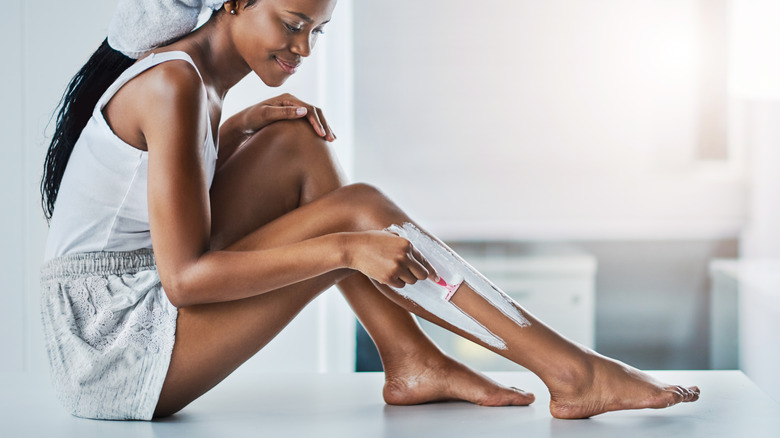 Delmaine Donson/Getty Images
You should ideally shave before applying tanner, as shaving leads to the exfoliation of the skin as well as the removal of hair, per Artesian Tan. Jimmy Coco notes to Cosmopolitan that exfoliating before you tan is important, but doing so after can cause your tan to fade or become patchy, as you will literally be removing flakes of skin that are holding pigment from the tanning product. If you do have to shave while wearing a fake tan, wait at least eight hours after your tan has dried and avoid applying too much pressure; this can cause the razor to peel off patches of your tan. 
Shaving before fake tanning is essential when preparing for a spray tan or a self-tan, but like with most beauty processes, timing is everything. The tan experts at St. Tropez remind us that it should be done at least 24 hours before applying fake tanner, as hair removal can open the pores that self-tanner can easily fill. This can create speckled spots across your legs rather than an even tan.
Tips to get the best fake tan of your life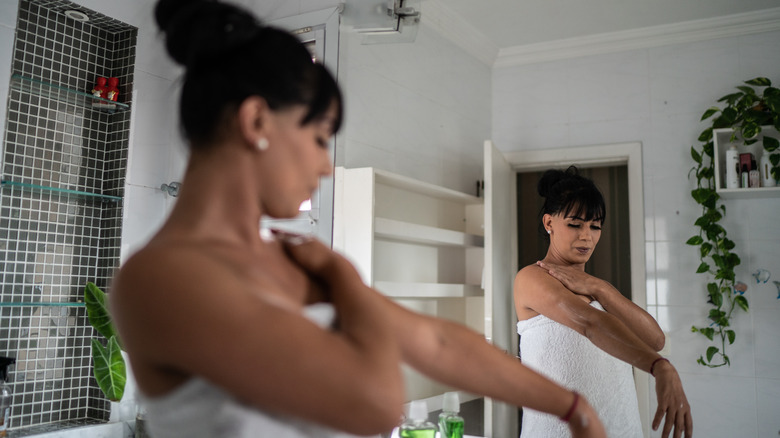 Fg Trade/Getty Images
It is extremely easy for a fake tan to go from hot to horrid when you do not follow specific instructions. It's vital that you remove any lingering traces of deodorant or perfume prior to tanning, as this can prevent the product from sticking to your skin. You should generally wash the skin of all products, although it is okay to apply moisturizer to particularly dry areas where the tan may be dark and patchy. Some of the best areas to hydrate before your tan to give you the perfect bronze shade include the elbows, knees, and ankles, per Bondi Sands.
It's also important to apply self-tanner onto dry skin only, as many people make the mistake of applying self-tanner onto wet skin straight out of the shower. "Your skin has to be completely dry," St. Tropez brand ambassador Sophie Evans told Allure. "Water left on the skin will cause a big problem as water will erase and dilute the tan resulting into dreaded streaks and patches."