Summer's Hottest Contour Hack Comes From Rare Beauty Founder Selena Gomez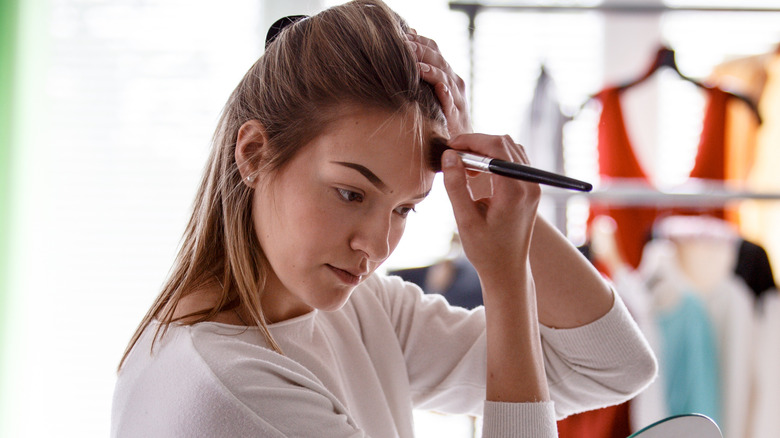 Fotostorm/Getty Images
Selena Gomez is more than just an actor and singer — she's a beauty icon. More specifically, she's a contour queen. Have you seen how she blends her bronzer upward for a perfectly lifted look? Or the viral video where she expertly defines her face using carefully placed dots of makeup? And somehow, the effect is always soft and natural.
It's no wonder she launched a bronzer stick that doubles as contour in the product lineup of her cosmetics brand Rare Beauty. The businesswoman and "Only Murders in the Building" star has featured the stick in multiple online tutorials so we can all look just as flawlessly snatched as she does.
In a video posted on the Rare Beauty Instagram account just in time for summer, Gomez wows us once again with another easy-to-copy contour hack, only this time, she puts all the focus on the eyes — and it might become your new go-to way to achieve a sculpted, sun-kissed glow.
Selena Gomez's contour technique is like a natural facelift
The ponytail facelift may be the surgical way to elevate the forehead and eye area, but Selena Gomez's contour technique offers a similar illusion without the scars. In the Rare Beauty clip, the brand's founder uses her bronzer stick to pinpoint exactly where she wants more definition. She starts by slightly puckering her lips while lining the cheeks, as many often do when applying contour, but it's her placement around the eyes that had us doing a double take.
Starting at the corners of her eyes, Gomez draws a line of bronzer outward toward the temples before adding a few additional dabs of the product along the hairline. Using a makeup brush, she then buffs the bronze shade out. The result: eyes that nearly reach the sky and just enough angles elsewhere, without harsh lines or exaggerated shadows. The hack might be the secret behind Gomez's super-snatched look as of late, and it's quick and easy enough that even contour newbies can give it a try.
What products to use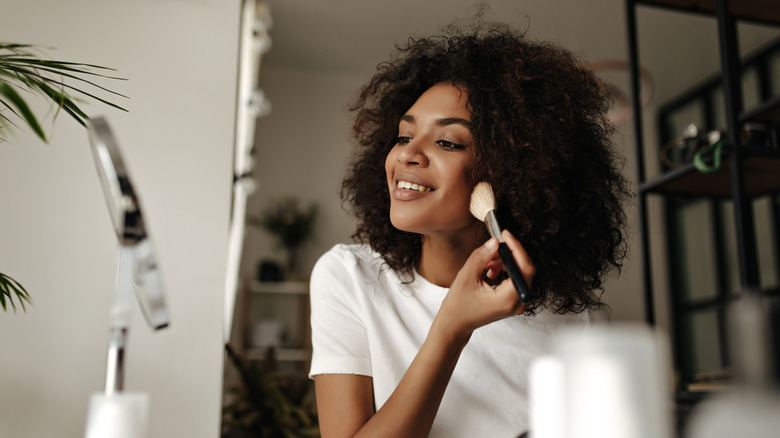 Look Studio/Shutterstock
Selena Gomez's typical makeup routine includes all the usual steps: foundation, concealer, blush, and the like. But the real star of her contour hack is her bronzer stick. Unsurprisingly, Gomez relies on her Rare Beauty Warm Wishes Effortless Bronzer Stick, and for her skin tone, she uses the shade Happy Sol, a cool, light brown color.
The actor has spoken highly of the product before, though she admits finding the right shade can require trial and error. "It's just one of those [products] that you kind of have to play with, but it's really fun, and it's so easy to apply, it melts [in]," she once told reporters (via Elle). "It's not like sticky or hard. It just feels so easy."
So how can you know what your contour shade should be? Like Gomez in her viral videos, go for a shade that mimics the shadows of your face without deviating too far from your natural tone. "Think the same tone family as your foundation, but one to two shades darker than your skin; that's about as dark as you should go," NYC makeup artist Caroline Baribeau shared with Byrdie. If you don't opt for Gomez's Rare Beauty fave, consider grabbing a bronzer from another brand instead, rather than a product labeled only as a contour. The warmth from bronzer will offer a summery faux tan that will have everyone believing you just got back from an island vacay.