Subtle 4th Of July Nail Ideas That Are Festive Without Screaming Patriotic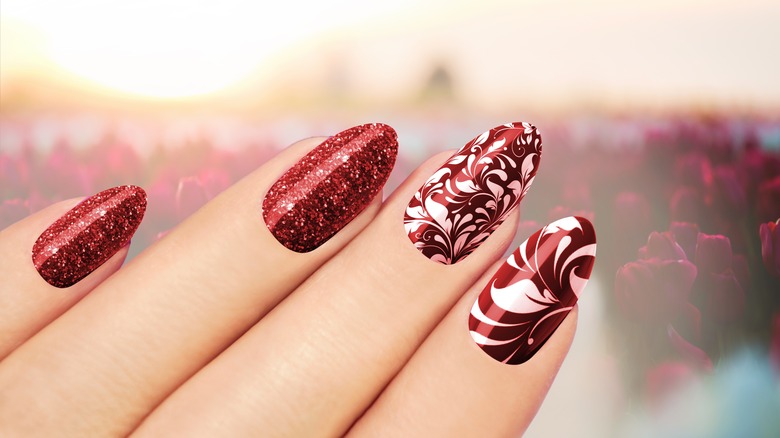 Harsa Maduranga/Shutterstock
Holidays are a wonderful excuse to break out the nail polish remover and invest in a new manicure. Whether you have a salon of choice or prefer to DIY it, there's nothing like a fresh set of nails to get you in the celebrating mood — whether you opt for the gorgeous gel manicure trend that's going to be your holiday go-to or choose another festive design.
As a summer holiday, the Fourth of July is the manicure event of the year. The set or look you choose for peak summer season will be present at every picnic, barbecue, and boat day. You'll want to pick a versatile style you can feel confident rocking far beyond Independence Day. After all, achieving the perfect design isn't often cheap, and, depending on your stance on the holiday, you might not feel overly excited to don the stars and stripes. 
No matter your summer vibe, you can create a look that is red, white, and on-brand. Grab your polishes or book an appointment. Your July mood board starts here. 
Sparkles and stars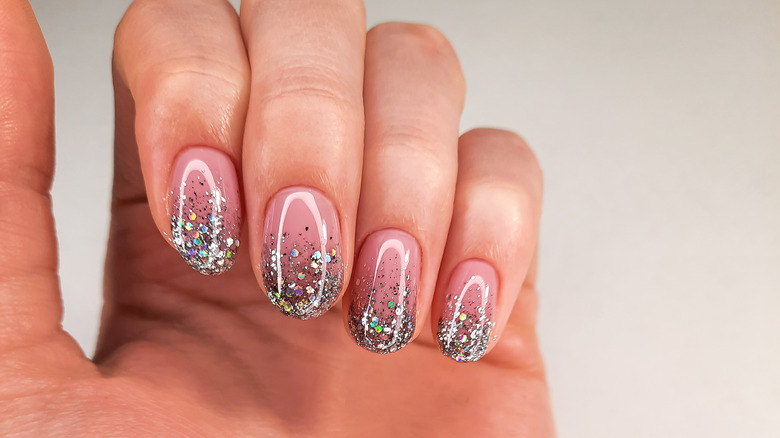 Olejohny/Getty Images
Silver sparkles and stars are certainly on brand for the Fourth of July, but they also scream summertime. This glittery nail look can easily represent the shining summer sun or the sparkling water at your favorite beach. Best of all, you can recreate this look with items you have on hand — just layer your favorite colored or silver glitter over an existing design and go shine!
Gingham and summer patterns
If you want an over-the-top look (but don't want to print the flag on each nail), there are plenty of other iconic summer patterns to draw from. Gingham looks — which are sure to motivate unforgettable summer picnics — can easily incorporate "American" colors without becoming irrelevant on July 5. 
Geometric reds and blues
Yuliya Ufimtseva/Shutterstock
Use your favorite shades of red, white, and/or blue — or just two of the three — to create simple geometric designs. With stripes and color-blocking, you can create intriguing looks that pay homage to stars and stripes. Mix and match different colors, or commit to one section of the rainbow to create a cohesive look. Best of all, if you choose to embrace blue, you'll instantly have nails ready to match the beachy waves. 
Patriotic pastel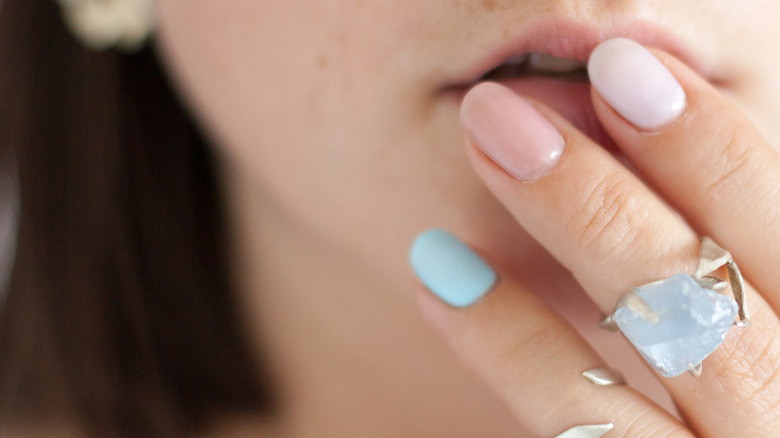 Mariana Pryimachuk/Getty Images
Commitment to the dark red and navy blue of the flag can limit your nails to Fourth of July vibes. By softening the tones of red, white, and blue, you can create a pastel (yet patriotic) look that stays relevant all summer long. The lighter colors naturally create a more sunshine-y feel that will be perfectly on-theme for the family barbecue and the girls' boat trip. 
Firework pops of color
During Fourth of July season, any pop of color can instantly give firework vibes. Whether you introduce this festive flair through a party nail or flashes of your favorite shades, these firework nails are sure to steal the show. Best of all, fireworks come in all different colors, so you don't have to ditch your personal aesthetic for the red, white, and blue. Go bright — fireworks are the perfect medium for embracing summer's dopamine nail trend! 
Micro-Frenching the flag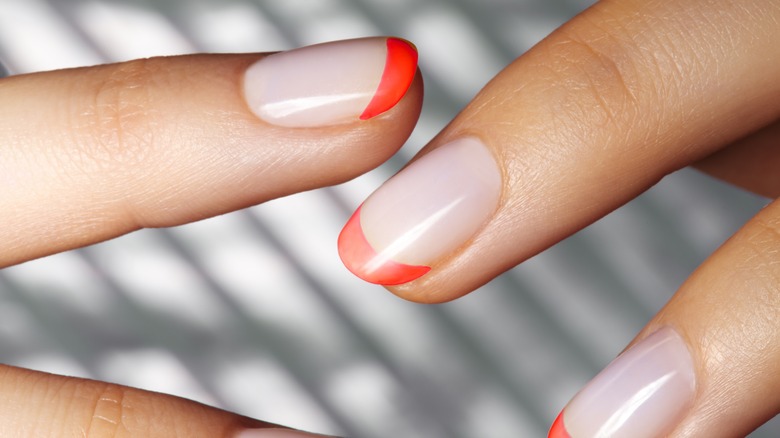 marinafrost/Shutterstock
A French tip manicure is a classic (and classy) nail look that incorporates one of the flags' signature colors: white! To switch things up or get a more unique style, however, you can incorporate other shades of Old Glory. A micro-French of a red- or blue-tipped nail shows an intentional commitment to festive fun. While this style is good all-year long, it can easily be reset by clipping the tip of a grown-out nail. 
Gemstone additions
Nothing screams "freedom" like gluing tiny jewels to yourself. The Fourth of July is all the excuse you need to bedazzle your existing style or go for a whole new shiny look. While you can lean into the classic red, white, and blue with your stones, you can also incorporate any colors you have on hand. The shiny additions can represent plenty of summer staples, from fireworks to parade candy or even sea glass!