The 2024 Resort Collections Are Proving More Really Is More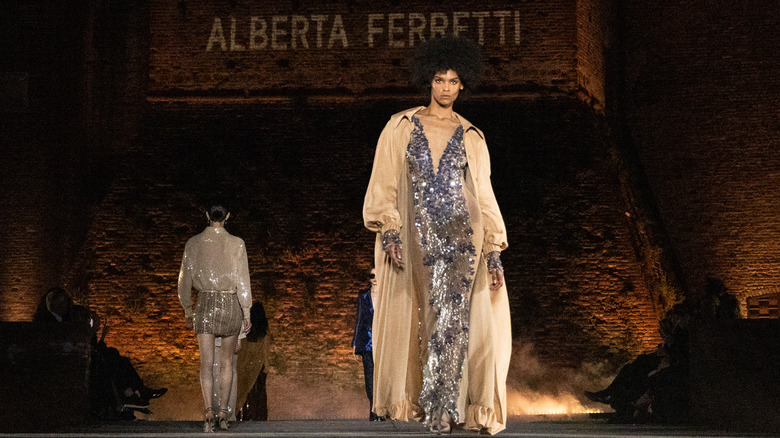 Pietro D'aprano/Getty Images
Twice a year, the major industry fashion houses grace us with their new spring/summer and fall/winter collections at Fashion Week shows in fashionable cities around the world. Certain brands also present haute couture shows, which showcase their incredible creativity and one-of-a-kind pieces you won't find anywhere else. Outside of these timeframes, fashion brands are behind the scenes working on their next collections. 
Lately, however, more brands have opted for an additional resort or cruise collection. While these resort collections originated as a way to provide wealthy fashionistas with an entire new collection of clothing in time for their lavish vacations, today, though, the timing of these collections is due more to the rise of fast fashion, which has changed the industry. Since most designer fashion houses are only showcased twice a year, they can miss key fashion trends and cycles. Cruise and resort collections help fill the gaps during this in-between season which holds ground until the spring/summer collections hit the runways each fall.
The 2023 resort shows are nothing less than whimsical and appropriate for fans of dopamine dressing, the latest street-style trend. Instead of a minimalist, serious vibe, these resort collections turn the saying "less is more" on its head. Many of these trends are continuations of previous bold and fun trends but with even more iconic twists. Cruise shows remind us that neutrals and simplicity just have to take a backseat for at least another season.
Shiny pieces
Pietro S. D/Getty Images
Sequins, shimmer, or reflective clothing — it doesn't matter when it comes to this trend. Shiny pieces are the must-have trend for resort collections because they offer a bold way of making a fashion statement. Resort collections usually hit close to the summertime, when our closets are ready for something innovative and creative. Shiny and reflective pieces are the perfect way to utilize the sun's power to create a fashion statement. Any maximalist fashion lover will adore adding a bit of sparkle and shine to their look thanks to these resort collections.
Over-the-top silhouettes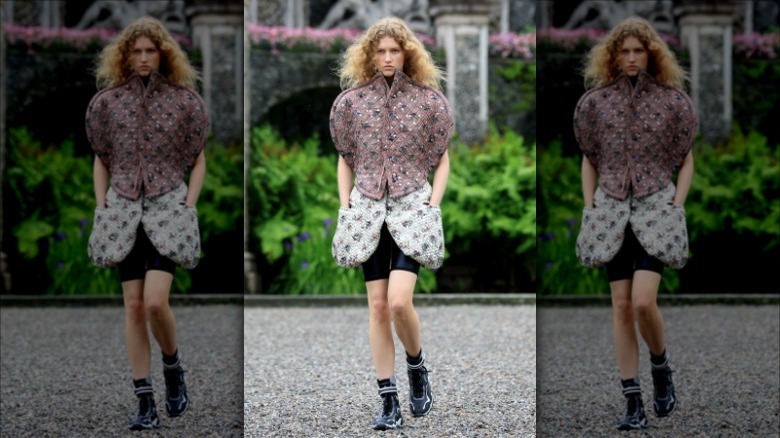 Giuseppe Cottini/Getty Images
We all know the basic design shapes such as A-line and fit-and-flare. However, this year's resort collections blow these out of the water. Long gone are the days of wearing typical shapes and designs, since the 2024 collections are all about grandiose and unique shapes. From circular shapes to abstract silhouettes, these designs have no limits. If there is anything to grasp from the 2024 resort collections, it's that there are truly no rules governing what you can wear.
Mix-and-match prints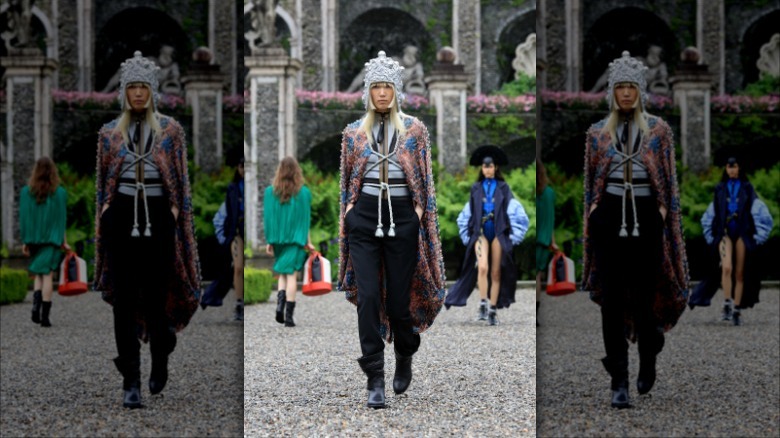 Giuseppe Cottini/Getty Images
If you're familiar with any fashion "rules," you've likely heard about not mixing prints. While recent trends have completely shut down most rules, this is something many tend to stick to. However, the resort collections are all about embracing and wearing more. Try mixing and matching prints, from horizontal stripes to vertical stripes, for something out of this world, or combine already-trending floral prints and graphic prints for something wild and unique. Either way, you can't go wrong with mixing your prints for high-fashion looks that stay true to your style.
Voluminous shapes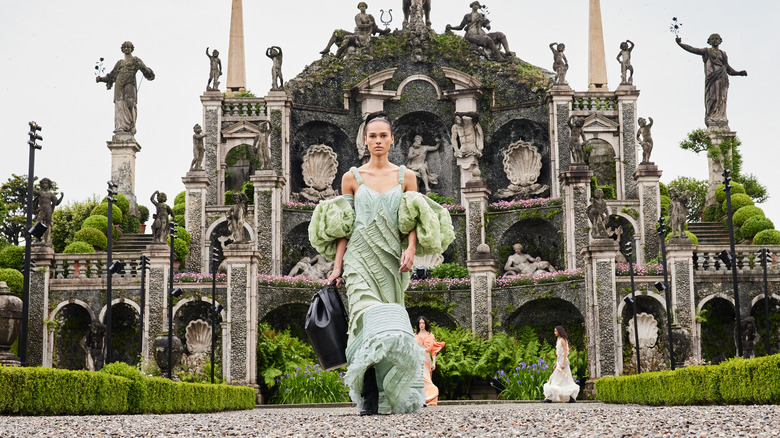 Pietro D'aprano/Getty Images
Not only are the overall clothing designs changing shape, but they're also getting bigger. Volume is back, and slim fits are out. From puffy sleeves to full skirts, you can inject some extra volume in plenty of places. Dramatic, voluminous details give you another bold and whimsical trend to work with. Whether going for statement details or for a head-to-toe grand look, you can't go wrong with some extra layers that extend your look outwards.
Overwhelming textures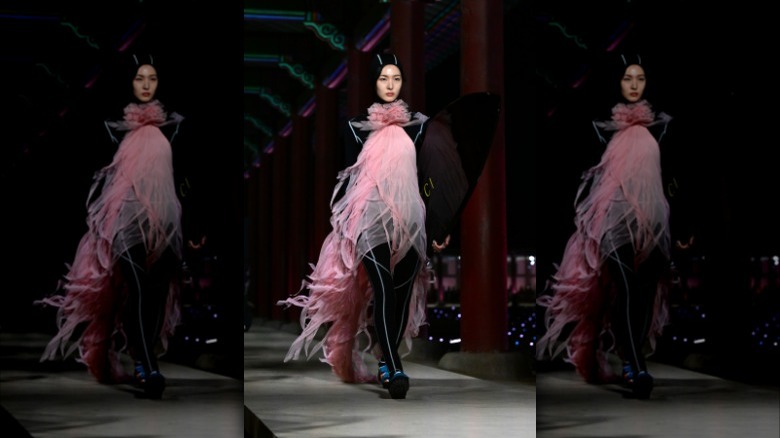 Atsushi Tomura/Getty Images
If more is the trend for resort collections, you can't go wrong with adding some fun textures. Ruffles and draping add layers that give more dimension. The trick to adding texture is to combine different textures in one look. Not only will these add more dimension and volume, but they also will give your outfits a more high-fashion vibe. There are plenty of ways to add texture, no matter the occasion — textured, whimsy handbags are a great place to start. Try adding softer textures, including ruffles, linen, and embroidered details, for a more subtle look.
Head-to-toe prints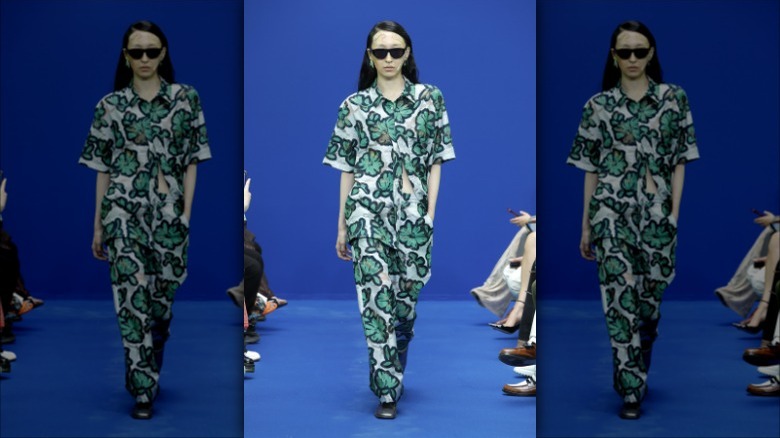 Estrop/Getty Images
Prints are always welcome no matter your style, but this year's resort collections involve more than one printed piece. Head-to-toe prints are a more exciting and fun way of rocking prints than just sticking with one. While you could mix your prints, matching sets make it an easy way to invoke this trend without the styling effort. Head-to-toe prints are not uncommon but can certainly turn heads in a way that's mostly seen on the runway.
Dripping in metallics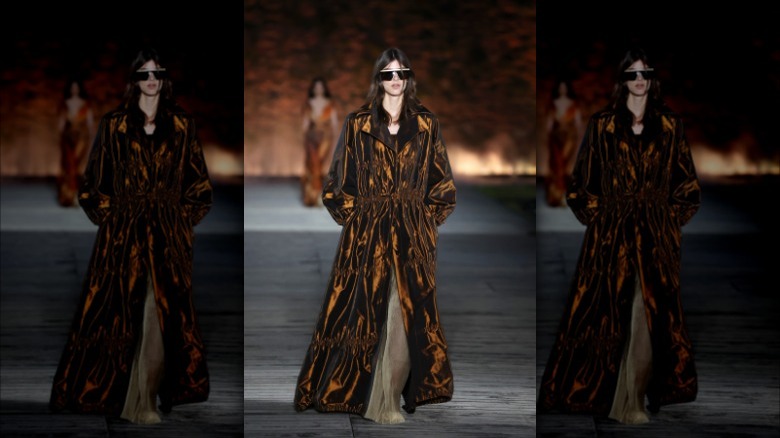 Pietro S. D/Getty Images
Metallics are no stranger to the trends, but they have definitely seen a remix in this most recent season. The resort collections show there are plenty more possibilities for metallics than we probably knew. From interweaved metallics to shades we haven't seen, these resort collections give us a new way to rock fabrics that will have everyone holding on to theirs for the next few seasons to come.
Ultimate sheer pieces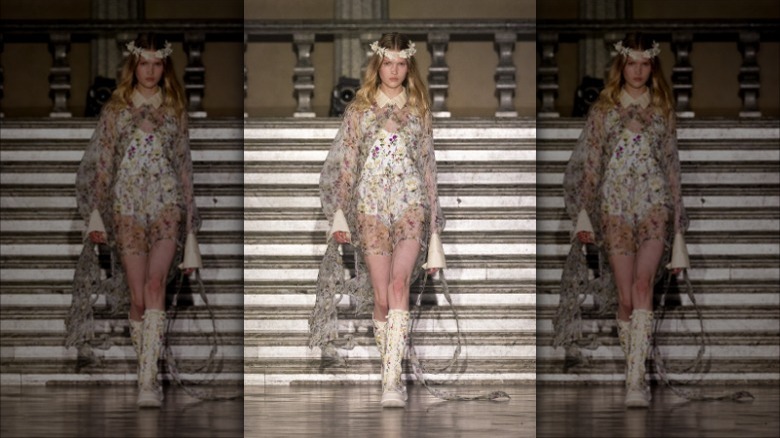 Michael Campanella/Getty Images
Sheer clothing is already a trend that has taken over this year's fashion cycle. The 2024 resort collections take this to the next level with sheer pieces that are more than just see-through. Mesh details with embroidery and accents are becoming more commonplace. Since the sheer trend is going nowhere anytime soon, it's time to add an extra flair to truly take it over the top.