Strappy Heels Never Go Out Of Style - How To Capture Their Timeless Look This Summer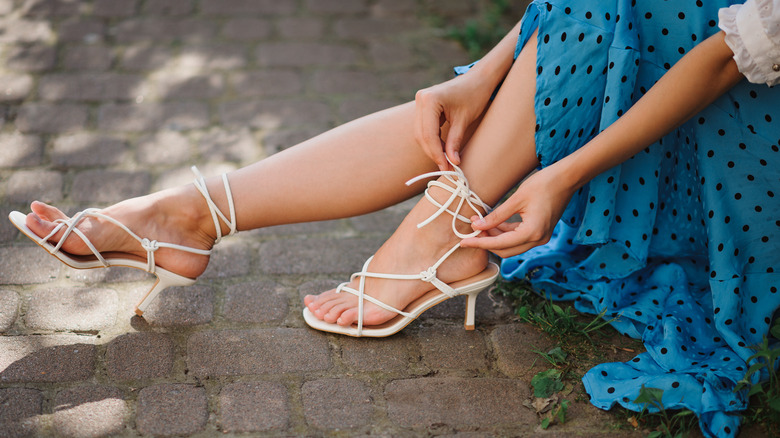 Victoria Chudinova/Shutterstock
Strappy heels are like the little black dresses of your shoe collection. You have at least one pair that's a classic and you know will look right for any occasion. Strappy sandals are often tricky as they can dig into your feet, making them feel painful after a few hours but once you've found that unicorn pair that's stylish and comfy, you've hit the jackpot.
If you're a flats type of person and you're already wincing at the thought of wobbling around in heels, don't worry. There are plenty of low-heeled versions that will give you a bit of height without forcing you to walk like a baby deer. Block heels are also a great option for those who want more support.
For heels experts, the strappy shoes world is your oyster. From kitten-heeled slides to five-inch stilettos, there is an endless supply to choose from. You can go classic with a simple strap across the toes or opt for a sexy cage design. Whatever option you choose, strappy heels will not just elevate your height, but also your outfit as well.
Rock your inner Barbie with strappy pink stilettos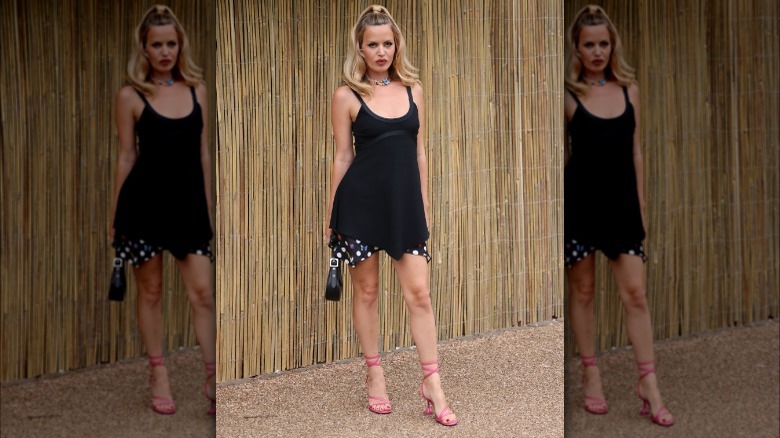 Ricky Vigil/Getty Images
The Barbiecore trend is taking over this summer and we're seeing bubblegum pink everywhere. Add a pop of color to your feet by donning pink sandals with criss-cross straps around your ankles. Pair them with a black outfit like May Jagger for a subtle look or go bright and bold with a neon outfit. Pink is Steven Tyler's favorite color and it's certainly ours as well!
Metallic strappy sandals go with any color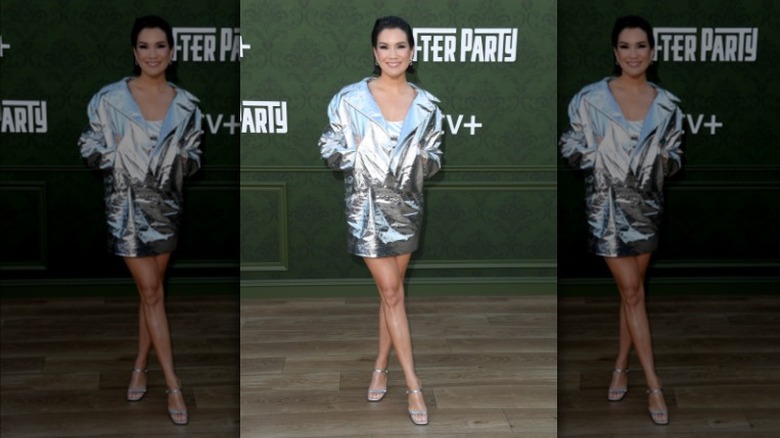 Steve Granitz/Getty Images
If you want to shine bright this summer, add a pair of metallic strappy sandals to your shoe collection. Not only are they dazzling, but silver and gold complement every color. If you're not sure which metallic to go for, consider if your outfit tone is warm or cool. Shades like yellow, red, and orange go well with gold while blues and greens look great with silver. When in doubt, you can always go head-to-toe metallic.
Black platform sandals will be a staple in your closet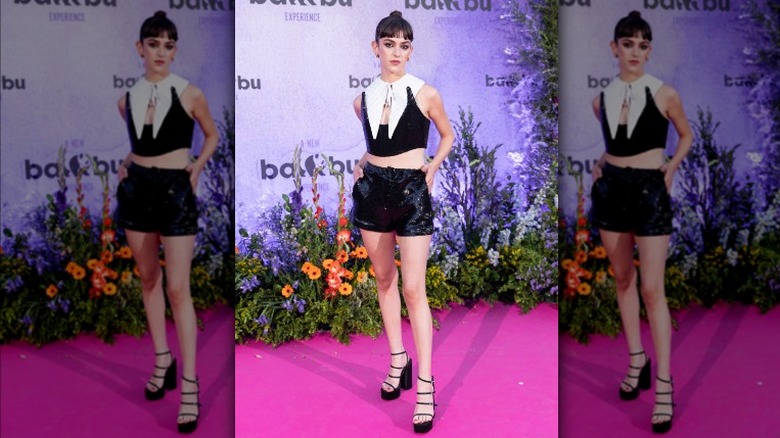 Aldara Zarraoa/Getty Images
Just like the LBD, a pair of strappy black heels will definitely be your go-to when you're wondering what to wear. They go with any outfit and the ones with platform heels and straps around the ankles give you extra stability. Pair them with a cute midi sundress during the day or sparkly black shorts for a night out.
Play around with the straps on your sandals for different looks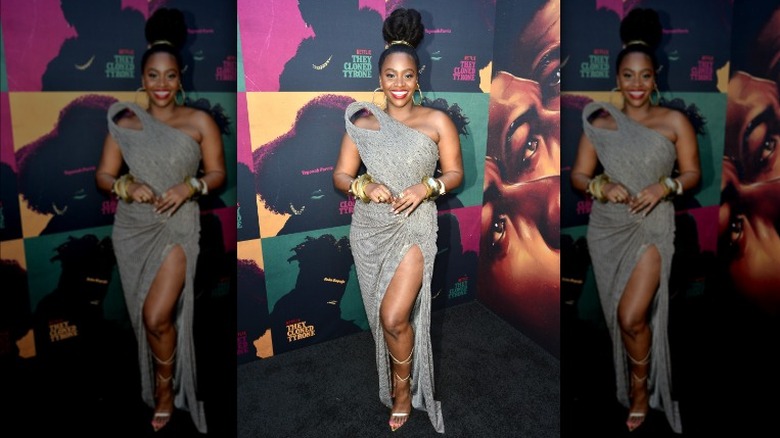 Jerod Harris/Getty Images
If you want a va-va-voom look, get a pair of sandals with long straps and wrap them around your ankles going up to your calves. Show off your legs with a thigh-high slitted skirt or a sultry mini-dress. You can also layer the straps around your ankles for a more subtle look but either way, all eyes will be on your legs with these heels.
Strappy heels are chic for a daytime outfit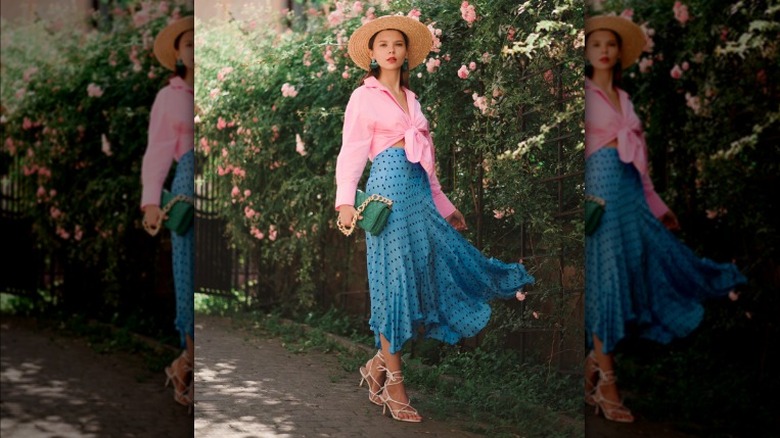 Victoria Chudinova/Shutterstock
Who says strappy heels are only for the evening? Elevate your daytime look with a pair of low-heeled strappy sandals. They're perfect for an ankle-grazing skirt and a pretty, dressy top for brunch or just strolling around window shopping. Options in a neutral color like white or beige go with anything but the elaborate straps definitely make the shoes stand out.
Wear your strappy heels with sheer tights for a darling look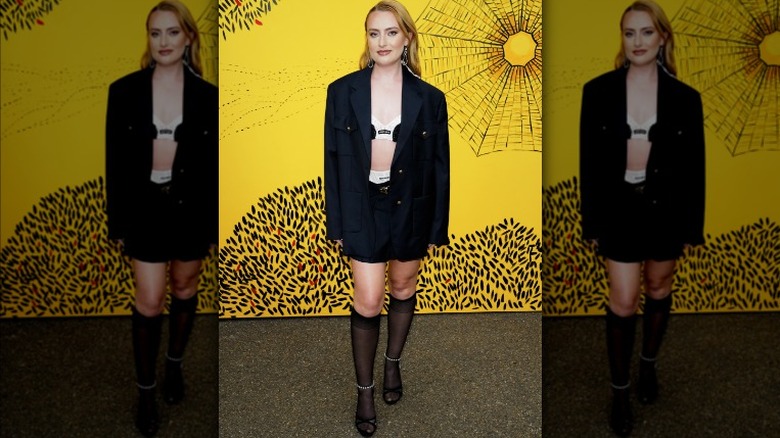 Darren Gerrish/Getty Images
Wait, sandals paired with socks? We know that heels and feet coverings are not supposed to go together but they surprisingly look oh-so-cute with strappy heels worn with sheer knee-high stockings. Not only will you be making a fashion statement, but the nylon material will keep your feet from chafing. Stylish and functional at the same time — we're all for it.