Coffee Meets Bagel: What Happened To The Dating App After Shark Tank?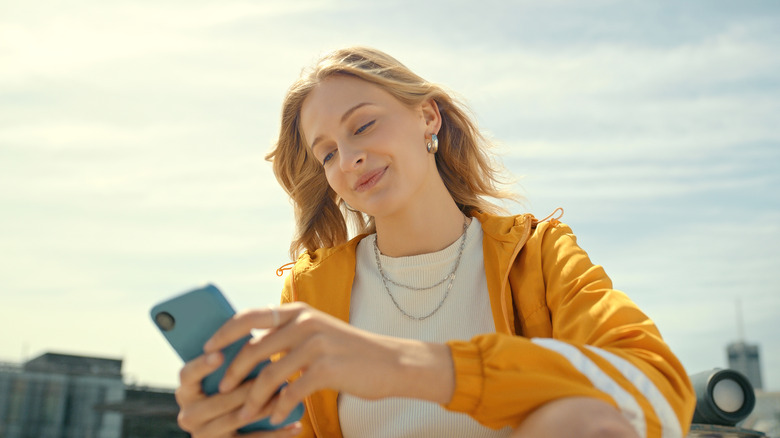 Marco Vdm/Getty Images
"Shark Tank" has been the launching pad for several successful products, some of which you may even have in your home right now — raise your hand if you've bought a pair of Bombas socks or if you have a Scrub Daddy sponge sitting in your kitchen. However, not all pitches on the reality show fit the household-product mold. Case in point: Coffee Meets Bagel.
In a 2015 episode of "Shark Tank," three sisters-turned-co-founders pitched their dating app, Coffee Meets Bagel, to the lineup of the show's investors, or "sharks." The app was designed to combine the experience of flash-sale sites with online dating, where users are offered just one limited-time match per day. Each match is a friend of a friend, meaning catfishing and other shady online behavior may be less likely (rejoice!).
Coffee Meets Bagel was launched four years before appearing on "Shark Tank," and, until that point, the company had been financially in the red. Therefore, the app's founders were hoping to secure $500,000 in exchange for a 5% stake in the company. As one sister remarked on the episode, "Without the money from the Sharks, we won't be able to execute on our growth plan." Fast-forward several years, and it's clear that Coffee Meets Bagel didn't need an on-screen investment to find success.
Coffee Meets Bagel received funding, but not from Shark Tank
During its "Shark Tank" feature, Coffee Meets Bagel wasn't able to snatch the $500,000 investment requested by its three founders, but the episode still broke records when Mark Cuban made the largest offer in the show's history: a cool $30 million in exchange for the entire company. However, the sisters rejected the bid, and no deal was made.
While this may have seemed like a letdown, the Coffee Meets Bagel founders remained confident that their business would eventually boom. When asked if she regretted turning down Cuban's offer in 2019, CEO Dawoon Kang told Ladders that she would still make the same decision today. And, even without help from the Sharks, the app has received an estimated $19.8 million in funding since 2015. The largest investment to date was made in 2018, when Coffee Meets Bagel received $12 million during its Series B round of financing (which, for those unfamiliar with business investing, usually takes place after the start-up phase and only if a company continues to show promise). The investment was to go toward international expansion and live events for users.
Millions of singles still use the app to find love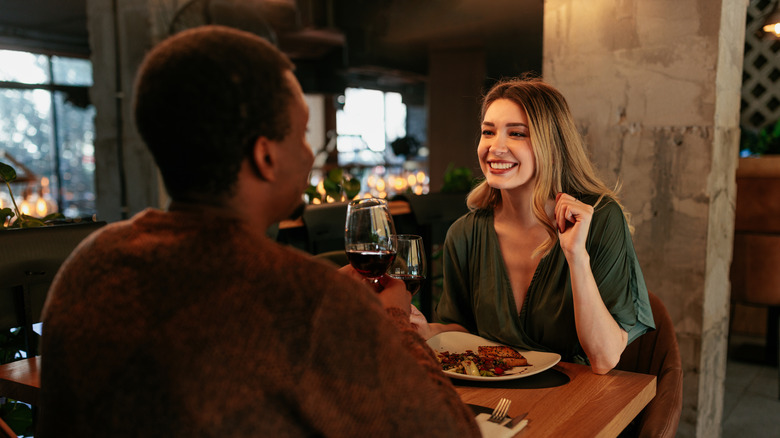 Dimensions/Getty Images
While Coffee Meets Bagel might not be as ubiquitous as some of the other businesses and inventions showcased on "Shark Tank," there's a good chance you or someone you know has it downloaded on their phone right now. In 2019, Dawoon Kang confirmed that the app had hit 10 million users — a stark contrast from the "between one and five [hundred thousand]" user range the founders gave during their "Shark Tank" pitch. Still, the figure pales in comparison with competitors such as Tinder, which boasts 75 million members.
Coffee Meets Bagel also continues to be recommended by dating experts and included on "best dating apps" lists even a decade after its initial launch. "If you've been scarred by experiences where the person you met was a little creepy, it may be nice to meet someone vetted by someone you know," Shawntres Parks, a licensed marriage and family therapist and relationship coach, told Women's Health of the app.
Clearly, Coffee Meets Bagel isn't going anywhere anytime soon, and many people who use it to land a serious relationship may not even realize it was ever featured on a reality show. As for how effective the app is at helping you find "the one," that's a little harder to pinpoint, but, by 2016, it was already responsible for a reported 2.5 billion introductions, which have to be better than relying on random meet-cutes.