TikTok's 'Sun-Kissed' Makeup Hack Is A Real Trust-The-Process Moment
Beauty TikTok is having a total love affair with blush. Whether it's the circle blush draping technique or dewy lip gloss blush, TikTok is full of rosy, vibrant faces. While this trend is a charming revival of a more playful attitude toward makeup, some of these social media blush ideas can make you wonder if we've crossed the line from makeup to full-on face painting. One TikTok blush technique that will certainly leave you with your eyebrows raised is the popular sun-kissed method.
Makeup with a warm, glowy finish is nothing new; bronzer and fake tan products have been around for a while. But this TikTok blush trend takes "sun-kissed" in a much more literal direction, suggesting that folks skip the tan look and go straight for the faux sunburn. It may sound a little excessive at first, but sun-kissed blush could be the best go-to beauty trick of the summer.
Using blush for a sun-kissed look
The sun-kissed makeup technique popularized on TikTok takes heavy blush to the extreme. To pull off the look, you'll need a cream blush stick in a warm shade. If you're willing to splurge, we recommend the Ilia Multi-Stick Cream Blush. However, there are also great drugstore cream blush sticks available, such as the e.l.f. Monochromatic Multi-Stick. What matters most is to choose a formula that blends easily into your skin and a shade that looks natural against your skin tone.
TikTok user @itstherealkimshady provided a useful example video on how to apply and blend out blush for that perfect sun-kissed effect. Once you've put on your tinted moisturizer or foundation, use a blush stick to draw a large outline around your forehead, cheeks, and the bridge of your nose. This creates a sort of wiggly oval, or, as Kim puts it, a "raccoon shape."
Next, blend out the blush with a large makeup brush, using gentle strokes to keep the blush in the general area you've applied it. When you're finished blending, you should (in theory) have the cute, sun-kissed complexion of someone who has spent all day outside.
Is this makeup hack legit?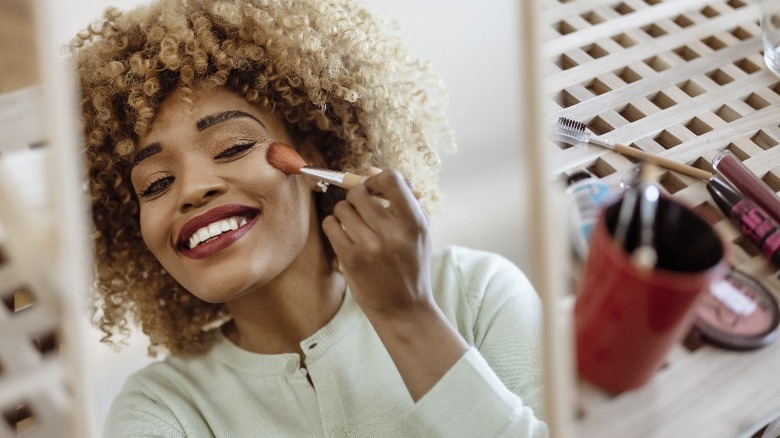 Pixelseffect/Getty
So, does this blush hack actually work, or will you end up with big red lines across your face? The results you get with this technique are somewhat mixed and depend on your natural coloring. If your skin tone is flattered by a slightly sunburnt look, this blush technique will probably look great on you. However, if a warm flush on your skin tone puts you more in the tomato zone, you might want to skip this TikTok hack. Instead, you can achieve a similar effect by applying a moderate amount of warm blush just to your cheeks and using bronzer on the other areas of your face.
Another factor to consider is your face shape. Even if you use the right shade of cream blush, the "raccoon" application method might not suit your bone structure. If you prefer to apply blush based on your face shape, you're better off employing a targeted application technique rather than drawing broad lines across your face.
All that said, overall, the sun-kissed blush hack does hit all the points you want for a warm face (cheeks, nose, and hairline). So, if you're in need of a simple shortcut, it's worth giving it a try to see if it's a summery blush look that works for you.