The Ultimate Guide To Bridal Makeup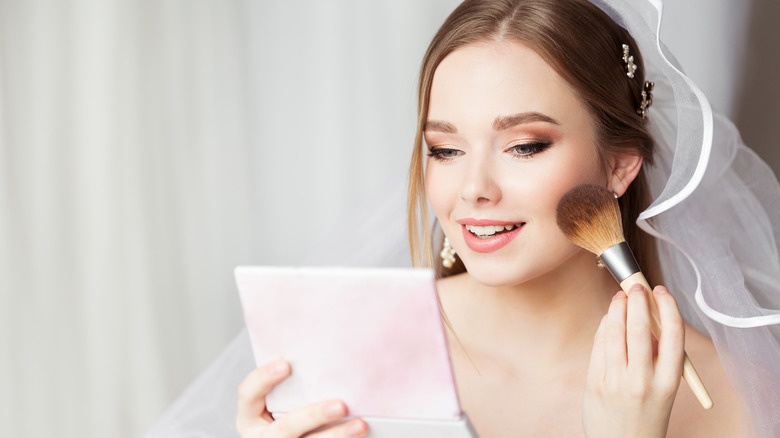 Inarik/Getty Images
Makeup is a fun way to express yourself any day of the year, but it should never detract from your naturally gorgeous self, especially on your wedding day. "You want to look at your wedding pictures in a frame and see your authentic self reflected back at you," makeup artist Tasha Reiko Brown shared with Allure. "The goal is not to look like a 'classic bride,' but to look like classic you as a bride." If that means rocking your favorite shade of red lipstick or ditching the shimmery eyeshadow popular with bridal makeup looks, go for it! 
Whether you choose to invest in a professional makeup artist or do your own makeup on your wedding day, there are a number of tips and guidelines to follow to ensure you create your dream bridal look. From choosing the right foundation for your skin tone or shade of lipstick to wedding day makeup prep, attention to detail is key when it comes to achieving the most beautiful makeup look for your big day. 
Prioritize skincare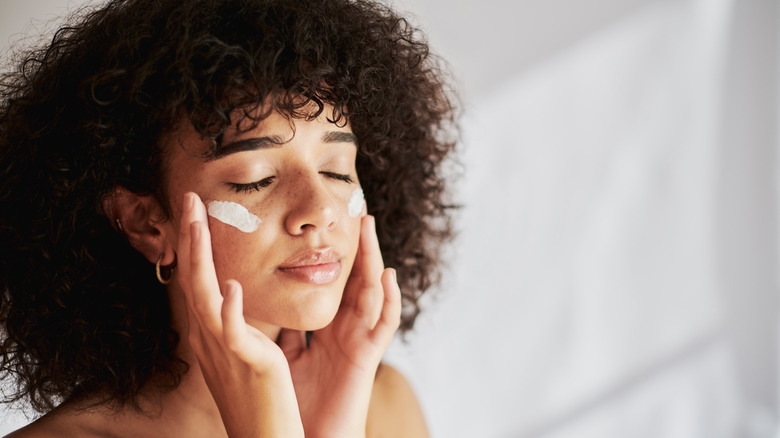 Delmaine Donson/Getty Images
Before experimenting with different eyeshadows and lipstick shades, it's crucial to focus on proper skincare. In the months leading up to your wedding, make your morning and evening skincare routines a priority to ensure hydrated, well-balanced skin. "If you're looking after your complexion with a suitable skincare routine, you'll end up needing less makeup and what is applied will sit so much better on a smooth, healthy canvas," professional makeup artist Sophie Tilley told Glamour. "I ask all my clients what they're currently using and then can suggest products to slot in."
Skincare needs vary from person to person, but it is generally a good idea to build your routine around a suitable cleanser, sunscreen, exfoliator, and moisturizer to cover your bases. From there you can tailor your regimen with different serums like retinol, vitamin C, or salicylic acid to reduce the appearance of blackheads. If you're not typically a skincare enthusiast, consider pampering yourself with professional facials. However, keep in mind that you'll want to avoid any invasive or extreme facial treatments too close to your wedding day. Doing so could open the door to skin irritation, allergies, or breakouts that you don't want to deal with.
Drink lots of water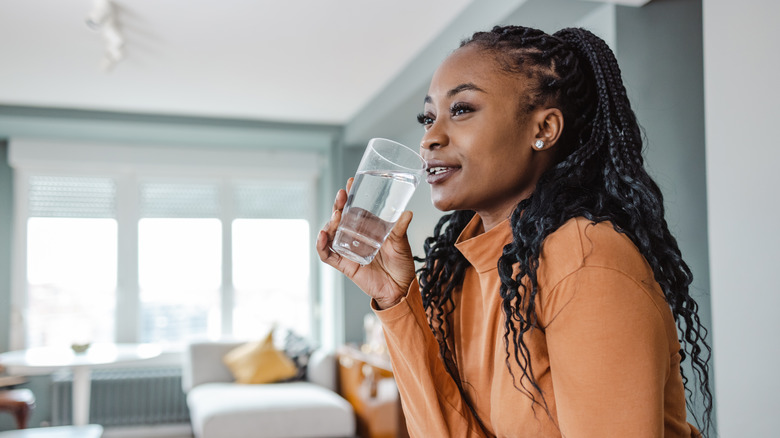 Maca And Naca/Getty Images
Drinking water won't magically erase fine lines or pimples, but it is essential for maintaining well-balanced, hydrated skin — a necessity for effortless makeup application. "... drinking more water isn't going to help get rid of wrinkles or plump up your skin unless you are extremely dehydrated," Rush University Medical Center dermatologist Dr. Elizabeth Damstetter told WebMD. "But you need water to stay healthy, and if you're healthy, your skin might not look like it did when you were younger, but it will look pretty good." Drinking enough water can also regulate your skin's oil production, reducing the appearance of oily T-zones.
The exact amount of water you need varies depending on factors such as exercise and the season, but most experts agree that women should aim to drink around 2.7 liters of water a day (via Mayo Clinic). If that number seems out of reach for you, you can also keep your hydration levels up through proper nutrition and eating foods with high water content, as reported by The New York Times. Fruits and vegetables like cucumber, watermelon, spinach, strawberries, and celery are excellent additions to a balanced diet that can boost your hydration levels.
Take the season into consideration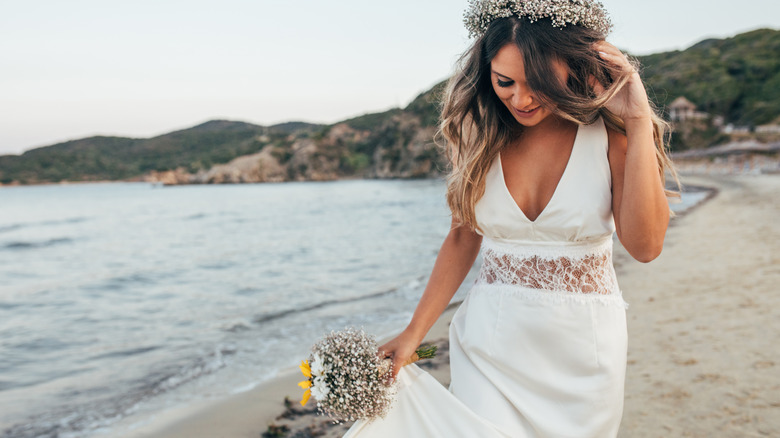 Mixetto/Getty Images
When planning your wedding day makeup, it's important to consider the season you'll be getting married in. For example, if you're planning to tie the knot outdoors on a hot August day and don't take the necessary makeup steps, you're likely to experience a major meltdown long before photos have even started.
Invest in high-quality, long-wear products that can withstand humidity, heat, and sweat. Waterproof mascara is a must, while dewy products that allow for more minimal application will hold up better in warm weather. "Layering is the key," celebrity makeup artist Sir John told The Cut. "So you want to use a liquid foundation, then set it with bronzer; a cream blush, then set it with powder blush." Once your makeup is in place, use blotting papers to touch up sweaty or oily skin in lieu of applying more powder to avoid an uneven, cakey finish.
If you're getting married in the winter and are concerned about dry or flaky skin, you may want to opt for cream-based formulas that provide both coverage and hydration. Matte finishes are a great look for fall and winter brides, but don't be afraid to look for products that reflect light as well to ensure gorgeous bridal portraits.
Have a makeup trial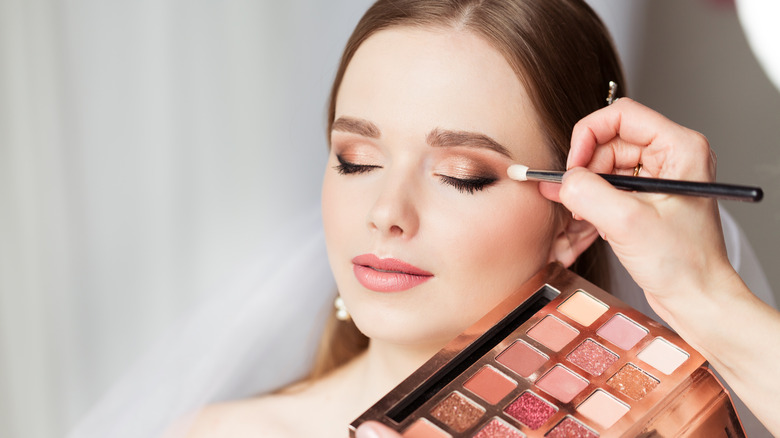 Inarik/Getty Images
While doing your own makeup on your wedding day certainly has its upsides, it can be an added hassle on an already busy occasion. Many modern brides prefer to have a professional makeup artist do their makeup to avoid extra stress and keep the timeline running smoothly. If you opt for the professional route, having a makeup trial is a necessary part of the process.
During a makeup trial, you have the opportunity to get to know the makeup artist before the big day and see if your personalities mesh. It's also the time to workshop your preferred bridal look. "A bridal trial, or as I like to call the appointment a bridal hair and makeup rehearsal, is so important because you get the opportunity to define your look for the big day," Brite Beauty founder Marsi Hubbard explained. "A trial is relaxed; you have plenty of time to discuss your bridal beauty vision with the artists ... tweaking it as you go, so it can be perfected before the 'I do.'"
Additionally, whether you choose to do your own makeup or not, it's a good idea to take photos of yourself with your beautifully applied makeup during your makeup trial. Not every expensive, high-quality product is meant to be photographed, and therefore you may encounter the dreaded white glow of flashback or find a color you've chosen looks dull or too shiny. These are things you don't want to find out on your wedding day, or worse after you get the photos back.
Don't try out new products or treatments right before your wedding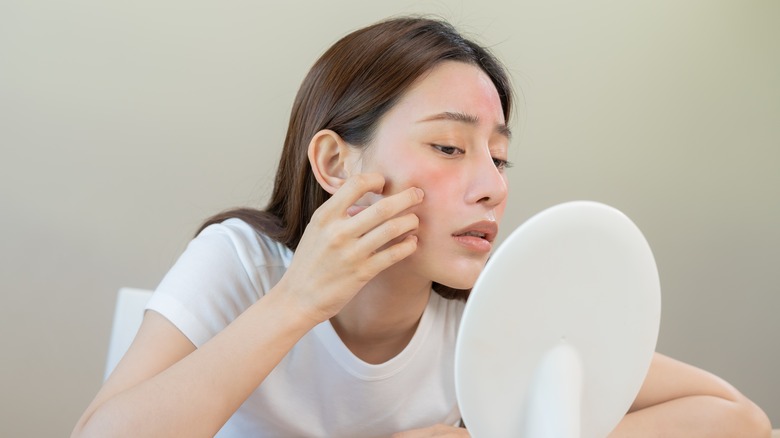 Kmpzzz/Shutterstock
Trying out new skincare products or facial treatments right before your wedding may introduce the possibility of allergic reactions or other unpleasant skin issues, adding unnecessary stress to your pre-wedding to-do list. "You're already under enough stress – don't add worrying about the results of your treatment after a 'quick fix' to the list," cosmetic dermatologist Dr. Ariel Ostad recommended to Wedding Wire. "Instead, work out a plan that gives you ample time to see results and recover or correct if needed."
If you're weeks away from your wedding and just starting to think about professional skincare treatments, opt for noninvasive, soothing facials that focus on gentle exfoliation and buildup removal. HydraFacials, for example, are a good way to achieve a deep clean and brighten the skin. "After treatments like [HydraFacial] or any that help to exfoliate the top layer, skincare will penetrate better, and makeup will be applied easier," board-certified dermatologist Dr. Anthony Rossi Jr. told Elle.
Primer is a must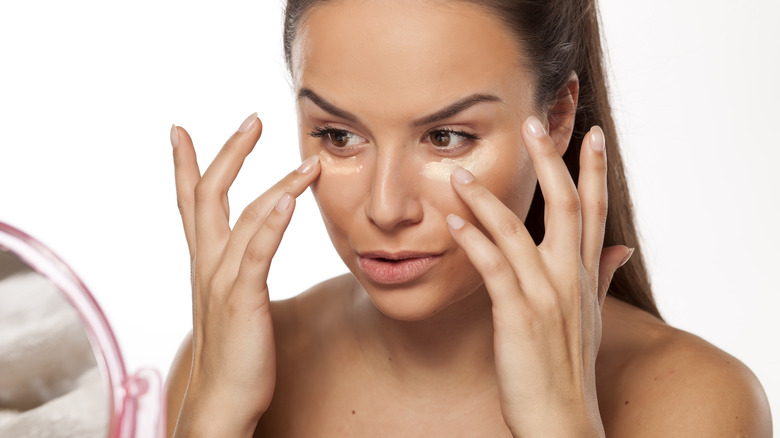 Vladimirfloyd/Getty Images
Once you have a clean, prepped face and are ready to start thinking about actual makeup products, you want to start with a quality primer. This is especially important if you're getting married in the summer or in a warm climate. "Primers are definitely the way to go in summer," celebrity makeup artist Ashunta Sheriff-Kendricks asserted to Good Housekeeping. "They really help hold makeup in place without feeling like a heavy additional layer."
In addition to adhering makeup to your face for long periods of time, primer is ideal for a variety of uses ranging from hydration to sun protection. Some have mattifying effects, while others are brightening and help achieve a youthful glow. The most common and effective primers are silicone-based, as they minimize large pores and fine lines, and lend a blurring effect to uneven complexions and textured skin. The best part is that primers provide a nice layer between your skin and your makeup. This keeps makeup from settling in and clogging your pores, potentially leading to breakouts, and from creasing or looking blotchy.
Make sure your foundation is a perfect match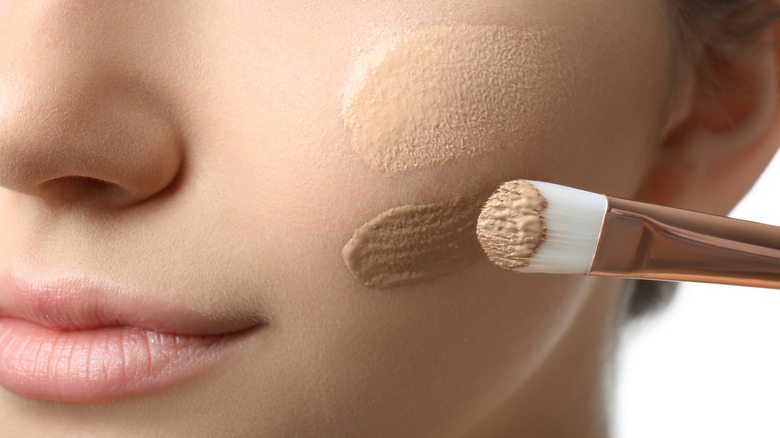 New Africa/Shutterstock
Finding the perfect foundation match can be tricky, but if you want flawless coverage, glowing skin, and a seamless blend from your face to your neck on your wedding day, it's worth investing time in the process. To do so, you'll need a solid understanding of your natural skin tone, your skin tone in the season you plan to get married, and the willingness to do some swatch tests.
Choosing a foundation that perfectly matches your skin also requires knowing your skin's undertones. If you select a foundation with the wrong undertones, you may end up with an unnatural look and an obvious distinction between your chin and neck. If you're unsure whether you have warm or cool undertones, think about what color jewelry looks best on you. Gold jewelry typically suits warm undertones, while silver typically suits cool undertones.
When trying out new foundations, be cautious about testing a full application indoors. "As a general rule you should avoid matching your skin indoors with poor daylight," makeup artist Tomy Rivero explained to IPSY. "Natural light picks up your natural undertones helping you create a seamless application from face to neck." The right foundation should look invisible on your skin, but don't be afraid to customize the color if you can't find the exact shade.
Be selective with blush and bronzer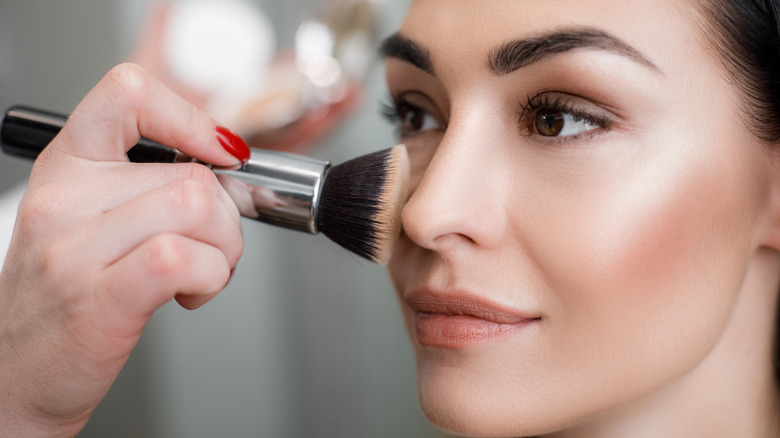 Olena Yakobchuk/Shutterstock
Both blush and bronzer are essential components of any makeup look. They add warmth, brightness, and depth to your complexion, giving you a healthy, goddess-like glow that many brides want on their wedding day. However, it's important to use them sparingly and apply them correctly. Too much bronzer can give you a baked cake look, especially if it is applied all over the face instead of just the cheekbones, forehead, and bridge of the nose. Too much blush applied incorrectly might give off more of a circus clown vibe than bridal elegance.
Too little blush and bronzer may not help you either. "Apply slightly more than you think you need — it tends to get washed out in photos," makeup artist Cassandra Garcia told Byrdie. If you're doing your own bridal makeup, remember to swatch test your products to ensure they are the right color for your skin tone. Focus on building coverage and blending well for that elevated natural look. Just like with foundation, taking photos of your finished look in natural light will help you determine placement and amount.
Consider your lash options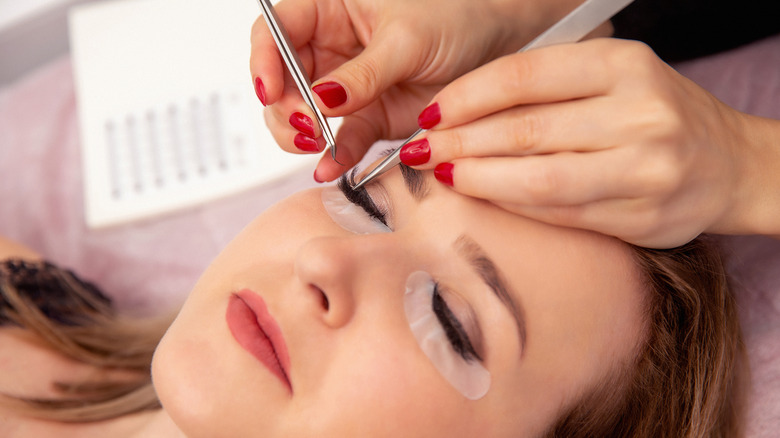 Casarsaguru/Getty Images
False eyelashes are a great way to add subtle drama to your eye makeup look and emphasize your eyes in your wedding photos. "Provided they are done right, nothing can do what lashes can do; your eyes will look better than they have ever looked," makeup artist Anne Kibler expressed to Zola. "You may even forget that you're wearing them, and if you cry, the mascara won't run ... it's like a dream come true!" However, if you're doing your own makeup and aren't used to wearing strip or magnetic lashes, it's important to practice applying and wearing them in the weeks leading up to your wedding to avoid any mishaps.
If the idea of false eyelashes makes you squirm but you still want your eyes to pop on camera, there are other options to consider. Lash extensions are becoming increasingly popular for a long, gorgeous lash look without the hassle of glue or the uncomfortable weight of a strip lash. With lash extensions, a professional carefully applies semi-permanent synthetic or natural fibers to your individual eyelashes one by one for a lush, thick set of lashes tailored to your preferences.
For low-maintenance brides who don't want the commitment or price tag of lash extensions, lash lifts and tints are an option. This semi-permanent treatment uses a curling rod and a chemical solution to make your lashes appear lifted and longer for up to 8 weeks. The final look is less dramatic than a set of lash extensions but is easier to maintain.
Keep your lipstick minimal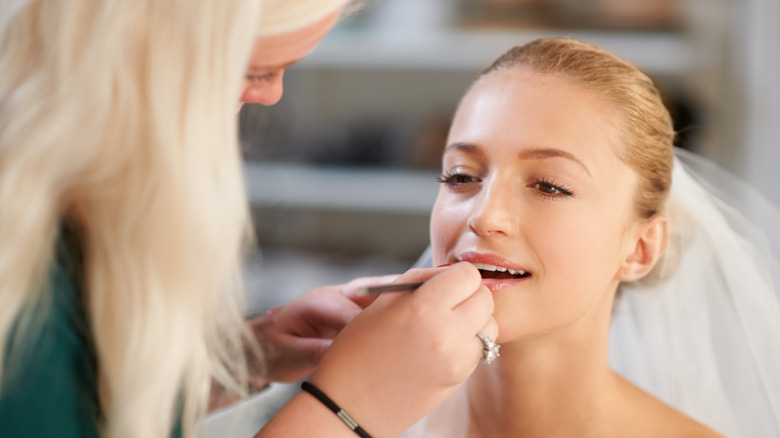 Yuri_arcurs/Getty Images
On your wedding day, you may be tempted to opt for a bold and bright lipstick. However, unless this is part of your usual look, it may be better to keep your lip choice on the minimal side. This special occasion will be filled with talking, laughing, eating, and kissing, activities that even the most carefully applied lipstick and gloss duo just can't stand up to for very long. "Shiny or creamy lipsticks will transfer onto your other half and your champagne flute," Garcia explained to Byrdie. Instead, opt for longer-wearing lip stains that will hold their color and be more difficult to smudge.
But don't assume that this means you have to stick to neutral colors. On the contrary, choosing a toned-down lipstick shade may make your makeup look dull. "Neutral, brown, and pale lip colors can look washed out in photographs, so choose a lipstick that's one or two shades brighter than what you would normally wear," Bobbi Brown told Marie Claire. "Pinks, roses, and plums are all great, classic choices for brides."
Don't forget setting spray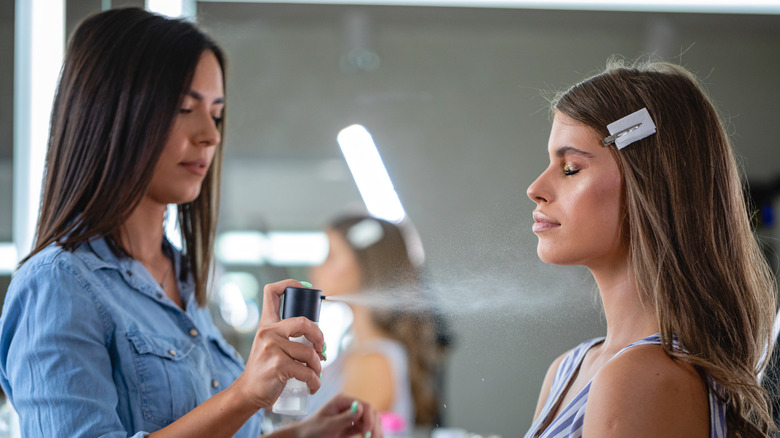 Fluxfactory/Getty Images
Getting ready on your wedding day is an involved and often lengthy process, and your makeup is something you've been working on for weeks if not months. The last thing you want is for it to start smudging and fading the moment the makeup brushes have been put away. That's why setting spray is the must-have final touch for your bridal makeup look.
Setting spray, or finishing spray, is a mist that is spritzed all over your face once your makeup has been applied to keep it in place. "Always set your makeup in place with a setting spray," makeup artist Aimee Connolly told Hitched. "By doing this you are ensuring that nothing moves around and stays exactly where it needs to be throughout the day." The spray is lightweight and refreshing without leaving any heavy or sticky residue behind. Setting sprays can provide either a hydrating and dewy finish or a mattifying finish depending on your skin's needs and the product you choose. Many setting sprays promise to lock in makeup for up to 16 hours and are waterproof, but some also have temperature control technology that makes them sweatproof. If you've never used setting spray before, keep in mind that some are scented and you may need to test a few out before settling on one.
Keep makeup on hand for touch-ups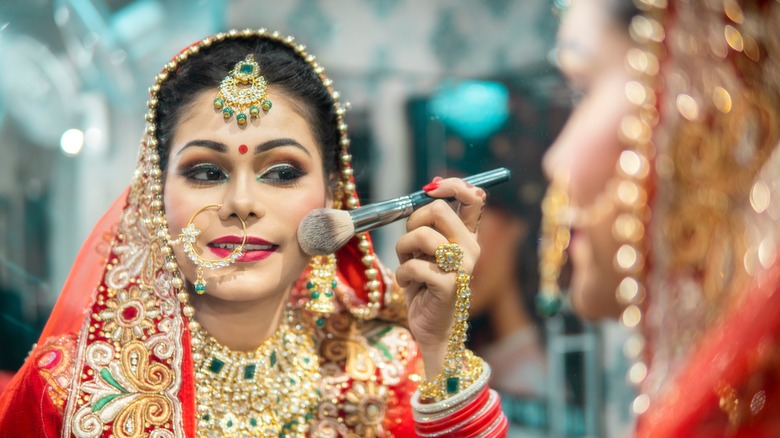 Clovera/Shutterstock
With the right primer and setting spray on your side, your bridal makeup will stay locked in place. However, wedding days are long, so it's still a good idea to keep some makeup on hand for touch-ups throughout the night. "Make sure you or a bridesmaid carries a powder, lipstick, concealer, and small buffing brush or sponge in your bag," makeup artist Zara Findlay advised Marie Claire. "These are quick touch-up products to ensure you are looking your most confident all day."
Your touch-up kit should also include blotting papers. These are small, thin sheets of tissue-like paper that absorb excess oil without smudging your existing makeup when pressed to the skin. They are especially useful for brides with oily or acne-prone skin, as applying powder to existing oil can create a patchy, cakey effect. Look for blotting papers that contain oil-fighting ingredients like charcoal, salicylic acid, or abaca tree fiber for extra control.
Don't be afraid to let your natural beauty shine through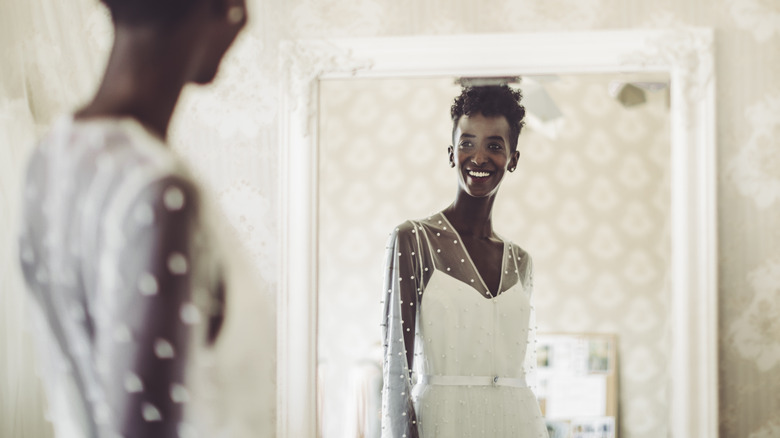 Eva-katalin/Getty Images
It can be tempting to go all-out with your bridal makeup. After all, you only get married once and you want to look more beautiful than ever before for all of those photographs and your soon-to-be spouse. However, instead of experimenting with a bold, structured lip you wouldn't normally wear or diving headfirst into the latest TikTok beauty trend, aim for something more fresh and natural.
"I think brides get too caught up in that it's their special day and end up doing more than they would normally do, and it ends up being too much," beauty expert Sonia Kashuk commented to Bridal Guide. "It is your special day, and you want to look like you — only better. When you're walking down the aisle, the person on the other end wants to see you!" Your natural beauty is not only enough, but it should also be allowed to shine through on your wedding day.