How To Plan The Perfect Mermaidcore-Themed Bachelorette Party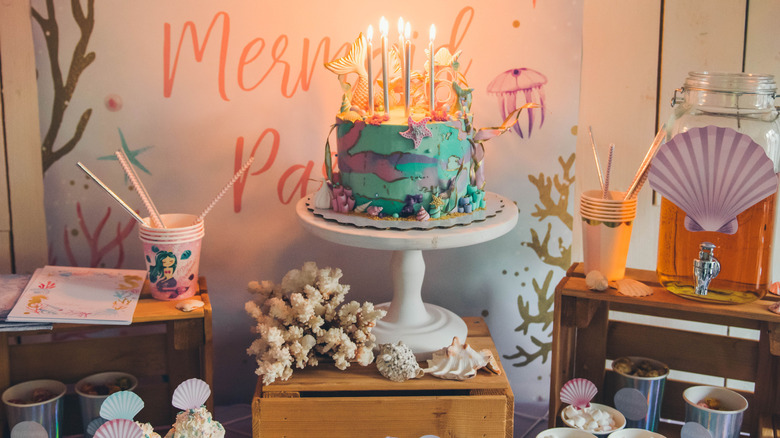 Aleksandra Nigmatulina/Getty Images
Is your (or your BFF's) wedding on the horizon? Go large-scale with a mermaidcore-themed bachelorette party. While weddings are supposed to be elegant, bachelorette parties can be as wild and over-the-top as you want. However, you don't have to go the tired route of penis straws and a party bus with a stripper pole — keep things classy yet festive by channeling your inner Ariel. Let's face it, many of us have wished we were mermaids at some point in our lives and you can make those dreams come true with an under-the-sea bash.
Planning a themed bachelorette party takes a bit of work, but we're here to give you some tips on executing yours swimmingly. All it takes is the perfect location, some shimmery props, and lots of fun energy. Make a list of all your favorite pals, tell them to grab their best seashell bras, and meet you at the planned location.
Picked a water-themed location for your mermaidcore bachelorette party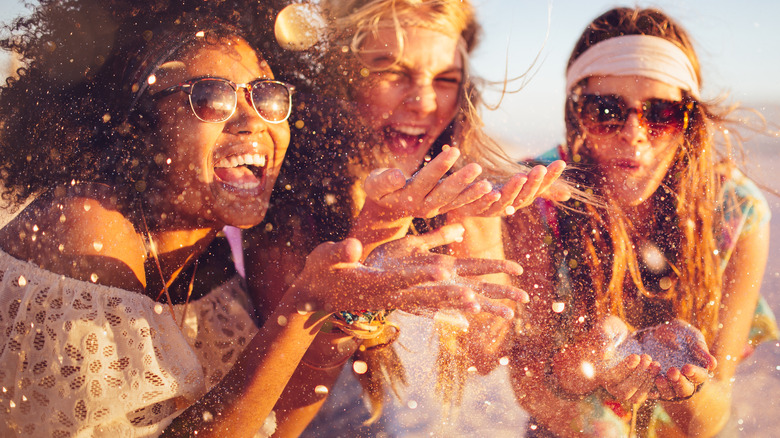 Wundervisuals/Getty Images
Location is everything when it comes to planning a party, and naturally, you'll want to be on the beach for a mermaid-themed bachelorette party. If it's just a few of your friends, pick the closest beach that's easiest for everyone to get to. Are you having a large-scale party? You might need a permit to throw a bash on the beach, so call ahead to secure your date. A beach might not be so feasible for a party if it's in the colder months or you're landlocked. If so, you can rent a local public pool or find one in a private residence to rent online.
Another alternative is to take your mermaidcore bachelorette party to a spa. You and your group can still live out your mermaid dreams in the dipping pool or hot tub while taking turns getting massages and facials. To keep to the theme, you can get matching ocean-colored manicures and rock temporary mermaid tattoos.
Matching mermaid-themed outfits are a must
A bachelorette party isn't complete without matching outfits, and there are tons of ways to incorporate mermaidcore-themed attire into yours. Tank tops are an easy option and you can either design yours online or buy already-made ones on Etsy. If you're seaside or lounging at a pool, matching bathing suits are super fun and Instagram-worthy. Be sure to get a special one just for the bride so that she stands out, and of course, her mermaid look needs a crown.
If your group is at a spa, mermaid-themed robes in shades of teal and seafoam green will add a nice touch to your party. Having a winter fête? Cozy up with mermaid tail blankets while you and your friends sit by a crackling fire and put on the sounds of waves crashing on the beach as your ambient background noise. Add a nice touch with fun accessories like seashell earrings and beach-themed sunglasses. Don't forget to take lots of posed group pictures to commemorate the special occasion!
Go all out with mermaidcore decorations
With a themed party like mermaidcore, there's no such thing as too much. Decorate your space in colors of aqua, mint green, gold, fuchsia, and violet. You can stage a multi-colored balloon arch or a giant beach backdrop for photo ops. If you want to make your party extra fancy, create a faux step-and-repeat and hire a photographer to take pictures. For pool parties, you'll want some beach-themed floaties that your guests can lounge on while they pretend to be mermaids.
It's okay to use paper plates and napkins as long as they go with your theme. Look for colorful tableware in hues of various blues and purples — you can find mermaid-themed ones online. Want to take it up a notch and serve your food on ceramic or glass? Browse your local thrift shop for used dinnerware. You can mix and match various colors and they'll blend in perfectly with your mermaidcore theme. Be sure to spread tons of seashells around on the table, as well as vases filled with glass pebbles. Some are even glow-in-the-dark, which will add a luminescent touch for parties that go into the night.
Serve beach-themed food and drinks at your mermaidcore bachelorette party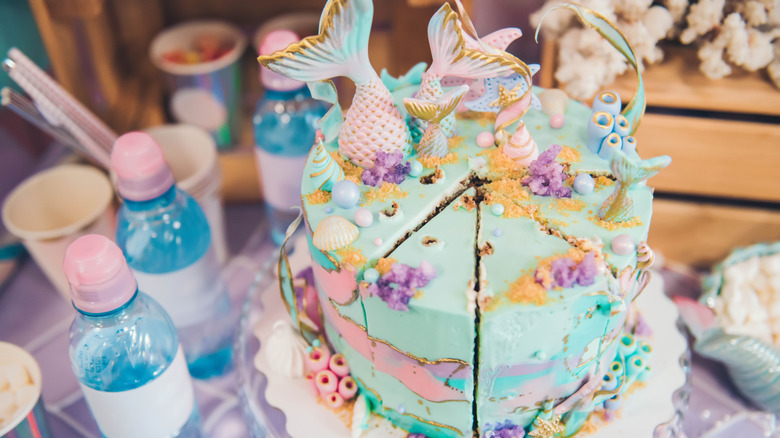 Aleksandra Nigmatulina/Getty Images
Foodies will have a blast planning what to serve at their mermaid-themed party. Since everyone will want to splash around and mingle, stick with easy-to-eat finger foods such as shrimp cocktail, tiny lobster rolls, and tea sandwiches. Make a crudité platter with colorful fruits and vegetables like purple cauliflower, bright green asparagus, and multi-colored grape tomatoes. If you're at the beach, you'll want to avoid foods that will spoil, so stay away from anything with mayo, soft cheeses, and seafood.
Don't forget about dessert — colorful mermaid cupcakes are sure to make a splash. Cookies that look like sand dollars are super cute and easy to make and premade rainbow-colored cotton candy is also an eye-catching treat. Create your own signature cocktails with fun names like Mermaid Mimosa, Seaside Spritz, and Tropical Tea. To avoid having to mix drinks all day, make them ahead of time in large glass pitchers and have guests serve themselves. After all, open bars only make parties more festive.
You're never too old for goody bags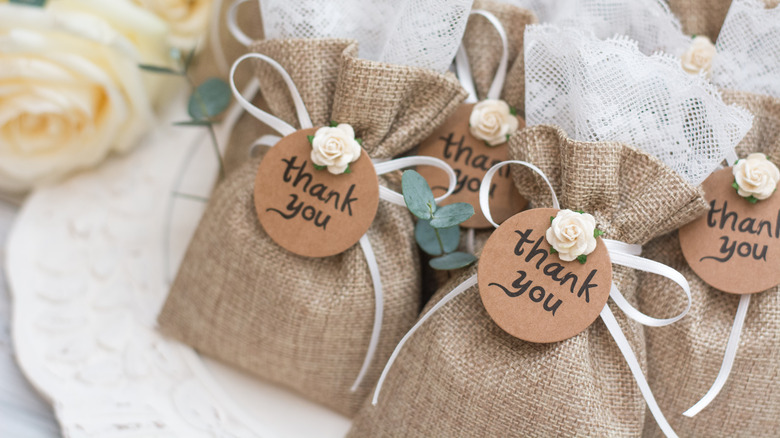 Svetlana Lev/Shutterstock
One of the best things about going to parties as a kid was getting a goody bag at the end. Why not carry on this tradition for your bachelorette party? Instead of stickers and candy, make a swag bag for your guests with mermaid-themed party favors. Since scrunchies have been making a comeback and are easier on hair than elastic bands, give your friends colorful metallic ones. Personalized makeup bags make awesome gifts as well, and you can fill them with shimmery lip glosses and shadows.
If your party consists of your bridesmaids, you'll want to thank them for their efforts, so make sure to show them some love with an extra-special gift — matching rose gold mermaid necklaces or a luxurious silk robe will do the trick. A framed picture of your squad is also a great sentimental touch. Stash them all in a personalized beach tote so your pals can have something to remember your epic mermaidcore bachelorette party.