Worst Golden Globes Looks Of All Time (Mistakes Were Made)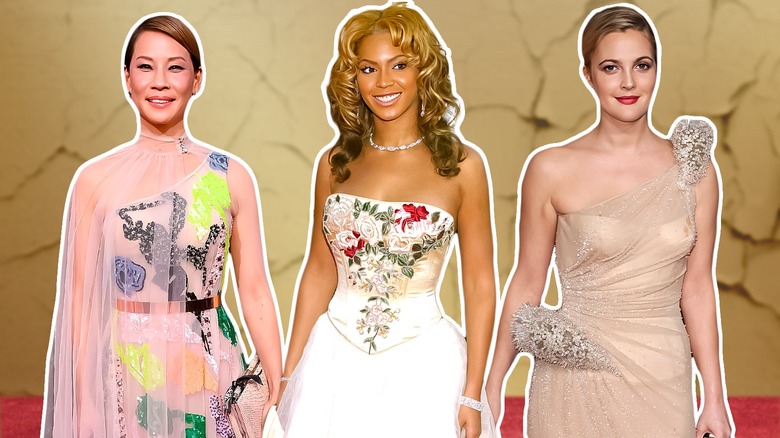 Static Media / Shutterstock / Getty
The Golden Globes, one of the entertainment industry's most anticipated and prestigious annual events, serves as a grand celebration of the year's finest achievements in film and television. While the awards themselves recognize outstanding talent and creativity, the red carpet that precedes the show has become an equally significant spectacle.
As the cameras flash and the world watches each year, we at Glam are just as eager to witness the fashion choices of our beloved celebs. The gowns, suits, and accessories worn by these icons of glamour become the subjects of scrutiny, adoration, and, occasionally, pure shock. As we know, red carpets are the perfect place for outfits that go off the rails. From sheer shawls that need to be banned to owl-shaped purses that are so unnecessary, the Golden Globes audience has witnessed it all.
And as we explore some of the worst-dressed moments of the Golden Globes, keep in mind that fashion moments are just like any other art form; some might love a look, while others hate it. Although many may consider these choices disastrous, others view them as audacious expressions of personal style and a welcome break from the expected — and they certainly aren't wrong!
Beyoncé's tulle princess gown at the 2003 Golden Globes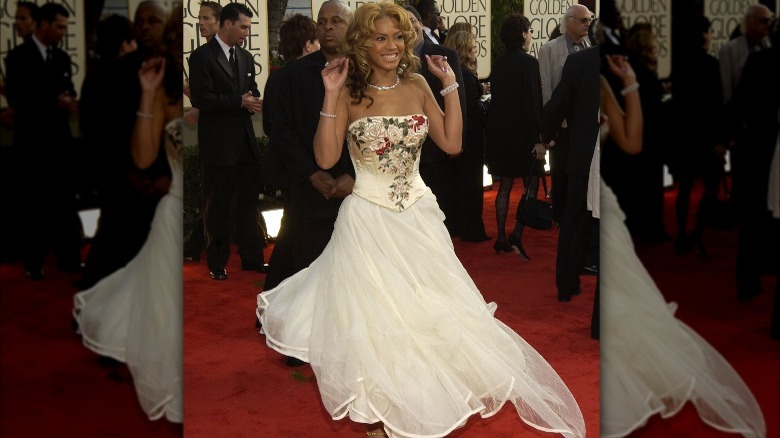 Kmazur/Getty Images
Beyoncé may be the ultimate queen of the music world, but even she can have a fashion fumble. Picture this: a grand ball gown with an abundance of tulle for the skirt and a corset top adorned with embroidered roses. It's like she walked straight out of a Disney princess movie — and we don't mean that in a good way. Sometimes, less is more, and this gown just screams too much! But hey, even the greatest of all time have their off days. Beyoncé may have missed the mark with this gown, but we can't deny the overall impact she always had on the world of fashion.
Nicole Kidman's sequined fashion clash in 2004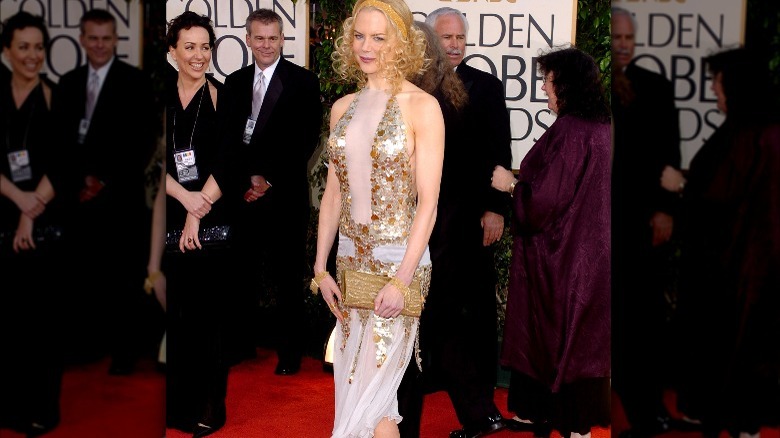 Steve Granitz/Getty Images
Nicole Kidman may be the epitome of grace and elegance, but the star's outfit at the 2004 Golden Globes was everything but that. Kidman wore a plunging dress adorned with shimmering gold sequins, courtesy of the talented Tom Ford for YSL Rive Gauche. Sounds glamorous, right? Well, not quite. In an attempt to dazzle the red carpet, the actor's ensemble ended up looking like a clash of styles gone wrong. The combination of the sheer white material and the glitzy gold sequins was already unusual, but for some reason, her team of stylists also decided to go with a sparkly yellow headband that also didn't match.
Melanie Griffith's wild fashion safari in 1997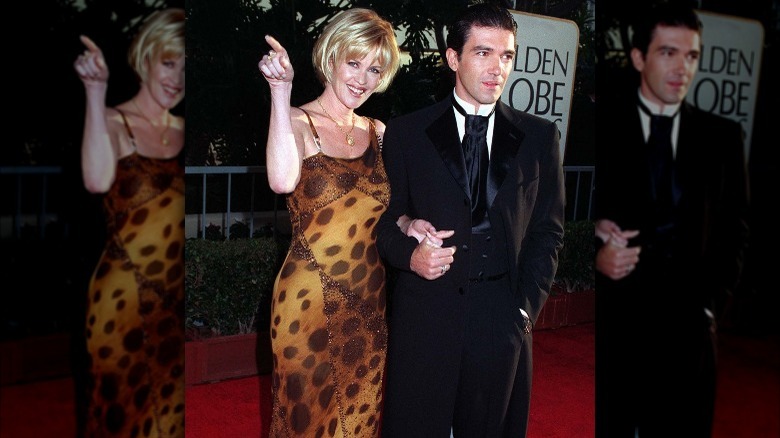 Featureflash Photo Agency/Shutterstock
The '90s fashion landscape was full of risks, and Melanie Griffith certainly took one at the 1997 Golden Globes. Her dress featured what appeared to be a cheetah print mixed with a few layers of random mesh sprinkled with glitter. While animal prints can be fierce and fabulous, combined with the mesh and glitter, this dress created a visual mess that left us scratching our heads. It was as if the ensemble couldn't decide on a single direction, resulting in a chaotic clash of styles. To make matters worse, the tailoring of the dress could have used some fine-tuning. A better fit would have worked wonders in elevating the overall look. It's definitely a shame that such a unique design wasn't executed with the precision it deserved — as that could have potentially taken the look from fail to fab.
Emma Watson's 2014 Golden Globes debacle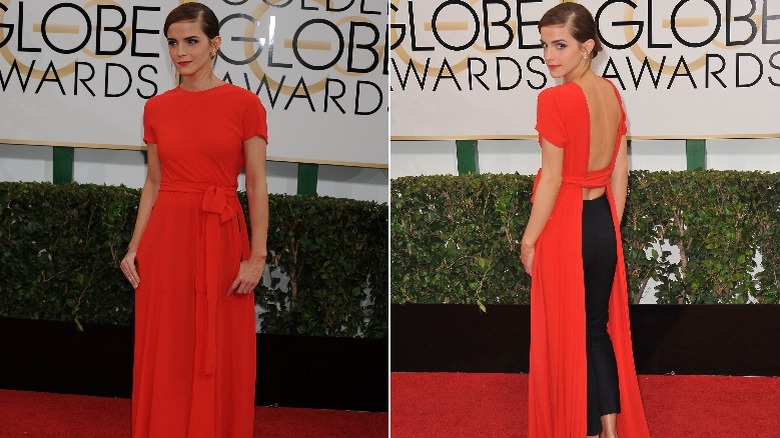 Featureflash Photo Agency/Shutterstock & Frank Trapper/Getty Images
Emma Watson turned from a talented child star into a young fashionista right in front of our eyes, which is why her hit-or-miss choice at the 2014 Golden Globes came as a surprise for many. The actor wore a red backless dress by Christian Dior that revealed a surprising twist — she was actually rocking trousers underneath. While we applaud her attempt to have fun with fashion, and it's true that Y2K fashion is having a comeback, we can surely all agree that dresses over pants are a trend best left in the early aughts.
Diane Kruger's bewildering Golden Globes look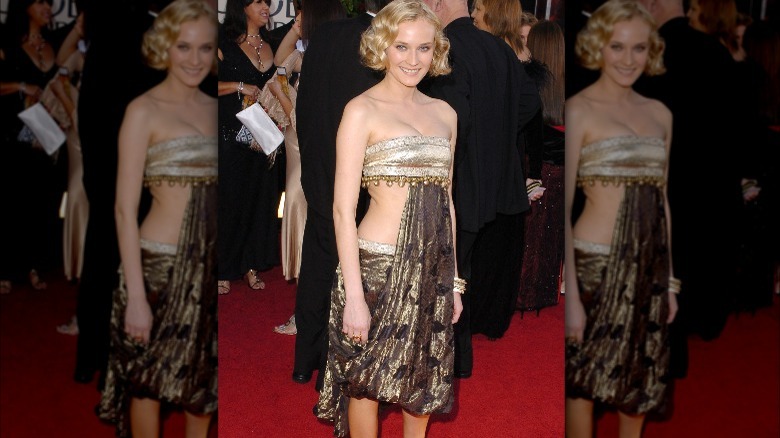 Steve Granitz/Getty Images
Diane Kruger's Marchesa look at the 2005 Golden Globes was certainly a fashion rollercoaster, and the ride it gave us was not a fun one. Kruger wore a gold tube top paired with a brown print skirt, with fabric dramatically draped from the front. It's safe to say that nothing about this look could have been salvaged. This unfortunate fashion mishap serves as a reminder to everyone that experimentation doesn't always lead to success.
From gray to dismay: Shonda Rhimes' floral number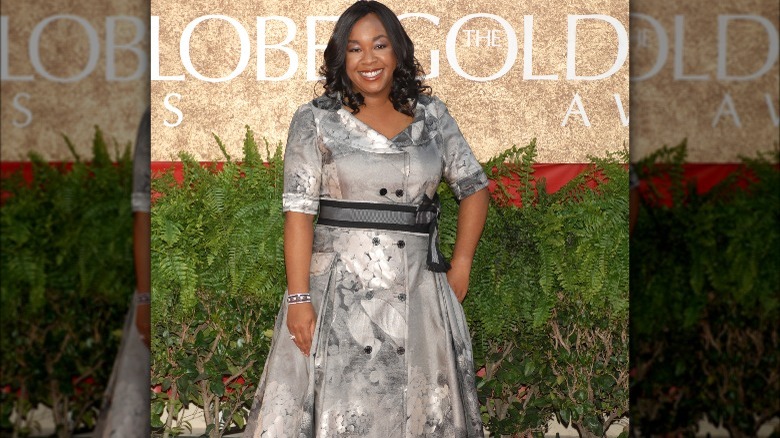 Frank Trapper/Getty Images
Shonda Rhimes, the mastermind behind some of television's most gripping stories, also gave us a fashion faux pas at the Golden Globes in 2007. The television producer and screenwriter wore a gray button-up dress with a sweet Peter Pan collar. However, things took a turn for the worse with the unfortunate floral pattern choice. Floral patterns can be delightful when executed with finesse, but in this case, they transformed Rhimes' look from decent to downright bad. The combination of the gray colors and the floral design fell flat, creating a visual landscape that just left us feeling underwhelmed.
Geena Davis' Golden Globes look was the wrong color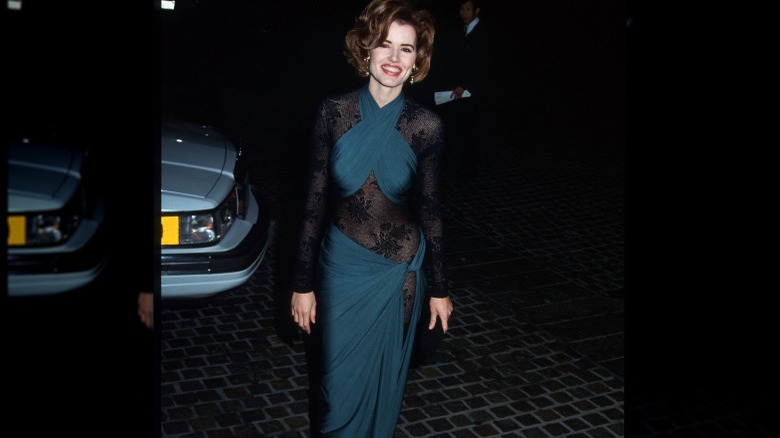 Barry King/Getty Images
There's no denying that Geena Davis was always a trendsetter ahead of her time. At the 1992 Golden Globes, she made a bold fashion statement with a lace bodysuit covered in a blue wrap, creatively positioned into a halterneck crop top and a sarong skirt. While her look gave us plenty of edginess, it was the choice of color that made it land on this list. Had the wrap been black, the ensemble would have been pure perfection, but instead, it veers into DIY territory.
Sarah Jessica Parker's unauthentic rocker chick 'fit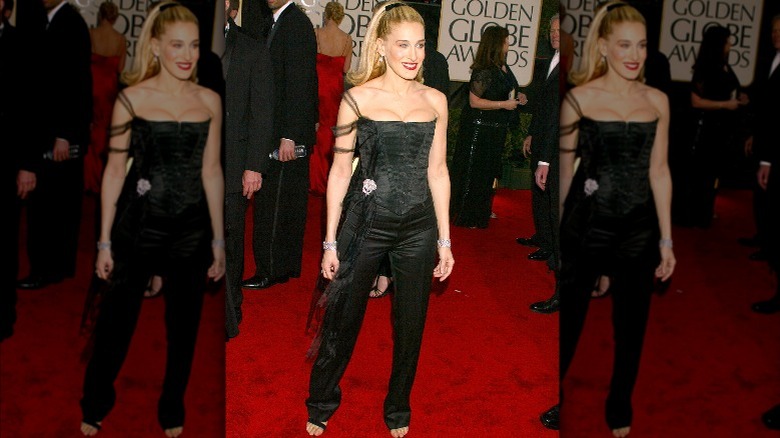 Jeffrey Mayer/Getty Images
Sarah Jessica Parker's fashion choice at the 2003 Golden Globes was a look that left fans and critics divided, as some loved it and others hated it. Now, you can already guess which group we belong to. While the black pants paired with a black corset gave off an edgy and rock-glam vibe, the look failed to capture the essence of Sarah Jessica Parker's signature style. We're definitely used to seeing the actor in vibrant colors, stunning materials, and whimsical designs that showcase her unique fashion sense. This rocker chic ensemble felt like a major departure from that, and while we appreciate her willingness to experiment with something different, the Golden Globes call for more of a touch of sophistication and red-carpet magic.
Jessica Biel's floral faux pas at the 2017 Golden Globes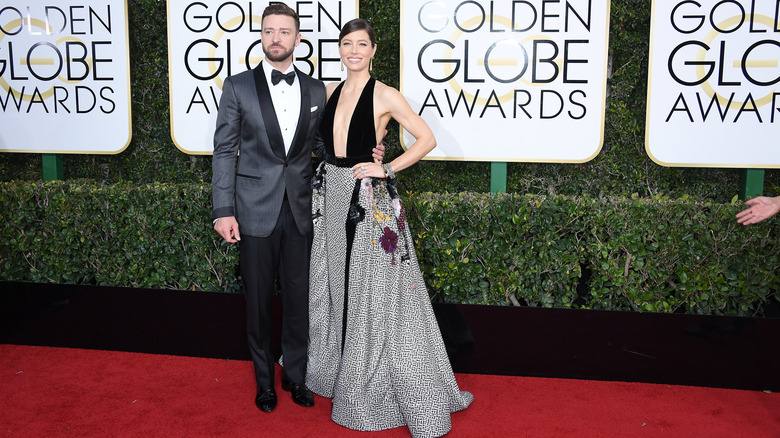 Daniele Venturelli/Getty Images
For the 2017 Golden Globes, Jessica Biel decided to wear a creation by Elie Saab. The plunging neckline was a bold and brilliant choice, and the contrast between the top and the skirt's material was spot on, creating a captivating visual juxtaposition. However, the flower embellishments on the side seemed a bit out of place, drawing attention away from the otherwise flawless ensemble.
Jennifer Lawrence's weird double belt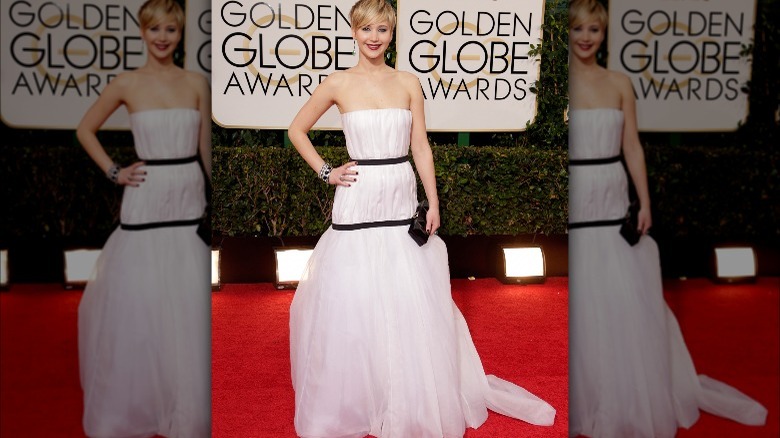 Jeff Vespa/Getty Images
At the 2014 Golden Globes, Jennifer Lawrence walked the red carpet in a Dior strapless white dress with two questionable black bands — one around her waist and the other around her thighs. The dress left us feeling underwhelmed, especially as it gave off a DIY vibe, lacking the glamour and intricacy we expect from the fashions on the Golden Globes red carpet.
Jemima Kirke's outfit overwhelmed her frame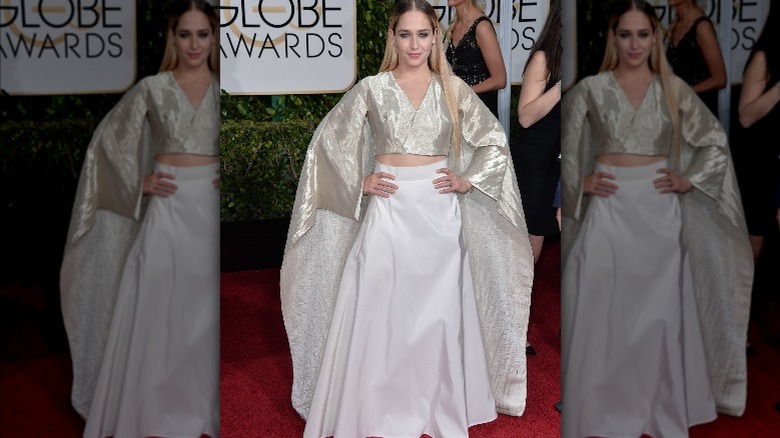 George Pimentel/Getty Images
Jemima Kirke's 2015 red carpet moment was a lesson in the art of mixing and matching. The star wore a metallic cape-like top and a white maxi skirt. Individually, each piece is beautiful, but together, they created a fashion combination that overshadowed the actor's frame. The stiffness of the materials seemed to overpower Kirke, causing her to get lost in the outfit.
Sienna Miller's messy ponytail downgraded her look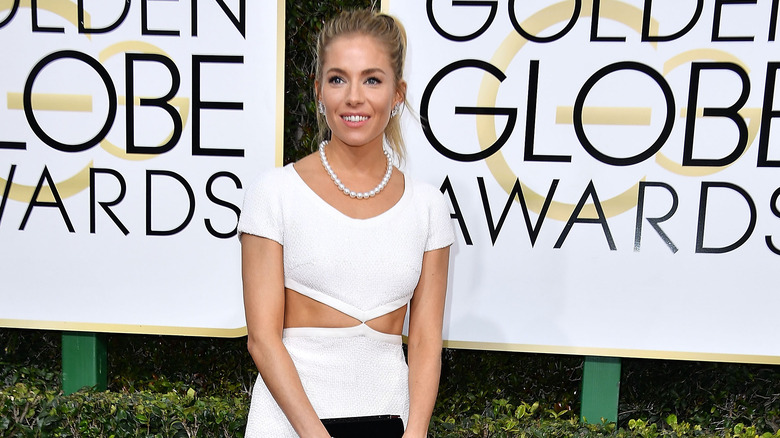 Steve Granitz/Getty Images
In 2017, Sienna Miller decided to go with a white Michael Kors gown with edgy cutouts. The dress itself was a statement piece, but the pairing with pearls as jewelry was definitely an odd choice, creating a clash between edginess and classic elegance. To make things even more confusing, Sienna Miller opted for a messy ponytail instead of a sleek one which could have potentially elevated the overall aesthetic.
Lana Del Rey's aqua blues at the 2015 Golden Globes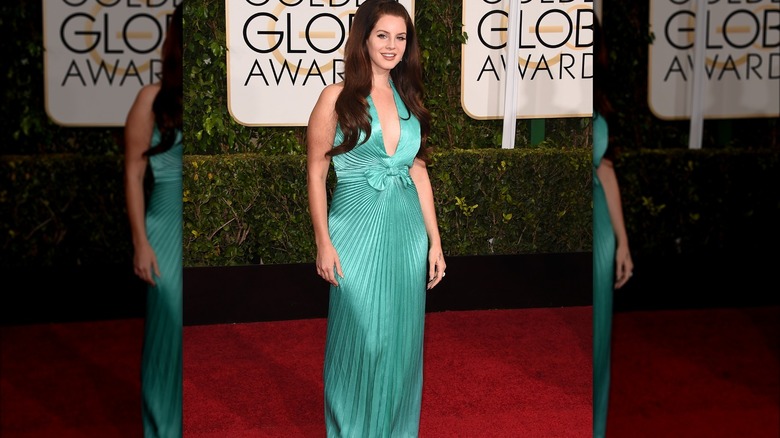 Jason Merritt/Getty Images
Lana Del Rey's 2015 red carpet moment didn't quite hit the mark. The musician wore a vintage Travilla gown with a poorly executed bow below the bust. And to make things even worse, the aqua color choice didn't do justice to Lana's complexion. It washed her out, leaving her looking pale and less vibrant than usual — especially in photos.
Madonna's 2012 look: A major clash of textures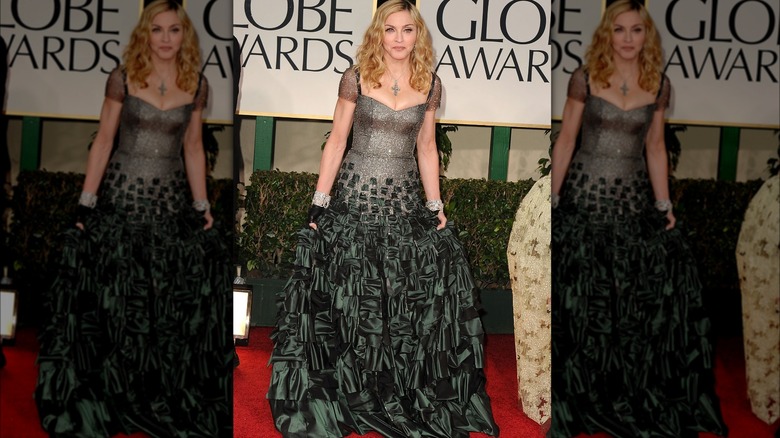 Steve Granitz/Getty Images
Madonna attended the 2012 Golden Globes in a dress by Reem Acra that definitely wasn't everyone's cup of tea. The look consisted of a bejeweled silver bodice with a dark green skirt, and while each element individually had its charm, the clash of textures made the outfit appear too busy and overwhelming.
Sarah Michelle Gellar's watercolor print fell flat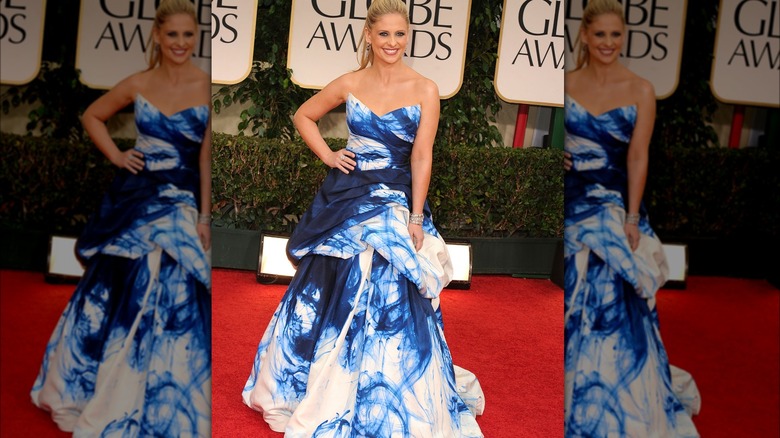 Steve Granitz/Getty Images
At the 2012 Golden Globes, Sarah Michelle Gellar had us seeing tie-dye vibes with her watercolor print gown by Monique Lhuillier. The gown featured voluminous layers, and it definitely made quite a statement on the red carpet. While some might appreciate the artistic expression, the overall effect made us feel like too much was happening all at once.
Distracting details: Drew Barrymore's bedazzled gown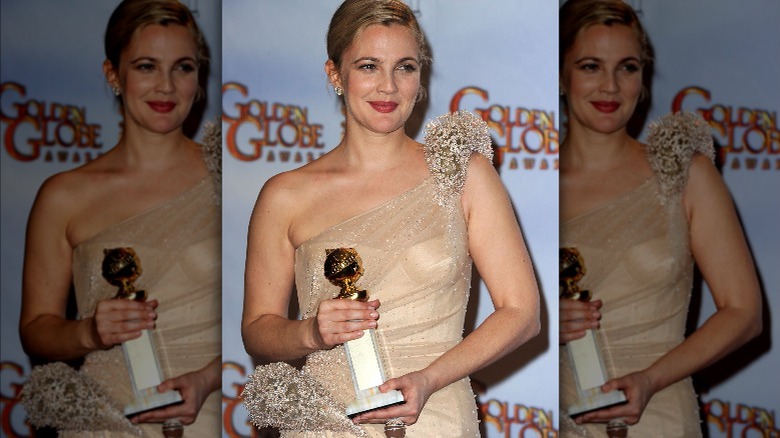 Steve Granitz/Getty Images
Drew Barrymore attended the 2010 Golden Globes in an Atelier Versace bedazzled champagne gown. However, despite the gown's finely crafted design, attention was drawn away by the corset top peeking through and the seashell embellishments on her hip and shoulder. Had those two details been changed, the dress would have been on top of every best-dressed list.
Cameron Diaz's mismatched madness in 1999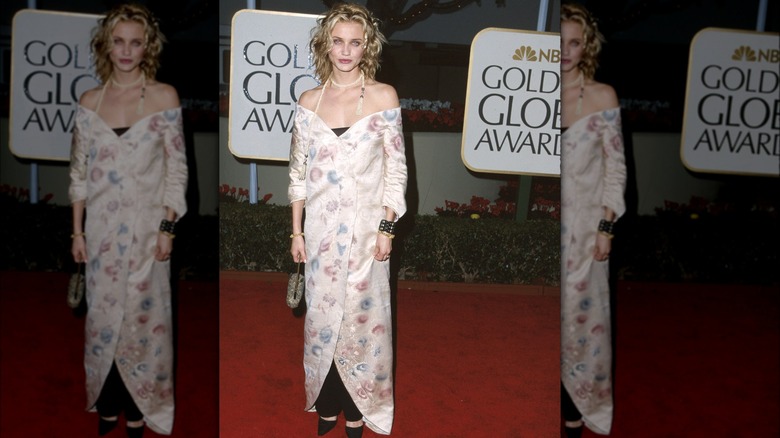 Steve Granitz/Getty Images
Let's delve into the details of Cameron Diaz's 1999 Golden Globes dress. The star wore an ill-fitted off-the-shoulder gown layered over a black tube top and pants, which, when put all together, looked very mismatched. While we have to admit that mismatched was kind of the name of the game in the '90s, this is certainly a 'fit that didn't age well. Unfortunately, the messy hair and bronze makeup didn't help elevate the look either.
Portia de Rossi's clash of tulle and sparkle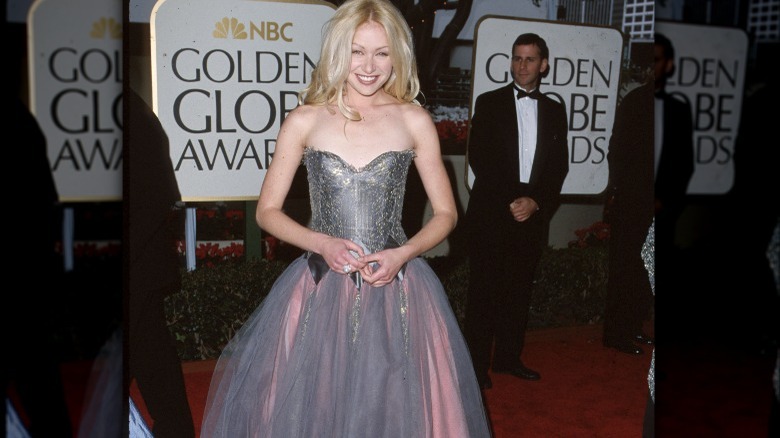 Steve Granitz/Getty Images
Portia de Rossi attended the 1999 Golden Globes in a tulle Valentino ball gown with a silver sparkly corset top. While the gown gave us that classic princess silhouette, the clash of color and materials took the dress from a hit to a miss. Fashion is all about finding the right balance, and in this case, the combination lacked a cohesive vision.
Cate Blanchett: Vintage glam gone wrong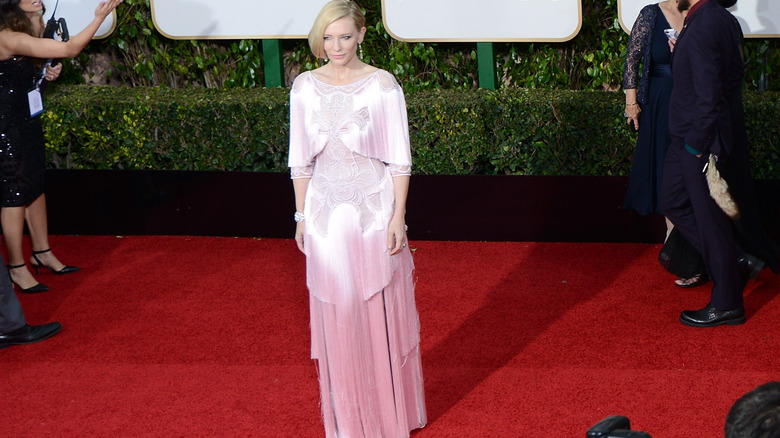 Michael Kovac/Getty Images
Oh, Cate Blanchett. Your 2016 Golden Globes look is definitely one we'll always remember — and not for good reason. The actor wore a blush pink Givenchy dress with intricate vintage-esque detailing — and had it stopped there, it would have been a completely different story. However, the cape-like top portion was added, and it quickly created a rather peculiar look.
Angelina Jolie's dead husband robe in 2018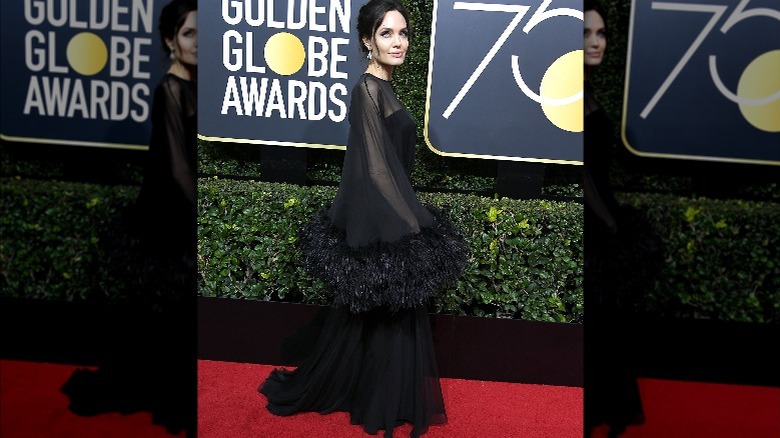 Steve Granitz/Getty Images
At the 2018 Golden Globes, Angelina Jolie once again showcased her affinity for a gothic and Morticia Addams-inspired vibe. The star wore a black Atelier Versace gown with sheer sleeves and feathered cuffs that definitely gave us that "dead husband robe" aesthetic, which isn't inherently a bad look — just not one we'd expect on the Golden Globes red carpet.
Margot Robbie underwhelms at the 2020 Golden Globes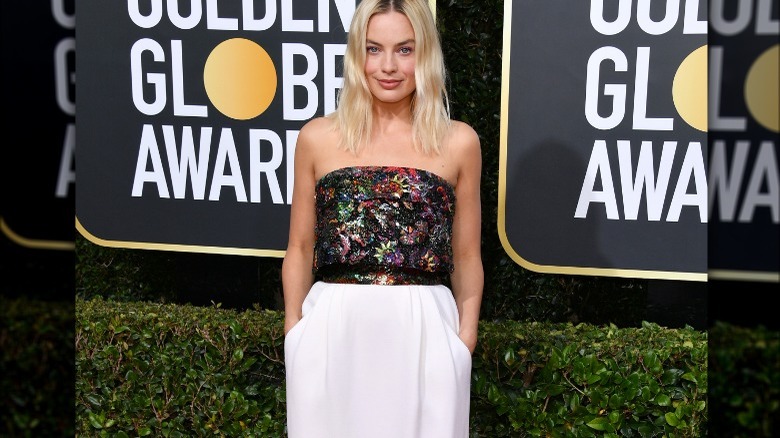 George Pimentel/Getty Images
At the 2020 Golden Globes, Margot Robbie walked the red carpet in a Chanel ensemble that, while impeccably crafted, left us wanting more. While there's nothing inherently wrong with the colorful beaded bustier and white satin skirt, we wish the star gave us a bit more drama and elegance, as the overall look came across as slightly underwhelming for such a glamorous event.
Gwyneth Paltrow's texture overload in 2006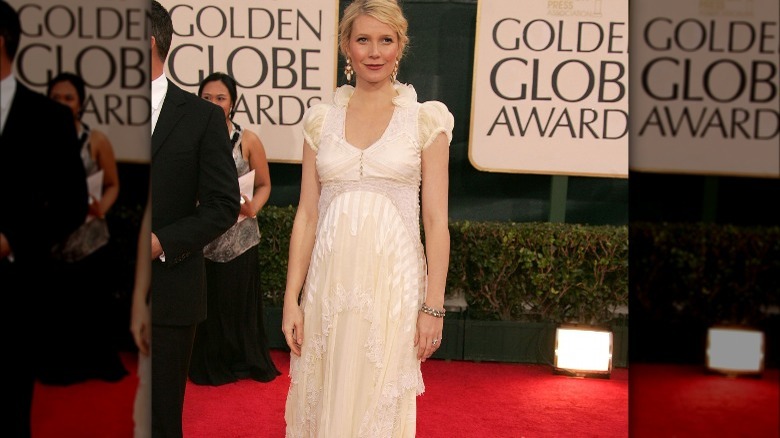 Frazer Harrison/Getty Images
Gwyneth Paltrow's 2006 Golden Globes outfit was a dress with multiple textures, ruffles, beads, and varying tones of ivory white. Unfortunately, the combination resulted in a resemblance to a Victorian pirate dress — and we're still trying to figure out whether that was intentional or not.
Sharon Stone appeared lost in punk translation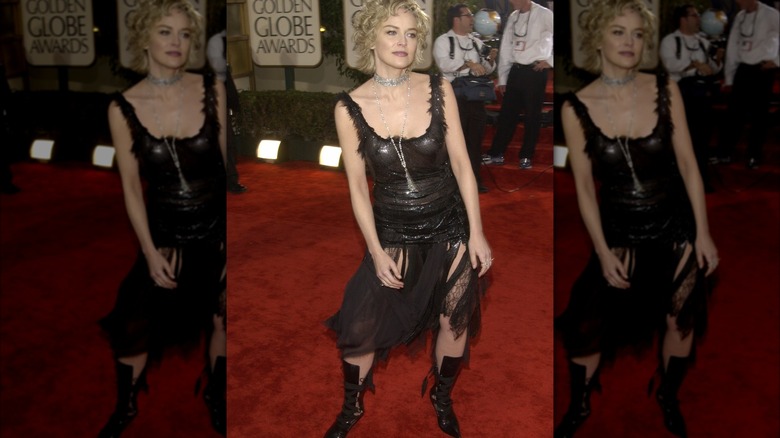 Featureflash Photo Agency/Shutterstock
Sharon Stone's look at the 2003 Golden Globes is a classic example of a cool choice that would have been perfect for a more casual red carpet event, but instead, it stood out at the Golden Globes, and not in a good way. The actor wore a punk/goth-inspired look with furry straps and lace-up boots that were definitely more suited for a rock concert than a prestigious awards ceremony.
Paula Patton and the giant ruffles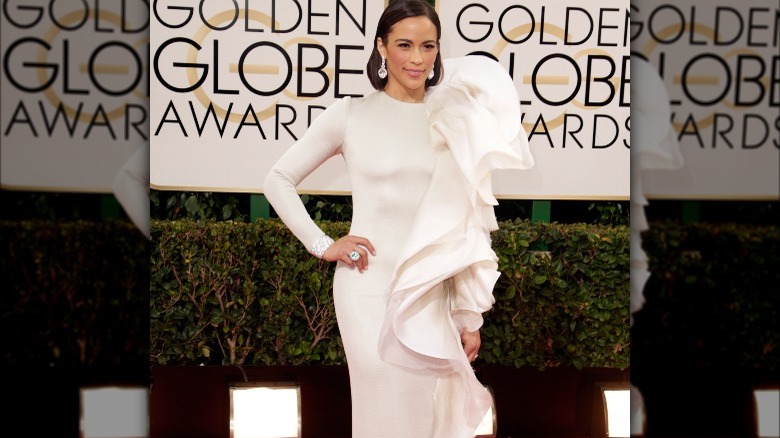 Jeff Vespa/Getty Images
For the 2014 Golden Globes, Paula Patton decided to go with a Stéphane Rolland Couture dress that certainly made a statement. The dress featured a gigantic ruffle extending from shoulder to hem. Unfortunately, this bold design choice ended up taking away all the attention from the star herself, which is never a good thing, as it left little room for Patton to shine.
Kristen Wiig's lace and lining disaster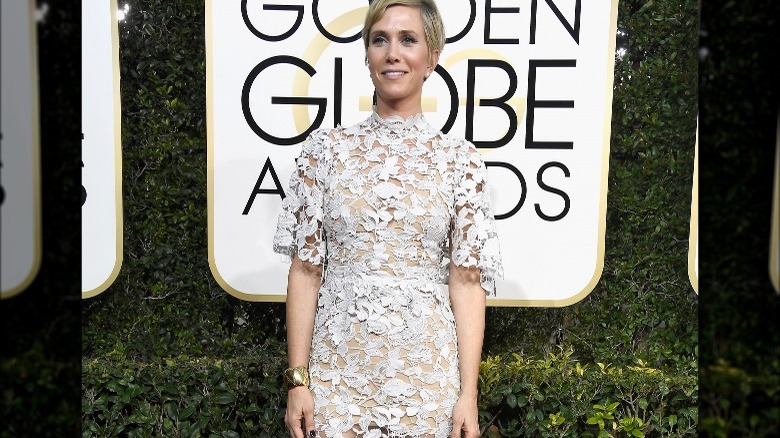 Frazer Harrison/Getty Images
For the 2017 Golden Globes, Kristen Wiig opted to wear a white lace Reem Acra dress. Going for an all-lace dress can be a bold choice, but unfortunately, in this case, it backfired because the lining was way too distracting. Instead of allowing the delicate lace to shine, the layer beneath took away from the intricacy and beauty of the lacework, as it disrupted the visual harmony.
Sheer distraction: Renee Zellweger in 2009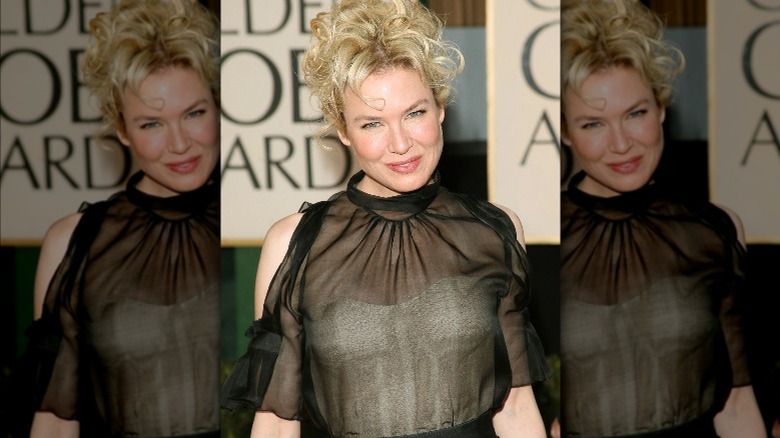 Jason Merritt/Getty Images
Renee Zellweger was the center of attention at the 2009 Golden Globes, thanks to her Carolina Herrera ensemble. The upper portion of the outfit was completely sheer, putting all the focus on the nude-colored bra Zellweger was wearing underneath. If you ask us, going for a black tube bra would have saved this look, making the bra an intentional focal part of the outfit instead of a major distraction.
Lara Flynn Boyle: When costume meets red carpet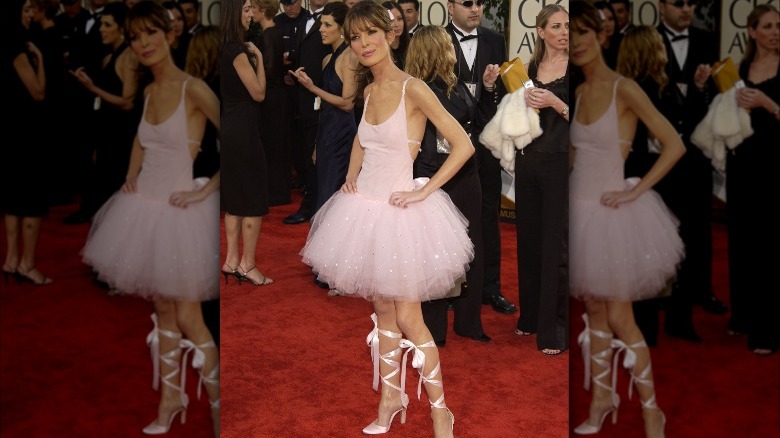 Kmazur/Getty Images
No worst-dressed Golden Globes list would be complete without Lara Flynn Boyle's now iconic 2003 look. The star wore a ballerina-inspired outfit designed by David Cardona that gave off a major costume vibe, which is obviously a very tacky choice for such a prestigious industry event. Nevertheless, it is a look frequently discussed, even 20 years later — which was probably the point.
Juliette Lewis' strange crystal headpiece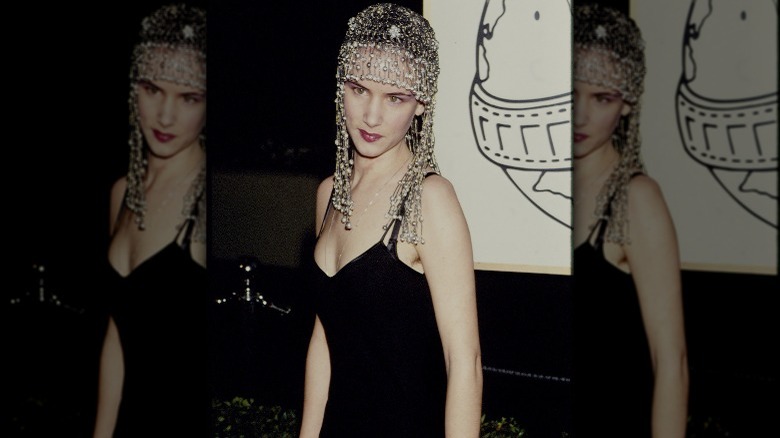 Frank Trapper/Getty Images
At the 1994 Golden Globes, Juliette Lewis decided to make an entrance by rocking a simple black slip dress accompanied by an intricate crystal headpiece, which was undoubtedly a bold move. However, the overall look appeared a bit last minute, and that's certainly not the vibe you want to give off at such a glam event like the Golden Globes.
Queen Latifah's outdated monochromatic look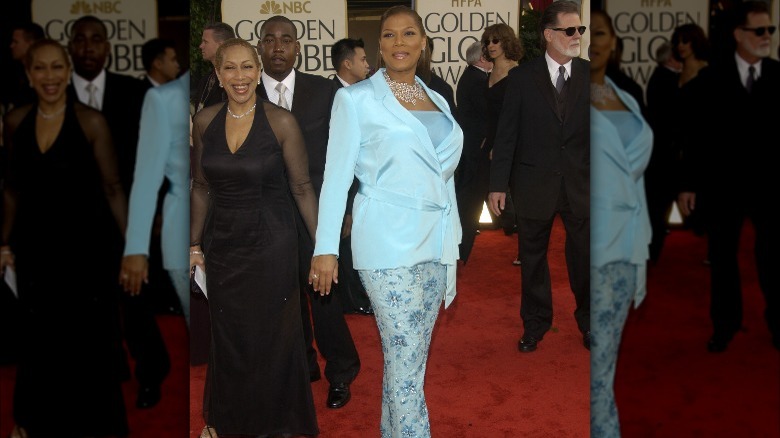 Featureflash Photo Agency/Shutterstock
Queen Latifah's look at the 2003 Golden Globes was a blue pastel pantsuit decorated with bedazzled floral detailing on the legs. While the matchy-matchy look may have made a statement back then, it's safe to say that it hasn't aged well, as it's not something we can envision on red carpets today, especially with the shiny material and sparkly details.
Distressed: Courtney Love's controversial couture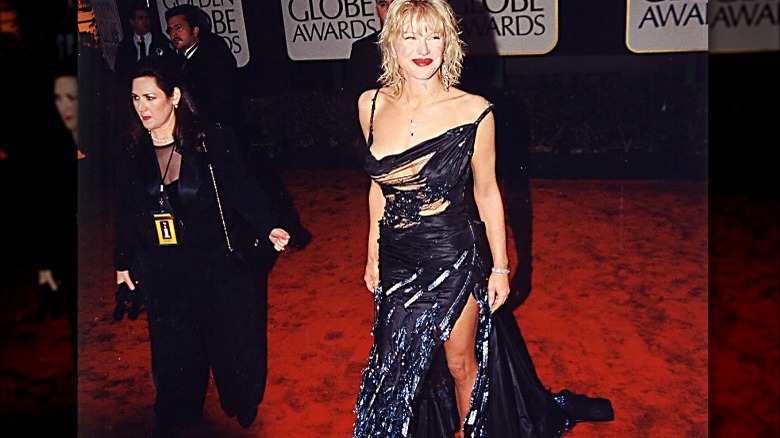 Jeff Kravitz/Getty Images
Courtney Love is definitely a name synonymous with shocking looks, and her 2000 Golden Globes outfit was no different. For the event, the star chose a distressed black gown by Dior Haute Couture. While she's literally the only person we can imagine pulling off such a daring choice, it's undeniable that even more than 20 years later, the dress remains controversial.
Debra Messing's cutout look at the 2018 Golden Globes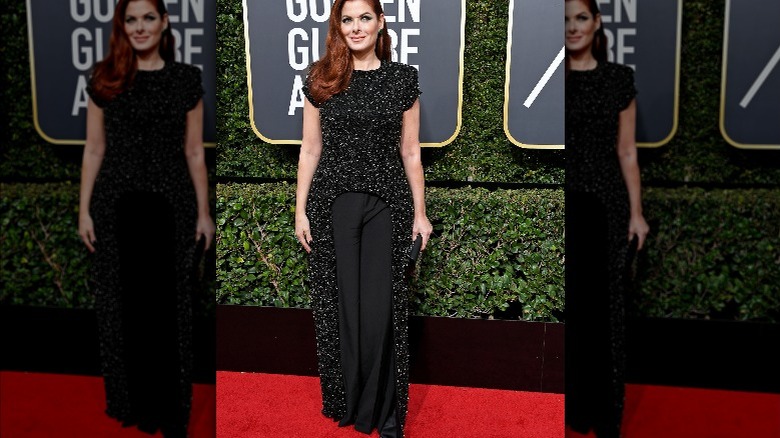 Steve Granitz/Getty Images
For the 2018 Golden Globes, Debra Messing wore a look by Christian Siriano that certainly raised eyebrows: a sparkly black dress with a cutout in the front designed to showcase the pants underneath. Once again, we're not fans of the dress and pants combo, and the peculiar cutout only made this ensemble even more bizarre. While the Christian Siriano creation surely aimed to be a daring and unconventional choice, it unfortunately missed the mark.
Paula Abdul's poor fit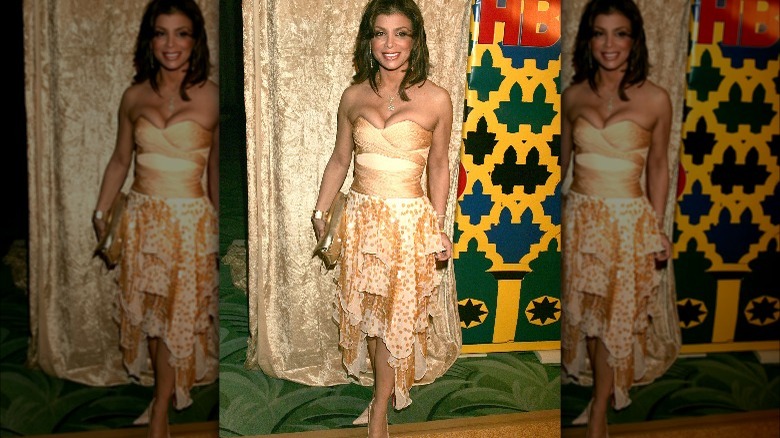 Jeffrey Mayer/Getty Images
For the 2005 Golden Globes, Paula Abdul decided to go for an ill-fitting yellow dress with sequins randomly placed all over the skirt portion. The top part proved to be way too tight, ultimately distracting from the rest of the dress (which is good and bad at the same time). When it comes to fashion, proper fit is essential, as it enhances the wearer's silhouette and allows them to be confident — which is not the vibe this outfit gives.
Emma Stone's washed-out appearance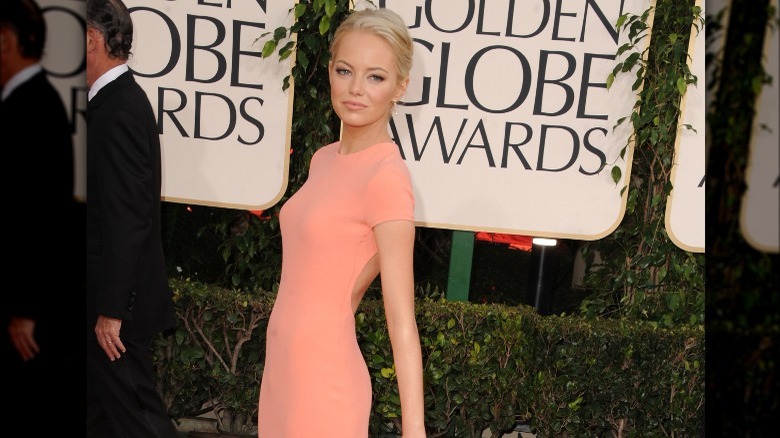 Steve Granitz/Getty Images
At the 2011 Golden Globes, Emma Stone showed up in a stunning Calvin Klein peach dress. However, when combined with her sun-kissed skin, bleached blond hair, and nude lipstick, the entire look fell victim to the same color palette, resulting in a washed-out appearance. The lack of contrast and variation in color prevented the dress from truly shining — something that could have been easily solved had the star opted for a bold lipstick color.
Helen Mirren's dramatic feathered showstopper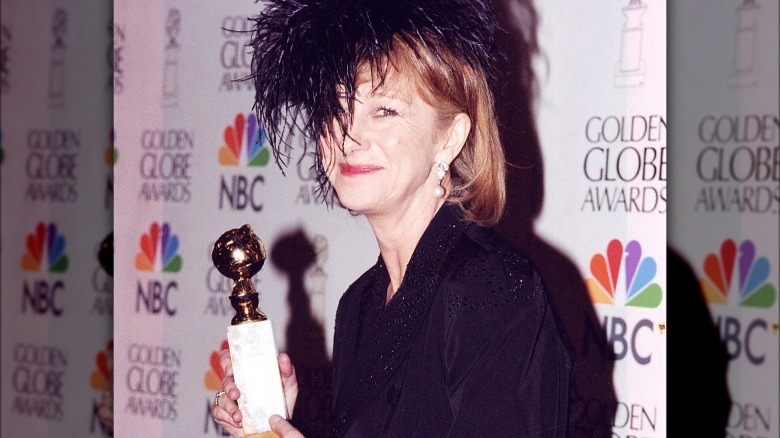 Jeff Kravitz/Getty Images
Helen Mirren surprised everyone at the 1997 Golden Globes, where she showed up in a black outfit combined with a dramatic feathery headpiece. However, the headpiece ended up stealing the show in an unintended way, as it unnecessarily hid a portion of her face.
Helena Bonham Carter's fashion rebellion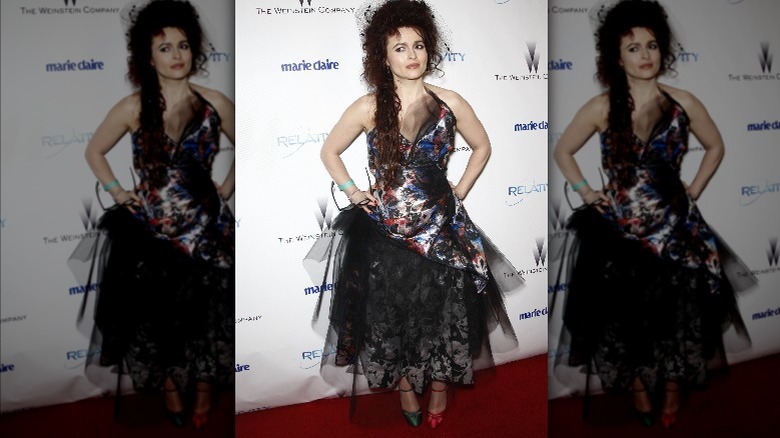 Joe Seer/Shutterstock
Helena Bonham Carter is known as a true icon of individualistic style, and her appearance at the 2011 Golden Globes was no exception. While most Hollywood stars tend to adhere to a certain fashion category, Helena has always marched to the beat of her own drum — and that deserves applause. However, her unique and unapologetic style has also landed her a spot on the worst-dressed lists from time to time. Mismatched shoes, bright colors, black lace, mesh, and layers upon layers are her signature go-to elements in this award show style fail.
Michelle Williams' distracting blue ruffles in 2020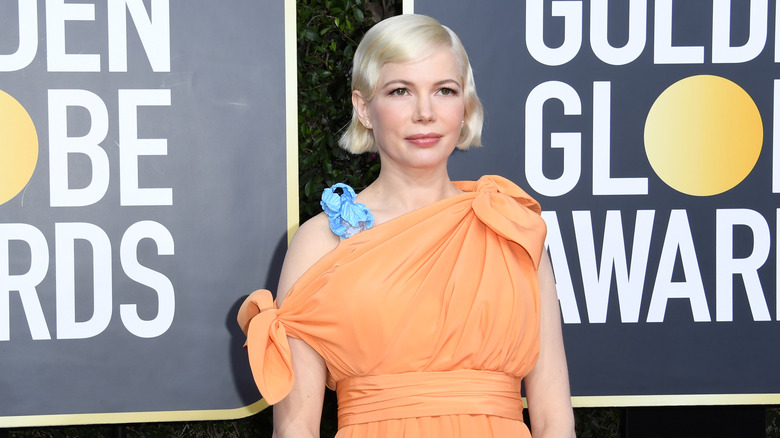 Jon Kopaloff/Getty Images
At the 2020 Golden Globes, Michelle Williams made a statement in a custom peach Louis Vuitton gown that had the potential to be a perfect choice. However, the addition of bright blue ruffles on her right shoulder ended up being a questionable decision that detracted from the overall elegance of the look. This once again proves that any minor detail can make or break a look.
Rooney Mara could have used a bolder color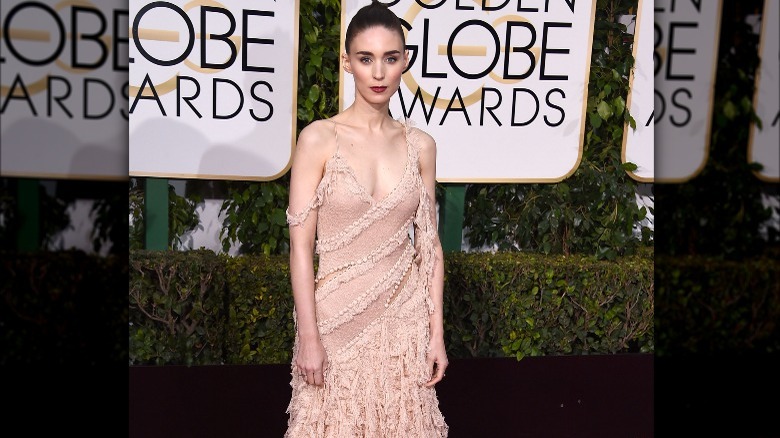 Steve Granitz/Getty Images
Rooney Mara wanted to make a statement at the 2016 Golden Globes with her fashion choice, but her dress backfired. The actor wore an Alexander McQueen beigey blush slip dress embellished with ruffles, beads, and off-the-shoulder detailing. While the dress itself wasn't a bad choice, the tone of it, unfortunately, washed the actor out completely.
Regina King's cape ruined her all-gold ensemble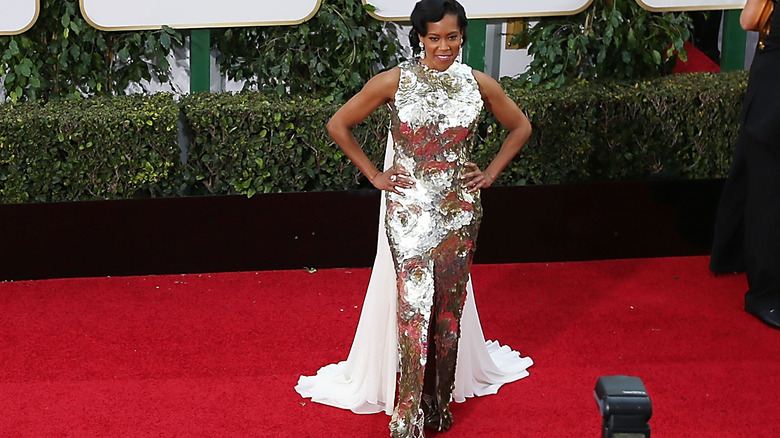 Joe Scarnici/Getty Images
At the 2016 Golden Globes, Regina King stunned in a beautiful gold gown designed by Krikor Jabotian. The dress itself was a showstopper, making the actor look like a walking award. While an all-gold look may seem excessive to some, King undeniably pulled it off with confidence. However, it was the addition of the white cape that proved to be a totally unnecessary touch to the ensemble.
Calista Flockhart's fairy vibe at the 2001 Golden Globes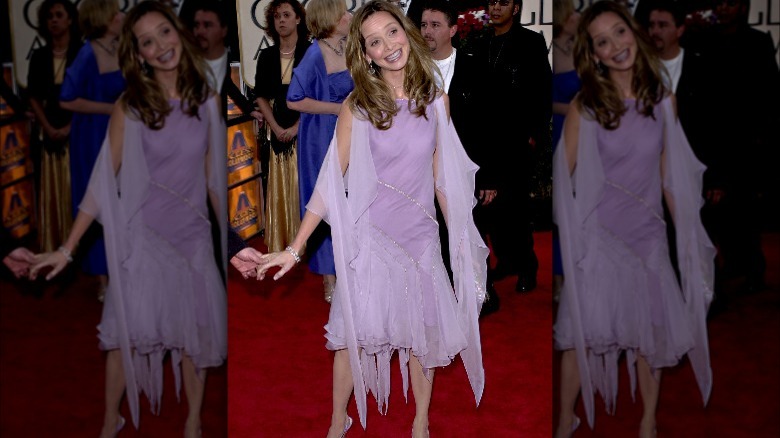 Getty Images/Getty Images
Calista Flockhart opted for a frilly lavender dress with a matching shawl for the 2001 Golden Globes. While she did give us a whimsical fairy-like vibe, the outfit fell short of being truly Golden Globe red carpet-worthy. The pastel dress and shawl created a charming and ethereal aesthetic that suited Calista Flockhart's delicate features but was a much better choice for a more casual industry event.
Kate Mara's odd fit and color choice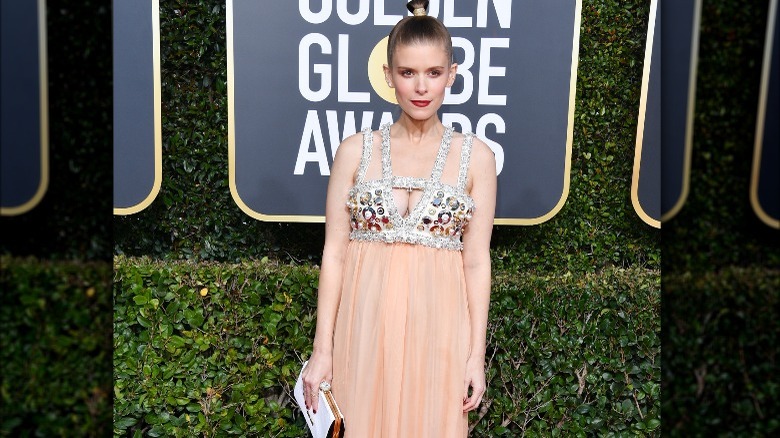 George Pimentel/Getty Images
Kate Mara wore a flowy Miu Miu peach dress with a top decorated with plenty of gems to the 2019 Golden Globes. In theory, a dress like this could work wonders, but unfortunately, the fit fell short, appearing too tight at the top. Additionally, the peach color of the fabric washed the actor out rather than enhancing her natural beauty.
Diane Keaton's head-to-toe (and fingertips) white outfit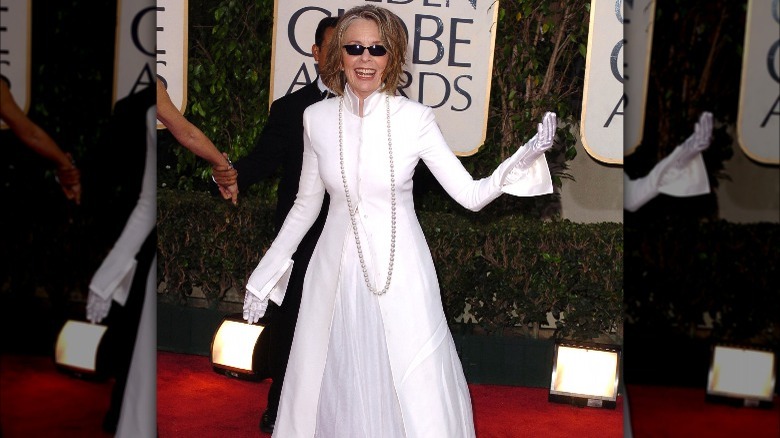 Steve Granitz/Getty Images
At the 2004 Golden Globes, Diane Keaton once again showcased her unapologetically authentic style, proving time after time that she doesn't care about others' opinions. The star boldly wore a head-to-toe white outfit, complete with white gloves. To accessorize, she opted for dark shades and a very long necklace, both of which only added to the overall eccentricity of the ensemble.
Feathers and flash: Heidi Klum's showgirl-inspired dress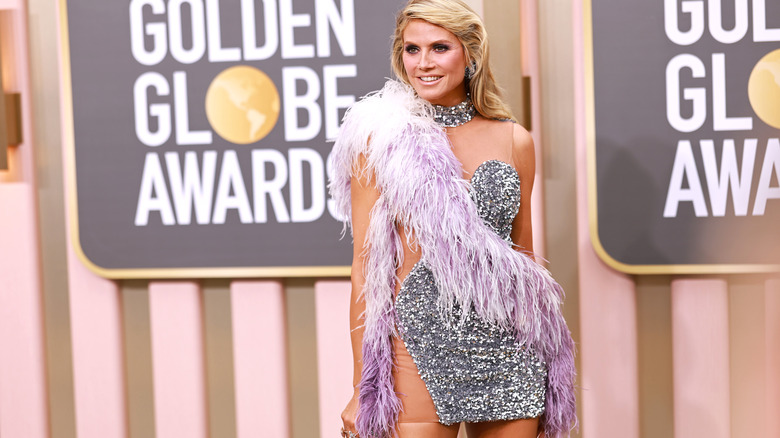 Matt Winkelmeyer/Getty Images
For the 2023 Golden Globes, Heidi Klum decided to go for a bold fashion statement that unfortunately backfired. The star wore a silver Germanier minidress decorated with plenty of purple feathers. The choice was daring and certainly gave any Las Vegas showgirl a run for her money. Heidi Klum is known for her fearless approach to fashion, but a dress like this is a bit too theatrical and costumey for the annual event.
Marissa Tomei's '70s boho-inspired style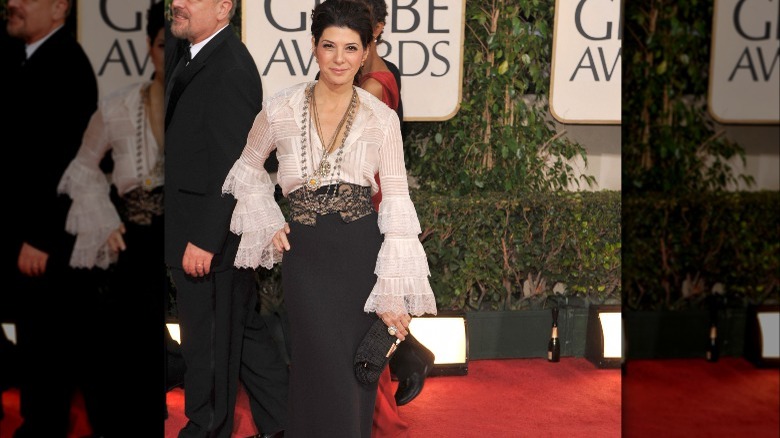 Steve Granitz/Getty Images
Marisa Tomei walked the 2009 Golden Globes in an Oscar de la Renta creation featuring a black maxi skirt, a white button-up top with dramatic bell sleeves, multiple layered necklaces, and a 2000s staple — the thick waist belt. While the ensemble exuded a '70s boho vibe, it appeared slightly too casual for a prestigious event such as the Golden Globes.
Cher's outfit was totally '80s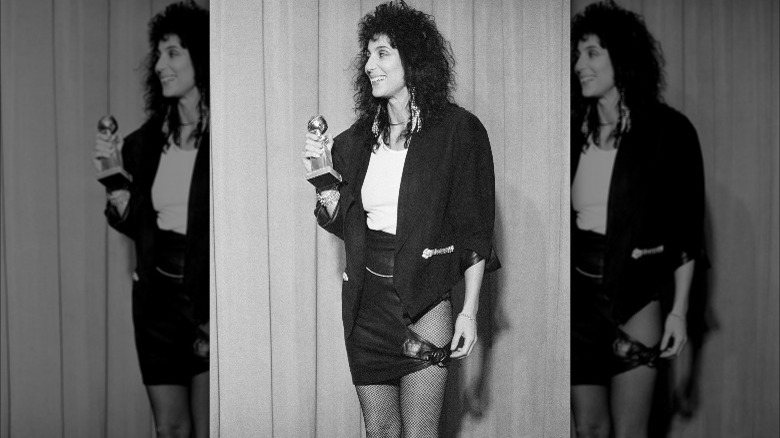 Bettmann/Getty Images
Cher, a category of her own when it comes to fashion, has always pushed boundaries with her unique style. At the 1984 Golden Globes, she made a bold statement in a miniskirt with thigh cutouts, paired with a big-shouldered jacket. While the look is undeniably iconic and screams "1980s" at the top of its lungs, many would agree that it wasn't the best choice for the atmosphere of the Golden Globes red carpet.
Kim Cattrall's obvious spray tan and big mesh shawl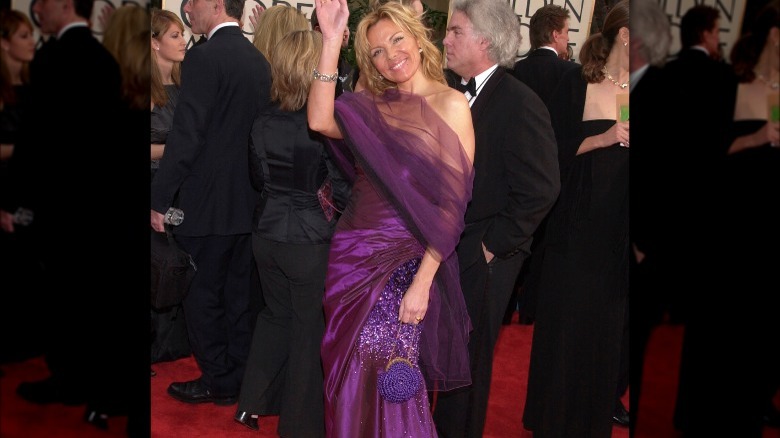 Frank Trapper/Getty Images
At the 2001 Golden Globes, Kim Cattrall walked the red carpet in a bright purple dress with bedazzled detailing. On its own, the dress was intricate and glamorous enough, but unfortunately, the addition of the mesh shawl took it a step too far. Paired with the star's visible spray tan, the overall look placed her in the worst-dressed category.
Kerry Washington's color-blocked gown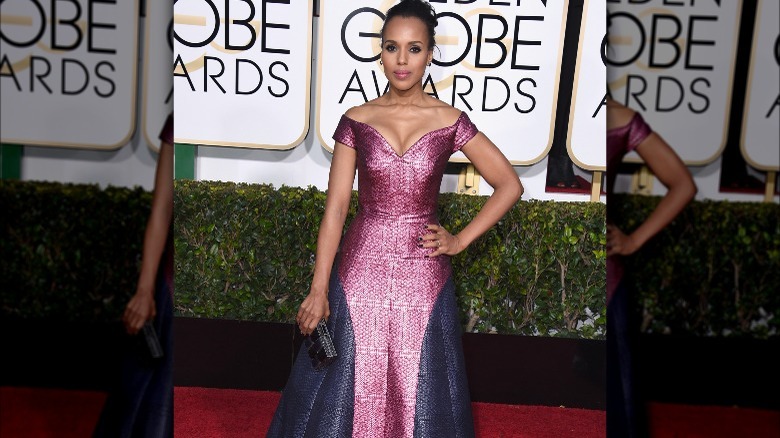 Steve Granitz/Getty Images
Kerry Washington wore a Mary Katrantzou gown that featured a lovely ball gown off-the-shoulder silhouette to the 2015 Golden Globes. However, the odd color-blocking on the dress ultimately secured it a spot on the list of worst fashion moments. Had the dress been entirely pink, it would have been a whole different story.
Anne Hathaway is an example of when trends collide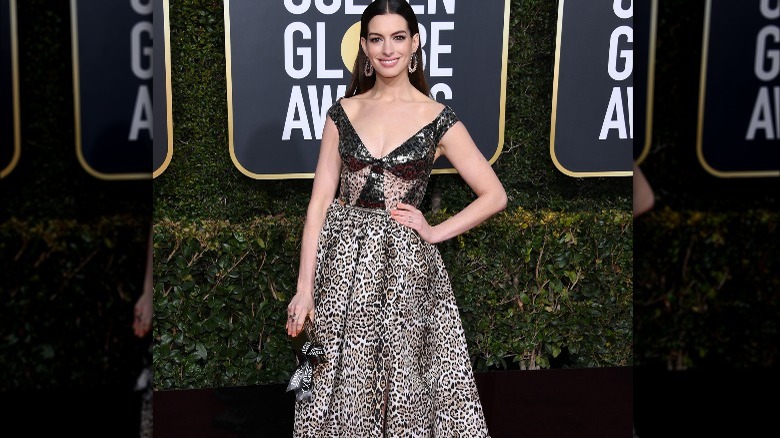 Daniele Venturelli/Getty Images
Anne Hathaway made a bold fashion choice at the 2019 Golden Globes by going for an Elie Saab dress that combined animal print and metallics — an infamous combo best left in the '80s. Now, don't get us wrong — there are '80s trends we love, but this just isn't one of them. The dress featured a metallic bodice with cutouts and a cheetah-print skirt, but unfortunately, all of these elements together proved to be overwhelming, taking away from Hathaway's natural beauty. Animal print and metallics on their own can be attention-grabbing, but combined often create a clash that completely takes over an outfit.
Kathy Bates' extravagant embellishments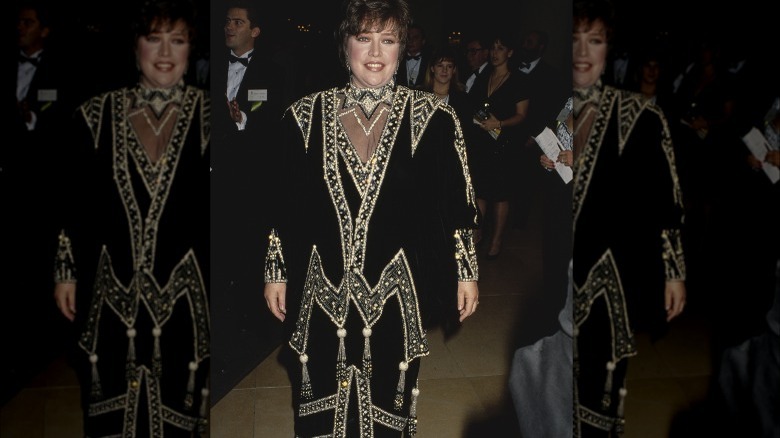 Michael Ochs Archives/Getty Images
Kathy Bates wore a matching black dress and blazer combo to the 1991 Golden Globes. The outfit was generously embellished with golden details, and it epitomized the over-the-top excess of the previous decade, which we are (thankfully) unlikely to see on the red carpet today.
The 2019 Golden Globes: Lucy Liu's risky choice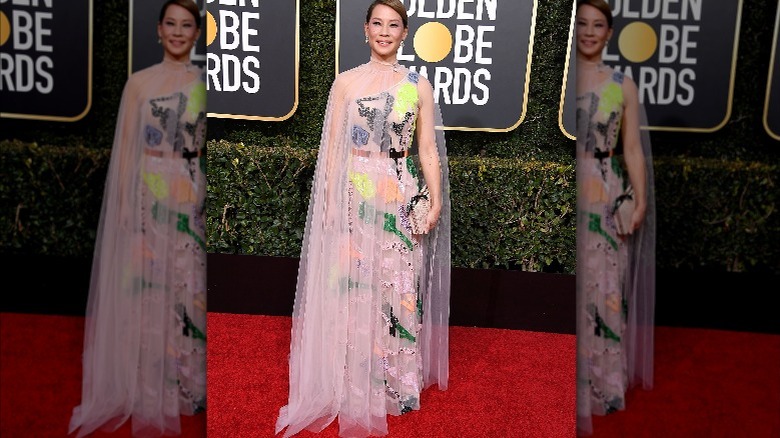 Steve Granitz/Getty Images
For the 2019 Golden Globes, Lucy Liu decided to go with a whimsical and colorful Galia Lahav Couture dress. While the dress exuded playfulness and vibrancy, many would argue that its overall aesthetic leaned toward being too playful and childish for the event. And the fact that Liu paired the dress with a sheer cape — an item that is definitely hard to pull off — didn't help.
Michael Jackson and an owl: Björk, of course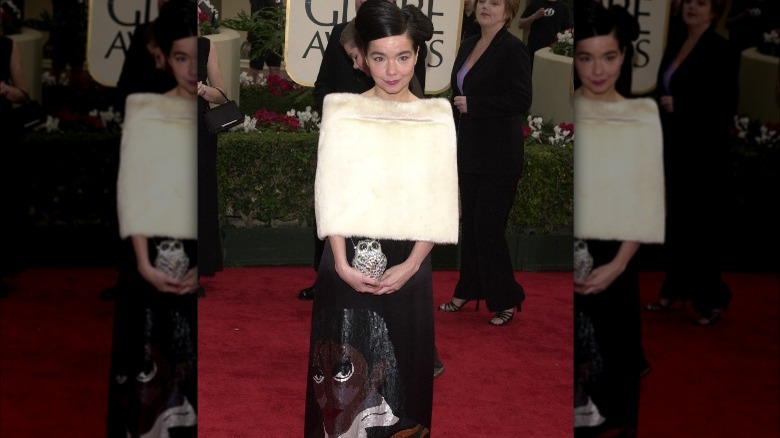 Frank Trapper/Getty Images
No worst-dressed list would be complete without the inclusion of Björk, the artist well known for her unconventional fashion choices. At the 2001 Golden Globes, Björk wore a dress with Michael Jackson's face on the skirt, and she carried an owl-shaped purse, delivering a look as eccentric as we have come to expect from her. The musician's distinctive style, often described as avant-garde and experimental, has garnered both admiration and bewilderment — and while we love seeing her in her element, we can't really say we love the outfit itself.