Celebrity Red Carpet Outfits That Went Off The Rails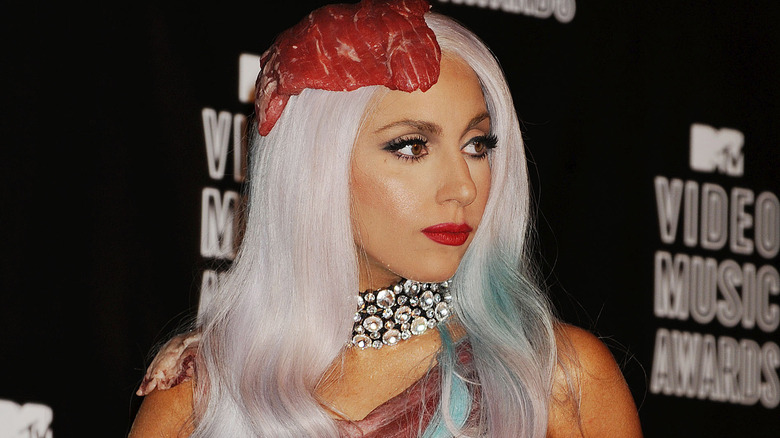 Jeffrey Mayer/Getty Images
The red carpet can be a time to shine and show off your fashion skills, but for some celebrities, their fashion risks don't necessarily land where they hoped. Whether they missed the mark because of over-accessorizing, displaying flashy colors, or just not wearing a properly-fitted garment, some A-listers may never be able to outrun their red carpet mistakes of the past.
And when it comes to the bold, the loud, and the downright off-the-rail ensembles, that's an entire category of its own. We're sure that most of these stars had good intentions for their fashion choices, even if it was merely to get people talking. We had our work cut out for us, selecting the top red carpet outfits that forced eyebrow raises across the globe, going all the way back to the '90s for some of these looks. Lady Gaga's meat dress and even Kerli's lesser-known missteps are sights to behold, but you haven't seen anything yet. 
Kim Kardashian's pearls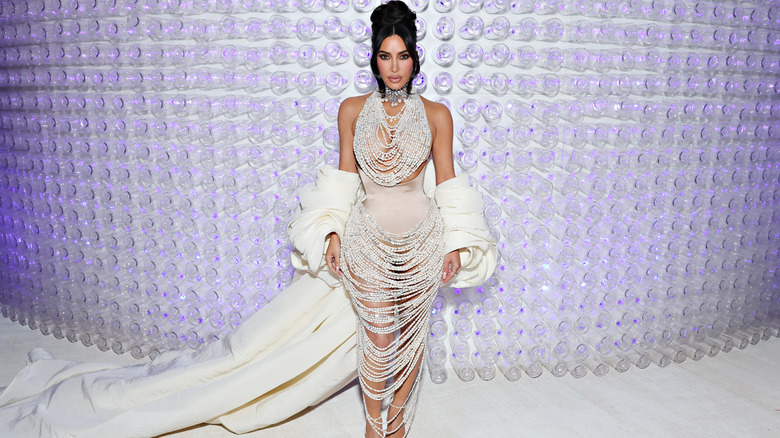 Cindy Ord/mg23/Getty Images
When it comes to drama, the Kardashians sure know how to deliver. Kim Kardashian might have delivered just a little too much drama in this pearl-laden number at the 2023 Met Gala, though. Her overly puffy, gargantuan train and the see-through front covered just by pearls make this a worthy first entry on our list of off-the-rails celebrity outfits. 
Girl Crush's bouncy balls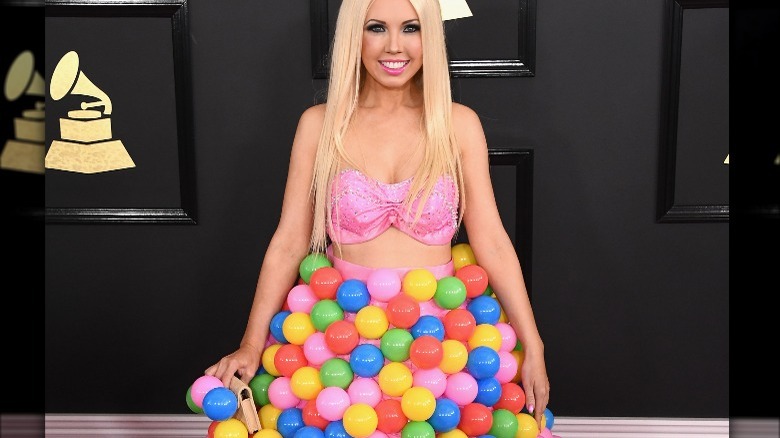 Jon Kopaloff/Getty Images
Colorful, playful, and reminiscent of a child's birthday party at Chuck E. Cheese — Girl Crush's dress was certainly the talk of the town when she debuted it at the 2017 Grammys. Invoking images of the ball pits that we used to dive into, her two-part dress was childish, to say the least, especially for the red carpet.
Lady Gaga's galaxy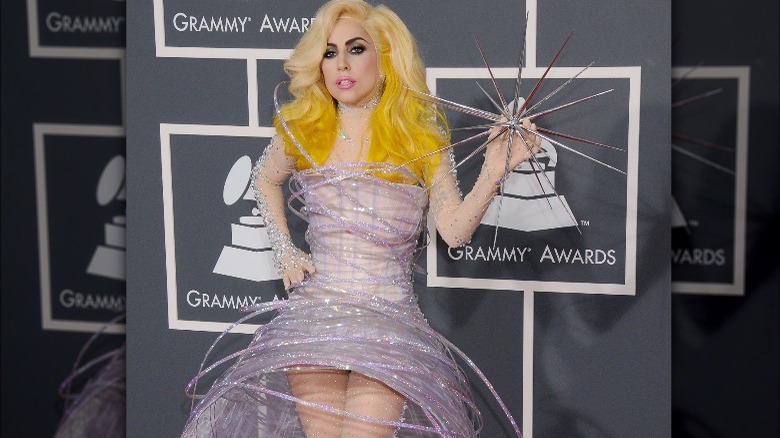 Gregg Deguire/Getty Images
Lady Gaga is a celebrity that will always be on this list — and we definitely admire her constant risk-taking when it comes to her fashion choices. While her dress at the 2010 Grammys has us scratching our heads (is it supposed to be stars? A shining star?), the out-of-this-world ensemble is certainly one to remember.
Kerli's horns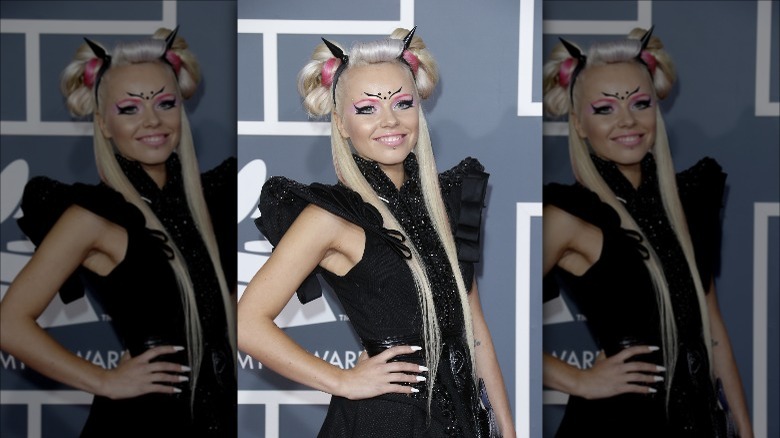 Dan Macmedan/Getty Images
Kerli's known for her eccentric style, and this outfit fits her reputation. While the clothes themselves weren't out of the norm, it was Kerli's hair and face accessories that ensured her a spot on this list for their resemblance to devil horns. We applaud the singer's desire to stand out at the 2013 Grammys, although some would argue the look belongs more in her music videos than the red carpet. 
Helena Bonham Carter's washed-out white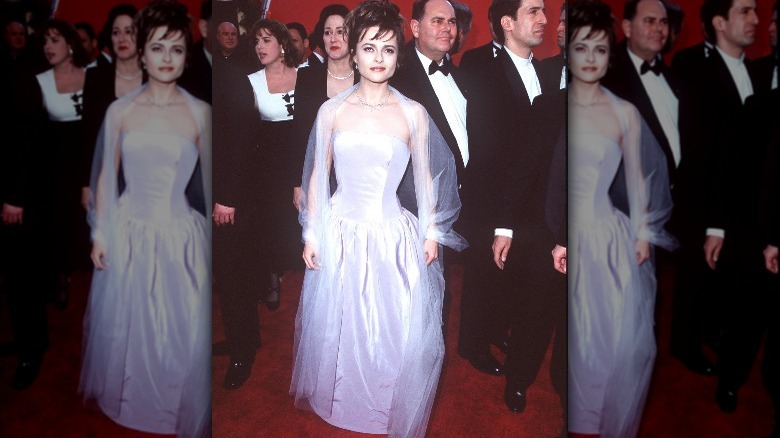 Steve Granitz/Getty Images
It might not be strange, but it sure is, well ... a bit boring. Helena Bonham Carter's 1998 Oscars ensemble didn't suit her complexion that well, and the simplicity of the dress worked against her too. It can be a wrong move to overdo your outfit, but it can also be a mistake to underdo it.
Victoria Evigan's explosion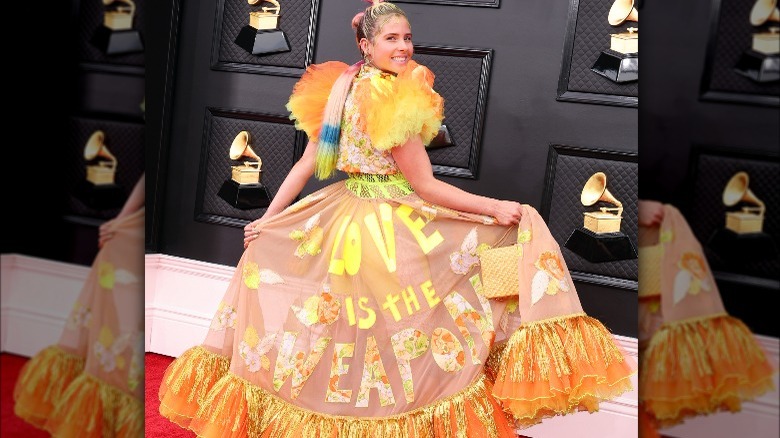 Amy Sussman/Getty Images
Nothing is more appropriate than calling this dress an "explosion." Victoria Evigan's 2022 Grammys dress made use of ruffles, a high collar, and see-through panels to create a dress that was equally amusing as it was statement-making. While her sleeves were the silliest part of her dress (and made us think of a tutu), we love a good message, and what better way to convey "love is the weapon" than on the back of a red carpet gown?
Lil' Kim's jewelry overload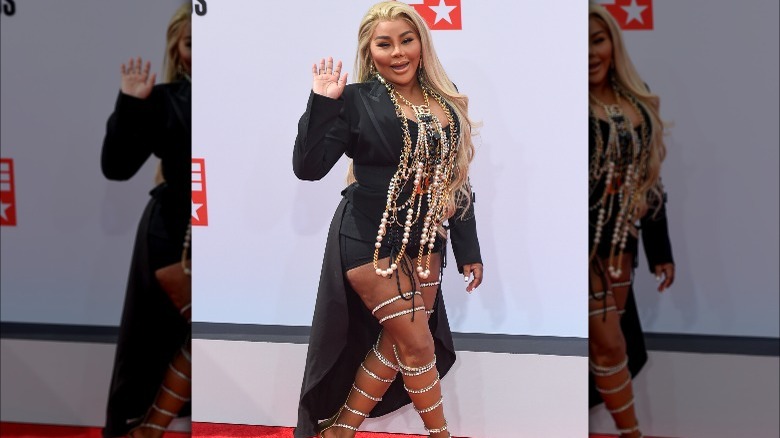 Aaron J. Thornton/Getty Images
Short shorts and a high-low suit jacket are just the beginning of this off-the-rails fashion choice. Lil' Kim accentuated her ensemble at the 2021 BET Awards with plenty of jewelry, though. Over-the-top stacked necklaces, ostentatious earrings, and rings of jewels up her legs made this outfit a truly eye-popping ensemble.
Ta'Rhonda Jones' tracksuit dress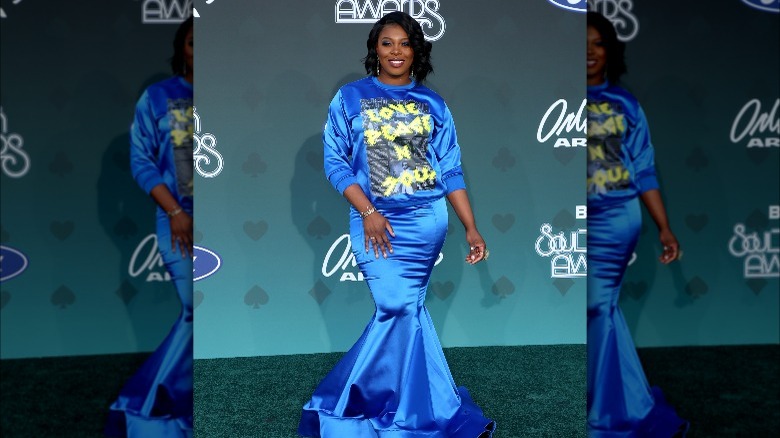 Gabe Ginsberg/Getty Images
Tracksuits have their time and place, but the red carpet doesn't seem like the best fit. Ta'Rhonda Jones looked stunning at the 2019 Soul Train Awards, but her decision to opt for this tracksuit-inspired mermaid dress (although in a trendy cobalt blue color) may have missed the mark. 
Zendaya's blue bloomers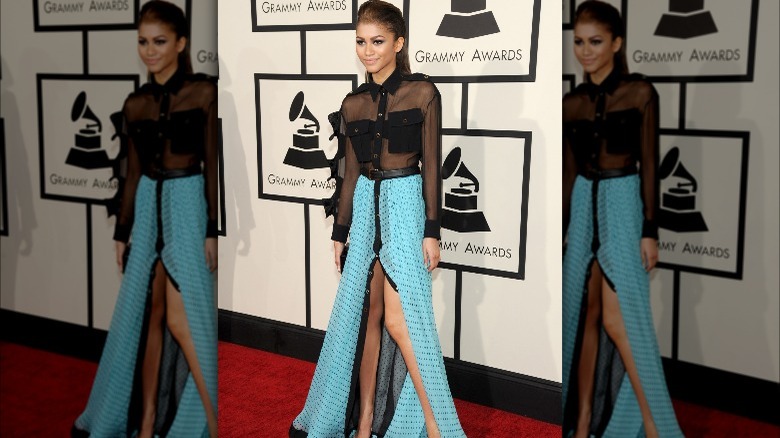 Kevin Mazur/Getty Images
The 2014 Grammys saw one of Zendaya's not-so-beloved fashion moments when she decided to grace the red carpet in a sheer blouse and button-up skirt that, when photographed from just the right angle, happened to look a lot like bloomers. The polka-dot design and Zendaya's slicked-back hair didn't help the look either. 
Kesha's ill-fitting suit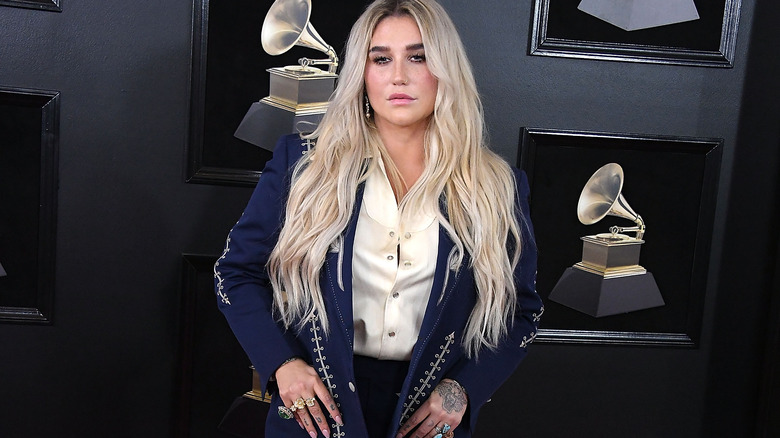 Steve Granitz/Getty Images
We love a good power suit moment, and Kesha does, too, as seen at the 2018 Grammys. The only issue is that this one didn't seem to fit the singer quite right. We must admit, though, that her chosen accessories — bedazzled boots and lots of rings on her fingers — gave her a few extra points.
Cardi B's shell-inspired ensemble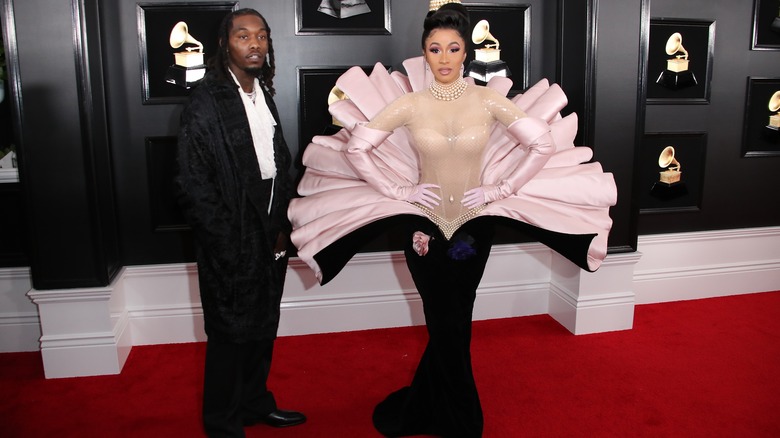 Dan Macmedan/Getty Images
Move over, Ariel — there's a new gorgeous sea creature in town. Cardi B went above and beyond with her shell-inspired ensemble at the 2019 Grammys. Love it or hate it, the outfit certainly is over the top. While the sequined top, pearl accents, and long pink gloves worked well together, it's definitely a look you would see in no other place than the red carpet (and maybe under the sea  — just not as glamorous). 
Erika Costell's cut-out dress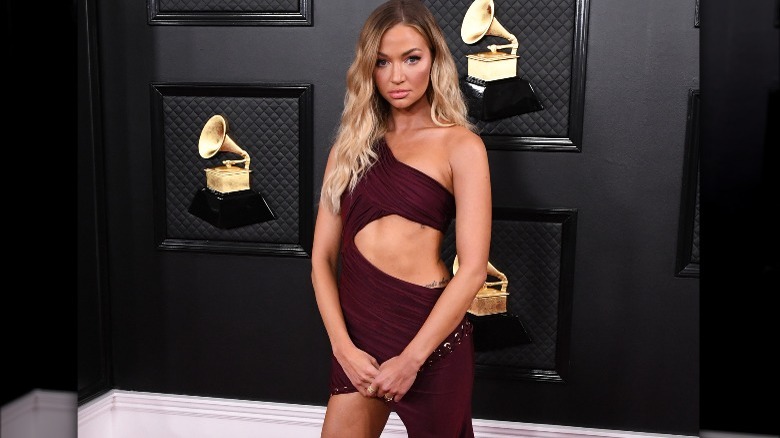 Jon Kopaloff/Getty Images
The red carpet seems to be one of the best times to show a little skin. However, when the gown looks like it's being held together with safety pins, it may be a recipe for an accident. We'd be scared of the wind. And walking too fast. And getting the end caught on our heels. Erika Costell apparently wasn't afraid of any of those possible expositions with her look at the 2020 Grammys.
Maya B's purple ruffle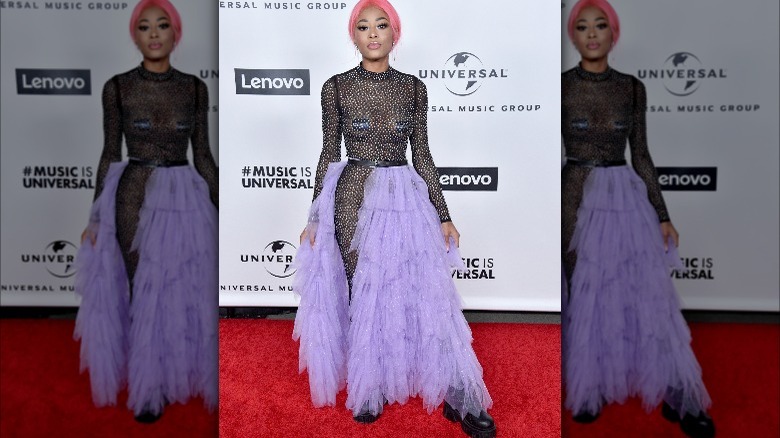 Gregg Deguire/Getty
The red carpet for the 2020 Grammys after party saw a lot of glamorous looks. And although Maya B stunned in glitter from head to toe, the lavender tulle addition — which can only be very loosely described as a skirt — really threw us off. Combine that with black biker boots, and we have a look that feels a bit all over the place. 
Olivia O'Brien's metallic blue moment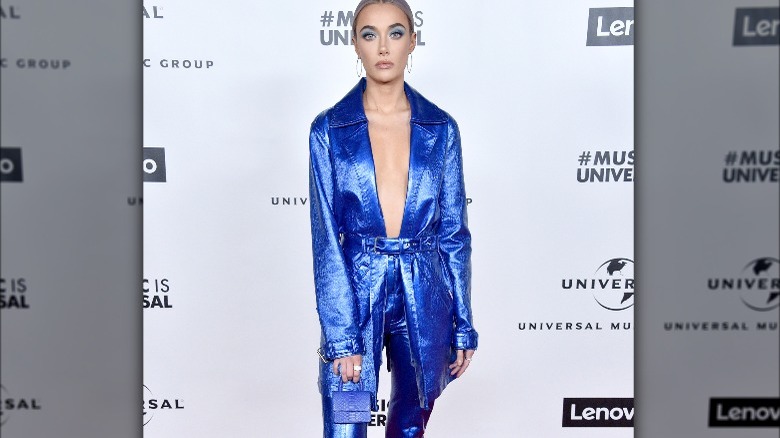 Gregg Deguire/Getty Images
If you take the brightest-colored and biggest rain jacket you can find, sew it up into pants and a suit jacket, and accentuate it with nothing except the tiniest purse, it still wouldn't look as off the rails as Olivia O'Brien's metallic blue suit she sported while walking the red carpet at the 2020 Grammys after party. The singer matched the look with blue eyeshadow, and although we're obsessed with the color, the metallic finish from head to toe is a bit much. 
Chika's comfy look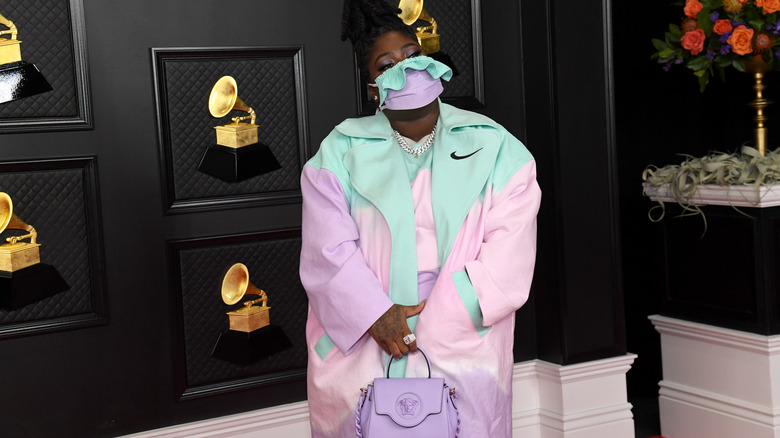 Kevin Mazur/Getty Images
We're all for a casual lounge set, but it may not be the place for an event like the 2021 Grammys. Chika's tri-colored pastel set missed all the right notes and hit a few wrong ones too. The ruffled mask added some excitement and was a fun element, but the overall look was a bit too leisurely for such a star-studded event.
Phoebe Bridger's skeleton trouble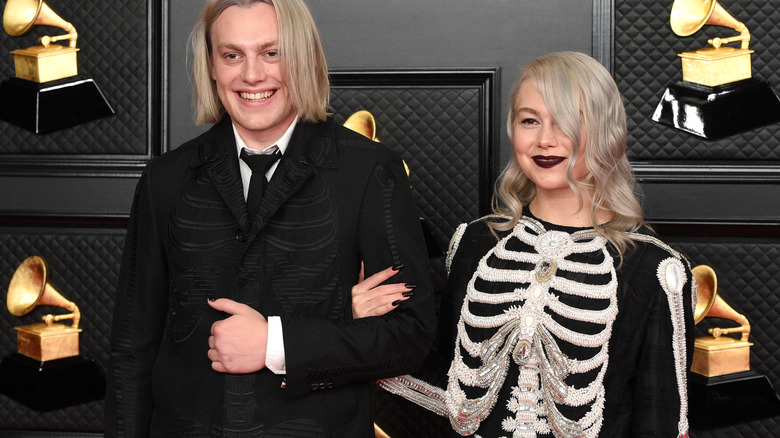 Kevin Mazur/Getty Images
Sporting matching skeleton-overlay outfits certainly missed the mark for siblings Phoebe Bridger and Jackson Bridger at the 2021 Grammys — at least in the fashion department. But when you're an indie singer who marches to the beat of your own drum, maybe you just don't care (we love that for her). 
Toni Braxton's barely-there dress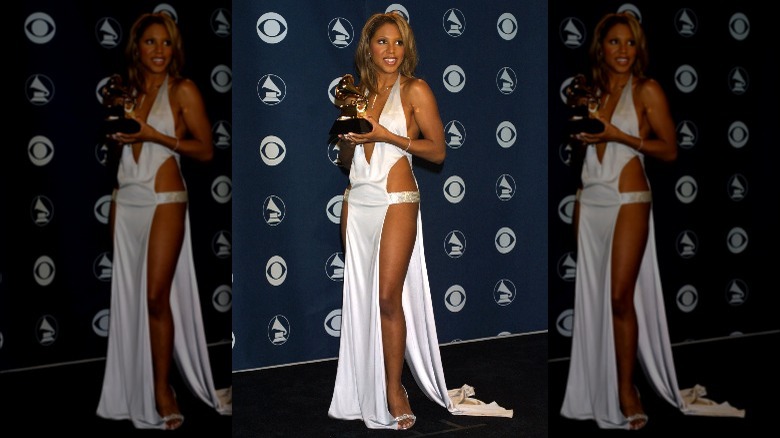 Kmazur/Getty Images
Back in 2001, Toni Braxton embraced her curves when she donned this little white dress for the Grammys. The dress had a high slit that reached her rib cage, all the while dragging on the floor. This iconic look dared to push all envelopes, and all we can say is Braxton is one brave woman.
Tweet's thrown-together look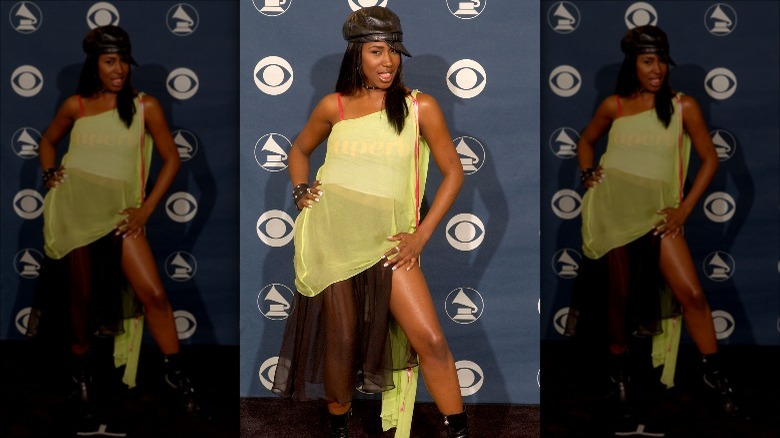 Vince Bucci/Getty Images
The 44th Grammy Awards took place in 2002, and Tweet's quintessential Y2K ensemble on the red carpet certainly proves it. Lots of see-through material, a choker, a leather hat, and clunky boots made up the majority of her outfit, which is all over the place and oh-so-early aughts.
Jennifer Lopez's lace bodysuit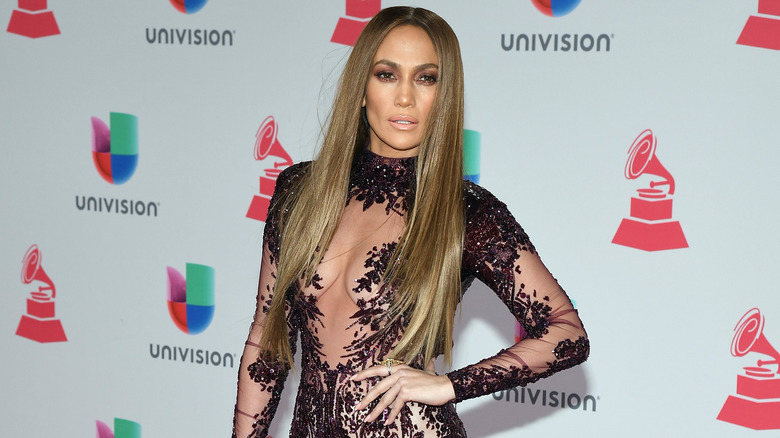 Ethan Miller/Getty Images
Jennifer Lopez's outfit might be more understated than the others on this list, but she earned a spot here due to the outfit's material of choice — and the fact that she wore a jumpsuit to one of the year's most elegant events, the 2016 Latin Grammy Awards. It's reminiscent of a Vegas showgirl's dancewear, and although J.Lo can rock anything, this one was a miss.
Katy Perry's bubblegum eruption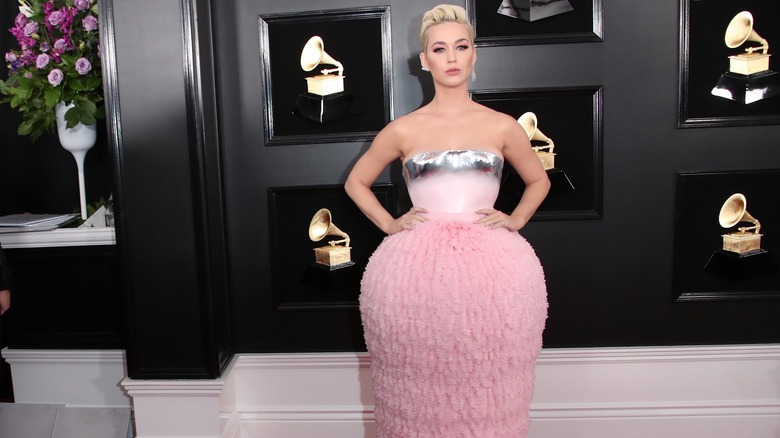 Dan Macmedan/Getty Images
We don't know just what Katy Perry (or her stylists) had in mind when they decided this was the perfect garment for the 2019 Grammys, but the silhouette it provides isn't the most flattering. Several layers of ruffles with a skirt that rounds at the hips in a bubble-like fashion? It's definitely a one-of-a-kind look. 
Rose McGowan's string of chains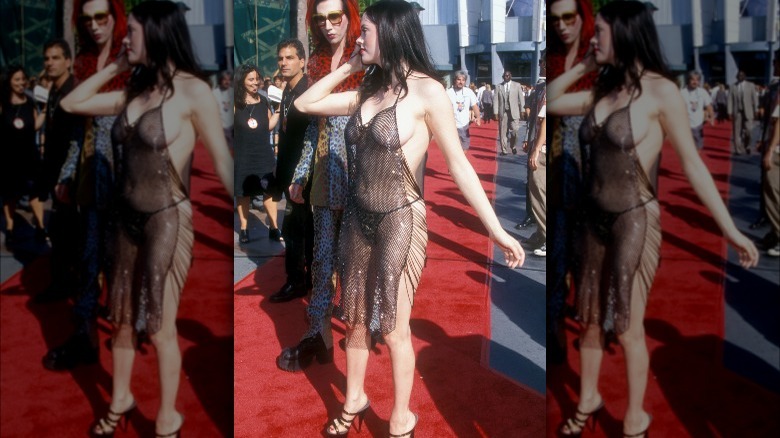 Barry King/Getty Images
In 1998, Rose McGowan bared it all when she wore little more than a string of chains over her bare bottom — and chest — at the VMAs. Although not everybody's cup of tea, this brave ensemble was a "political statement," according to the star in an interview with actress and activist Jameela Jamil (via People). A daring ensemble that pushes the envelope and gets people talking? A total win.
Björk's swan dive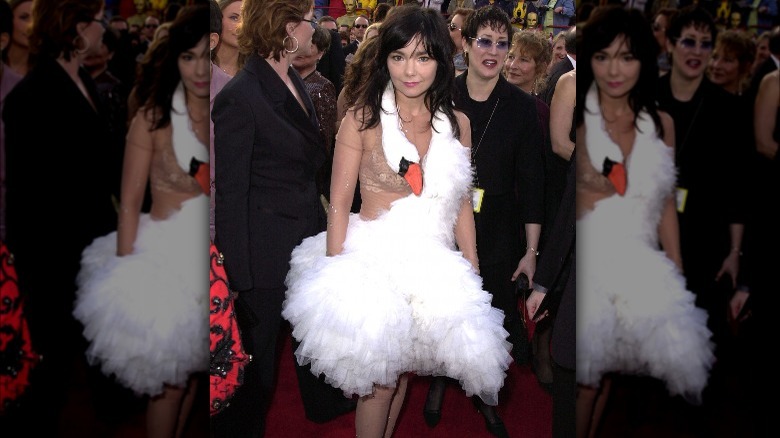 Steve Granitz/Getty Images
Although many people prefer not to wear animals as a fashion statement these days, looking back at Björk's swan dress debacle at the 2001 Oscars makes us think the style wasn't all that chic anyway. The singer wore a full nude bodysuit with a swan draped around her neck. We're just glad it wasn't a real swan.
Paris Hilton's riches and rags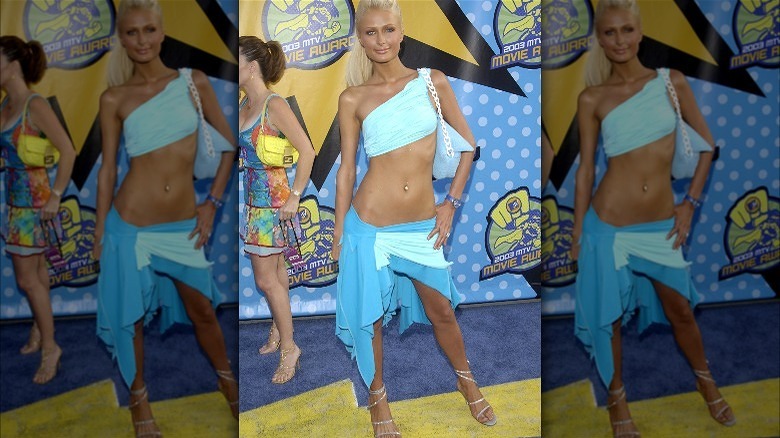 Featureflash Photo Agency/Shutterstock
Paris Hilton clearly was in the know regarding early aughts fashion when she chose this two-piece number for the 2003 MTV Movie Awards. The bright blue color made sure that no one missed her presence or her fashion choices, and although the color looks stunning on her, the ensemble as a whole is a bit head-turning (and not in the best ways). 
Lady Gaga's ruffles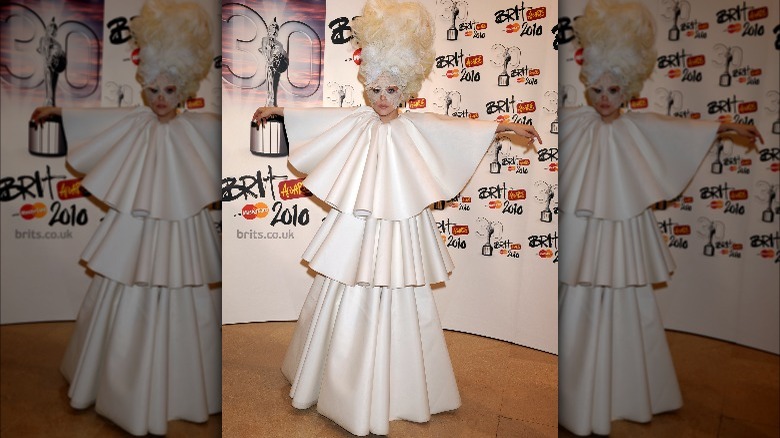 Brian Rasic/Getty Images
For her second entry on this list, we go back in time to 2010 when Lady Gaga let her avant-garde style shine. She showed up to the Brit Awards in what looked like a triple-layered tablecloth dress, a lace face mask, and a blond wig reminiscent of the 17th century. The "Poker Face" singer really knows how to stun a crowd, that's for sure.
Leomie Anderson's nude dazzle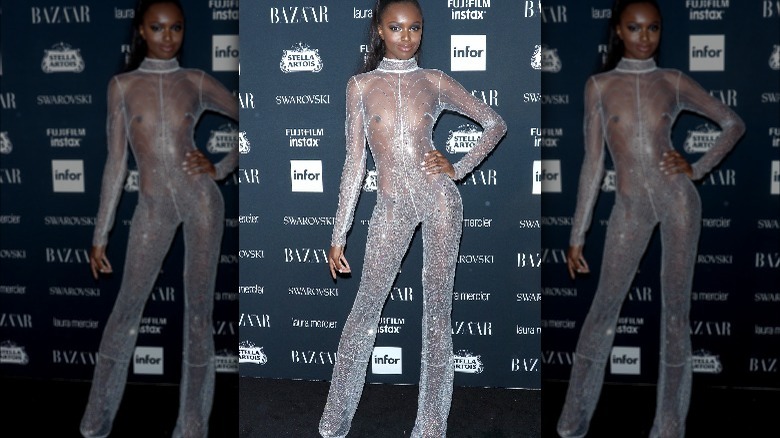 Jim Spellman/Getty Images
Leomie Anderson decided to show it all off when she wore this bedazzled — but otherwise completely see-through — jumpsuit to the 2017 Harper's Bazaar Icons Party. In fact, the only thing you can't see well are her shoes. The supermodel even decided to opt for no nipple covers, a bold move when it comes to fashion choices, even for a celebrity of her status. 
Miley Cyrus' flower top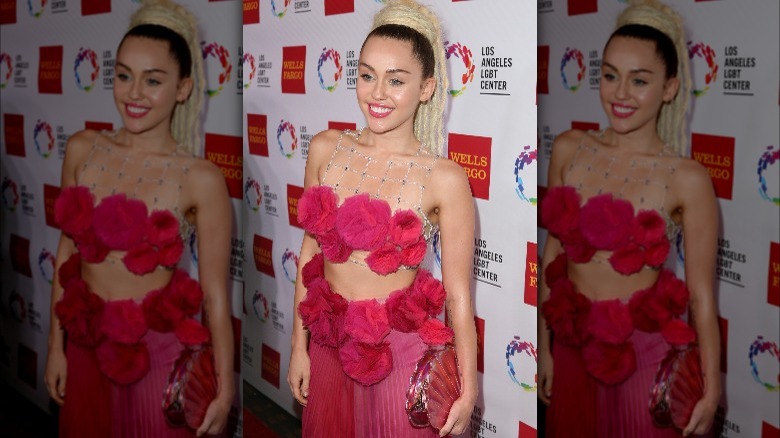 Joe Scarnici/Getty Images
Miley Cyrus likes to push the envelope even on her dressed-down days. Still, this flowery two-piece ensemble she wore to the Los Angeles LGBT Center's 46th Anniversary Gala Vanguard Awards wasn't her finest moment. Her bottom was see-through, and her top was held together by little more than sequins and some clear tulle. The "Wrecking Ball" singer's clam-shaped purse also seemed like an odd accessory choice. 
Nicki Minaj's tulle swimsuit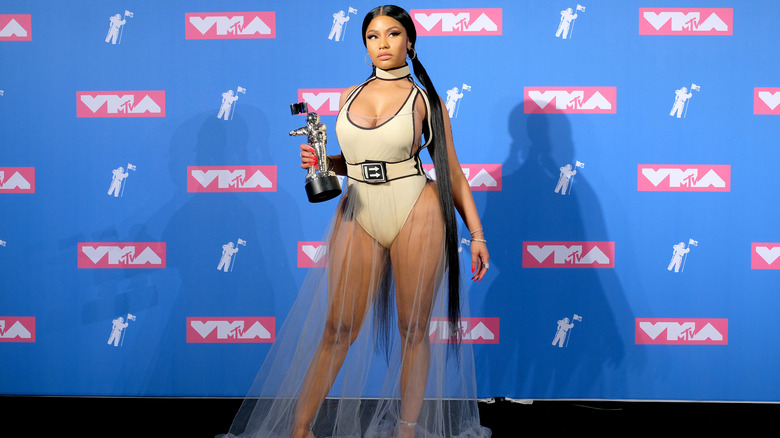 Matthew Eisman/Getty Images
Showing skin is a fashion choice for the bold, but Nicki Minaj's outfit at the 2018 VMAs was nothing more than a glorified swimsuit. You know those expensive, stunning, extra-sensitive swimsuits that you can't even go in the water with? Perhaps the rapper spent a little too much time sunning at the pool and didn't have time to change.
Sophie Von Haselberg's head on fire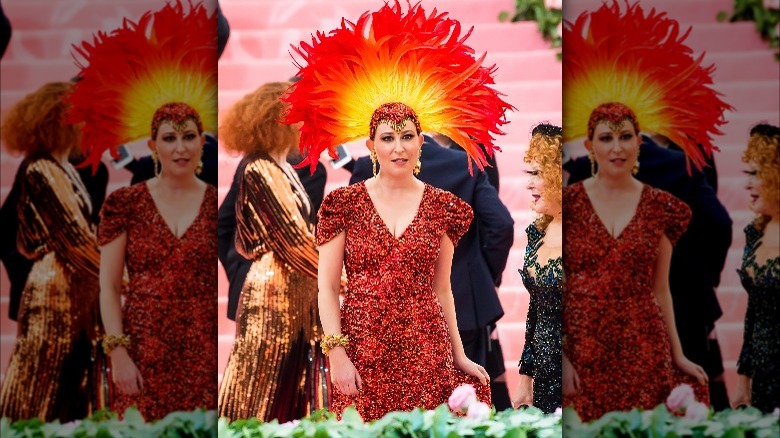 Gilbert Carrasquillo/Getty Images
We're all for bedazzled dresses — they sure make a statement! But Sophie Von Haselberg's headpiece at the 2019 Met Gala? Not so much. A fully bedazzled dress is dramatic enough on its own, but apparently not for the actor, who topped the look off with a matching bedazzled headpiece to up the ante.
Kim Kardashian's wet look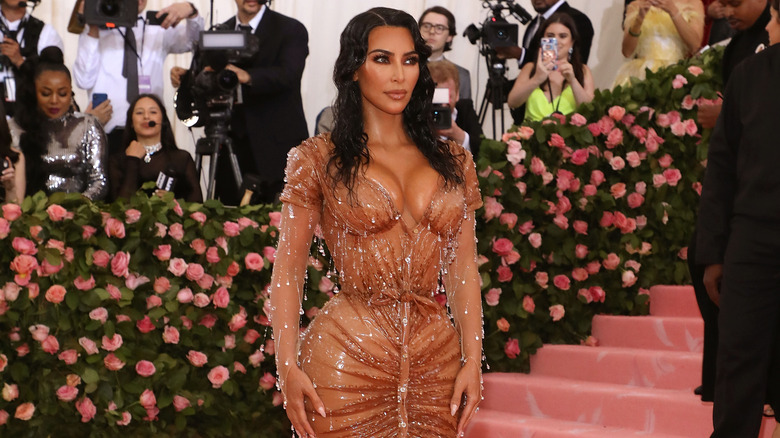 Taylor Hill/Getty Images
We get the concept here, but Kim Kardashian's wet-look moment at the 2019 Met Gala was more over the top than inspiring. From her wet hair to the beads hanging from all areas, which were meant to resemble beads of water, it was all too much. We also don't understand the need for a puckered front and back, especially with so many more elements going on. 
Cara Delevingne's multi-color design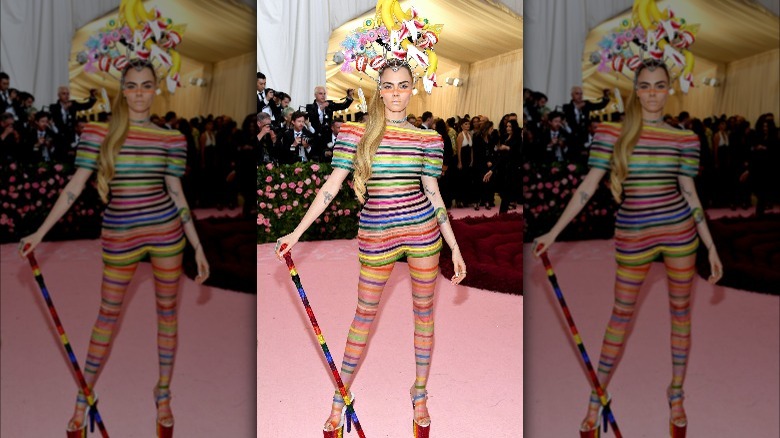 Dimitrios Kambouris/Getty Images
Cara Delevingne channeled her inner rainbow candy cane at the 2019 Met Gala. It's also giving Willy Wonka, and we can't unsee it. While the Met Gala is known for (and encourages) outrageous, out-of-the-box ensembles, this one is too much and not enough all at the same time.
Lady Gaga's meat dress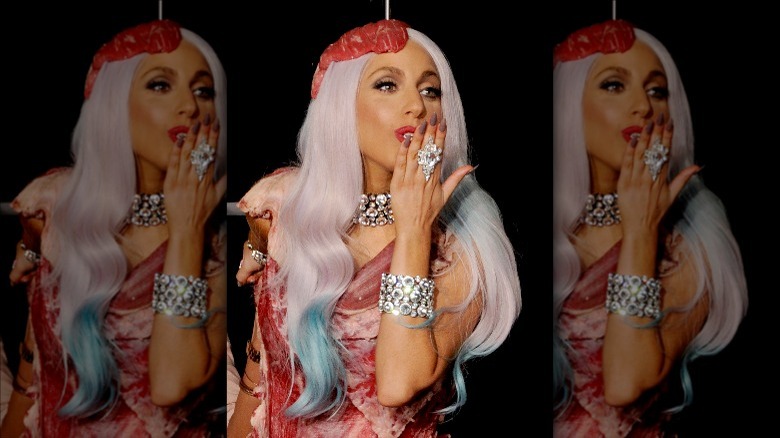 Gregg Deguire/Getty Images
The infamous meat dress at the 2010 VMAs will be forever imprinted in our minds as the most outlandish red carpet outfit ever. The fact that Lady Gaga could even stand or walk in raw meat from head to toe is equally impressive (we can't imagine the smell, though). 
Anja Rubik's feathered mess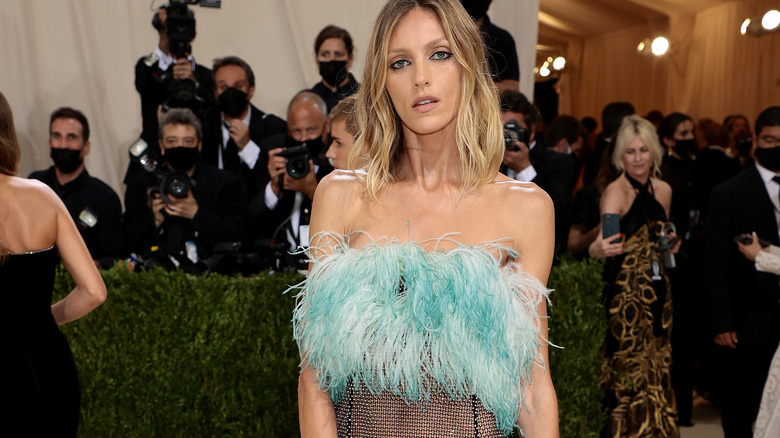 Dimitrios Kambouris/Getty Images
Feathers and mesh are not always a good combination. Anja Rubik's dress at the 2021 Met Gala sure got tongues wagging, but it didn't earn the model any fashion points. Her low-key makeup and bed-head hair, combined with the feathers, made us think more of heading to bed rather than down the red carpet.
Rita Ora's bath-ready garb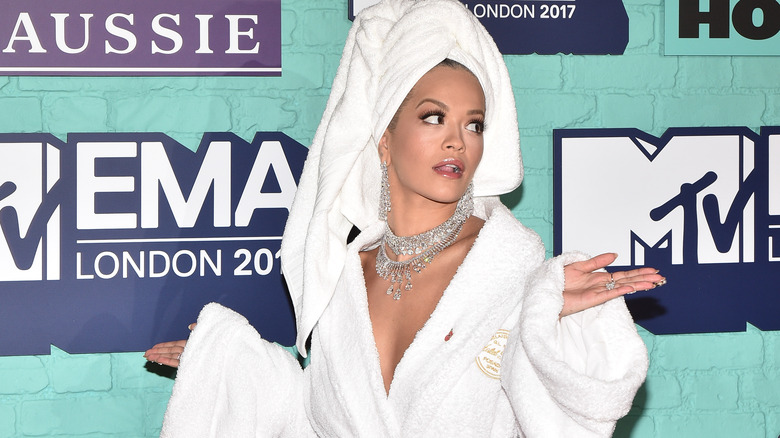 Stephane Cardinale - Corbis/Getty Images
Rita Ora's bathrobe and head towel wrap ensemble at the 2017 MTV European Music Awards was a fashion disaster waiting to happen. The addition of diamonds around the neck, ears, and shoes does not dress up the fact that the singer wore a literal bathrobe on the red carpet. 
La'Myia Good's full-body pantyhose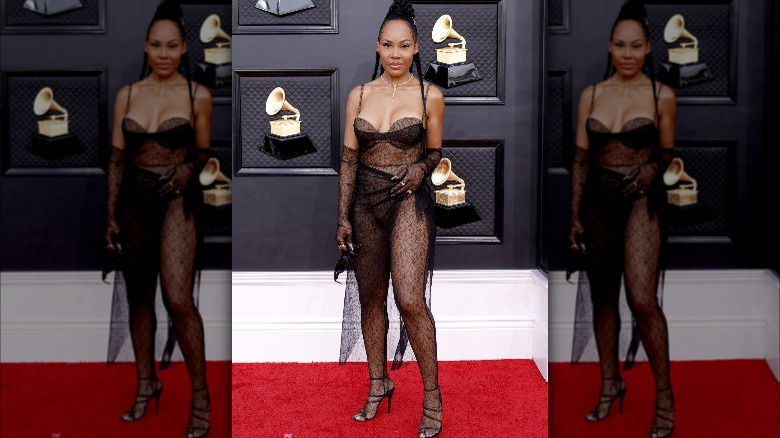 Frazer Harrison/Getty Images
While donning what looks like a full-body suit with elbow-length gloves doesn't sound like the worst thing to wear to the 2022 Grammys, La'Myia Good may have proved otherwise with the choice of material the ensemble was made out of. Is that lace pantyhose? Regardless, there's not a lot of dimension to the look, which even errs on the boring end.
Tayla Parx's dinosaur transformation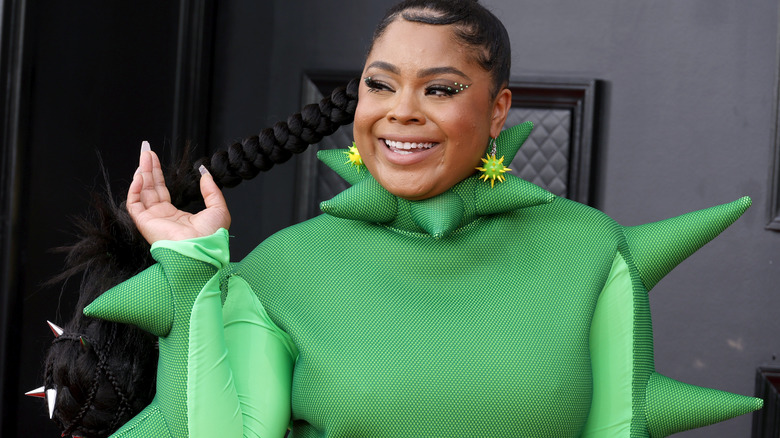 Frazer Harrison/Getty Images
When Tayla Parx put together this outfit for the 2022 Grammy Awards, she likely had "The Super Mario Bros. Movie" on her mind. Not only is her ensemble a full green dinosaur chic look but the caption on her Instagram post that showcases the ensemble reads, "If Bowser was a bad bi***." She's not wrong!
Pink's ultra-casual look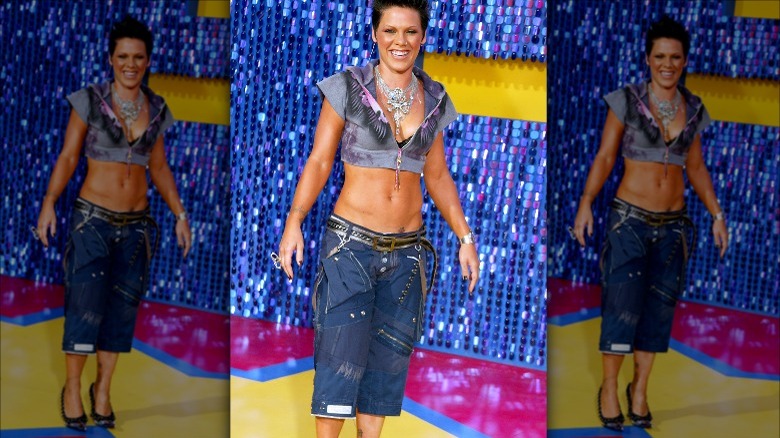 Jeffrey Mayer/Getty Images
Pink's style has certainly evolved throughout the years, but back in 2003, she loved to rock jeans — even for the MTV Movie Awards. She threw on cropped, loose jeans and a crop-top hoodie. With her black lace bra peeking out and the dazzling array of zippers adorning her jeans, the whole outfit was a bit chaotic.
Solange Knowles' confusing dress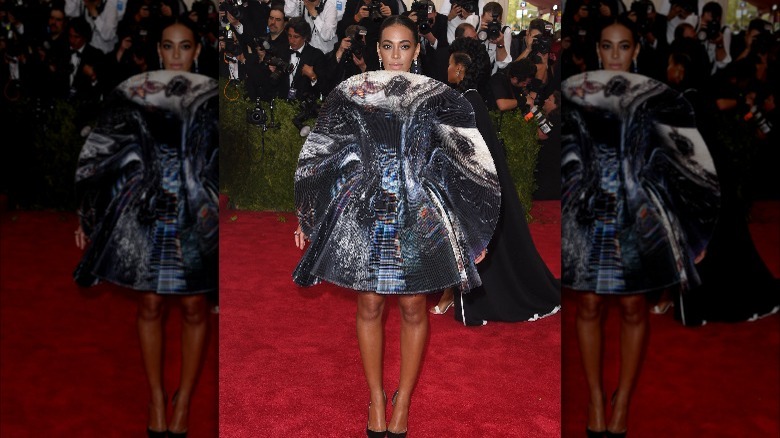 Axelle/bauer-griffin
It's a fan! It's a plate! It's Solange Knowles' dress! Yes, the singer's outfit of choice at the 2015 Met Gala was as much confusing as it was probably uncomfortable. Honestly, we wouldn't blame her if she didn't make it through the night with it on. Her stunning makeup look and dazzling drop earrings helped a bit, though. 
Z LaLa's Medusa-Ursula combination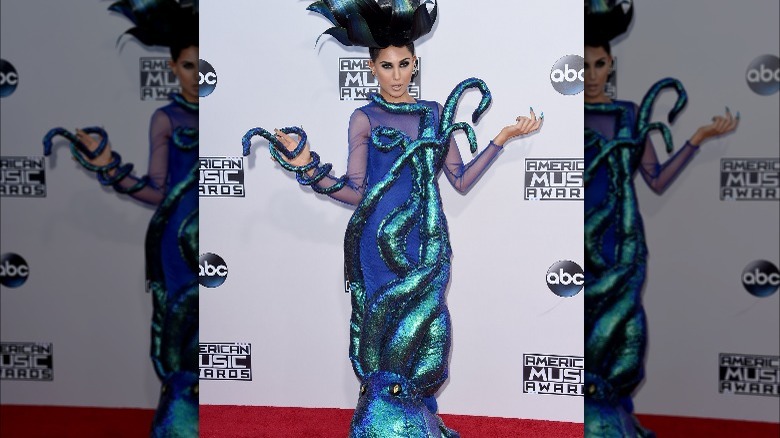 Axelle/bauer-griffin
Z LaLa pulled out all the stops when it came to making her entrance at the 2015 American Music Awards. Could any dress get stranger? Her stiff, hair-like headpiece, the octopus at her feet, the tendrils around her hands — all of it was just over the top and somewhat fit for a horror film.
Anja Rubik's eye-popping dress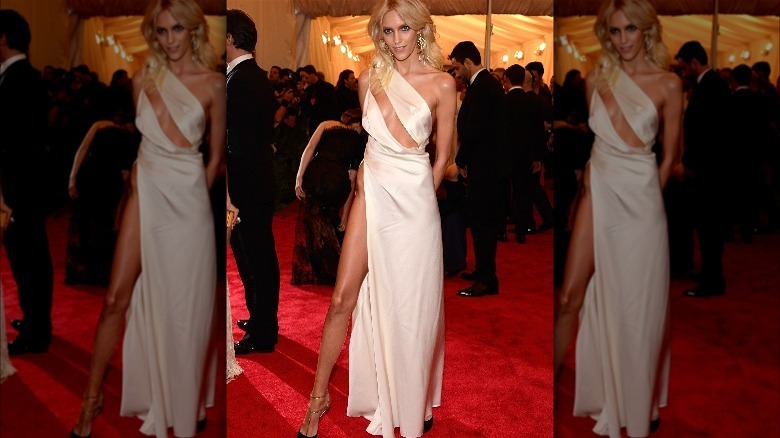 Kevin Mazur/Getty Images
Anja Rubik is certainly not afraid to show off her bare skin. The supermodel debuted an eye-popping, hip-high slit dress that only covered half the top of her body at the 2012 Met Gala. She certainly seemed unfazed walking the red carpet with it, but it seemed like one tiny misstep away from being a complete disaster.
Christina Aguilera's feathered frock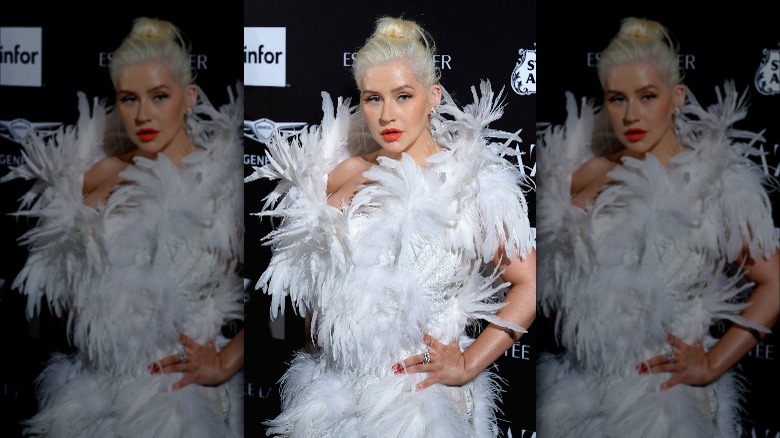 Dimitrios Kambouris/Getty Images
We can appreciate creativity, and Christina Aguilera's dress at the 2018 Harper's Bazaar Icons Party (supposedly paying homage to songbirds) is surely a product of an imaginative mind. While it has a messy look to it, like someone took a plain white dress and attached feathers to it with no clear direction, it definitely makes a statement! 
Sarah Jessica Parker's Nativity scene headpiece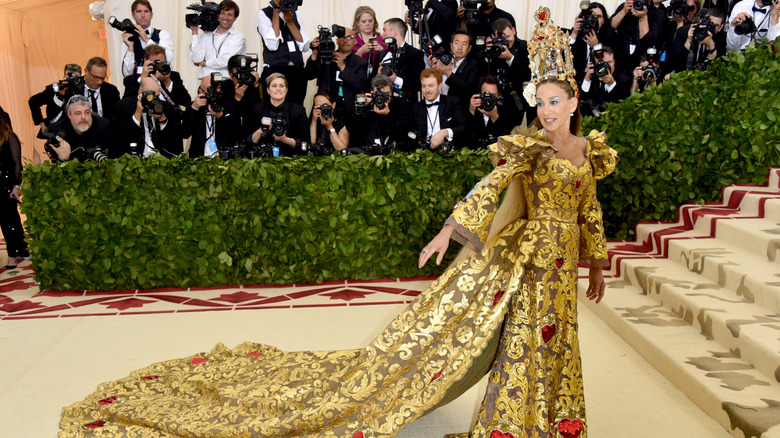 John Shearer/Getty Images
The 2018 Met Gala theme was "Heavenly Bodies: Fashion and the Catholic Imagination," and some people's imagination was better executed than others. While her dress was equally showy, Sarah Jessica Parker's Nativity scene headpiece really stole the show. Flashy? Yes. A bit much? Absolutely. Would we want it any other way? Probably not — that's what the Met Gala is for! 
Katy Perry's lit-up ensemble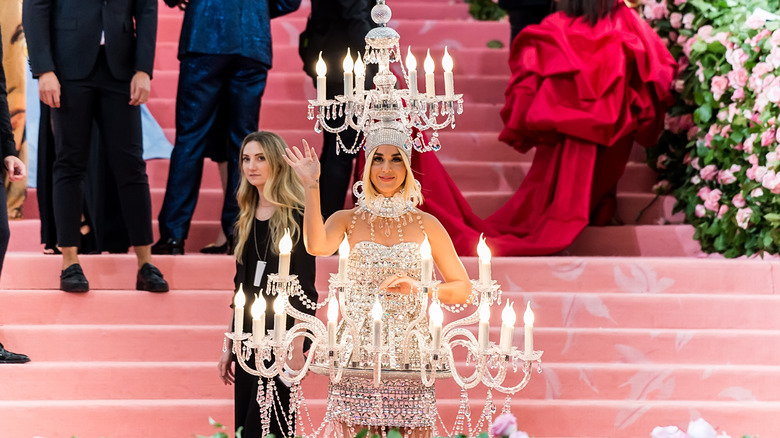 Gilbert Carrasquillo/Getty Images
Katy Perry walked the red carpet at the 2019 Met Gala wearing a chandelier. Oh, wait ... that's two chandeliers. Yep, the singer wore not one but two chandeliers that were accompanied by rhinestone-encrusted shoes and a bedazzled dress. Really, no inanimate object or piece of furniture is off-limits in the world of fashion. 
Irina Shayk's halfway dress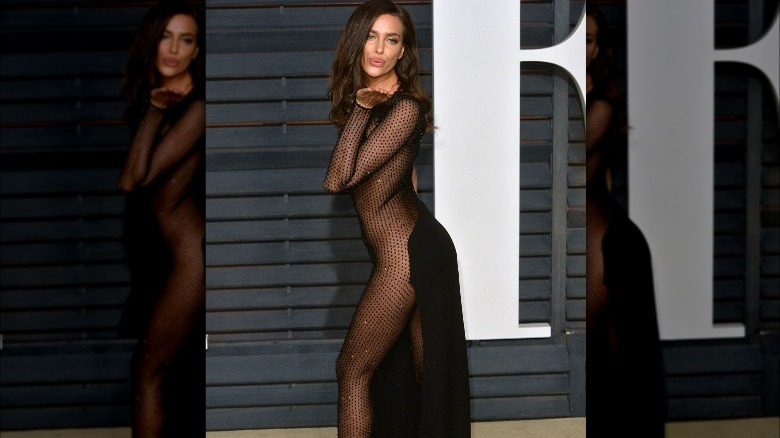 Anthony Harvey/Getty Images
Russian model Irina Shayk bared it (almost) all on the red carpet at the 2015 Vanity Fair Oscar party. Her daring dress featured a built-in mesh body suit that made it so she had full exposure on one side and a floor-length dress on the other. Talk about having it both ways.
Madonna's maid outfit with a twist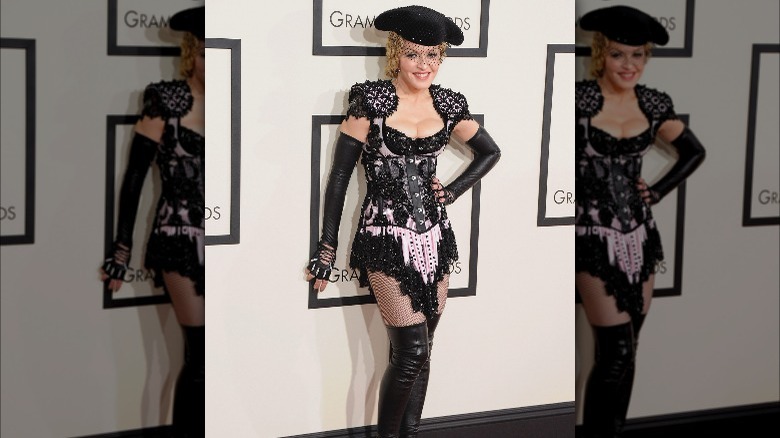 Jon Kopaloff/Getty Images
At the 2015 Grammys, Madonna channeled her inner sexy maid with a bedazzled mini dress featuring a sort of front apron, which she paired with thigh-high boots and a beret. With so many elements wrapped into one, this look gives a costume vibe fit for a Halloween party.
Amber Heard's swim cap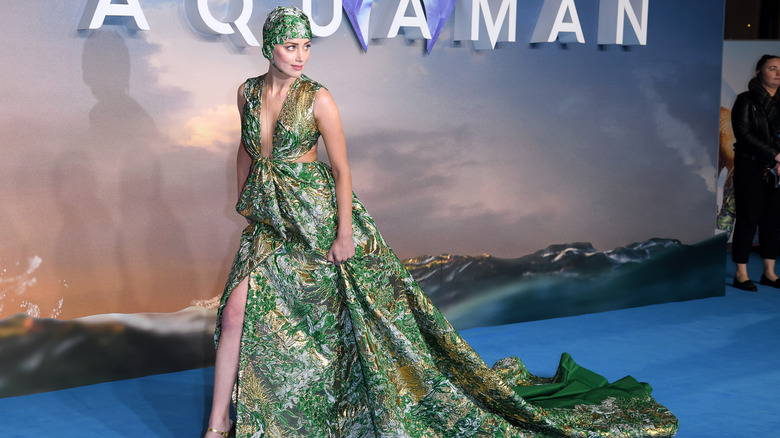 Karwai Tang/Getty Images
Amber Heard took her role as an underwater heroine a little too seriously when she showed up to the "Aquaman" premiere in what could basically be equated to a swim cap. The actress, of course, matched it to her flowy maxi dress, but that didn't help matters much either.
Kim Kardashian's blackout look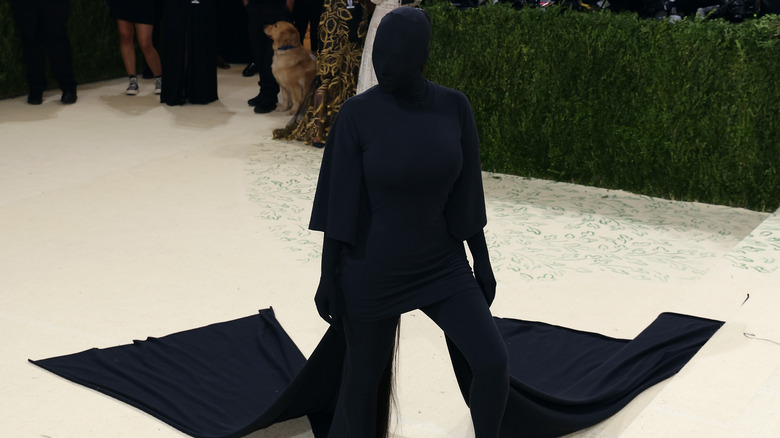 Taylor Hill/Getty Images
Out of all the many eccentric, creative, jaw-dropping outfits that have graced the red carpet, it's a rare moment when we come across one that covers every part of the body — including the face. But Kim Kardashian proved it possible with her all-black ensemble at the 2021 Met Gala when she wore a black garment head to toe (literally). At least she didn't have to do her hair and makeup!
Angela Sarafyan's side of skin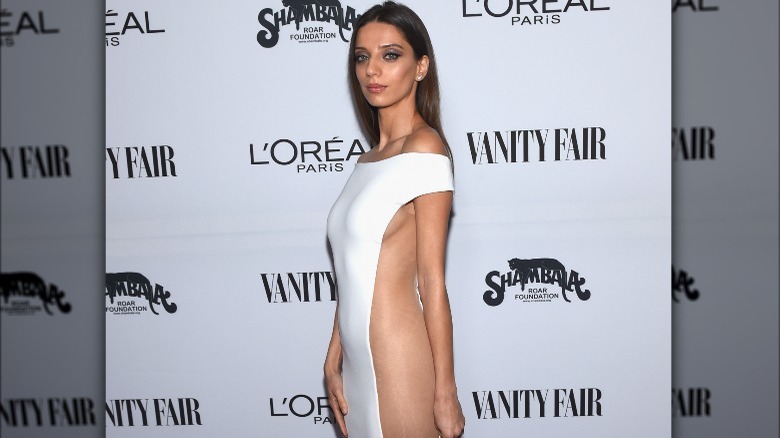 Emma Mcintyre/Getty Images
Dresses seem to be missing certain important parts lately — like the side parts that hold them together. Even though the dress Angela Sarafyan wore to the 2017 Vanity Fair and L'Oréal Paris' Toast to Young Hollywood was made of mesh on the sides, the illusion made us wonder at first how the actor was able to keep the garment on.
Sarah Paulson's neon gown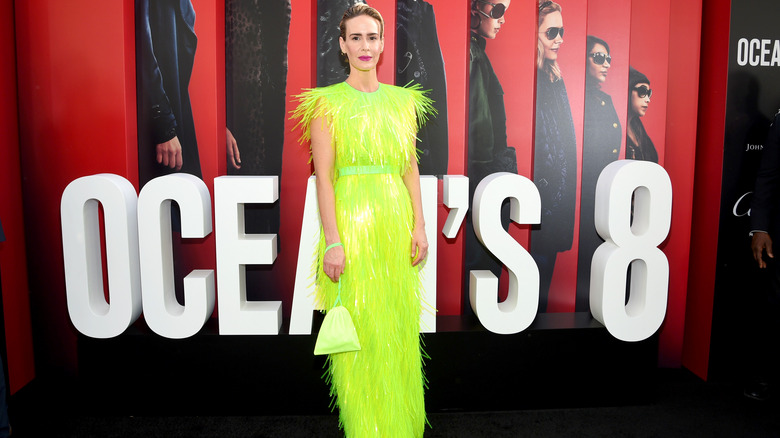 Dimitrios Kambouris/Getty Images
If you attended the "Ocean's 8" premiere and happened to glance at Sarah Paulson, we hope you had your sunglasses on. The actor's dress was such a neon shade that she outmatched the sun (the fringe on the garment didn't help tone down the look either). 
Faith Hill's rainbow prom dress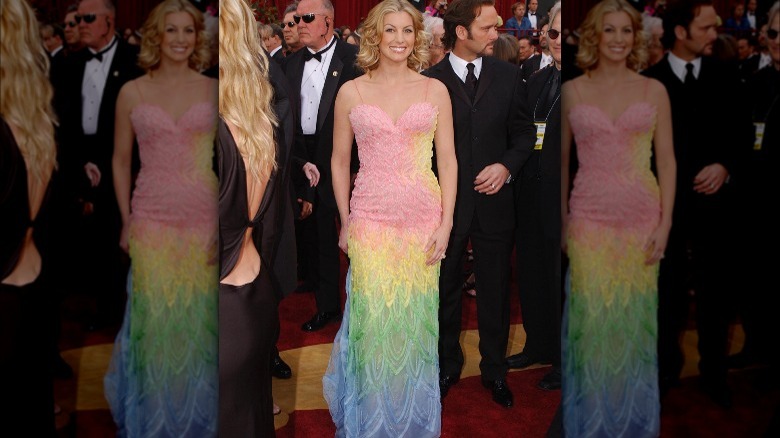 Jeff Kravitz/Getty Images
While we're all for rainbows and colorful displays, Faith Hill's dress at the 2002 Academy Awards was more adolescent than elegant. The pastel colors gave a child-like vibe, and the overall cut of the dress reminds us of something one would wear to a school dance. However, we appreciate the minimalistic approach to accessorizing since adding loud jewelry to the look would have pushed it well over the edge.