Wedding DIY Dos And Don'ts: The Ultimate Guide To Crafting Your Dream Day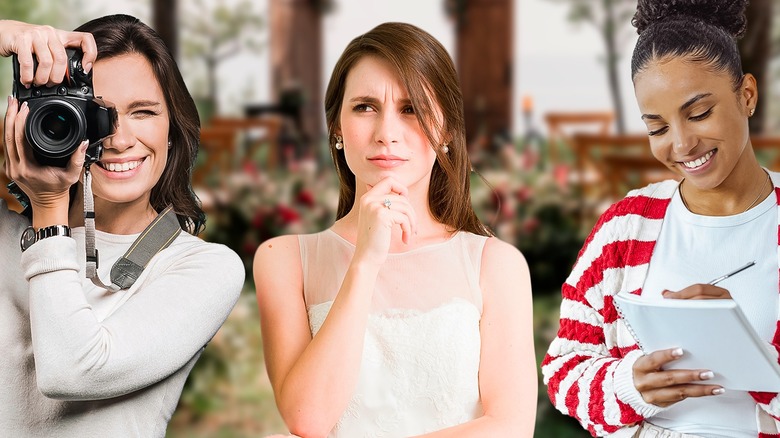 Static Media / Shutterstock
Weddings have historically come with a hefty price tag, but post-pandemic weddings have reached new highs. Today, the average wedding cost is between $29,000 and $35,000 in spite of shrinking guest counts and more intimate ceremonies. There are many contributing factors, including inflation and vendor price increases, but the fact remains that despite this, couples are still eager to start their married lives with a meaningful celebration.
"A wedding is one of, if not THE, most anticipated and important milestones in one's life, and therefore many want to ensure that it's an unforgettable experience for their friends and family, which often results in more resources (time and money) dedicated to bringing such an important celebration to life," wedding and event planner Tracy Taylor Ward told Brides.
The solution for many couples is to DIY their celebrations. "The pandemic put a major strain on most couples' finances, so thinking of ways to cut back on their wedding budget remains a priority, and DIYing a few elements of their wedding décor is a good start," Jen Avey tells Wedding Chicks. But with so many details to consider, overloading yourself with DIY projects can add stress to an already busy time. And if you're not particularly crafty, attempting to DIY something a vendor would typically handle might not lead to the results you want. If you're planning a wedding, peruse this guide of DIY wedding dos and don'ts, and consider what elements are wise to tackle yourself and which are better left to the professionals.
Do try your hand at custom escort cards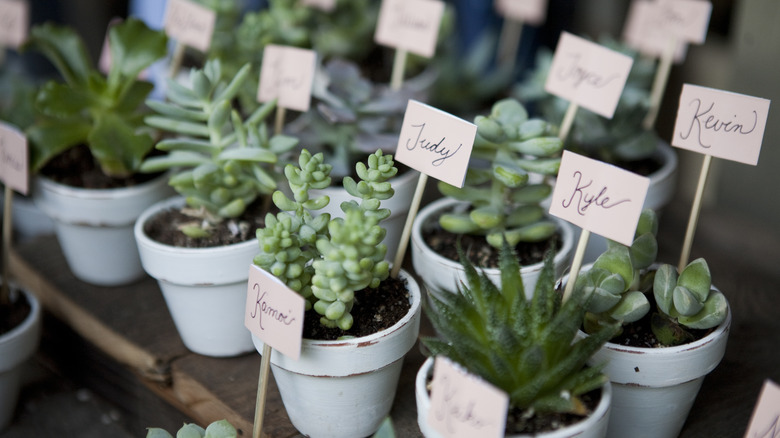 Bootsie322/Getty Images
Traditionally, escort cards are small pieces of paper with the name of your guest and the table they have been assigned to listed on it. These are designed to be more casual than place cards, which assign individual seats to guests. A popular wedding trend in recent years is to do away with the boring card element and opt for an object that matches your wedding's theme and style, or that is meaningful to you and your future spouse.
"Table plans are out ... go down the U.S. trend of using escort cards," U.K. blogger Lou tells Wedding Ideas Magazine. "They are totally fun and there are so many ways to display them. From seed packets packed in crates, to mini flower pots filled with bulbs, think outside the box." In addition to being fun, most custom escort cards are easy to DIY and allow you to stretch your creative muscles. Couples having a beach wedding might write the names of their guests on seashells, and fall brides can affix names and table numbers to tiny pumpkins for a seasonal touch. For an extra budget saver, have your DIY escort cards serve as your wedding favors. Couples that like to cook can bottle their favorite olive oil, for example, while coffee lovers might send their guests home with a small jar of their favorite ground coffee.
Don't bake your own wedding cake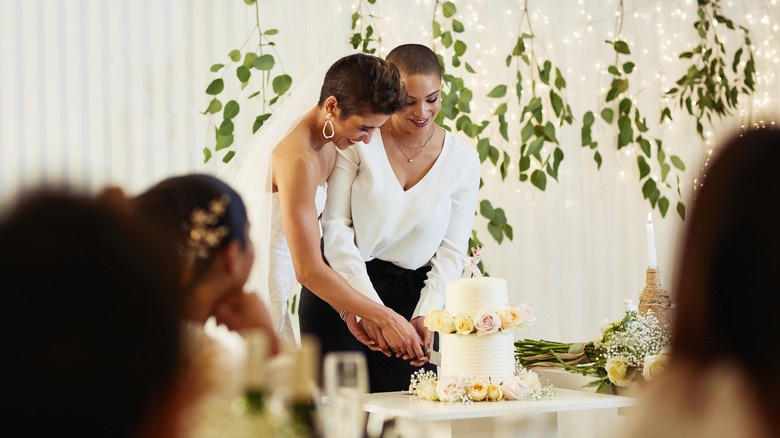 Luminola/Getty Images
A major wedding DIY don't? Baking your own wedding cake. In 2022, the average cost of a wedding cake was roughly $510, with more elaborate creations totaling more than $1,000 in some cities. If you're on a tight budget, it may be tempting to simply bake your own. After all, you took Home Economics in high school. A couple boxes of cake mix only cost $1.50 each. But wedding cakes, no matter how simplistic, are a completely different monster.
"Attempting a large, tiered wedding cake is a big feat for an amateur baker," professional wedding cake baker Betsy Thorleifson tells Martha Stewart. "There are many things to consider logistically and too many potential ways any of the process could go wrong or take longer than expected." Much of the work of a wedding cake takes place the night before the ceremony, which is historically the time you will be having your rehearsal dinner and hopefully getting a good night's sleep. Decorating a cake or ensuring it is structurally sound, especially if you've never created a dessert of this magnitude before, is going to interfere with those events and cause extra stress.
If a three-tiered buttercream cake adorned with homespun sugar flowers isn't in your budget, you don't necessarily have to forgo the wedding cake altogether. Consider a smaller, single tier cake that you can supplement with homemade cupcakes or other desserts.
Do your own dessert table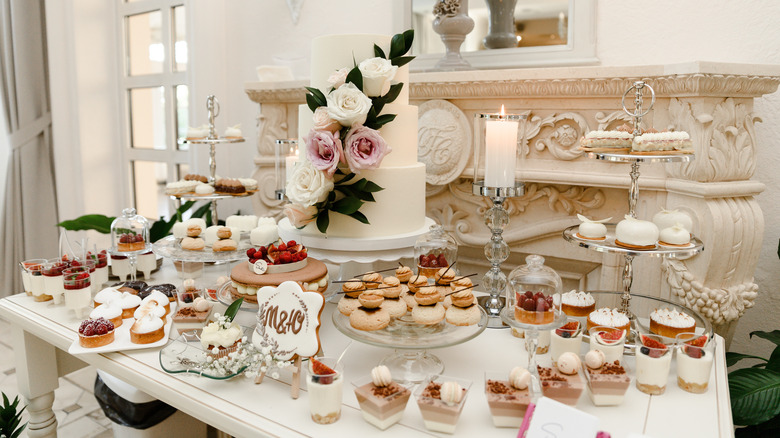 Vadym_Hunko/Shutterstock
Speaking of desserts, DIYing a dessert table is both easy and can be more affordable than purchasing a full wedding cake. The individual desserts can be made entirely by you, especially if you have a fondness or talent for baking. Many desserts can also be made ahead of time and frozen until you need them. It can also be a group effort. Task your siblings, cousins, aunts, friends, or in-laws with baking their favorite desserts to take some things off your plate.
If you plan to DIY your own dessert table, bite size desserts are best, but you don't need thousands. "I say three to five [varieties], but most people go with five because they can't narrow it down," says dessert table artist and baker Amy Pilz in a YouTube interview with Jamie Wolfer. "There always has to be something chocolate, and then maybe cream cheese, maybe something with spice, and that way you hit all the points. That way everybody gets something they like."
Building your own dessert table requires some preplanning, especially if you want it to look like it was ripped straight from your Pinterest screen. You'll need to collect cake stands, cupcake towers, and trays to display your desserts on. Decorating the table with linens, lighting, signage, or bud vases with leftover flowers are a great way to provide visual stimulation and keep the look cohesive with the rest of your décor as well.
Don't DIY photography or videography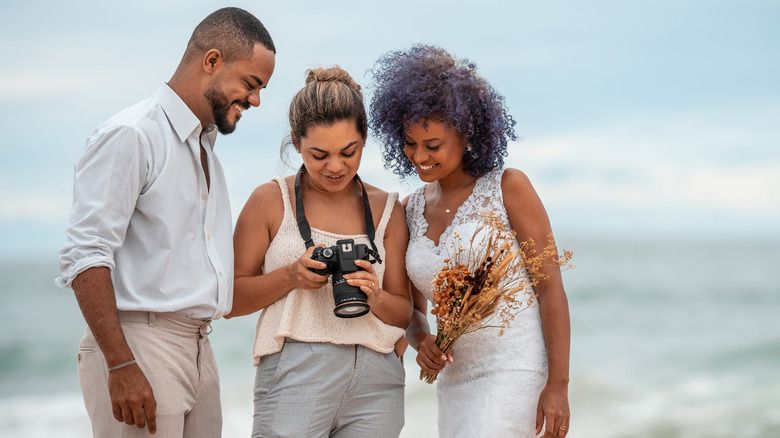 Pollyana Ventura/Getty Images
Wedding photos are a big deal. Photographer Emily Millay agrees, telling Brides, "Wedding photographs are the one thing you walk away with from your big day. Brides and grooms are going through the motions of the day but think of all the candid moments they miss. Those are the moments that make up their wedding, and that's why wedding photography is such an important investment."
Because of its importance for most couples, and despite its expense, the visual record of your wedding day is better left to the professionals. You may think saving the money is worth having a friend with a nice video camera or an acquaintance record your once-in-a-lifetime event, but the experience a professional comes with is invaluable. Not only will their photos and videos be high-quality, creative images you can enjoy for the rest of your life, but they are also going to be familiar with wedding timelines. They will help keep things moving throughout the day just by ensuring they are getting the photos they need.
Most modern wedding photographers and videographers offer different packages based on how many hours they plan to attend your event. If you can't afford a full day of coverage, opt for a smaller package to ensure your ceremony and portraits are high quality. Then, consider DIYing a photo booth to capture photos of your guests during the reception.
Do write your own ceremony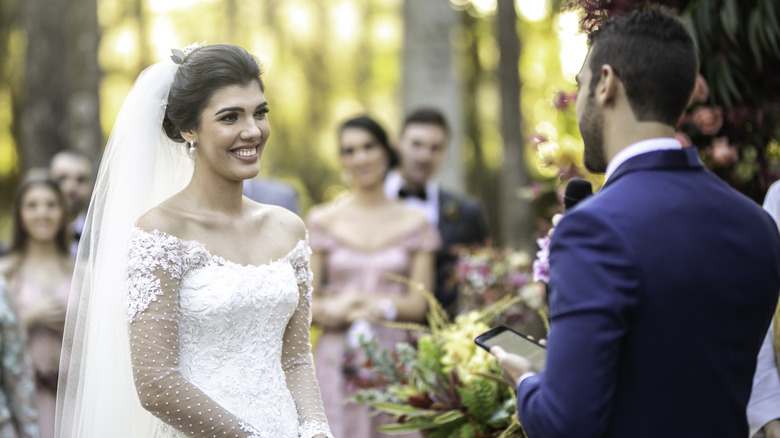 Fg Trade/Getty Images
When you think of the most memorable weddings you've attended, it's likely the ones with heartfelt, emotional ceremonies are the ones that stand out. Wedding receptions are a blast, but the words you speak during your ceremony are some of the most meaningful and important ones you will ever exchange with another person. If you have the option, based on your religion and choice of officiant, writing your own wedding ceremony script in addition to your vows is a beautiful way to personalize your big day and honor your love. "A personalized ceremony allows people to feel rooted and renewed, and provides people with the opportunity to give you that big, tight hug and bless and confirm your union," celebrity officiant JP Reynolds shares with Brides.
Thankfully, there aren't any specific words required to make a marriage ceremony legal. All you have to include is a declaration of intent (the "I dos") and a pronouncement from your officiant announcing you and your partner as a married couple. This gives you the freedom to share your love story as you wish it to be told, to select readings or blessings that matter to you, and control the overall vibes of your ceremony. Writing your ceremony is also beneficial for interfaith couples or couples from different cultures who want a wedding that accurately reflects their unique story.
Don't DIY your main meal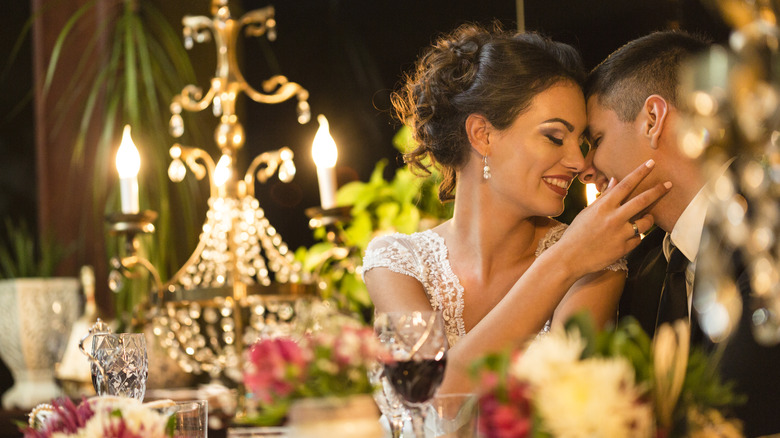 Fotostorm/Getty Images
The majority of couples want the food and drink at their wedding to be a positive experience for their guests, but professional catering isn't cheap. According to The Knot, the average catering price was $80 per person for weddings with over 100 guests. People with smaller budgets may think that serving a catered meal isn't worth the hefty price tag and consider preparing their own instead.
When it comes to catering vs. potluck or DIY-style wedding meals, you often get what you pay for. The DIY food route requires top-notch organizational skills and rigorous preplanning, which may cause a lot of stress in the days leading up to your wedding. It also might not end up being cheaper to prepare your wedding food yourself. "Honestly, if you are not careful and creative with how you're spending your money the cost could potentially add up to more than you want it to be," notes wedding planner Jamie Wolfer. "Just because you're DIY-ing it doesn't mean it's going to be cheap."
Not only do catering companies have the right equipment, knowledge, and skill required to cook and serve a yummy (and safely prepared) meal, they usually have a serving staff that also set up and tear down for you. You're paying for more than just a delicious meal. Ultimately, if the food at your wedding is important to you, it's wise to prioritize catering in your budget to ensure you get the food and service you want.
Do make your own invitations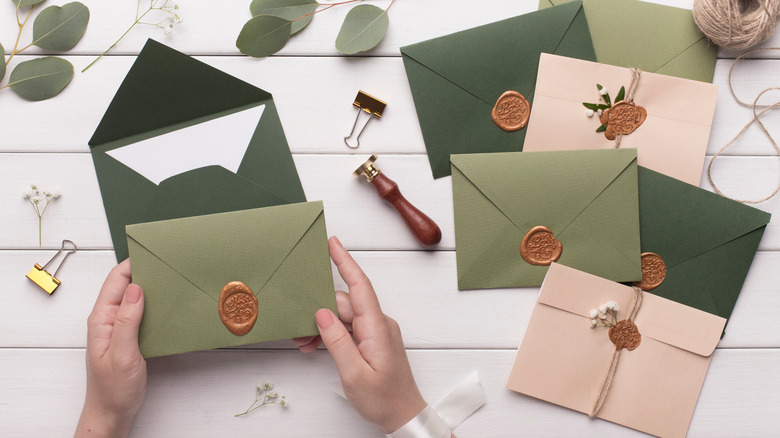 Prostock-studio/Shutterstock
Making your own wedding invitations is a great idea if you want to save a little money. By making the invites yourself, you are only responsible for designing the invite and purchasing the materials you need to assemble them, ultimately cutting out the fees professionals charge for the same work. Free design software like Canva can be used to create beautifully designed invites, RSVPs, and reception cards using their templates or designing your own from scratch. Many Etsy sellers also provide inexpensive wedding invite and signage templates you can download and edit yourself. If you opt to go the DIY route with your invitations, note that you will also need access to a printer, envelopes, and stamps, which are additional costs if you do not already have these supplies on hand.
If you aren't particularly crafty and you don't care about sending out paper invitations to your guests, you can save even more money by designing a digital wedding invite. Roughly 30% of today's couples are opting for electronic invites as an eco-friendly, low-stress option that saves hundreds of dollars in their budget. Digital invites can also be linked to a wedding website which makes it easier to collect and manage RSVPs.
Don't do your own hair and makeup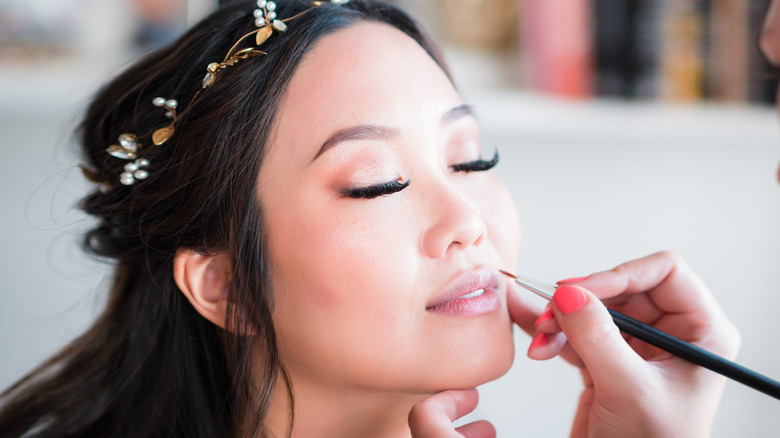 Biserka Stojanovic/Getty Images
There are certainly advantages to doing your own bridal hair and makeup – namely cost, and control over your own look. But doing your own hair or makeup, or both, on your wedding day comes with a lot of extra stress, even for brides who are professionals in their own right. 
"In most cases, on the day of a wedding, a bride and groom are the most relaxed when they know everyone and everything is being well taken care of," makeup artist Elise Bigley tells the Petaluma Argus Courier. "It's when they are worried about falling behind schedule, or concerned that someone's going to drop the ball on something, that they begin to get stressed, which can be a problem. But hair and makeup does not have to be part of that problem." Additionally, many brides like to have their photographers take photos of the getting-ready process. While this can still take place if you do your own hair and makeup, you may not get the photos you're hoping for if you're staring in a mirror focused on applying your eyeliner just right.
Ultimately, doing your own hair and makeup for your wedding is a matter of personal preference. But if you aren't confident in your abilities and don't want the stress or expense of buying products to make your wedding look come to life, stick with the professionals.
Do DIY your favors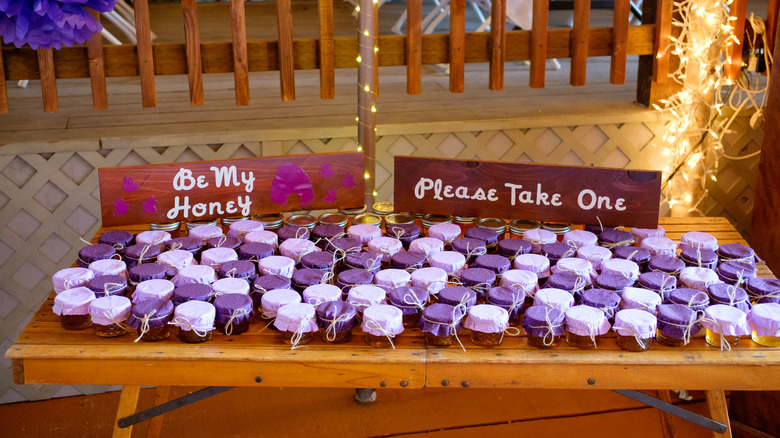 Joshuaraineyphotography/Getty Images
Favors are no longer an obligatory element of your wedding day, and most people don't have an opinion on their existence one way or the other. But they are still a nice gesture for your guests. If you want to give out favors because they represent your love story, honor a four-legged friend who cannot attend the event, or tie together your wedding theme, making them yourself is a good way to avoid accumulating an extra invoice.
There are no right or wrong ideas when it comes to DIYing your favors. Many couples opt for small trinkets they think their guests will like and use, while others prefer edible favors. Making his-and-hers candy bags is a nice way to personalize your reception while giving guests something to snack on back in their hotel room or during the ride home. Plant parents might pot succulents for their guests to take home, while dog lovers can package homemade dog treats.
Consider doing your own flowers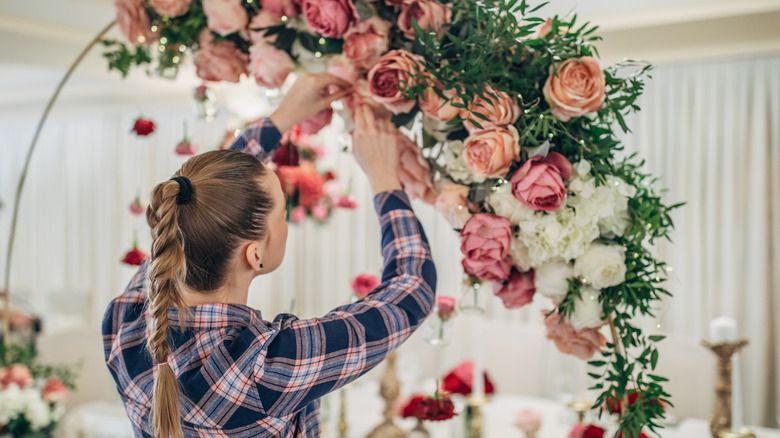 South_agency/Getty Images
There are many wedding industry professionals who agree that DIYing your wedding flowers is a great budget hack, and others who staunchly advise against doing so. Depending on the flowers you request, the complexity of the arrangements, and the amount you need, florists can charge an average of $2,400. Thankfully, modern DIY flower companies like Flower Moxie, Bloom Culture Flowers, and Fifty Flowers exist to help brides with strict budgets make their wedding flower dreams come true. These types of companies offer bulk flowers and DIY packages that allow you to prep and design your own bouquets and centerpieces for a fraction of the cost of a professional florist. While this option also gives you more creative control, it does require ample time and energy in the days right before your wedding to put everything together.
Both paths have their own set of advantages and disadvantages, and just like any other wedding DIY, the choice is ultimately yours. But if you are currently afraid that you'll have to settle for a bouquet of grocery store carnations instead of that Pinterest bouquet of your dreams, you should consider your other options.
Consider hiring a wedding coordinator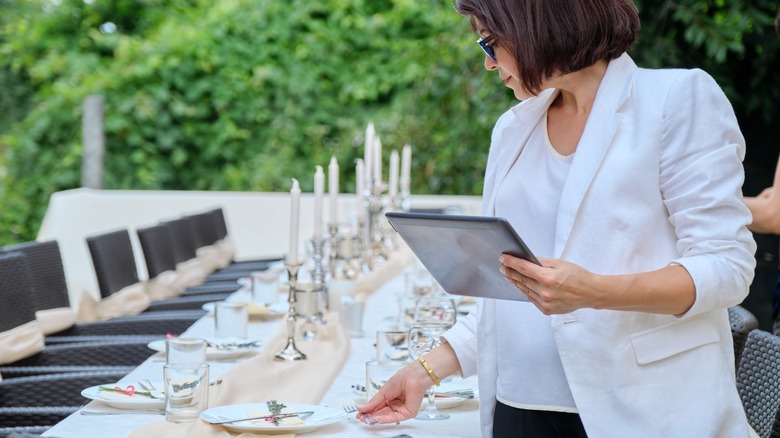 Valeriy_g/Getty Images
Even if you masterfully DIY every element of your wedding day from the dress to the cake, there are still going to be aspects of your wedding day that require some hands-on management. You'll be hard pressed to organize your ceremony space, decorate the reception hall, direct vendors, and also get ready and enjoy your wedding day all by yourself. Many DIY brides assign a parent or bridesmaid to coordinate the day for them in lieu of hiring a professional, but this route has its own set of risks involved.
A wedding planner might not be in your budget, but a wedding day-of coordinator could be. "Having a coordinator on-site allows you to enjoy your day, knowing that a professional handles all the logistics in the background," Nora Sheils tells The Knot. "You, your partner, and your loved ones can be in the moment and not worry about anything happening in the background."
Above all, focus on being present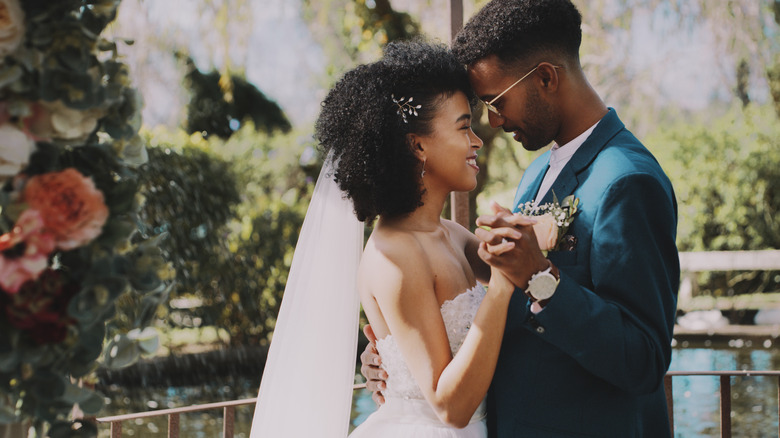 Delmaine Donson/Getty Images
No matter what areas you decide to DIY or what aspects you leave to the pros, the most important thing that you can do is focus on staying present on your wedding day. After all, your wedding is ultimately about marrying the love of your life, not cute favors or floral arrangements. You and your person should have the freedom to enjoy your special day surrounded by your community of friends and family without worrying about how perfectly a DIY project did or didn't turn out.
It is also important to try and be present in the week leading up to your wedding. "The last things you want the week of your wedding are unnecessary stressors and sleep deprivation due to trying to hurriedly finish projects," urges Nora Shiels in an interview with Wedding Chicks. "Not only will the project not turn out as well, but no one needs that stress in their life!" If you do decide to DIY elements of your wedding day, make sure you plan ahead and finish your projects as early as possible. That way, you and your future spouse have plenty of time to enjoy your last days being engaged before celebrating your upcoming nuptials together.