All The Best Looks From The London Barbie Premiere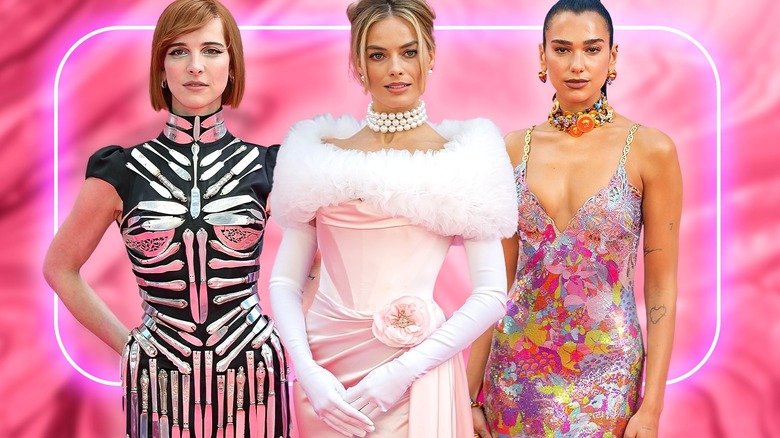 Static Media/Shutterstock/Getty
You've heard of Doctor Barbie and Superstar Barbie ... but were you ready for Break the Internet Barbie? Anticipation for Greta Gerwig's upcoming "Barbie" film has resulted in unbeatable memes, a masterclass in marketing, and a complete fashion revolution.
That's right — Barbiecore is no longer just the name for Workout Barbie's killer six-pack. In conversation with Good Morning America, trend expert Dayna Isom Johnson explained, "With many nostalgic for simpler, sunnier, and more carefree times, it only makes sense that this '80s-inspired, unapologetically pink aesthetic is taking center stage." Needless to say, a star-studded "Barbie" movie couldn't have arrived at a better time. The promotions, premieres, and actor interviews are providing endless sources of Barbiecore inspiration.
The incorporation of many different singers (with many different aesthetics) into the "Barbie" film fun has meant that Barbiecore is a fashion trend anyone can rock. Featured artist on the "Barbie" soundtrack, Bille Eilish, recently launched a tracksuit collection with the brand. Comfy can absolutely be chic ... and as the recent pink carpet fashion has shown, Barbie fun is for everyone.
Margot Robbie is reinventing retro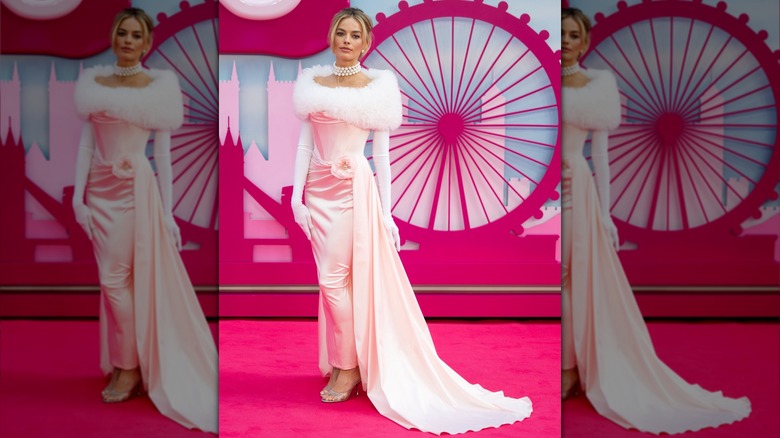 Samir Hussein/Getty Images
Margot Robbie has been rocking unforgettable Barbie outfits since photos of the filming process first leaked. While the Australian actor will undoubtedly be remembered for innovating the classic character, she went back to basics for her London premiere look. The 1960s Enchanted Evening Barbie doll, whose look the actress emulated with her gown, was among the first generation of the dress-up icons.
'Ken'-sistency is key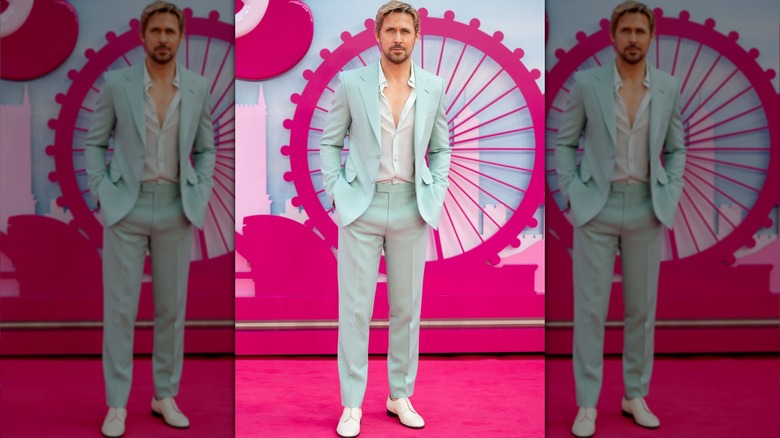 Samir Hussein/Getty Images
Ryan Gosling has given us a peek into Ken's colorful closet through his premiere and promotional looks. While his deference for the Gucci suit, and low-cut shirt has remained fairly consistent, he's not afraid to switch up the hues. His latest appearance in this minty green ensemble looks fresh from the doll box. We're here for his never-ending "Ken"ergy. 
Hari Nef and the knives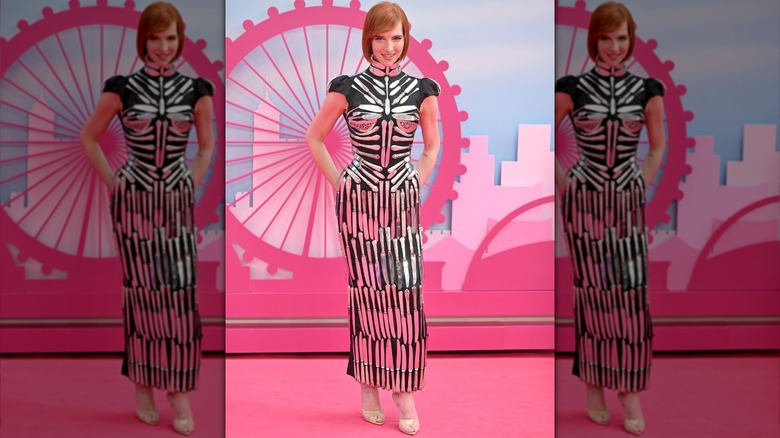 Samir Hussein/Getty Images
The knives on Hari Nef's gown may have initially seemed out of place at the glitzy and sweet "Barbie" premiere, but they made a literal and figurative statement. The Joan of Arc-inspired gown, pulled from Dilara Fındıkoğlu's "Not a Man's Territory" collection, speaks to the increasing limitations of women's autonomy. For the star, a trans woman, "Barbie" was an opportunity to explore her femininity outside of the pressure of discourse and representation. She told Out, "Barbies are Barbies, they're not human women. They're dolls. They don't have genitalia."
Under the sea and unbelievable to see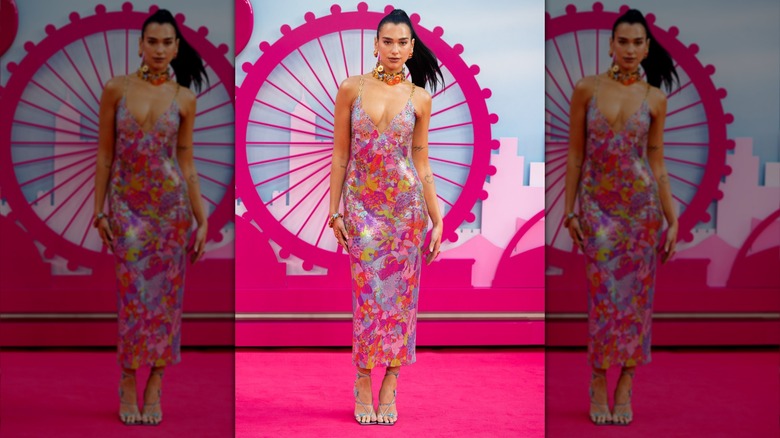 Samir Hussein/Getty Images
Dua Lipa portrays Mermaid Barbie in the upcoming film ... and she's not saving the out-of-this-atmosphere, underwater fashion fun for the big screen. The slinky, curve-hugging chainmail of her gown was perfectly reminiscent of scales. The gown was sourced from the recent collection she co-designed with Versace. Rocking your own creations? Now that's a girl-boss move that Barbie herself would respect.
Sam Smith as big, bold, and maybe bland? (We love it)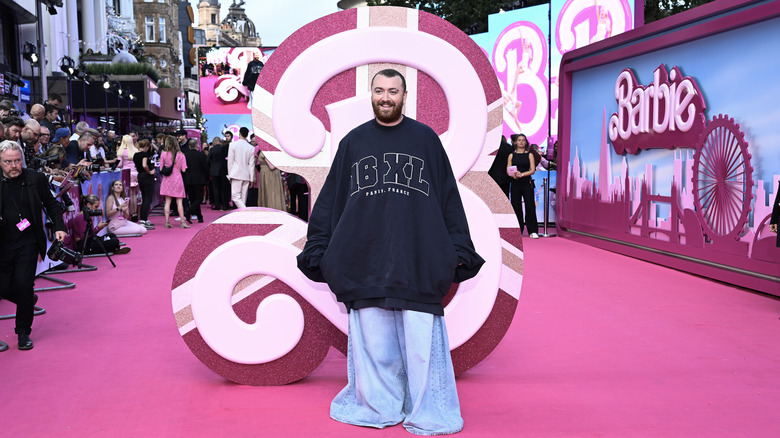 Gareth Cattermole/Getty Images
Sam Smith's ultra-baggy Barbie look certainly got people talking. Some took one look at the oversized outfit and dismissed it as off-theme. One Twitter user went as far as to brand the artist as "unserious" — especially given their history of rocking fluffy pink outfits for other events. Still, no one can deny that the pink carpet look generated buzz for the movie, for which his music appears on the soundtrack. Plus, what's more '90s than baggy? What's more bold than wearing an 18 XL sweater at an event for the historically ultra-skinny and exclusive Barbie?
Nicola Coughlan (sustainably) sparkles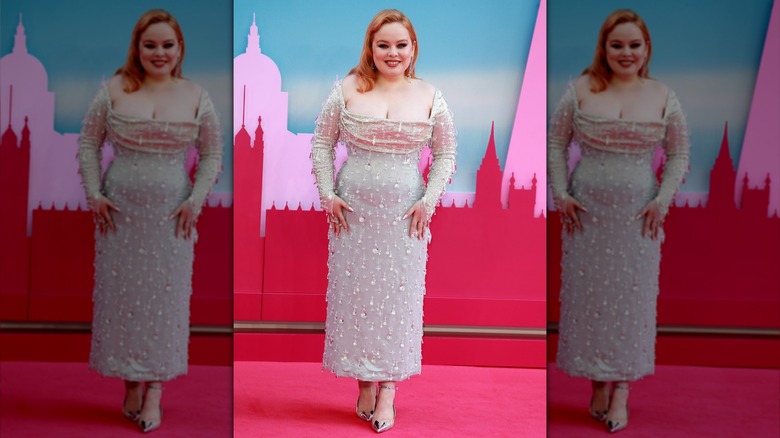 Fred Duval/Shutterstock
Nicola Coughlan will be appearing as Diplomat Barbie in the film, and her fashion choices at the London premiere prove that she's taking her activism power seriously. Her custom-made gown was crafted of sustainable materials, proving that gorgeous can also be green. The dress was perfectly on theme, paying homage to Sparkle-Eyes Barbie. However, it also stood in opposition to aspects of the Barbie brand. Nicola shared, "The Barbie world is plastic fantastic and I felt that we had a responsibility to make sure we took measures to be sustainable in our approach to this look." 
On-air and on-brand with News Anchor Barbie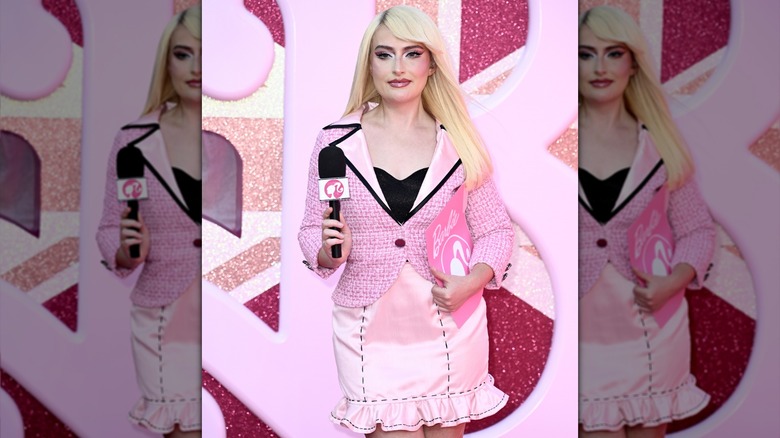 Gareth Cattermole/Getty Images
It wasn't just actors and singers getting in on the themed fun. British television presenter Amelia Dimoldenberg showed up in perfect character, rocking an homage to 2010's News Anchor Barbie. From her microphone to her pink cue cards, Dimoldenberg embraced the nostalgia head on and even stayed in character, referring to Ryan Gosling as Ken during an interview.