Flip-Flops Don't Have To Look Lazy - How To Dress Them Up This Summer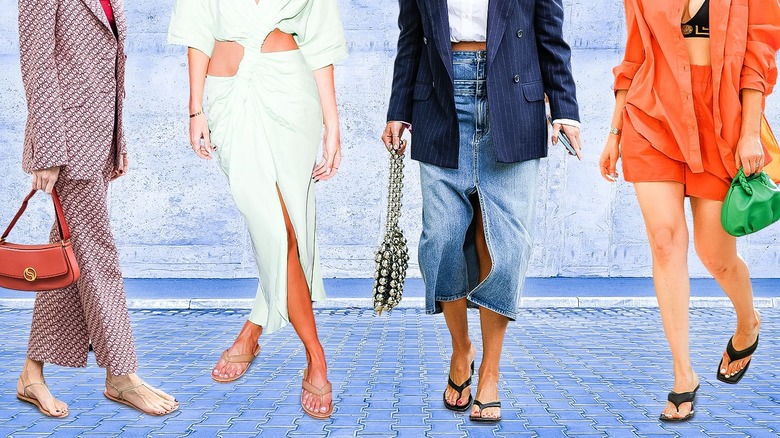 Static Media/Shutterstock/Getty
You wear flip-flops when it's hot, when you're on vacation, or really any moment when you need to wear shoes, but low-key wish you could go barefoot. But as convenient as those liberating backless sandals are, flip-flops can feel too informal for many settings, and are often relegated to being seen only at the beach and pool. However, if you want to keep your feet comfortable all summer long, regardless of the occasion, it's time to reinvent your favorite flip-flops as a style staple.
Even the most casual-looking flip-flops can be styled for dates, parties, and any other time you want to look put together. Although flip-flops might seem too simple and barebones to be appropriate for any nice outfit, their simplicity actually makes them quite versatile. Flip-flops are understated, but they certainly don't have to look lazy. Whether you have fancy flip-flops or basic ones, as long as you pair them with the right pieces, you can ensure that your toes are liberated and your arches are relaxed for all your major summer ensembles.
Something simple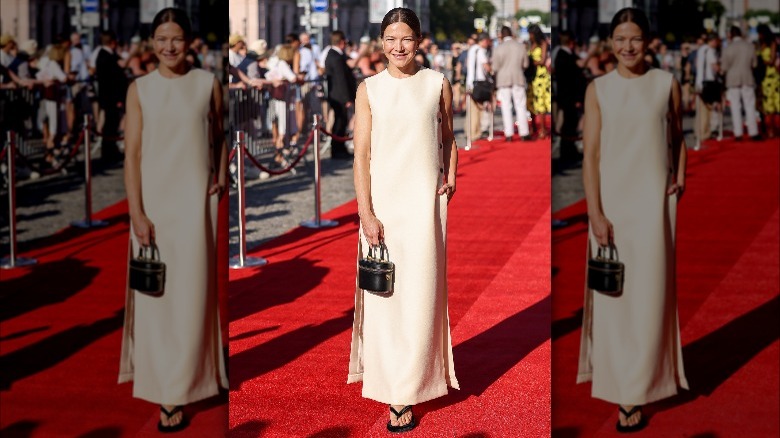 Gerald Matzka/Getty
You can't go wrong with something nice and simple when you're trying to elevate flip-flops. If you want to wear flip-flops to a slightly formal event, such as an affair with a dressy casual dress code, try for minimalist pieces made with luxe fabrics. A clean silhouette in a solid color will go a long way to make your flip-flops look less like loungewear and more like an intentional style choice.
Or something bold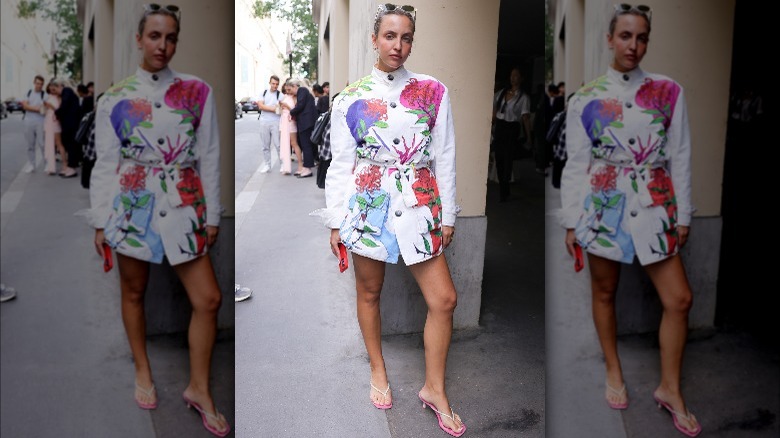 Pierre Suu/Getty
On the other hand, you can play up the whimsical nature of flip-flops by wearing something eye-catching, like a bold floral print. To prevent your outfit from leaning a little too far into the Coconut Girl territory, stay away from tropical prints or traditional sundresses. Instead, find a large, abstracted print with rich color tones, as well as clothing with structured silhouettes that compensate for the relaxed feel of the sandals.
Colorblocking helps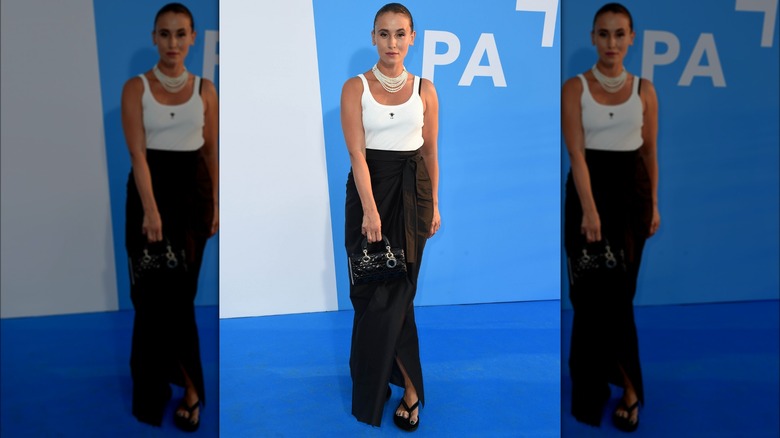 Tristar Media/Getty
Colorblocking is a useful technique to rely on if you're struggling to style your flip-flops. Choose a top and bottom in solid, contrasting colors, such as black and white, or pink and blue. The color combination will make your outfit feel more grounded, especially if you incorporate accessories like a statement necklace, or upscale purse. You can try to match one of your colors to the flip-flops, or treat your footwear as a neutral color when planning the ensemble.
Monochromatic maxi dress
To quickly throw together a nice outfit with flip-flops, all you really need is a maxi dress. Maxi dresses are the perfect blend of casual and formal, which is ideal if you're hoping for your flip-flops to say, "I'm a chic fashionista who felt like wearing flats today," rather than, "I forgot to put on shoes before leaving the house." Match the color of your maxi dress to the color of your flip-flops to ensure that the look is cohesive, grab a slouchy bag, sunglasses, and you're all set to strut some major summer style.
Try a coordinating set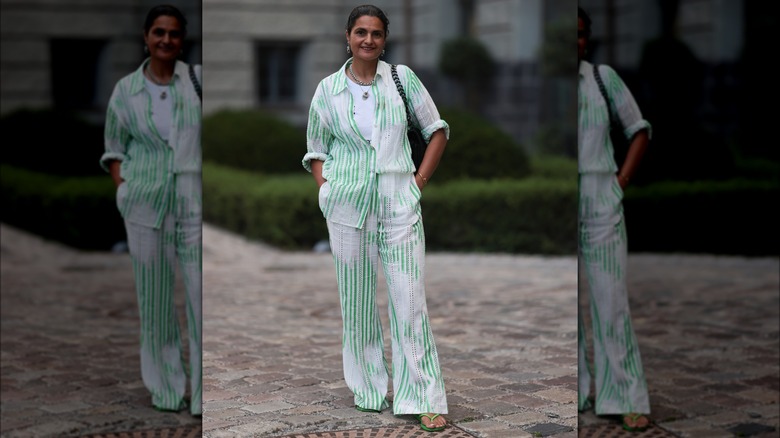 Jeremy Moeller/Getty
Coordinating sets are an easy shortcut to make any outfit feel special. For the summer season, look for a matching set in a lightweight fabric, such as linen. You can rock a fun print or stick to a solid color, either will work for styling it with flip-flops. If you're just trying to look cute on vacation, a shorts and shirt set in a tropical print is just fine. However, look for a set with pants or a long skirt if you're trying to make your flip-flops feel a little more polished.
Get serious with a suit
Karwai Tang/Getty
You don't need a dress or a skirt to elevate your favorite pair of flip-flops. Combine a fabulous summer suit with a pair of simple flip-flops, and you'll be getting compliments wherever you go (although you should probably rock this look at parties, rather than the office). Suits are classic formal wear, but you add a cheeky twist by rocking some ordinary flip-flops. Stick to a monochrome color scheme if you're feeling hesitant about the look, but you can also be adventurous with prints and bold colors if you crave some upbeat summer energy.
Add a tiny heel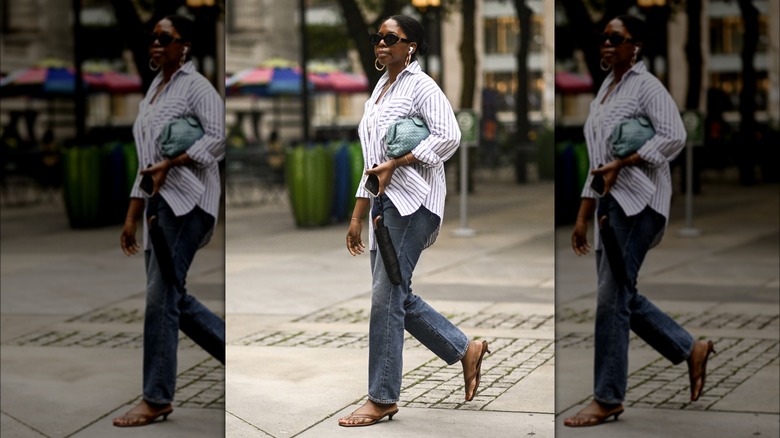 Daniel Zuchnik/Getty
If you really desire for your flip-flops to feel fancier than the traditional sandal can achieve, check out some heel options. Technically, this style advice strays a little away from the spirit of wearing super comfortable flats, but a teeny tiny heel on a flip-flop usually won't put much strain on your feet and it can have a magical effect on an outfit. You can be ultra-feminine and wear them with a sundress, or play it cool and experiment with a jeans and button-up combo.