When Should Brides Get A Spray Tan Before Their Wedding? Here's What To Know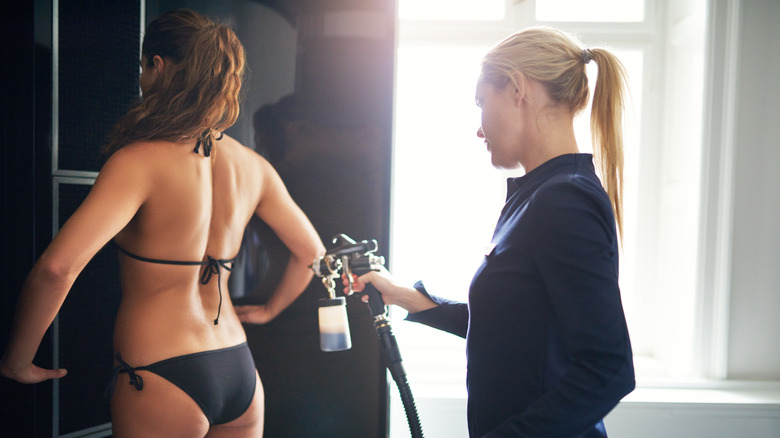 Ground Picture/Shutterstock
If you're getting ready to head down the aisle, chances are, you've already booked your hair and makeup, gone to your final dress fitting, and have all your other tasks covered. However, if you're thinking of looking bronzed and beautiful for your wedding, you won't want to put getting a spray tan at the very end of your to-do list. Whether you want to even out your tan lines or simply get a nice overall color to rock against your white gown, getting a faux glow is your best option. But, keep in mind that there are many things to think about before you even book your appointment.
Choosing the right professional is key, and, just like your hair and makeup, you'll want to book a trial so your spray tan artist gets your color just right. But once you've found the right person, you don't want to put the tan off until the last minute. While you may think getting a spray tan right before the wedding will help keep it fresh, the best time to book your appointment is two to three days before you say, "I do."
You need time for the spray tan to develop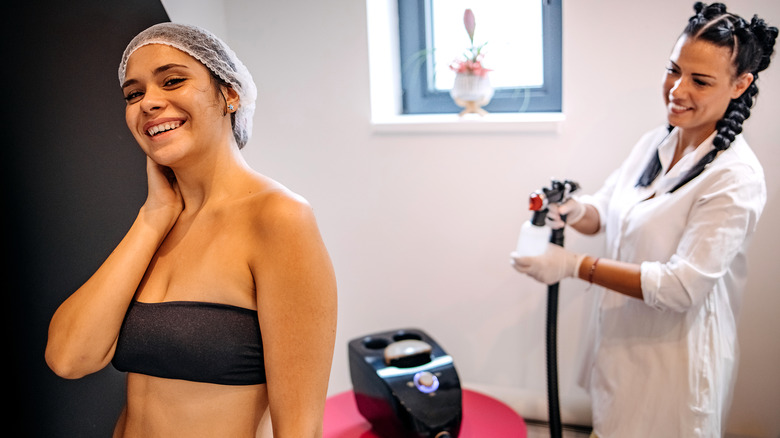 Enigma_images/Getty Images
Timing your spray tan before your wedding can be tricky, as you don't want to get one too far ahead of time and have it fade, but getting a faux tan the day before is also a no-no. You should get your spray tan no more than three days before and no fewer than two. While the color will be visible right away, the formula still takes up to 48 hours to develop, and you'll want time to even out some areas if need be.
Once you get your spray tan, there are things you should and shouldn't do to ensure the best results. You'll need to get a couple of rinses in so your spray tan doesn't transfer onto your dress. After about eight hours, shower with tepid water without soap. Washing off some of the formula ensures a nice, even color on your body and stops the tanning agent from developing too much. The day before your wedding, you can take a full shower, but you won't want to exfoliate too much or you'll end up with a blotchy tan.
Keep your tan from fading too quickly before your big day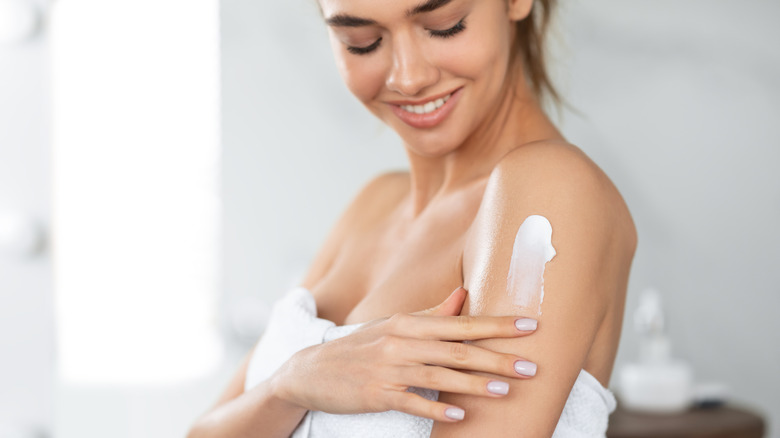 Prostock-studio/Shutterstock
Once you've gotten a spray tan, it should last about a week, but you need to take special care of your skin so that it doesn't fade before your wedding day. While showering, be careful not to use harsh soaps or scrubs. Your exfoliation process should happen before your spray tan, not after. Lather with a hydrating body wash using your hands — not an abrasive cloth. After your shower, moisturize your body immediately so your skin doesn't dry out. It's important to keep your skin well-hydrated, so make sure to keep re-applying lotion throughout the day.
Avoid taking baths or submerging yourself in pools and hot tubs. If you feel as if your color is fading, you can always use a tan extender, which has a small amount of self-tanning solution in it but not enough where it'll darken your skin too much. On the day of your wedding, highlight your spray tan with some dry body oil, which will make your skin glisten without transferring onto your dress or veil. Also make sure you drink plenty of water so your glow comes from within as well!