Petite Clothing Is Actually Defined By Height - Here's What To Know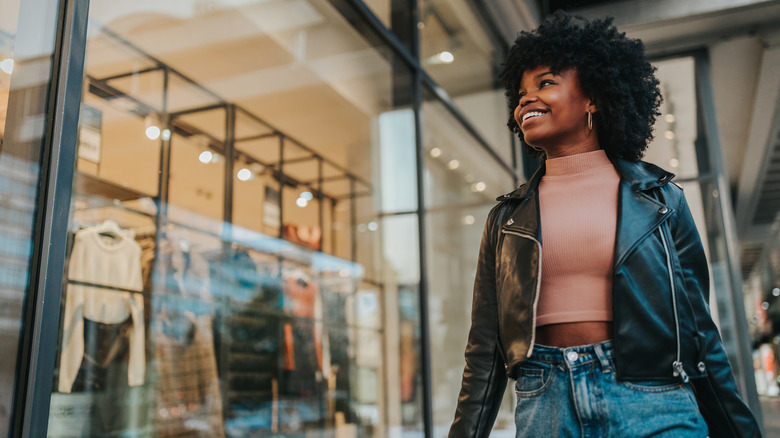 Dimensions/Getty Images
If you're under 5'4" and have perused the shelves of pretty much any shop, you've likely found yourself lamenting over pant legs and sleeves that inevitably won't fit you — just as anyone over 5'8" likely experiences the opposite predicament. And while it's natural to assume that petite means having a smaller body, when it comes to the fashion industry, the word actually refers to the length of clothing.
The sizing was introduced by fashion designer Hannah Troy in the 1940s and has been going strong since — even if the selection is a bit sparse in comparison to the designs available in standard sizes. Nonetheless, if you're a petite gal, you'll likely notice that the clothing geared towards you is not only shorter in length, but often will also have narrower shoulders, higher kneecaps, and other adjustments made to complement a petite figure beyond simply being shorter. Understanding a bit more about this sizing category can make shopping a much more enjoyable experience.
Petite sizes have shorter sleeves and inseams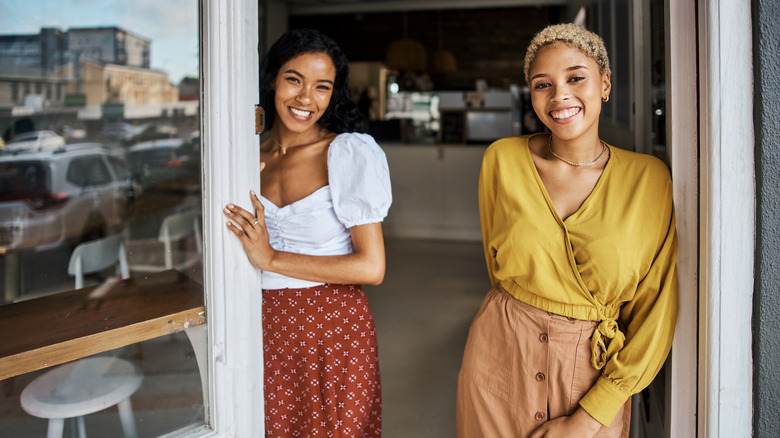 Pixdeluxe/Getty Images
In petite clothing, sizing typically ranges from x-small to plus-size. Identifying your true size by visiting a tailor or taking measurements at home will help you navigate the petite section for the best results. Whichever petite size best suits your figure, you'll find shorter inseams, hemlines, and sleeves throughout. You may also notice higher armholes and varying waist rises.
Petite women likely know the frustration of long sleeves that go far past their fingers all too well. Petite sizes will hopefully take care of this. A long sleeve shirt that fits perfectly will hit right at the knuckle of your thumb when your arm is hanging by your side in a relaxed manner. So, the next time you try on some items for your cold-weather wardrobe, gauge the fit of your long sleeves with this method. When it comes to bottoms — pants, shorts, or capris — petite sizes will have a much shorter inseam, which means you should have plenty of luck in the petite section.
Body proportion is another indicator you're a petite size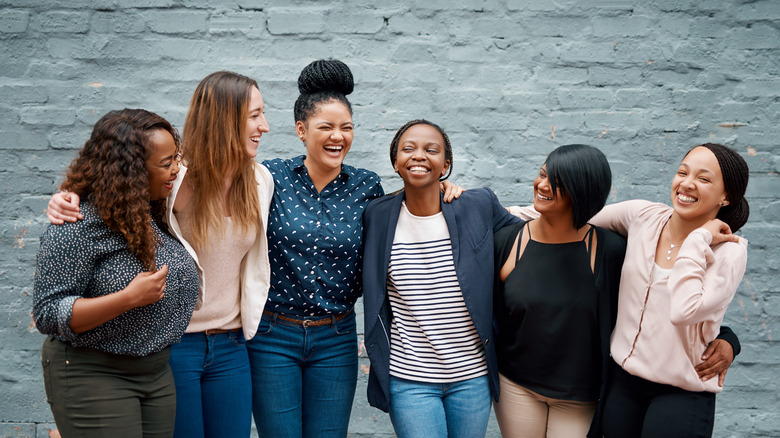 Cecilie_arcurs/Getty Images
While petite sizes are defined by height, that doesn't necessarily mean they're only suited to those who are under 5'4" in height. Likewise, even if you are under 5'4" you might not exclusively wear petite sizes, because body proportion is also a part of the equation. If you're tall with long legs, but happen to have a short, narrow torso, you might find that petite tops fit you best, while tall sizes are best suited for your bottoms. On the other hand, someone who finds that petite bottoms are a match made in heaven, might have a longer torso and shop in the standard section when it comes to tops.
Understanding this key piece of petite sizing can make a world of difference in your wardrobe. Petite sizes also have unique silhouettes that may be surprisingly flattering on those who wouldn't typically peruse the petite section. Women with smaller shoulders or narrow hips will likely benefit from the tailoring of petite clothing, even if they fit into standard sizes just fine.
How to find petite clothing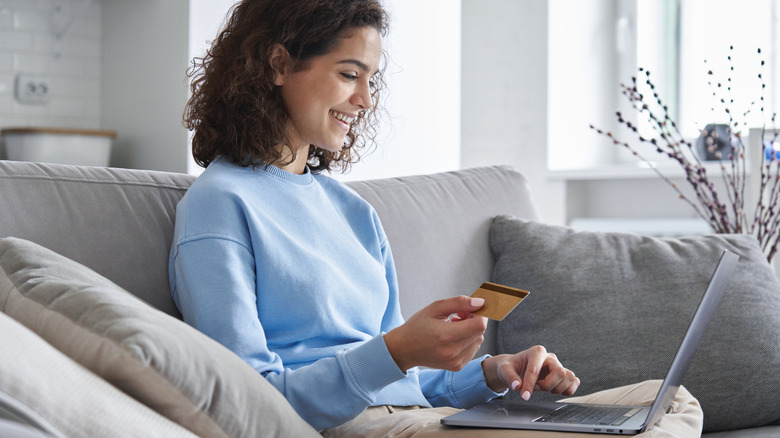 Ground Picture/Shutterstock
If you fall into the petite sizing category but are definitely having trouble recalling a time when you easily stumbled across petite sizes, you aren't alone. Finding these pieces does take some intention and forethought. However, thanks to online shopping, it can be a super smooth process. Many sites will have petite and tall specifications when you go to select your size.
Boden, Ann Taylor, Gap, ASOS, Anthropologie, Madewell, and Amazon all rank high when it comes to the best petite finds, according to Rank & Style. There are also entire brands devoted to putting petite sizes out into the world, and for that, we are forever grateful. It may be a bit trickier to enter a brick-and-mortar boutique shop and find specialized sizing like petite and tall, but be sure to always ask if there's a dedicated petite section in the shop that you might've passed by otherwise.
Petite-friendly styles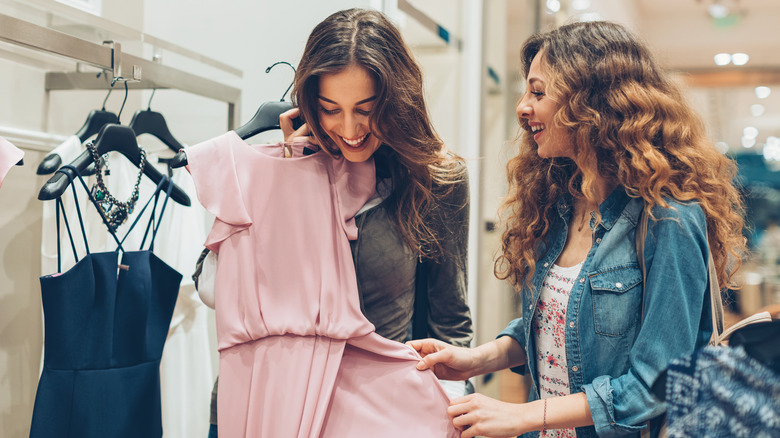 Rocky89/Getty Images
While some brands will make a large chunk of their inventory available in petite sizes, other brands will put out styles specifically geared towards petite women, read: elongating clothing. You're also bound to see a fair amount of solid colors, smaller prints, and of course, vertical stripes rather than horizontal ones.
When it comes to styling your own outfits, there are a few tips to keep in mind. You can still rock the oversized trend when you're petite, just be sure to pair an oversized garment with a fitted one, so you aren't drowning in fabric. In terms of where your pieces hit on your body, work by thirds rather than halves. A high-waisted pair of pants, for example, will cover two-thirds of your body and your shirt will cover one-third. This will elongate your frame, whereas bottoms and a top that meet in the middle of your figure might not be as flattering. V-neck tops are always a great choice to add length, as are off-the-shoulder tops, which will frame your torso in a beautiful manner.
Accessorizing petite frames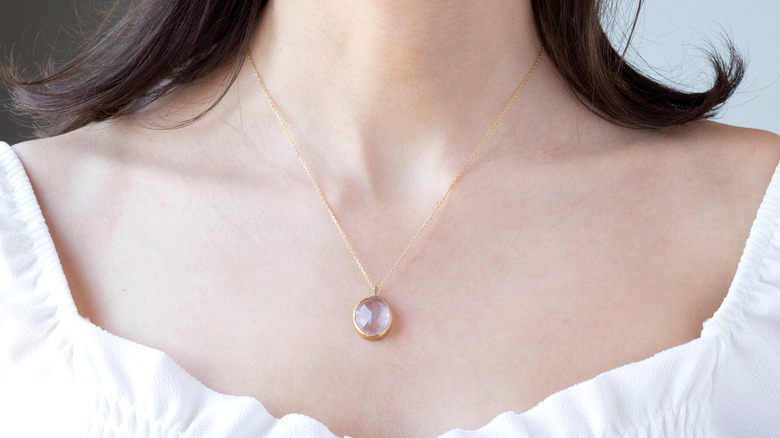 Thedugme/Shutterstock
While you may have the perfect vision for your wardrobe, accessorizing your petite frame with shoes, jewelry, and bags is also something to consider. It goes without saying that high heels are your knight in shining armor when it comes to elongating your legs and adding a few inches to your figure. Anything too chunky or with large ankle straps won't exactly work in your favor though, as they cut off your legs at the ankle. Heels that have a large contrast to your skin tone also won't elongate your legs the way you want them to, so match the hue of your heels to your legs — whether they're bare or covered in fabric. High boots are another great bet for petite frames, particularly ones that go over the knee.
When it comes to jewelry, you may want to take a minimalist route in order to best complement your petite frame. Large, chunky jewelry might give the illusion that you're shorter than you are. Small, delicate pieces will complete your look beautifully. And when it comes to handbags and purses, the same philosophy applies. Oversized totes are probably not your best friend here, but a small clutch or side purse will be the golden ticket.