Wedding Color Schemes That Will Stand The Test Of Time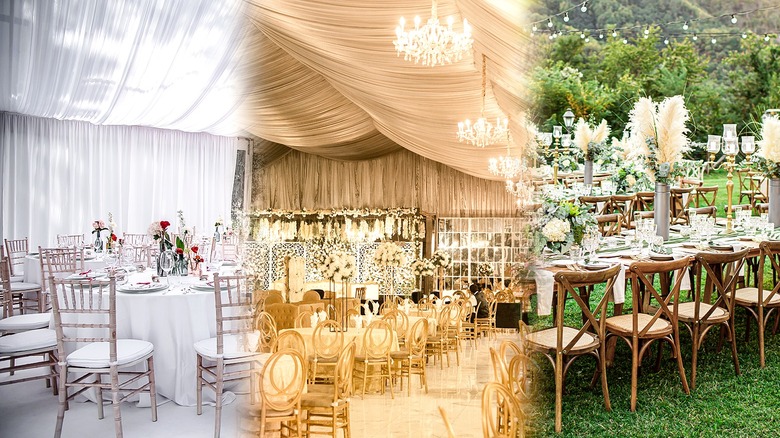 Static Media / Shutterstock
For many, weddings are rooted in tradition. There are historical and cultural standards for everything from the event's schedule to its celebratory colors. But recent years have also seen plenty of experimentation and breaks from the mold as people seek to put a unique stamp on their nuptials. Often, this is a fantastic way to make the day your own. But throwing over tradition to indulge in current trends can also mean that the relevance and style of your event have limited lifespans.
For example, the major wedding colors of 2023 seem to be shades of burnt orange, such as terracotta and rust. Right now, this sounds dreamy for a late summer or autumn wedding, evoking golden-hour sunsets and turning leaves. But as trends and color sensibilities evolve, as they always do, such statement colors also have the potential to look kitschy and outdated down the line.
We understand how tempting it can be to design your wedding around the it-color of the moment. But just because a certain hue has been crowned the Pantone color of the year — we're looking at you, Viva Magenta — doesn't mean you have to double down on that shade. Even if it looks fantastic now, in a decade or two you may end up looking back at your wedding photos as beautiful but outdated. If that's a concern, it's not enough to choose a wedding color scheme that's appealing right now. Rather, you should consider using a timeless color palette that will still look classy for years to come.
All white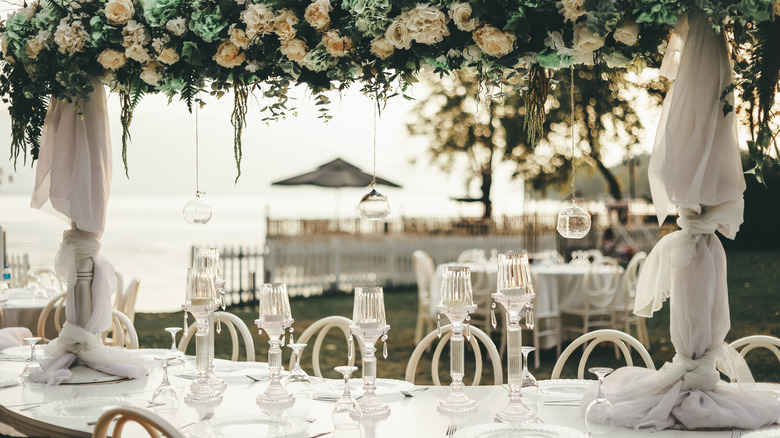 Burak Sür/Getty Images
At this point, traditional Western weddings are basically synonymous with the color white. And while most people weave other colors into their decor, you can instead go for a super-clean, super-chic effect by sticking close to an all-white theme. With a monochromatic color palette, your outfits and decorations will all be simple to coordinate, creating a cohesive aesthetic in every aspect of your event.
Both wedding dresses and suits or tuxedos will look sharp in dapper white, providing plenty of fashionable options for you and your S.O. And your reception hall will look resplendent in icy white layers, from alabaster hangings and snowy blooms in your floral arrangements to sleek white centerpieces and table settings.
If going for an all-white look seems too cold and sterile for your personal style, consider taking a similar approach but with a slightly warmer shade, such as ivory or cream. This will still deliver monochromatic elegance while imbuing your decor with a softer, more welcoming ambiance.
White and gold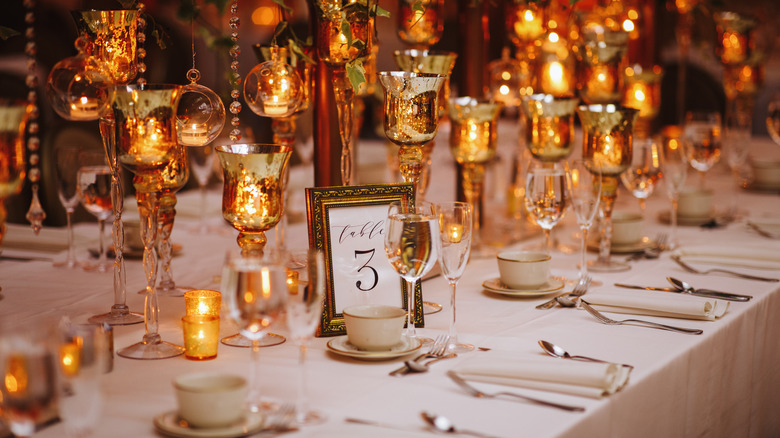 IVASHstudio/Shutterstock
Gold, so often associated with wealth and abundance, is an ideal shade to incorporate into any wedding. Beyond implying a richness that will hopefully follow the happy couple, gold adds a touch of glamor to everything around it. And while gold-on-gold can border on ostentatious, tempering its luxurious shine with fresh white creates a truly timeless color palette for your celebration.
To capture this sense of understated opulence, use gold as a strategic accent color throughout your preparations. Gold jewelry is, of course, a natural fit for any bridal look, but it can also add shine for others in the wedding party — for instance, the gleam of a gold watch, pocket square, tie pin, or pair of cufflinks will quickly elevate any tuxedos or suit ensembles.
Gleams of gold are also well-suited to your wedding's decorations. Consider adding golden vases, candlesticks, ribbons, place card holders, or even cutlery to give a sheen to your table settings. And a subtle hint of gold will never go amiss on stationery, from your initial save-the-dates and invitations to the pen visitors use to leave best wishes in your wedding guestbook.
White and green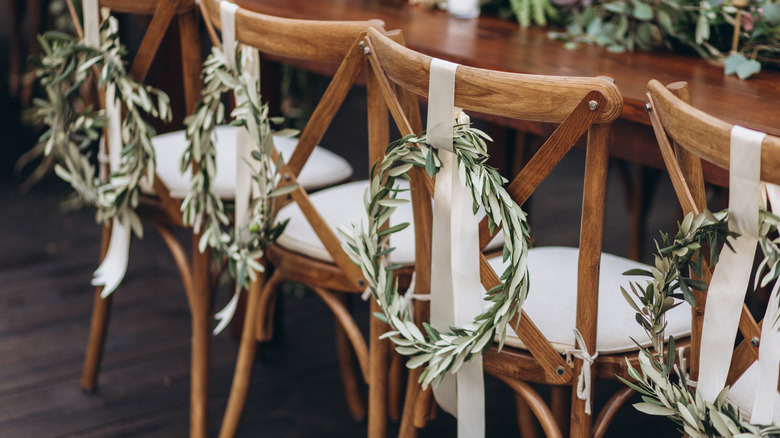 Pichukova Ekaterina/Shutterstock
Most weddings feature at least a little bit of green, thanks to bouquets and floral arrangements. But doubling down on the natural beauty of greenery creates an aesthetic that never goes out of style. You simply can't go wrong with leafy centerpieces and archways, emerald drapery, or gorgeous green and white place settings. Candleholders or stemware in clear green glass are a dazzling way to add harmonious color to your tablescapes, and a sage or forest green charger can help tie it all together by echoing your greenery beneath each plate.
As for your wedding day ensembles, a bouquet with white blooms and verdant leaves is striking and effortless — or you can even add nuance with blossoms also in different shades of green. And while flower crowns may be bordering on passé at this point, there's a reason they're so beloved. Adorning your wedding look with a wreath of simple greenery lets your beauty radiate without the need for a heavy tiara or veil.
Navy and gold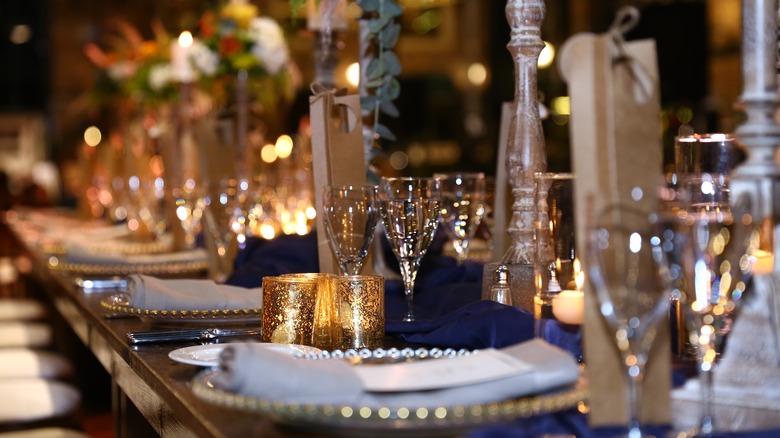 Unique Content/Shutterstock
We've already waxed rhapsodical about the time-honored refinement of gold and white. But if you want to imbue your wedding with an atmosphere that's charming, intimate, and incredibly stylish, consider pairing gold with navy blue. Shades of blue always look stunning against yellow and orange hues, and metallic gold embodies the very best of this contrast. While gold accents offer a ritzy, sumptuous glitter, navy blue brings a deep richness, creating a sophisticated juxtaposition as captivating as stars against the night sky.
Give your wedding day an edge of cozy moodiness with dark blue suits and bridesmaid dresses, navy table runners, draperies, and chargers, and even dramatic blue florals. Then brighten the overall effect with light-reflecting gold accessories and baubles like balloons, banners, votive holders, lanterns, cutlery, and perhaps a sprinkling of gold confetti.
Black and white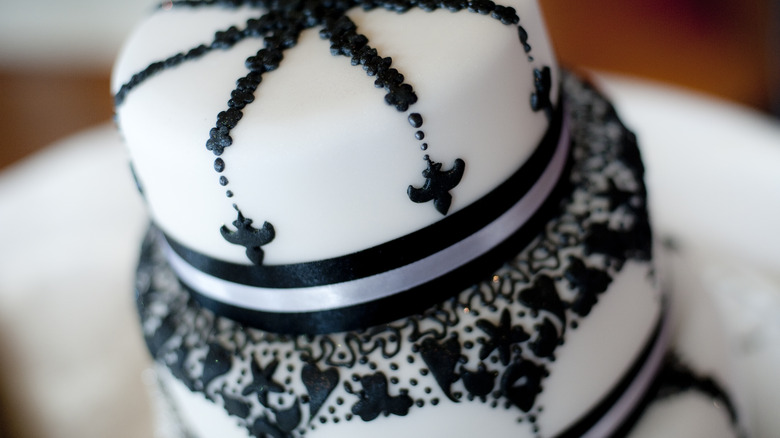 Loukia Photography/Shutterstock
Nothing screams quintessential elegance and formality like a chic palette of black and white. If you want to bring a touch of fanciness to the occasion, this theme opens all the right doors. The wedding party is sure to look sharp in classic black tuxedos, inky gowns, or your own twist on the LBD. As for decor, black place settings create a polished vibe, while dark candle holders and centerpieces create a grounding backdrop for the lightness of your floral arrangements. And don't overlook the potential of a black wedding or groom's cake, which can make an incredible statement when contrasted by pure white piping or flowers.
To keep this theme from verging into goth territory — unless that's your thing! — the key is moderation. Because it's so stark, black can easily take over your wedding aesthetic. But, remember, this color scheme isn't all black, it's black and white. So let the white act as a refreshing counterbalance to the heavy grandeur of any black components. For example, rather than selecting obsidian tablecloths, you might prefer pairing white tablecloths with a black runner. And instead of carrying a slightly ominous black bouquet, consider working this tone into your wedding ensemble with a black sash or ribbons.
Tasteful accent colors
Gladius Stock/Shutterstock
If you had your heart set on a bold or unusual hue, this list may leave you feeling discouraged. But it's your special day, not anyone else's. If you're dying to include trendy shades like digital lavender or burnt sienna, you can — just consider doing it with restraint. The best way to incorporate a unique color while maintaining timeless splendor is to build off a classic theme and use your signature shade as an accent rather than a focal point.
For instance, say you're starting with a base palette of white and gold. Instead of coordinating all of the bridesmaids' dresses in another eye-popping color, include a more subtle hint of your preferred shade as part of their mixed bouquets. By a similar token, use it as a secondary or even tertiary accent to table centerpieces and floral arrangements, rather than the primary color. Let the white and gold — or your preferred base palette — lead the way. Not only will this hold up better in years to come, but using bold hues sparingly will make each touch of color seem more thoughtful and special.