Why Scalp Serums Should Be A Staple In Your Haircare Routine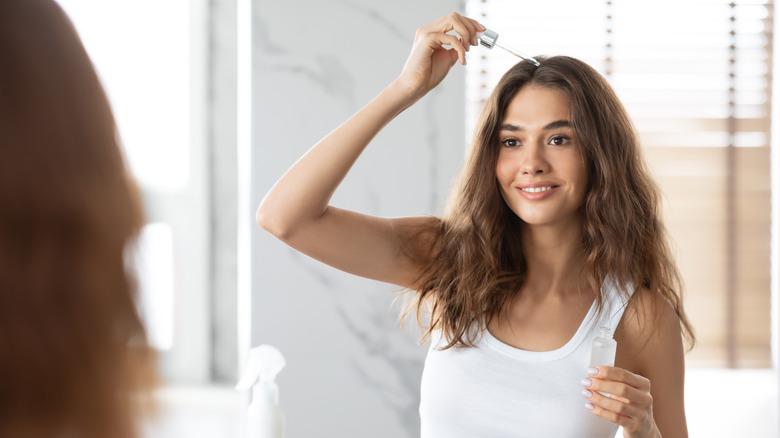 Prostock-studio/Shutterstock
We may receive a commission on purchases made from links.
We don't know about you, but our haircare routines have been feeling much more like skincare routines lately. We have salicylic acid in our shampoos, bakuchiol in our hair treatments, and scalp massagers that wash our scalps and dispense products simultaneously. The skinification of haircare is in full force, so much so that we now apply serums to our scalps. Before you dismiss it, scalp serums could be your new favorite addition to your haircare routine.
Scalp serums are much like your skincare serums, except they're for your scalp instead. Just like the rest of your skin, your scalp has needs — needs scalp serums can target. These serums contain higher concentrations of one or more potent actives to nourish your scalp and target specific concerns, like a lack of hydration, inflammation, and excess oil production. Now that you're up to date on what scalp serums are, read on to find out how they work.
What are the benefits of using a scalp serum?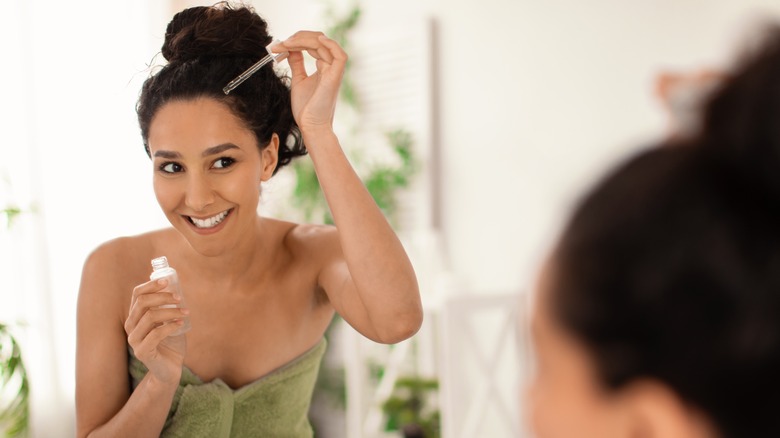 Prostock-studio/Shutterstock
Most scalp serums contain a cocktail of active ingredients and work by penetrating the scalp's layers. This can address concerns like dryness, clogged follicles, and excess oil from the inside out. Scalp serums offer several benefits, including deep hydration of your scalp.
When your scalp is dehydrated, you can develop flaky skin. A flaky scalp can also result in seborrheic dermatitis, which leads to dandruff. Some scalp serums contain ingredients that provide hydration and relief for an itchy, flaky scalp. These serums can also aid hair growth, balance scalp and hair pH, slow progressive hair loss, exfoliate the scalp, and calm irritation and inflammation. These products can even help tame frizz! 
However, some of these results can take a while to show up. Scalp serums are great for maintaining the health of your scalp, which can provide you with healthy hair. Just like your skin serums, consistency is key while applying. Here's how to pick the right serum for you.
How do I pick a scalp serum?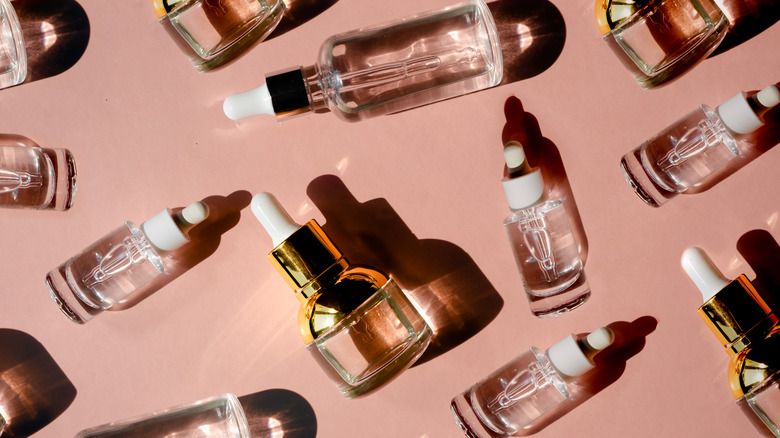 Elina Kovtunova/Getty Images
With these many benefits, you may be inclined to just click the "Buy now" button on any scalp serums you find. Before you do that, though, knowing just what you're getting in one is vital. Identifying your hair concerns, hair type, skin type, and even the ingredients in the serum can help you make the most informed purchase.
Your hair concerns will dictate, to a large extent, the kind of serums that are right for you. If you are battling scalp dryness, hydrating serums with moisturizing ingredients will be your best bet. If you have thinning hair or hair loss, a scalp serum targeting those problems will be more effective compared to a hydrating one — the same goes for people with itchy or inflamed scalps.
While your concerns or hair problems are important to factor in, your skin (or scalp type) also plays a role in what serums you should use. In the end, it all boils down to the ingredients.
Which ingredients should I look for in a scalp serum?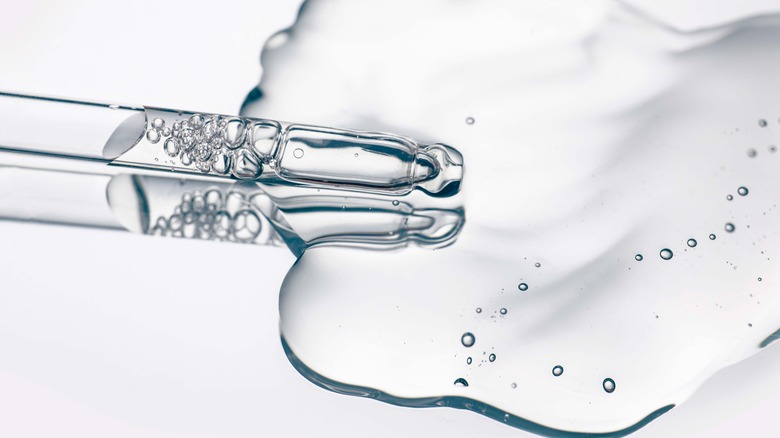 fotaro100/Shutterstock
Scalp serums work similarly to skin serums. For instance, if you have dry skin, your serum probably contains ingredients like ectoin, hyaluronic acid, or polyglutamic acid. If you have hyperpigmentation concerns, your serum most likely contains depigmentation powerhouses like tranexamic acid, kojic acid, or alpha arbutin. Scalp serums are formulated to match particular scalp concerns.
If you have an oily scalp that no amount of shampoo can help, you might be prone to clogged follicles and inflammation. This is why it's best to go for serums with clarifying or exfoliating ingredients like alpha-hydroxy acids (AHAs), salicylic acid, or apple cider vinegar.
If you have a dry scalp, hydration is key. Try serums with hydrating ingredients like panthenol, hyaluronic acid, aloe vera, or allantoin. If you have hair loss or thinning hair concerns, ingredients like rosemary oil, peptides, castor oil, and caffeine can help improve circulation and hair growth.
How do I apply my scalp serum?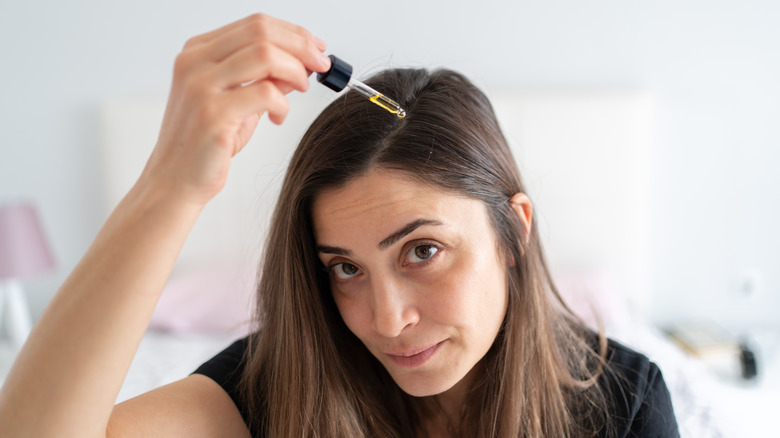 Aquaarts Studio/Getty Images
There are several ways to apply your scalp serum: at night, during the day, or on wet or dry hair. It all depends on your scalp needs and the instructions that come with the product. But the general rule is to apply a few drops on a clean, washed scalp and massage it thoroughly. Massaging does the three-in-one job of helping you relax, improving blood and lymph circulation, and allowing for better product penetration into your scalp. You could also use a comb to part sections of your hair so you can reach all parts of your scalp. 
Because these serums usually contain high concentrations of active ingredients, using them sparingly is much better. Certain scalp concerns get more leeway, though. For instance, if you're applying your serum to nourish your scalp and help with dryness, it's customary to apply your serum whenever your hair feels drier. Serums can also either be leave-in treatments or rinsed off after a while. Some can even be used at night as leave-in scalp masks or during the day before layering other products on your hair. Whatever your reason, ensure you also follow the instructions stated by the product.
What's the difference between scalp serum and scalp oil?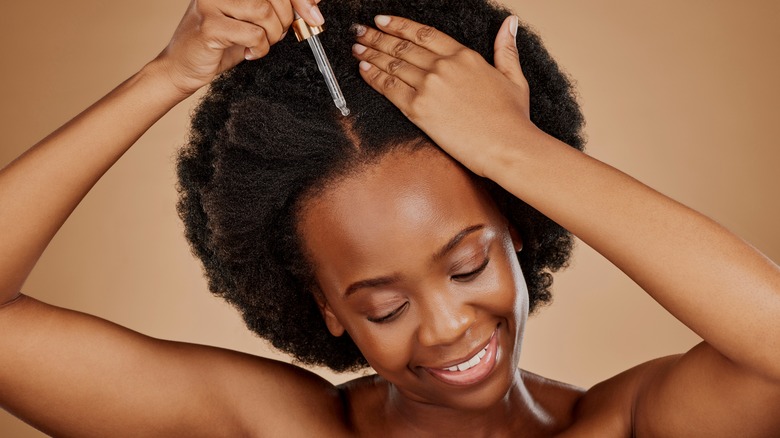 PeopleImages.com - Yuri A/Shutterstock
With all the hair care terms you've read so far, it might seem like everyone is just making up new words. While scalp serum and scalp oil sound identical as described, they're different products that target different concerns. First off, scalp serums are lightweight liquids that contain active ingredients in potent concentrations. On the other hand, scalp oils are oil-formatted products that hydrate the scalp and hair roots. Where scalp oils have the sole function of scalp hydration, serums also hydrate while addressing other concerns.
Some scalp oils also serve as a pre-shampoo treatment or a pre-poo, as they lift grease and gunk from the follicles before you wash with shampoo. In that way, they're analogous to skin cleansing oils or cleansing balms. Scalp serums, however, are not typically designed for cleansing purposes as they sink into the skin instead.
What's the difference between scalp serum and hair serum?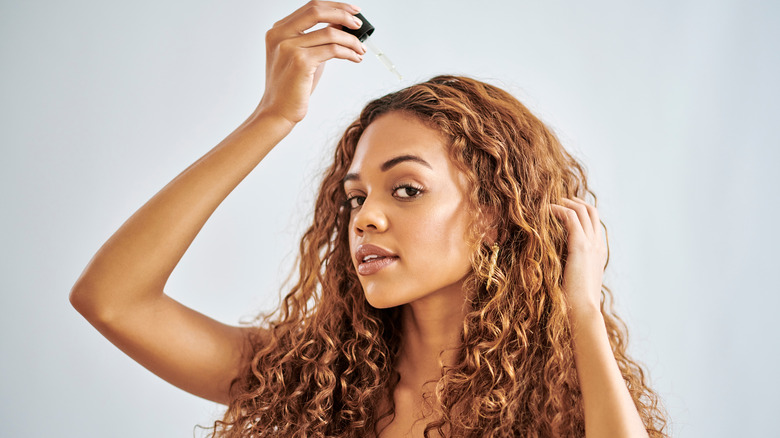 Delmaine Donson/Getty Images
Scalp oils and scalp serums are different products, but what about scalp and hair serums? As it turns out, there is a clear difference in where you should apply them. Scalp serums are massaged onto the scalp to promote skin health in the area, while hair serums are applied to your hair strands.
Another difference is their function. Unlike scalp serums which penetrate the scalp, hair serums form a layer over the hair strands. This protective layer coats the hair strands, tames frizz, and gives it extra smoothness and shine. It can either be used to seal hair ends or protect the hair. In contrast, hair serums are styling products that typically do not offer any repairing benefits to the hair — only aesthetic and protective benefits.
So, can you use your scalp serum on your hair? When it comes to most products, you can. Scalp serums contain ingredients that are beneficial to your hair, like hyaluronic acid and salicylic acid. However, it is not advised to use hair serum on your scalp, as the product can make your scalp extra greasy due to the oils and silicones in its formula.
A rundown of popular scalp serums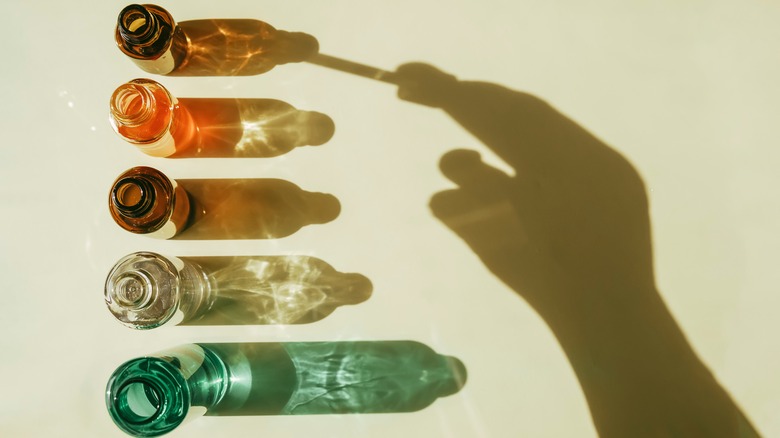 Svetlana_Borisova/Shutterstock
Scalp serums hydrate your scalp, improve its barrier, aid hair growth, and relieve itchiness: what's not to love? This is why they've become a staple in our routines, and they just might be for you, too. For your ease, we've curated a few of our favorites to help with your search.
For itchiness and dandruff concerns, Kérastase's Symbiose Anti-dandruff Hydrating Night Serum contains salicylic acid, piroctone olamine, and Bifidus, which clarify and nourish the scalp. This can be just what you need to start your scalp serum routine off right. For a boost in hair growth, you might want to try The Ordinary Multi-Peptide Serum for Hair Density, as it contains peptides and caffeine, which are both beneficial to your scalp. Lastly, for pH balance and overall scalp health, the dpHUE ACV Daily Scalp Serum contains apple cider vinegar, hyaluronic acid, and biomimetic peptides.