Taupe Is 'The' Nail Color For Your On-Trend Minimalist Manicure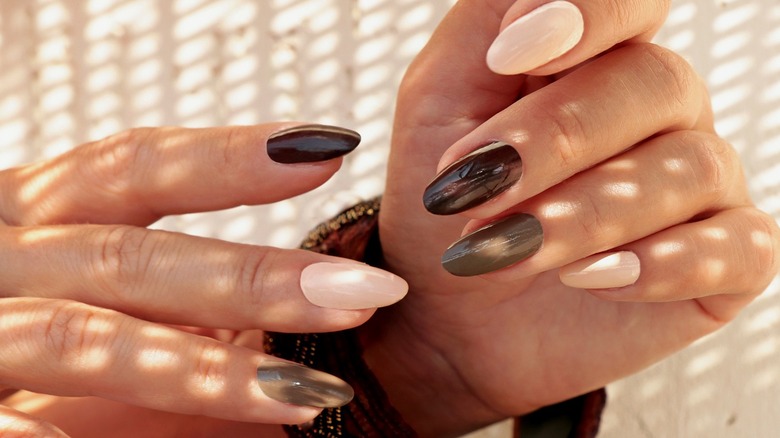 marigo20/Shutterstock
Neutrals and nude-hued colors may have a reputation for being plain, muted, and lacking variation. However, taupe defies this stereotype. According to Color Psychology, taupe is a fusion of two complementary colors, resulting in a range of combinations, gradients, shades, hues, and tints. Although taupe is rooted in desaturated browns and umbers, the spectrum of shades it encompasses is more complex than it appears. As taupe is deconstructed, a range of brown, purple, green, and gray shades begin to emerge.
Taupe is one of the most versatile nail colors available, offering a range of shades that include mixtures of mauve, purple, and chai, as well as formulas with shimmering glitter. The earthy tones of taupe evoke the sunshine and skies of summer, while also carrying you effortlessly into the cooler temperatures and changing colors of fall. Within taupe's spectrum, there may even be a shade that reflects the spirit of pumpkin spice with a brown-tinted sparkling brass pigment. For minimalist manicure aesthetics, taupe is the perfect color, with a range of shades that will keep you covered all year!
Taupe is rooted in desaturated brown tones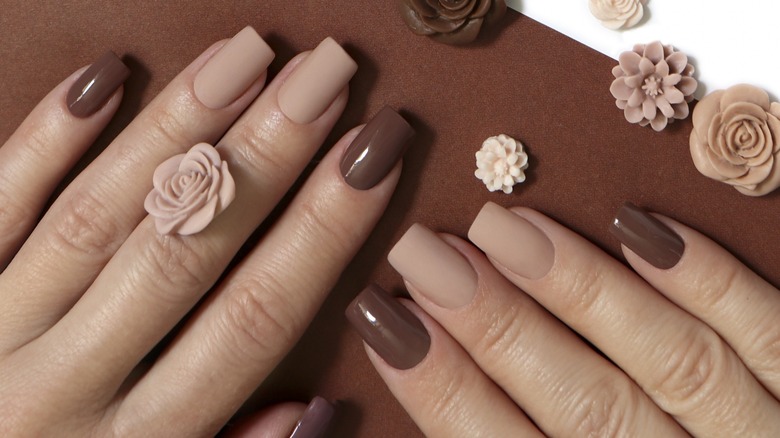 Marigo20/Getty Images
Taupe's base color falls within shades of desaturated brown. Luckily, brown manicures are currently trending, with coffee-rich tones as the thematic element for shade selection. Choose from latte to freshly ground coffee bean tones or go for an array of taupe-hued polishes with an ombré mocha manicure. 
Chai brings taupe-toned teas into trending taste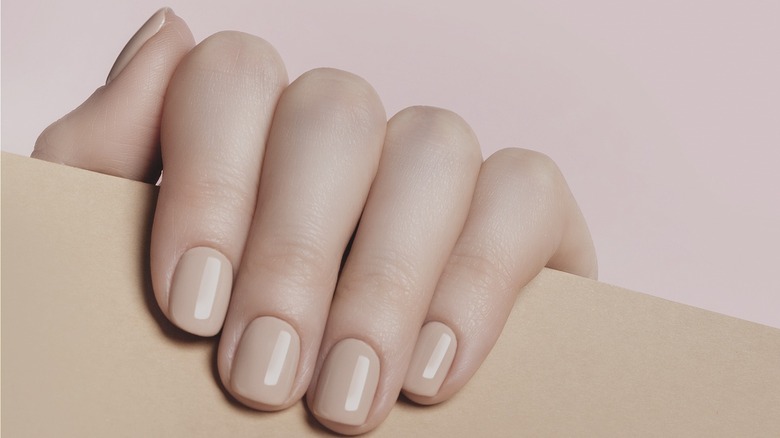 Zadveri/Getty Images
A polish color option that is thematically aligned with coffee offerings is chai, which may be the lightest shade of taupe available. As a darker version of the traditional light tan or mild nude, chai mixes brown shades with hints of yellow and white to present an earth-based milky option for minimalists and maximalists alike. Chai is a classic, timeless, and versatile nude hue that will never go out of style.
Hints of sunny shades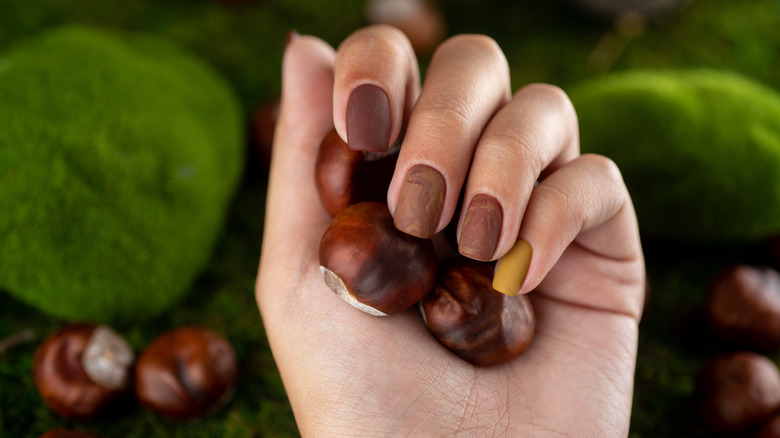 OlgaOzik/Shutterstock
When it comes to yellow tones in taupe, many versions of the color contain champagne-tinted elements within the desaturated brown base of the composition. For a gradient effect across your hand, paint each nail slightly darker than the previous one, going from a medium-dark brown to a shade of mustard yellow. Alternatively, you can take inspiration from Sheffield Pottery's champagne taupe shade, titled 254 Satin Taupe. Taupe is a playful color to experiment with, much like exploring during an outdoor scavenger hunt!
Mauve: a taupe tone made for majestic manicures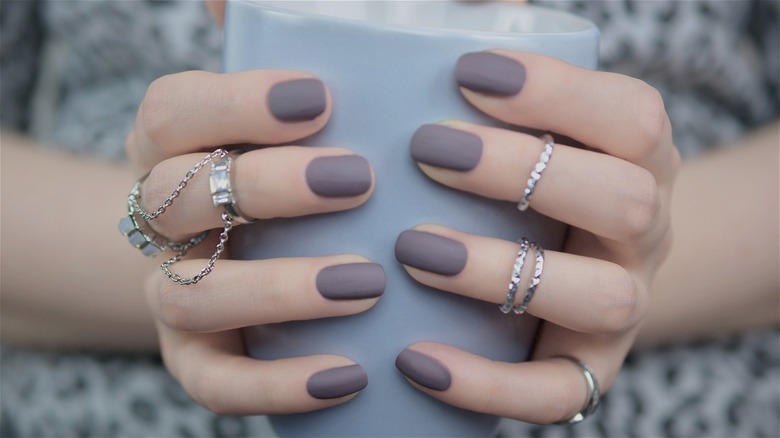 Maviojelikiz/Shutterstock
When it comes to nail polish, taupe offers a range of manicure options that pair majestically with the color symbolism of purple. Use mauve purple as the base layer to create trendy manicure designs that match other popular styles, such as marbled nails, half-moon designs, and deconstructed French manicures. Or go with solid taupe tones with mauve highlights on your nails, paired with your favorite hand jewelry. Taupe's versatility and ability to adapt to any occasion continue to impress.
Make mauve more mesmerizing with complementary designs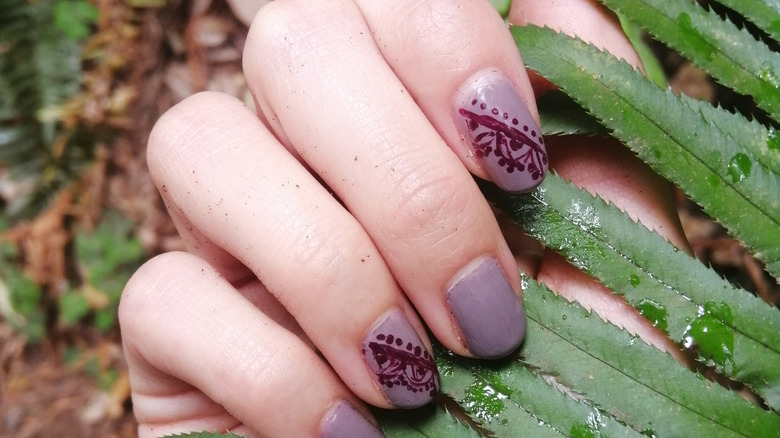 elizabeta-l/Shutterstock
Taupe invites new growth with moss green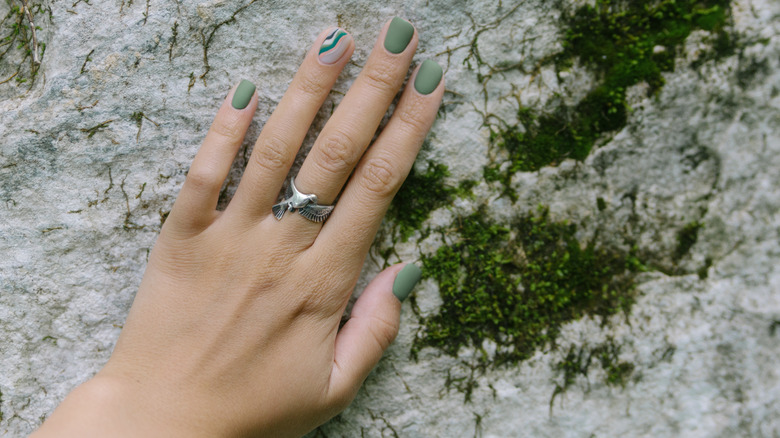 Marcovnica/Shutterstock
Exploring the color combinations of taupe, moss green is a raved-about shade that adds an earthy element to the palette. It can help you stay grounded and in the moment, making it an excellent choice if you're trying to develop a mindfulness habit. Additionally, green is associated with rebirth and new beginnings, making moss green a perfect color for the summer season. You can enhance a plain green manicure by adding small embellishments or adornments, such as marbling one or two fingers.
Maximalists can enjoy deconstructed taupe with sparkle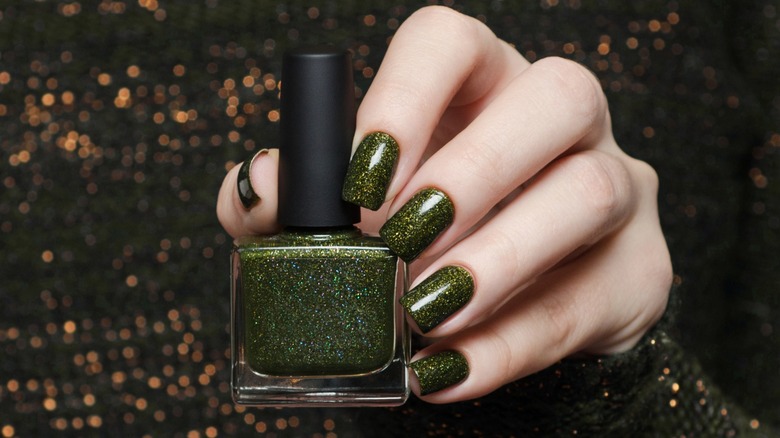 Marina mrs_brooke/Shutterstock
Taupe may have made a name for itself as a color perfect for minimalists, but it's also a fantastic match with maximalists! You can pair taupe with moss green, champagne shine, yellow-tinted earthy shades of mustard, and gray with a tiny tint of blue that skews towards purple – aka taupe's entire color spectrum. By turning it into glitter polish, you can deconstruct all of taupe's magical hues and then blend them back together in a gorgeously glam mixture.