The Eyebrow Tail Trick That Lifts Your Face (& Costs Nothing)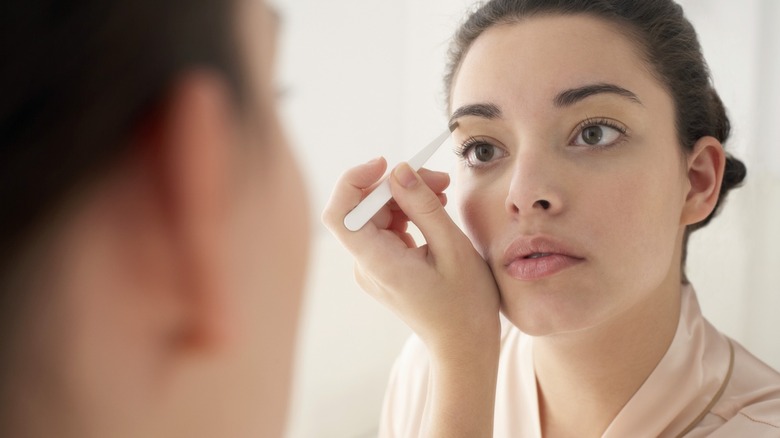 Christopher Robbins/Getty Images
Achieving the essence of expensive, specialized spa treatments is possible without spending a single cent — at least according to an eyebrow trick making the rounds on TikTok. Its proponents claim that this DIY method has the power to bestow the essence of expensive, specialized spa treatments for brightening eyes, enhancing natural contours, and achieving a full facial makeover. Okay, it may not offer an actual full-face transformation, but it still packs a big impact and avoids the invasive or uncomfortable side effects of many spa treatments.
So, what's the secret to this DIY magic makeover? It's all about removing the tails of your eyebrows. This technique is easy to perform and will save you money while still achieving the desired effect, though, it's important to note that it may not be right for everyone's goals and face shape. The key to success with this technique is to exercise caution and intention when maneuvering around the eyes and brows.
Now, it's time to sit up straight and listen and watch closely. Secret beauty hack class has begun.
Removing your eyebrow tails can transform your face
For optimal results, you often have to think outside of the box. Though in this case, thinking outside of the brow is more fitting. Behold, because your beauty regimen is about to be entirely transformed with this ingenious and highly rewarding technique.
In a five-second clip shared by TikTok user @jasminereneeaiello, her face is immediately transformed in tone, angles, lines, and overall aura through the removal of her eyebrow tails. The makeover-mirroring trick seems tremendously quick and simple, though it was not immediately clear how Jasmine achieved the straight-brow look. The creator clarified her approach in a comment, revealing, "The other photo is 4 years ago so I've slowly changed the shape by letting hair grow underneath and plucking the ends."
By plucking individual eyebrow strands one by one in an upwards movement, you can create a similar straight vertical line in place of traditional eyebrow tails. The reason why small changes to eyebrow shapes are so transformative is that they increase the space visually created between the outer edges of the brow and the outer corners of the eye. Conversely, letting eyebrow ends overgrow or plucking strands so that the brows have downward-tilting tails lessens the space between the eyes and the outer eyebrows, causing the eyes to appear to droop or sag.
Straight brows may not work for everyone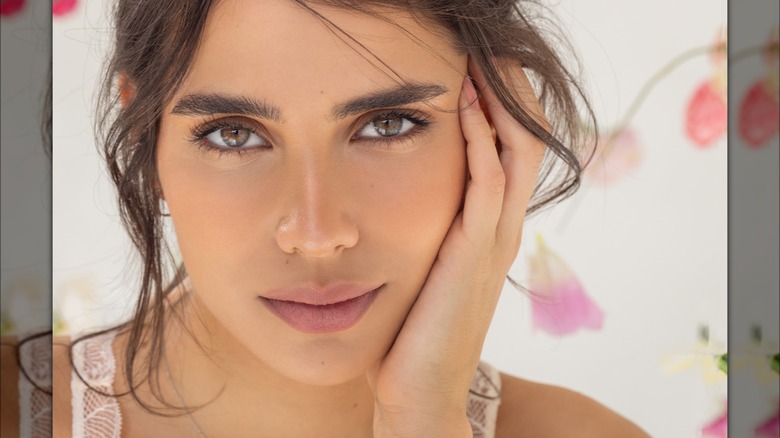 Svetikd/Getty Images
While @jasminereneeaiello employed a careful campaign of targeted plucking to create her straight brow, other fans of the DIY hack have promoted the shaving or fine trimming of brow tails as a way to achieve an instant facelift that's free, easy, and doesn't require surgery. TikTok user @themegscahill has encouraged her followers to shave their eyebrow tails after some brief maintenance of the arches and inner corner points. She shows off the instant difference the brow reshaping creates, giving a more open and vivacious appearance to her facial features.
Not everyone agrees with this approach, however. "I would never use a razor and would never remove entire sections of the brow," Nails & Brows CEO Sherrille Riley told The Guardian. "And if you remove eyebrows with something like a razor, the rumours are true – it's really unlikely that they will fully grow back."
Beyond the potentially long-term impact on your eyebrows, there is another factor to consider before committing to this eyebrow tail trick: face shape. According to brow expert Fides Baldesberger, straight brows seem to work best on heart, round, and oval faces. Thoroughly researching TikTok hacks before trying them is always a smart idea.