Pink Spritz Nails Are The Sparkly Barbiecore Manicure You Need This Summer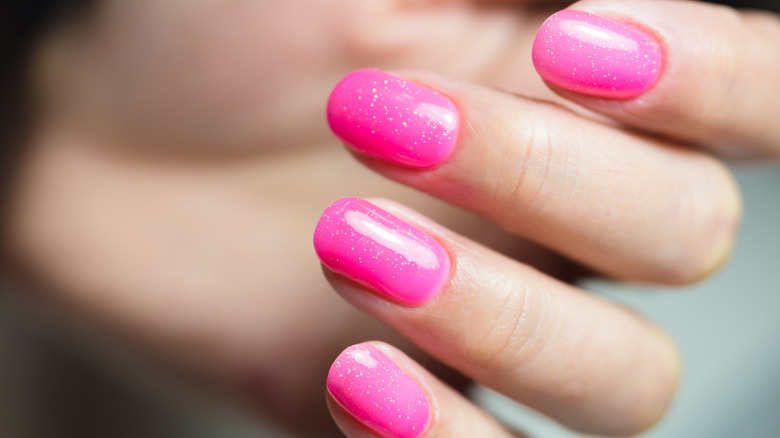 Simonen/Getty Images
With the upcoming release of "Barbie," starring Margot Robbie in the titular role, Barbiecore is everywhere. For those still not clear on what that is, "core" is about creating hyper-awareness of a trend, and in this case, we're embracing the nostalgia of Barbie, giving us a license to indulge in all things pretty, pink, and hyper-feminine. A 2008 study published in Current Directions in Psychological Science shows that nostalgia enhances our self-esteem, makes us feel more connected to one another, and gives life meaning. So if Barbiecore has you longing for happier, less complicated days, pink spritz nails is one cost-effective way to get in on the trend and feel better in the process.
Essentially, pink spritz nails are shimmery tips reminiscent of a refreshing spritz of water on a hot summer day. You can achieve the look with a colored glitter polish or a clear glitter polish if you want more control over where you paint the sparkle. You can opt for classic glitter styles or updated techniques that leave your nails feeling Barbie-ready.
Hot pink chrome Barbie spritz
If you're looking for a deeper pink with a strong shimmery textured effect, you may want to try a hot pink polish that includes a magnet designed to activate the specks in the polish. This is next-level glitter and adds a metallic sheen, shimmer, and unique shapes to your Barbie-inspired nails. 
French tips, pink spritz style
French nails come in a variety of styles from classic to neon, and you can opt for all pink with thin lines for a "double French nails" effect. According to TikTok and Instagram content creator @heygreatnails, you can pull this off by using a blush-colored nail color as the base and applying pink eye shadow for an ombré effect. Next, use a deeper-colored glitter pink polish to draw in the lines at the tip. And lastly, use a clear polish to seal it in for the ideal Barbie French tips.
Orangey-pink Barbie
Looking for a slightly different hue? Try a neon orangey-pink shade with a glittery sheen. It's a fresh take on classic pink tones and evokes the same prettiness, yet with the strong energy of oranges and reds. And of course, you can use a magnetic polish, or layer an orangey-pink color with a sheer shimmery polish.
Ice-pink Barbie
For ice-pink nails, you may opt for a magnetic polish along with a gel topper. Like TikTok creator @vwnails_ demonstrates, painting a layer of gel over the polish adds even more texture to the nails, creating the look of iridescent ice crystals with bits of shimmer. Unlike other variations of this summery style, it gives dramatic winter energy, perfect for that ice-queen Barbie look.
Hidden glitter Barbie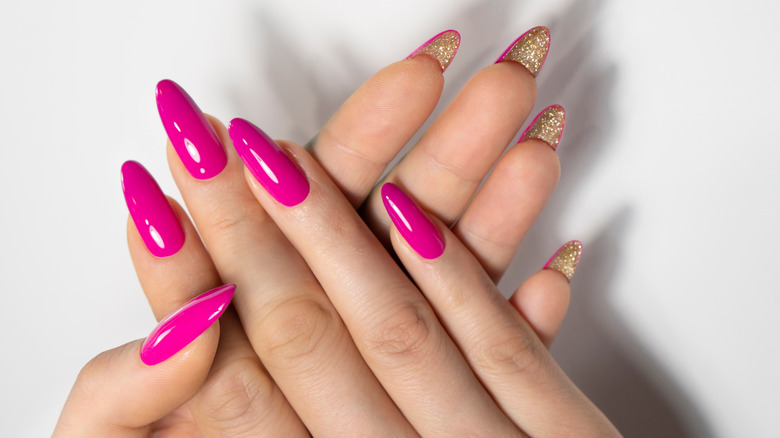 Elena Grama/Shutterstock
Get out your Glitter Beach Barbie for some nail inspiration. Glitter Beach Barbie came packaged with a glitter multi-colored bikini, and real gold glitter lotion! So if you're inspired to have glittery nails but want to try something different, opt for gold glitter nails on the backside of hot pink nails. It's unexpected and gives the often neglected back of your nails a chance to shine.