All The Best Wedding Decor Trends For 2023 & 2024 Brides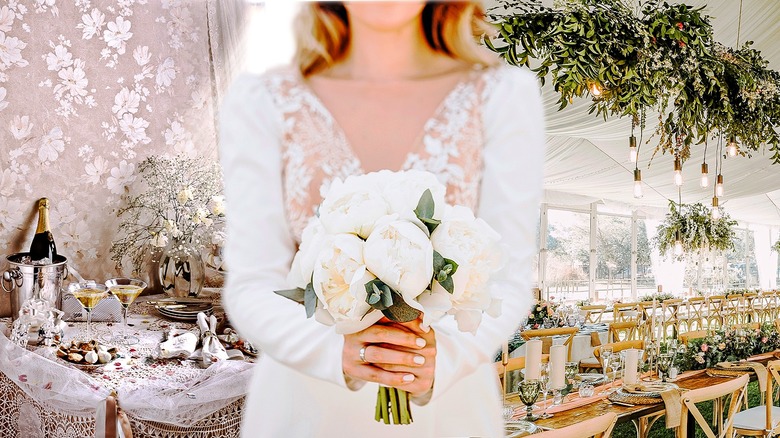 Static Media / Shutterstock
An incredible 2.2 million weddings are estimated to take place in both 2023 and 2024, with many celebrations embracing the latest wedding trends. Wedding dress trends are shifting toward colorful and unique, while outdated traditions like garter tosses and cake cutting are no longer reception standards. "As a growing number of Gen Z couples begin to get married, we're starting to see a new wave of trends — particularly when it comes to making a statement about themselves, such as incorporating cultural elements or a unique theme or color," Lauren Goodson, Senior Director of Insights of The Knot, tells Business Wire. Wedding planner Sheavonne Harris agrees, explaining to National Jeweler, "There's been a focus on what [couples] actually want, as opposed to what they are supposed to have."
This means that traditionalism and obligation are taking a backseat to fun vibes and good times in today's weddings, feelings largely represented through the décor modern couples are choosing. Among the many diverse décor trends you'll see in the next few years are couples eager to celebrate their unions with vibrant color, custom decorative touches, and one-of-a-kind themes that perfectly represent the pair getting hitched. Wedding décor trends will always come and go, but this new era of wedding design is going to create a truly memorable experience for guests and couples alike.
Mood lighting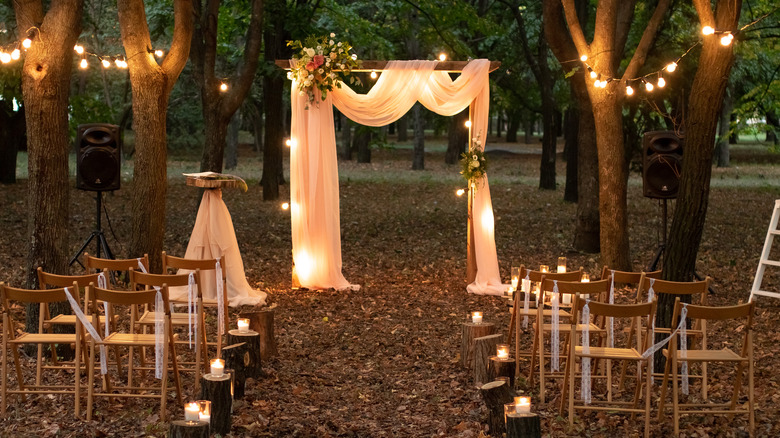 Denys Vynnyk/Shutterstock
Mood lighting, or a lack thereof, has traditionally not been something couples gave much thought to or had any control over. Consequently, it was a seriously overlooked décor element. But the days of simple votives and candlesticks on reception tables are coming to a close, with custom neon lights, dynamic installations, and theme-appropriate light fixtures replacing them. In an interview with Bridal Guide, wedding planner Michelle Leo Cousins shares that her couples have prioritized mood lighting in their budgets. "Whether it's an installation over the dance floor that includes clusters of chandeliers and floral elements or thousands of strands of little white lights."
In addition to literally highlighting specific areas of the ceremony or reception, focusing on lighting allows couples to fully implement the aesthetic and general mood they want to achieve with their décor. Mood lighting can make your wedding feel romantic and soft, moody and mysterious, or warm and inviting. It also helps convey the personality of each couple. Photographers and videographers often appreciate the extra attention to lighting as well because of the additional detail and visual interest it lends to their images. "Custom lighting is something the couples we work with are prioritizing more than ever before," Allison Jackson tells Brides. "There is no overstating it — unique, beautiful light fixtures installed in a clean, intentional way elevate and transform a space more than any other décor element."
Disco décor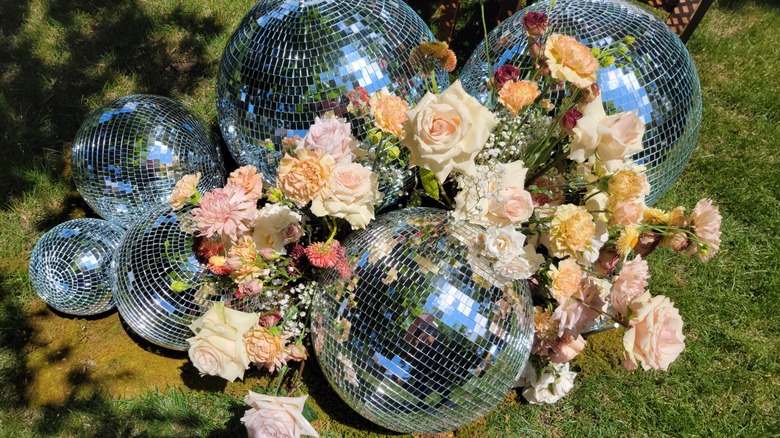 Wallflower Hollow/Shutterstock
Some believe that disco died, but 2023 and 2024 wedding trends beg to differ. Retro, gaudy, and joyful '70s vibes are trending in a big way at weddings, with shimmering disco balls at the center of it all. Couples are incorporating disco décor into elaborate statement installations over their dance floors or head tables, as centerpieces and photo booth props, and even as accents to their ceremony arches. Disco balls are also proving to be surprisingly versatile, fitting in equally well at classic, elegant weddings and more casual, groovy-themed affairs. The Discocore trend is particularly popular with wedding-related events, such as bridal showers, bachelorette parties, or rehearsal dinners. Wedding planner Sneh Diwan tells The Knot, "Disco is always a vibrant theme to keep for the welcome party or other pre-wedding events. With so many ways to emulate disco, such as sequins, prismatics, and bold florals, it can be freshened up by tying in unique elements that are personal to the couple."
For a casual observer, this trend may seem completely out of left field. Sure, weddings heavily feature dancing and partying, but what do disco balls really have to do with a romantic union? After a stressful start to the decade, couples are appreciative of the playful, happy-go-lucky vibes that naturally go hand-in-hand with disco. "Everyone smiles at the effect of a disco-theme embellished wedding décor!" event planner Cathy O'Connell shares with Brides. "There is just something joyful and happy about the sparkle and the fun that a disco theme implies."
Vibrant patterns and colors
White weddings are out (sorry, Billy Idol), while all things colorful, vibrant, and patterned are in. "We're seeing more patterns and color, as the typical white wedding isn't as popular as it once was," Brooklyn-based event planner and designer Jove Meyer tells Bridal Guide. Like many of this year's wedding trends, the push for color and pattern is rooted in couples' desires to show off their personalities and celebrate to the max.
Colors like magenta, Pantone's 2023 color of the year, have taken the wedding world by storm, providing that bright, bold emphasis couples crave. Vibrant shades of fuchsia, apricot, coral, sunshine yellow, orange, and scarlet are also popular. These warm shades evoke a sense of charm and optimism and can be tastefully implemented in ways that don't overpower the senses. Color combos of cornflower blue, lavender or mauve, and petal pink are a popular color combo with garden weddings and boho brides as well. This color scheme has a gentle brightness to it, bringing beautiful pops of color to weddings taking place in nature.
Statement patterns are now a signature look at weddings as well. Couples are moving away from plain and simple linens, bridesmaids dresses, and table settings in favor of geometric, floral, and eclectic prints. Choosing a specific pattern and carrying it out in thoughtful ways, be it through attire or specific décor elements, can be a key player in crafting a cohesive wedding look.
Hanging floral installations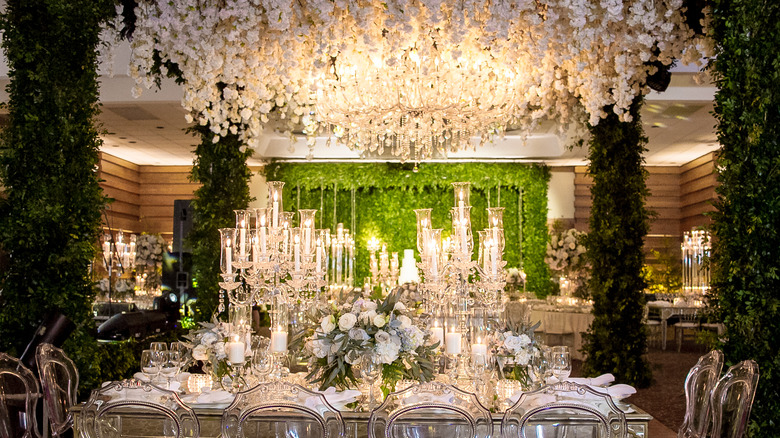 Richard Sanz/Shutterstock
In addition to all things bright and colorful, this year's soon-to-be wedded are into dynamic hanging floral installations. In lieu of just the standard compote centerpieces or bud vases, some couples are choosing to budget for dramatic, show-stopping installations that hang over their dance floors or head tables. These installations can look hundreds of different ways, from standalone greenery and complex floral chandeliers to upside down bouquets of herbs and dried florals. Some florists utilize strings of blooms in garlands for a more whimsical touch, while others craft suspended color-blocked masterpieces utilizing seasonally appropriate blooms.
Hanging installations are also a versatile wedding floral trend. They suit a variety of themes and styles, and can be crafted based on the preferences of each couple. Non-floral elements like antlers, pots, birdcages, and even lights can also be added for a truly breathtaking arrangement that fits any aesthetic. There is something equally charming and romantic about a hanging floral installation that couples adore, which likely means this wedding décor trend is here to stay.
Barbiecore
C'mon, Barbie, let's go party! One of summer 2023's most anticipated movies featuring everyone's favorite childhood doll has inspired an entire wedding trend. The live-action Barbie film, starring Margot Robbie and Ryan Gosling, embraces a young, colorful, and eclectic aesthetic that modern couples can't get enough of. "A much-welcomed mood-booster after the last few years, 'Barbiecore' is all about embracing vibrant hues — particularly the doll's signature hot pink — in everyday life," Etsy trend expert Dayna Isom Johnson tells Good Morning America.
Barbiecore wedding décor is all about maximalism, featuring Barbie-approved details like sparkles, sequins, feathers, and endless shades of neon pink, magenta, and bubblegum. Patterned or textured table runners over white tablecloths, elaborate balloon walls, color-blocked flower arrangements in shades of pink, and gold or silver accents are fun ways to add the Barbiecore touch to an elegant wedding. Add cotton candy as a late night snack or rent a pink convertible for your getaway vehicle to truly encapsulate Barbie and Ken's vibes.
"I have seen Barbiecore utilized most in elopements," wedding planner Sneh Diwan tells The Knot. "The over-the-top, bold colors play off the whimsy and spontaneity of it all." You can opt for a bright pink wedding gown if you so choose. You can also jazz up a more traditional bridal look with hot pink heels or wear a minidress with a tulle skirt for your reception to bring the Barbie energy you want without overpowering every element of your wedding.
Natural textures and unique floral vessels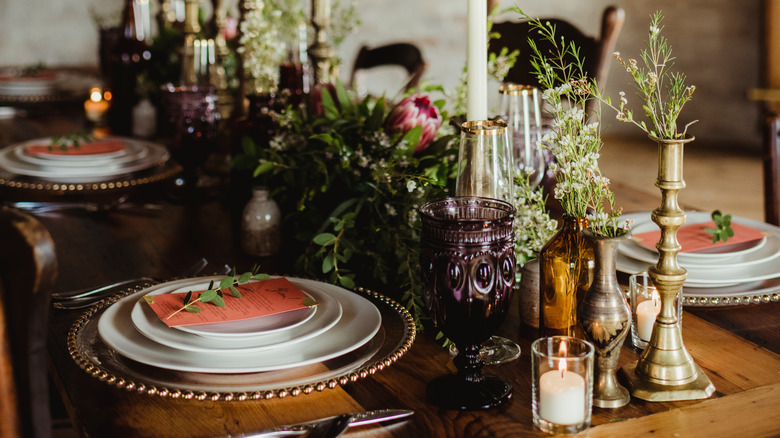 Madisonwi/Getty Images
Down-to-earth, slower paced couples that are into more natural wedding aesthetics are turning to cottagecore-style decorations for their big days. This cozy, romantic style of décor is not new, originating in 2018 as a subtle nod to Victorian fashion and English countryside vibes. But it is a persistent trend for this season's upcoming weddings. "The cottagecore aesthetic draws inspiration from a variety of sources, including rural landscapes, vintage fashion, fairy tales, and historical traditions," event planning and design firm owner Tracy Taylor Ward tells Brides. "A cottagecore wedding romanticizes rural life, nature, and simplicity."
This nostalgic upgrade of the traditional rustic style favors antique décor alongside natural, earthy textures. Modern cottagecore and nature-inspired weddings take inspiration from the wild beauty of the countryside, which means color themes range in shades of greens and pastel pops of color. Tablescapes within this wedding trend often feature colored glassware and eclectic porcelain plates, patterned linens, fairy lights, and the warm glow of candle flames. Cottagecore weddings also celebrate creativity and uniqueness, particularly when it comes to floral vessels.
Unique aisles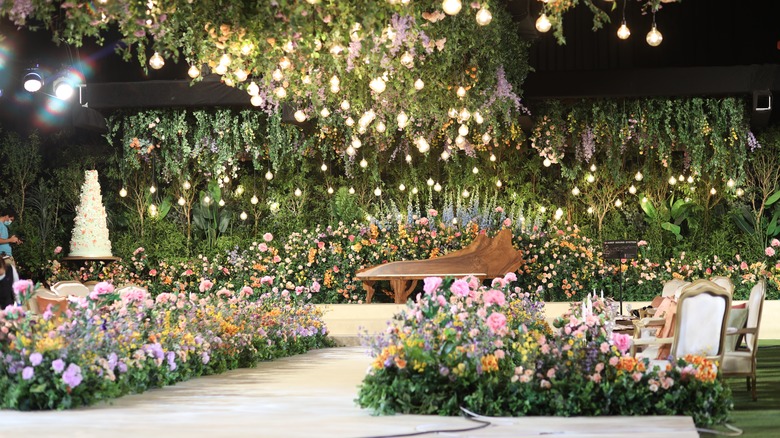 Tahir Mahmood/Shutterstock
Included in the maximalist wedding trends popular for 2023 and 2024 are statement ceremony aisles. Unique aisles make a magnificent, if a touch extravagant, statement that helps make the bride's grand entrance all the more special. They are also one of the first elements of a wedding that guests experience when taking their seats — and when executed properly, an extraordinary element at that. They serve as a focal point to any wedding ceremony's décor, and offer an incredible photo opportunity for photographers and videographers.
Statement aisles can look hundreds of different ways and are designed to be a personal form of expression for couples. Aisles lined with floating pillar candles or lanterns add a touch of elevated romance to indoor or outdoors spaces, while lush, dark greenery and jewel-toned florals give off moody vibes perfect for industrial venues or botanical garden weddings. Some couples are opting to create unique floors for their walk up the aisle as well, playing on the wedding theme or utilizing creative patterns to complement the venue's natural beauty. No matter how couples choose to decorate their ceremony aisles, one thing is for sure: monogrammed runners accented with scattered rose petals or floral arrangements hanging from chairs are decorations of the past.
Elevated western theme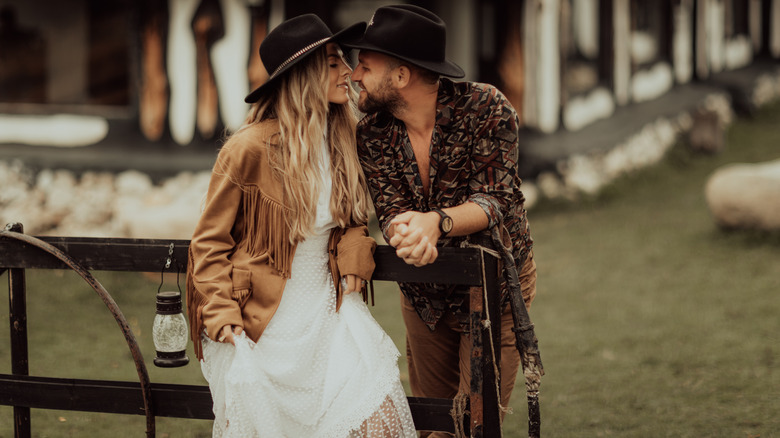 Doralin Samuel Tunas/Shutterstock
Rustic-chic décor may have dominated bridal Pinterest boards throughout the 2010s, but 2023 and 2024 weddings are kicking things up a notch with elevated western-themed weddings. The elevated cowboy look was ostensibly made popular by actress Sophia Bush's 2022 pre-wedding festivities, where guests wore Stetson hats, bedazzled button-ups, and turquoise jewelry. This wedding style skillfully combines bohemian romance and a down-home, outdoorsy aesthetic that radiates country charm.
"The Western aesthetic is definitely rising," Sneh Diwan tells The Knot. "With fringe coming back into fashion, it's being translated into décor. We see couples creating fun experiences that fit into the Western aesthetic: themed drinks, Western music, and even interactive stations (guests picking out their own cowboy hats and accessories)." Outdoor venues with rustic structures are the ideal backdrop to bring this wedding theme to life, as are earth-toned color palettes with accents of marigold or terracotta. Glamorous bouquets of dried florals or flowers native to western states should also be a key décor item.
Eco-luxe decor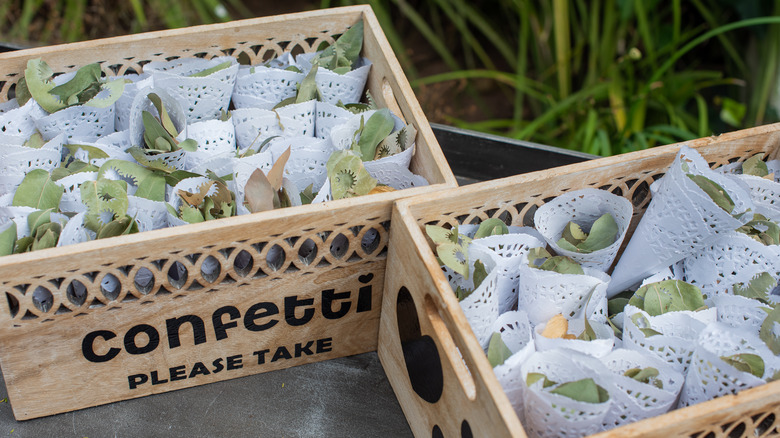 Rushay/Shutterstock
Sustainability is a focus for many couples getting married in the next year, which means upcycling, thrifting, and DIYing numerous aspects of their wedding decorations. "As couples remain conscious of their budgets and the planet, they are able to save money as well as snag very unique pieces by upcycling items that have been used," Emily Forrest, director of communications at Zola, tells Hello Giggles. "Couples are also very focused on sustainability and decreasing the waste aspect of having a huge event."
That doesn't mean that luxurious and extravagant-looking details aren't on the minds of sustainably focused brides and grooms. On the contrary, a trend toward eco-friendly luxury is taking the wedding industry by storm. In addition to sending sustainable invitations and locally sourced food and florals, biodegradable confetti, compostable table settings, and beautifully crafted recyclable décor are all being used to create weddings with big beauty and small ecological footprints. Couples are also nixing traditionally non-environmentally friendly wedding decorations like menus at every table setting or ceremony programs that most people throw away.
Vintage touches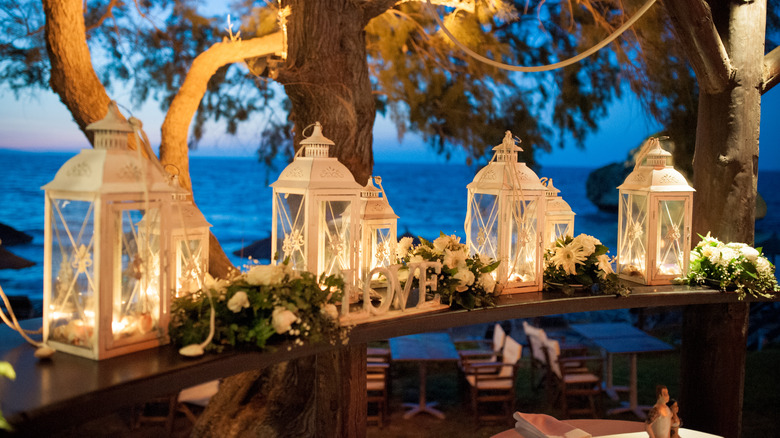 Nick Kontostavlakis/Getty Images
Many of today's brides and grooms are looking to the past for their wedding celebrations, opting for retro styles and nostalgic decorations. It focuses on emulating the charm and elegance of different eras of the past and reflecting specific design choices or values into a couple's personalized nuptials. As a bonus, many vintage pieces can be found at thrift stores, helping couples stick to their sustainability goals and keeping their decoration budgets low.
Vintage weddings can traverse a number of themes and styles, including bohemian, art deco, 1950s Hollywood glam, or Victorian. Vintage flower vessels, thrifted tableware, and centerpieces made of vintage books, maps, or cameras from the appropriate era are all usable décor elements popular for their interesting antique look. Some couples are traveling farther back than the 20th century for their vintage weddings, choosing décor and attire with ties to Elizabethan-era England. "Wedding design follows fashion, and lace has finally made its way," wedding planner Kelly McWilliams tells Martha Stewart. "With long sleeves, full lace dresses, and gorgeous veils beautifully adorned with lace, I knew it would be just a matter of time — and I am here for it. From lace runners and tablecloths to entry draping details, to wedding cakes and invitations, be on the lookout for Elizabethan-Core to arrive."
Custom dance floors
The personalization décor trend doesn't stop with funky aisles or clever favors. More couples with plans to dance the night away post-ceremony are budgeting for custom dance floors to show off their unique style. Wedding planner Jennifer Zabinski tells Brides that custom dance floors can even turn into the highlight of your reception. "So many memorable and highly photographed moments at weddings take place on the dance floor," she says. "Setting the stage for those moments means creating the perfect backdrop. A custom dance floor is a single design element that makes a huge visual impact." From LED monograms and vinyl floor wraps to fun colors, shapes, and even materials, the sky's the limit when bringing this particular wedding trend to life. Custom dance floors also pair well with modern wedding trends like hanging floral installations and mood lighting.
Custom dance floors aren't exactly a DIY-friendly wedding element. Their creation typically requires working with vendors who are experienced in designing stylish surfaces that reflect the couple's personality, wedding theme, and décor. Once a custom dance floor is professionally designed, it has to be manufactured before being installed on the day of your wedding during setup.
Perfect pearl accents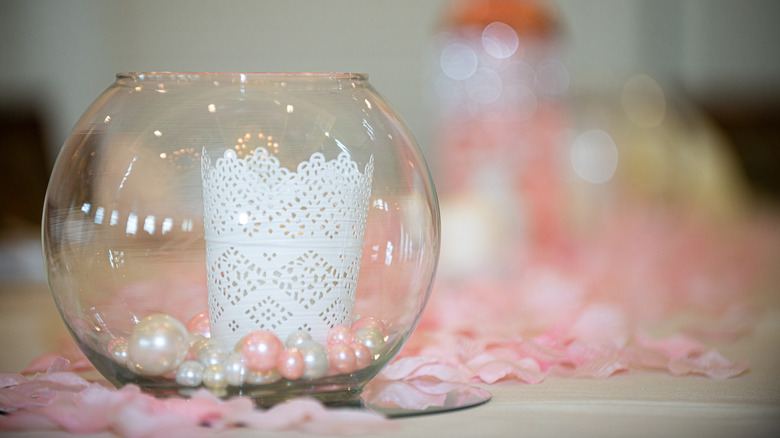 Freddy Napoleoni/Getty Images
Pearls have historically had a reputation for being a demure and classic accessory your grandmother might wear to Sunday dinner. However, 2023 and 2024 weddings are putting pearls back on the map in a big way. These shiny, sumptuous jewels are showing up in bridal hair, bridal gowns, and bridal accessories like capes, veils, and sheer gloves, meeting the demand from whimsical and glamorous brides alike. They are equally modern and vintage, as capable of creating bold, dramatic looks as they are of softly embellishing a more understated, 1930s-inspired ensemble.
Pearl accents are also proving to be popular outside of bridalwear. Brides are having pearls added to their floral arrangements, adhering single pearls to the centers of roses for an extra touch of glam or wrapping bridesmaids bouquets in trailing strings of pearls. Pearls are also being added to hurricane vases in lieu of sand or stones, accenting carefully frosted tiers of wedding cakes in edible form, and adorning table numbers, seating charts, and even table settings.
Transparent wedding décor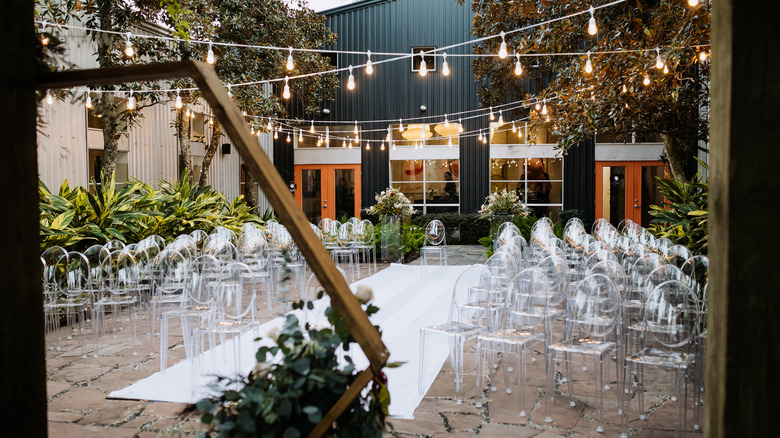 IVASHstudio/Shutterstock
Clear, plexiglass, or acrylic wedding décor has rapidly been growing in popularity over the past few years. Couples love the versatility of these materials and how easy it is to dress up or down depending on their chosen color palette and theme. It has a modern, sophisticated feel that instantly elevates a minimalist wedding and is appropriate for weddings from numerous cultures.
Some venues have embraced the trend, offering clear-top tents or glass-walled reception halls for their couples. The result is an outdoor greenhouse effect, perfect for dancing under the stars or achieving moody photos. Lucite chairs are frequenting wedding ceremonies in 2023 and 2024, beloved for their sleek, modern look and ability to effortlessly blend into the scenery. Acrylic signage is still going strong at weddings, from individual place cards and menus to seating charts and table numbers. Some couples are going the extra mile and using acrylic boards for their wedding invitations. This type of wedding décor is extremely DIY-friendly and can be created with a Cricut machine or by hand.