12 Of 2023's Hottest Wedding Floral Trends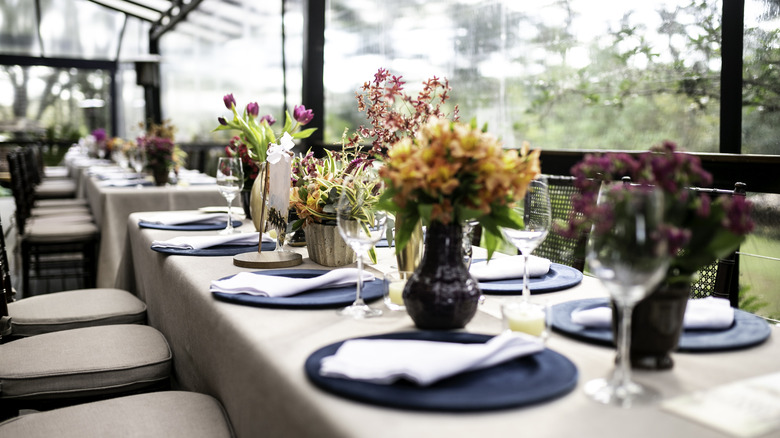 Fg Trade/Getty Images
Wedding trends come and go, but one thing is for sure: 2023's wedding floral trends are all about radical creative expression and nontraditional vibes curated for the individual couple.
Historically, wedding bouquets and floral arrangements have served symbolic or practical purposes, eventually evolving to indicate a sense of status or sophistication in line with the formality of the occasion. But post-pandemic 2023 brides and grooms aren't interested in what has been done or why. They are too busy looking to the future and planning events that speak to their personal sense of style, beautifully bucking tradition in every way possible. "For 2023, we are seeing new confidence in our clients who want to create a unique journey and express themselves through bold colors and floral choices," master florist Michal Kowalski tells Blooming Haus. "This trend is rooted in the unconventional time we have lived through."
Everything from changes in color palettes to how couples are using flowers in their ceremony spaces is changing for the 2023 wedding season. Luxury blooms like orchids and a delightful return to the wild, whimsical, unrestrained beauty of nature are also on trend, while sustainability, unique texture, and drama are all on the menu, as well. Whether you're a soon-to-be bride or a perpetual wedding guest, the following fresh, unique wedding floral trends are sure to catch your eye this wedding season.
Petite bouquets are taking center stage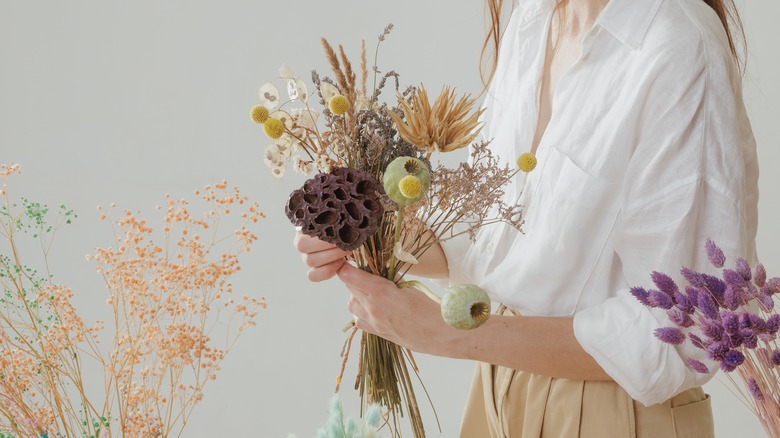 sergey kolesnikov/Shutterstock
Minimalist and DIY brides rejoice! Petite, posey-like bouquets are quickly replacing the large, heavy, boho bouquets of the last few years in response to the continued micro-wedding or scaled-down wedding trend. "Bouquets are trending on the smaller size, for both brides and bridesmaids," florist Maxine Owens tells Brides. "Bridal bouquets are smaller in scale, enabling the gown to be more visible and prominent in photos. We're seeing bridesmaid bouquets as more of an accent, as opposed to a statement, often like a posey in size." This bouquet trend is all about creating a simple, effortless vibe, often utilizing a single bloom or color for the entire arrangement.
There are many benefits to this trend. In addition to being lighter to carry for an entire day, smaller bouquets are more sustainable and less expensive than grand bouquets, making them an appealing option for elopements or DIY weddings without a florist. Petite or streamlined bouquets are also elegant additions to any wedding aesthetic which, despite their diminutive appearance, photograph beautifully. Furthermore, smaller bouquets allow for the focus to be on the beautiful bride and her dress rather than what she is holding. If couples aren't interested in elaborate arrangements but don't want to ditch carrying flowers entirely, the petite bouquet trend is sure to satisfy.
Luxury blooms are having a moment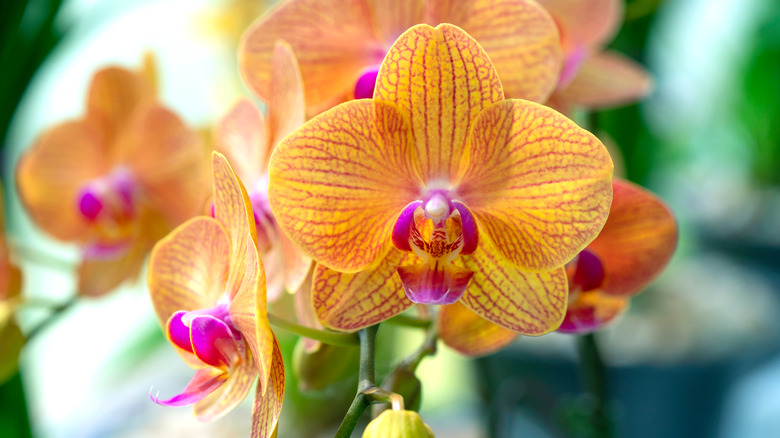 Jee1999/Shutterstock
Luxury blooms like lily of the valley, lisianthus, and orchids are having their moment in 2023. "We will see orchids have a big presence in design in the upcoming year," Bri Williams tells Bridal Guide. "They are versatile and can fit into any aesthetic, from classic to modern and can even elevate a laid-back bohemian style. Nothing says elegance like a gorgeous, crisp white phalaenopsis orchid."
Although a pricier option, orchids, in particular, are growing in popularity for wedding floral arrangements because they are extremely versatile flowers that come in a variety of colors and shades. From soft pinks and crip whites to shades of blue, brown, and purple, there are thousands of different orchids with different markings and textures to choose from. Orchids can be used in a trailing arrangement on ceremony arches, as a finishing touch on table settings, to dress up a plain wedding cake, or create a romantic hanging installation. They also fit into a number of different aesthetics, from a glamorous ballroom wedding to a tropical destination affair and are available to be imported year-round. Regardless of number, color, or variety, these stunning flowers pack a stunning visual punch that elevates even the most simplistic or mediocre of arrangements.
Flower blocking is new for ceremony spaces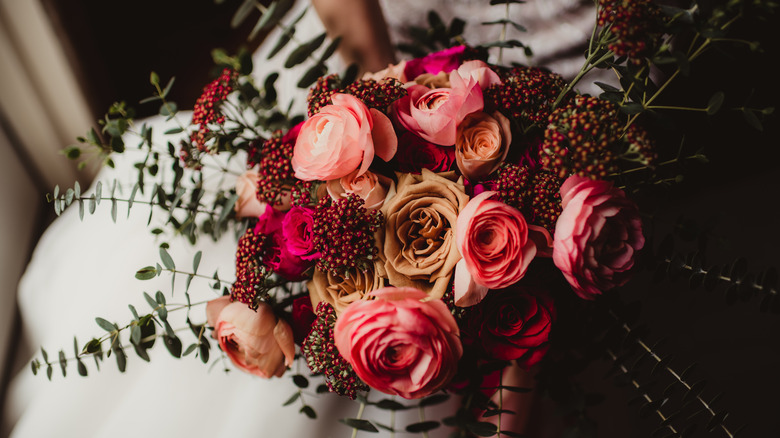 Madisonwi/Getty Images
While breathtaking floral arches and thoughtfully-designed floral aisles aren't going anywhere, many couples are choosing to approach the florals in their ceremony spaces from a more creative angle. Flower blocking, or the effect of arranging larger floral installations by color or type, highlights the couple's chosen blooms by type and color to make each arrangement stand out. It is a play on color blocking, a fashion trend from the 1960s that showcased two to three bold, solid, contradictory colors in a single outfit. In wedding floral design, this look is achieved by clustering specific flowers, colors, and shapes in separate vessels rather than mixing them into a styled arrangement.
With this trend, groups of flowers are often placed on the ground in a semi-circle shape surrounding the couple and their officiant. However, flower blocking can also be used in centerpieces by placing multiple vessels holding single groupings of flower types and colors together. No matter how you choose to display your flower-blocked arrangements, the result is a visually interesting way to decorate that will surprise and delight every guest.
Hanging floral installations brings gorgeous drama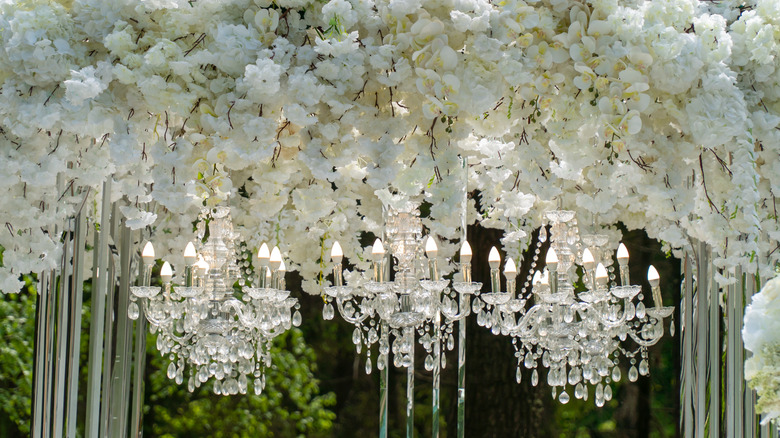 Валентин Игнаткин/Getty Images
2023 brides are bringing gorgeous drama to their reception spaces by incorporating impactful arrangements and hanging floral installations into their designs. "We're seeing big requests for ceremony backdrops, statement pieces framing the head table and venue entrances, hanging installations inside tents and venues, tall centerpieces layered with shorter ones for depth, and so forth," Michelle Leo Cousins, a Utah-based wedding planner tells Bridal Guide. The wow factor associated with hanging installations makes a huge statement and can be achieved in a variety of ways depending on budget and venue capability.
Hanging installations are especially popular for industrial spaces or venues with heavy glass or stone construction. The vibrancy, volume, and organic flow of large arrangements of hanging flowers warms up a colder, more lifeless space and can transform it into a space bursting with life. This trend is also fun because there are so few limits to what can be created. Couples who want the drama of a hanging installation but are working with a tighter budget can play with hanging greenery garlands or lanterns embellished with a handful of dynamic blooms. They can also be more luxe and extravagant by incorporating tropical leaves, dried grasses, clouds of baby's breath, or trailing flowers like wisteria or Amaranthus.
Sustainable floral arrangements provide beautiful texture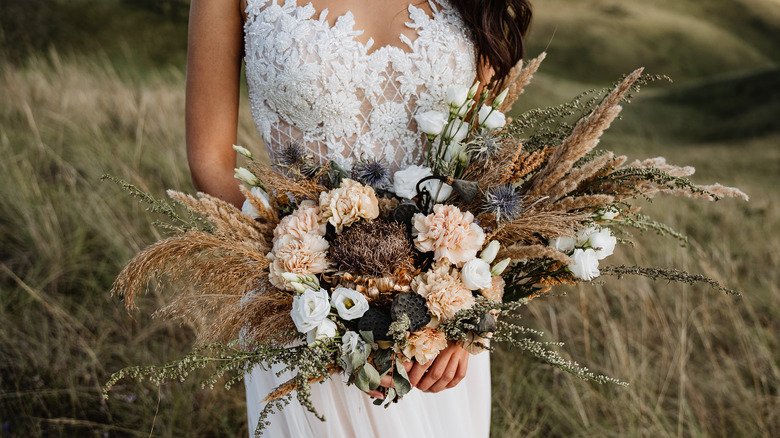 Aleksey Matrenin/Shutterstock
More brides are interested in making sustainable floral choices for their weddings because they're kinder to the planet and reduce waste. This focus on eco-friendly options may include purchasing from plastic-free or sustainability-focused florists, but it can also look like including wood flowers or dried flowers into your arrangements. Wood flowers look like real flowers and can be dyed any color you wish, while dried flowers add a romantic, earthy touch. Both options provide a gorgeous texture to standard bouquet arrangements that is completely unique to your tastes and wedding aesthetic.
Many budget-conscious brides think that more sustainable floral choices automatically come with a bigger price tag. However, this isn't always the case. "Eco-friendly choices don't necessarily need to cost more money," Larry Walshe, founder of the zero-waste online floristry service Bloom, tells Hello! "Equally, advising your florist of your budget and saying that you would like to design with sustainability in mind and then leaving them to revert with design ideas will always bring the results."
Recycling your wedding flowers is also a huge trend. Sentimental brides can have their flowers professionally dried and turned into framed wall art or resin trays and ring holders. Preserving your flowers in this way ensures that you get to enjoy them long after your wedding day is over. Alternatively, you can donate your centerpieces to a nursing home or local hospital to let them be loved a little longer.
Potted plants are dynamic aisle décor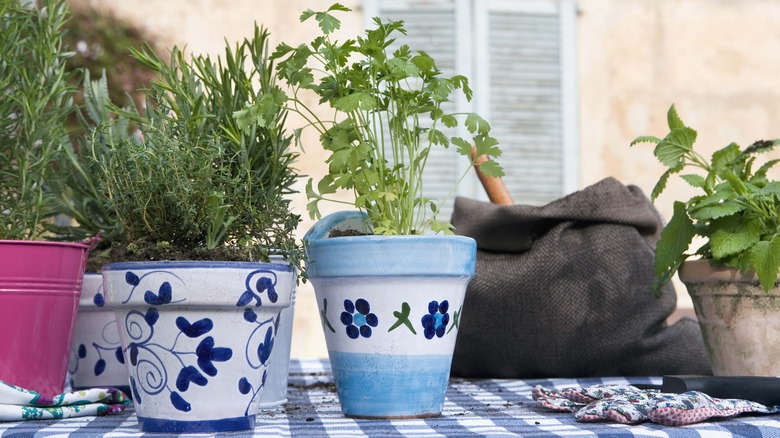 Jupiterimages/Getty Images
Ceremony space and aisle décor aren't exempt from the sustainability-focused brides and grooms. In fact, many couples are ditching the traditional hanging aisle décor or elaborate floral installations for potted plants and vases. Boho brides, in particular, are harnessing the simplistic beauty of terracotta pots and the lovely texture of house plants, succulents, and cacti. This form of aisle décor is also perfect for rustic garden and English countryside-themed weddings. This vibe can be achieved by combining an eclectic mix of vessels with fragrant herbs and wildflowers.
This unique trend is as practical as it is dynamic. Not only do these plants not need to be thrown away after the wedding day is over, but they can also serve double duty as reception décor. It is easy to remove potted plants from the ceremony space and place them in the reception area, either at the head table, as centerpieces, or at a gathering spot like the cocktail tables or bar. This recyclable element is great for the environment and great for budget-conscious couples who want more bang for their buck.
Bright color palettes replace greenery-heavy florals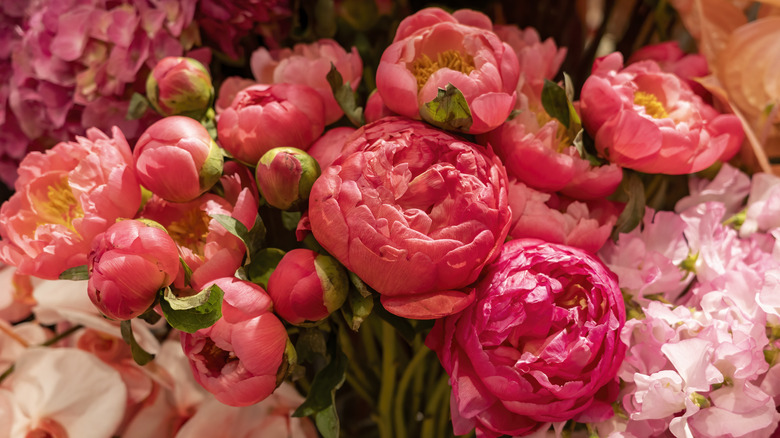 Jiamiao Lin/Getty Images
As the strain and isolation of the pandemic and COVID weddings creep to a close, couples are looking to the future with excitement. This optimism is reflected in their wedding color choices, making the days of delicate pastels and all-white weddings a thing of the past. Instead, modern couples are leaning into bright and bold color palettes for 2023, decorating their venues in an unexpected riot of celebratory color. "We are noticing that couples are increasingly more open to the use of color ... pops of blue, lilac, yellow, orange, and brighter hues of pink are all featuring and we love it!" Larry Walshe tells Hello! Warm sunset hues in red and orange are going to be highly sought after, as are saturated purples, magentas, and deep, midnight blues.
Alongside the increase in vibrant colors comes a decrease in greenery accents and filler, particularly in centerpieces and bridal bouquets. "[There will be] little to no greenery in floral arrangements," Melanie Owens shares with Brides. "If filler or foliage is used, it will have a color that compliments the wedding palette. I love peachy yarrow, golden ferns, blooming jasmine or clematis, white spirea, or dark foliage like begonia or heuchera for this effect." Richly colored fruits like pomegranates or plums are also being used as fillers. Opting for unique options instead of standards like eucalyptus still allows each arrangement to have movement and texture but adds a youthful energy needed after several years of quiet restraint.
Maximalist monochromatic arrangements are on trend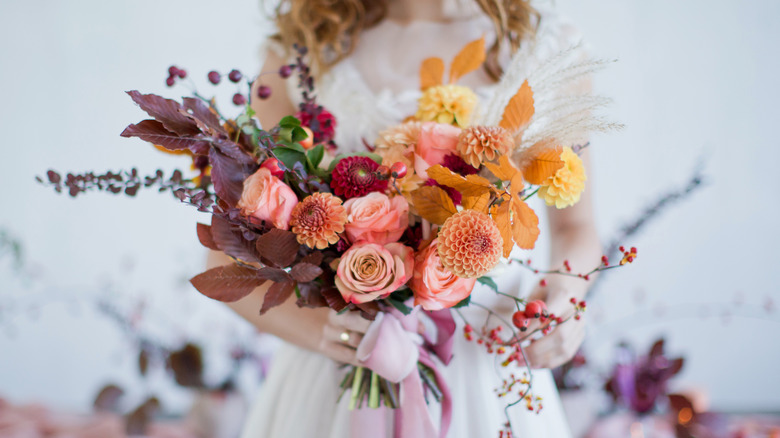 aprilante/Shutterstock
In addition to bright color palettes comes a warm embrace of maximalist floral choices and colorful monochromatic arrangements. While luxurious cascading bouquets and dynamic arrangements of color and texture are still popular, couples are choosing to use a single color for their decorative wedding day elements. "Color is often the most important element of floral artistry," Vince Butera, AIFD, PFCI, AAF tells Butera the Florist. "It is color that instantly conveys the vibe of the day."
This trend can be creatively executed in many ways. Some brides are choosing to use a combination of large, luxury, or truly dynamic blooms in different shades of their chosen color. For example, a purple monochromatic floral arrangement might include orchids, roses, and fruits or vegetables in shades of magenta, lilac, and lavender. The variation in shades provides a subtle but ultimately dynamic arrangement that cuts out the greenery filler and shines a light on the colorful vibes. Other couples are opting for mono-bloom bouquets that feature the same color and flower, which can allow for more maximalist blooms to be incorporated.
Statement floral arrangements aren't just for ceremony spaces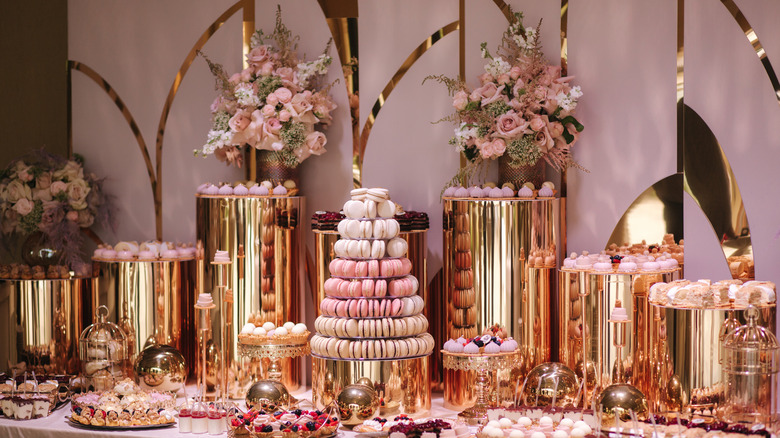 Studio113/Shutterstock
Traditionally ceremony spaces and sweetheart tables have been the spaces to go nuts with flowers, especially if budget was a concern. But 2023 couples are recognizing the importance of statement floral arrangements for executing the appropriate vibes and visual feel of their receptions and are consequently thinking more carefully about where they place their flowers.
Referred to by florists as focal point decorating, this wedding day style puts larger, higher-impact floral arrangements in specific locations at your wedding ceremony and reception spaces rather than placing large or small arrangements everywhere the eye can see. "Dabbling dissipates the floral impact, while strategic focal points create the memorable 'Wow!' impression of a special setting," Carolyn Butera shares with Butera the Florist. Statement flowers are placed at the bar, the escort table, or surrounding the guest book table, all places where guests will congregate and can enjoy the flowers the most.
Flowers are displayed in unique or low-key vessels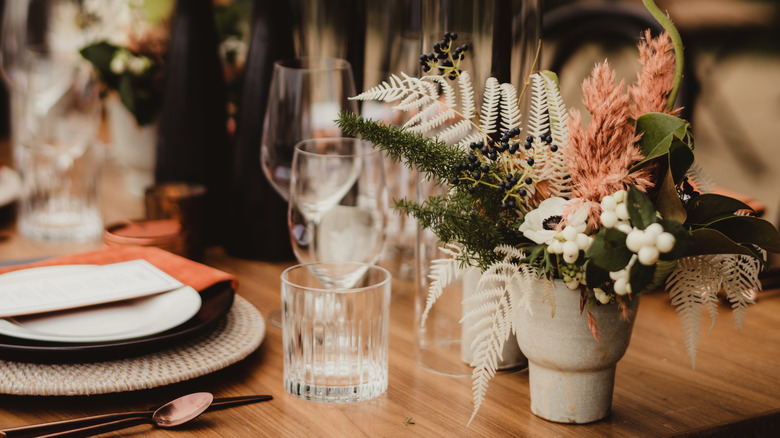 Madisonwi/Getty Images
Traditionally, wedding flowers were displayed in standard vessels like plain glass vases or mason jars. However, 2023 couples are all about vibes and styles that reflect their relationship and personal aesthetics. As a result, unique or mismatched vessels for centerpieces are going to be majorly popular. Depending on your wedding style, vessels like milk glass, antique vases, raw metal containers, bell jars, glazed pottery, footed compotes, and vintage china are all fair game.
Another consideration that modern couples are making is how visible the flower vessels actually are. In previous years, the vessels for centerpieces in particular were as much a part of the arrangement as the actual flowers. Towering glass flutes, column vases, or hurricane vases filled with floating votives accented the floral arrangements but were highly visible and sometimes blocked the views of guests sitting at their tables. Nowadays, with the return to grounded, natural, and organic vibes, couples are opting for arrangements that look as though they grew from the tables themselves. This focuses the attention more on the flowers and less on the container they are displayed in.
Brides are embracing ethereal fairy-tale vibes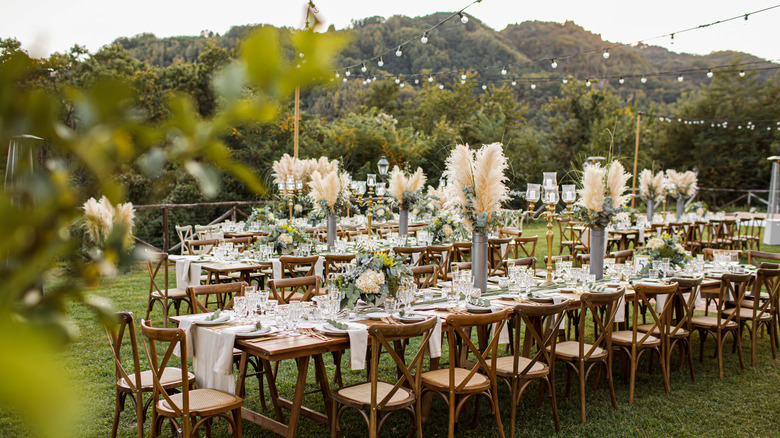 Gladius Stock/Shutterstock
The woodland-fairy, ethereal wedding theme is taking off, particularly with Gen Z couples. With this lovely wedding theme, décor and florals take inspiration from nature, utilizing moss, ferns, stones, branches, and wood elements to foster a sense of an intimate forest wedding. In addition to the untamed, loose structure of wildflowers, fairy lights, and ample greenery, blooms like wisteria, lunaria, ranunculus, gypsophila, and delphiniums in color combinations of white, green, and brown can bring this magical look to life. Clouds of baby's breath are also a great and inexpensive addition more and more brides are using to achieve the ethereal vibes they desire.
Some brides are taking the whimsical fairy-tale trend to another level by incorporating non-traditional plant elements into their bouquets and centerpieces. Locally-sourced embellishments like fresh and dried mushrooms are growing increasingly popular alongside exotic blooms like anthurium, as are natural materials with unique textures like shells, air plants, and striking succulents.
"Weddings are so much about sharing the moment in time when two people get to celebrate their love for one another — let the flowers at the ceremony speak for nature and the earth and where we come from," UK-based florist Fiona Haser Bizony tells Love My Dress. These natural elements are an unexpected treat after decades of stuffy, traditional arrangements.
Breathtaking sculptural bouquets are all the rage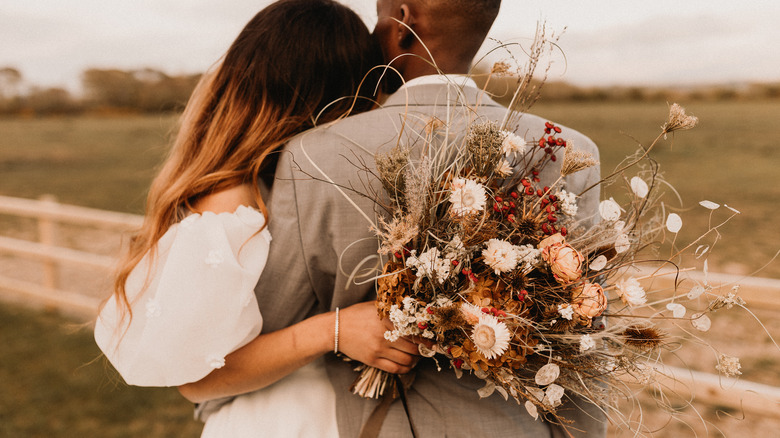 Tash Jones - Love Luella Photography/Getty Images
If you are a fan of bouquets with plenty of artistic pizazz, 2023's sculptural floral trend is for you. "Brides are leaning into asymmetrical, sculptural styles with lots of movement and texture for their bouquets," Marta Knudson explains to Brides. These breathtaking contemporary arrangements put a modern spin on the classic cascading bouquet by utilizing vine-like flowers, such as bougainvillea or amaranthus, to create a drip effect. They can also incorporate other unique textures or foliage, such as tropical leaves.
Sculptural bouquets are also ideal for creative couples who want a touch of whimsy or quirkiness on their big day. Whether designed under a boho aesthetic or something entirely out of the box, the resulting visual created by this intentional sculptural design is packed with eye-catching drama that effortlessly elevates any wedding day look.
The sculptural element of wedding flowers doesn't have to be limited to the bridal bouquet. Brides who want the modernity and drama of sculptural arrangements can do so in their centerpieces, as well. DIY brides or florists accomplish this by playing with height and pairing unexpected blooms or natural elements, such as branches, alongside non-traditional wedding blooms to exaggerate their shape and texture. The end result is a dazzling arrangement that looks both organic and modern.