Bowler Bags Are Taking Over Summer 2023 Purse Trends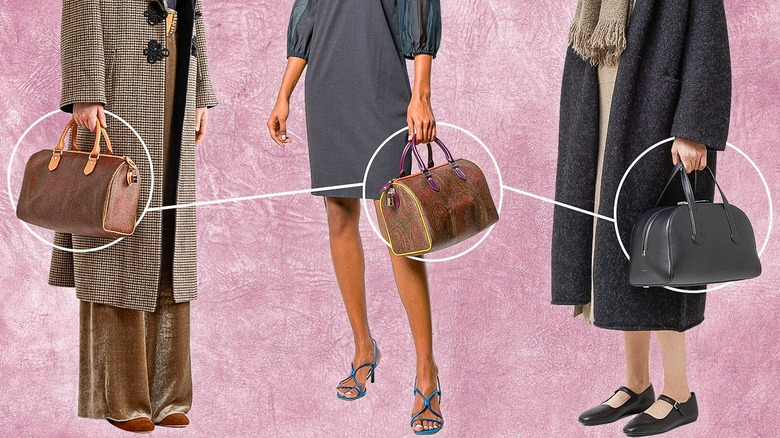 Static Media/Shutterstock
Purse trends are constantly recycling, and the latest handbag fascination merges early-aughts camp with mid-twentieth-century mod style. A slightly slouchy offshoot of the top-handle bag trend, bowler bags have been popping up more and more frequently this summer on the fashion landscape, ranging from the popular Christian Dior Vibe Bowling Bag released in 2022 to vintage designer finds from brands like Prada and Louis Vuitton.
Before you start dusting off your old bowling shoes, note that a bowler-style bag is not a literal bowling bag. Rather, bowler bags take inspiration from the classic shape of a bowling ball bag (wide and domed, with handles at the top) to create a stylish, roomy handbag with a sweet retro energy. Variations of this bag style have been around for a long time, but the latest rendition of the bowler bag offers a vintage feel and a cool girl edge that makes the practical purse shape the ideal statement accessory.
Smart and sporty bowler bags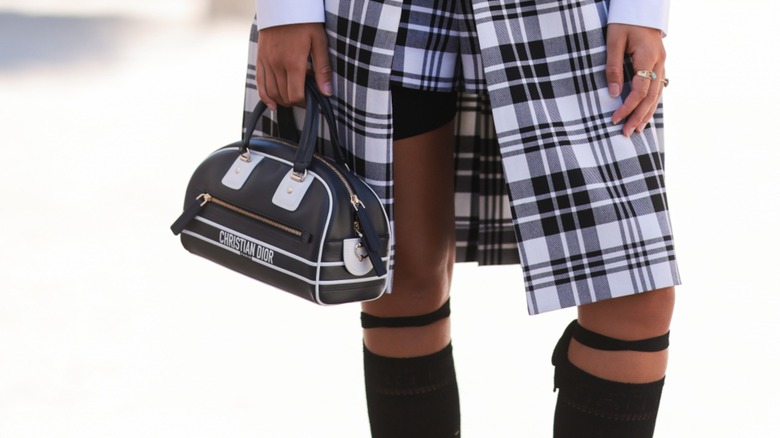 Jeremy Moeller/Getty
The Christian Dior Vibe Bowling Bag is the perfect introduction to the contemporary bowler bag trend. Since its 2022 debut, this cute little round bag has been spotted just about everywhere. The design embraces the bowler bag concept with a sharp, sporty aesthetic. To try out the style, look for bowler bags with contrast piping and streamlined features. Regardless of the purse brand – many companies with a lower price point have taken inspiration from the Dior bag – the classic design will add polish to any ensemble.
Posh bowler bags
Jeremy Moeller/Getty
Bowler bags can have a luxurious, upscale feel and are more structured than ordinary satchels or crossbody bags. They also carry more gravitas than cutesy baguette purses. You can add a timeless style to your wardrobe with a neutral-tone bowler bag, such as one in black and white or beige. A small or medium size will work for most occasions and will feel fresher than a traditional handbag while still maintaining a posh aesthetic. To ensure your style stands the test of time, avoid gimmicky designs and opt for a minimalist look instead.
The ironic micro-bowler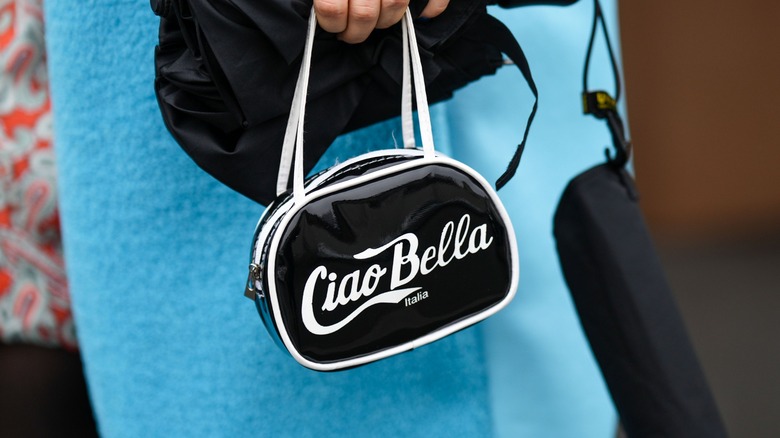 Edward Berthelot/Getty
Add some summer fun to your outfit with a quirky bowler bag. Mini bowler bags follow the current micro-purse trend, and the broad shape of the bowling bag gives you an excellent surface area for a funky print or clever graphic design. Search for petite bowler bags in bold neon colors or with ironic phrases. If you're on a budget, get an inexpensive bowler bag from a thrift store and decorate it yourself with stickers or paint.
An iconic early aughts aesthetic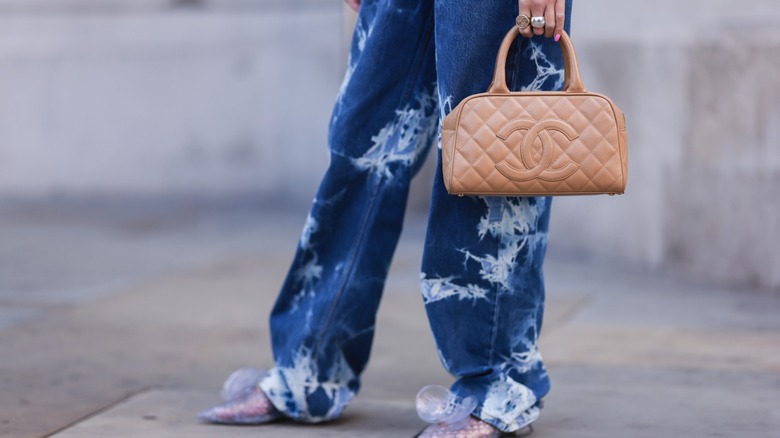 Jeremy Moeller/Getty
The current bowler bag trend is reminiscent of the early 2000s. Many of the bags we see today are either genuine vintage pieces or reproductions of bags from that era. If you can't find a purse from that time period, try to look for textures and patterns that evoke the early aughts. Quilted bowler bags, for instance, create the luxe-yet-chunky aesthetic that was so prevalent at the time. For a more Louis Vuitton-inspired vibe, aim for a matte leather material with a repeating graphic pattern.
The upgraded tote bag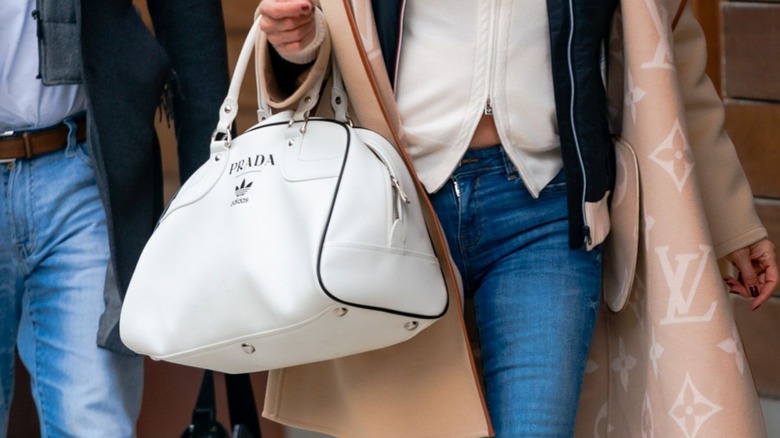 Gotham/Getty
While the petite and medium versions of bowler bags are wonderful accessories, the classic bowler bag design excels in its storage capacity. The large shape can hold all your essentials for an overnight trip, yet when you sling it over your arm, a bowler bag feels less like luggage and more like a retro statement purse. This ultra-versatile style can serve as a clever street fashion piece or a practical travel item, imbuing your look with a chic, effortless attitude.