Baby Braids Are The Latest Y2K Hair Trend Spiking Our Nostalgia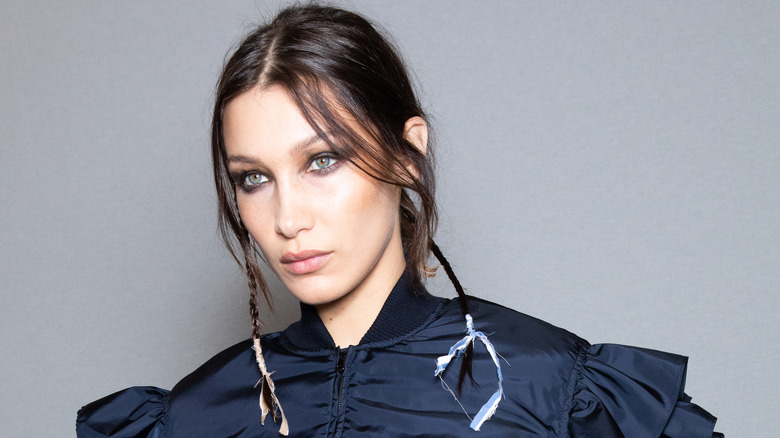 Rosdiana Ciaravolo/Getty Images
Does anyone else miss the playground hairstyles? The pigtails and the braids with the colorful hair accessories? Even the tightly sleeked-back ponytails our moms used to torture our scalp for still hold a special place in our hearts. If this resonates, we're so there with you. Even through the pain, those hairstyles formed part of some beautiful core memories, and we look back on them fondly. Honestly, they remind us of a time when we were our cutest and sprightliest selves, and the nostalgia abounds.
Here's the good news — your childhood hairstyles don't need to remain in the past. You can still wear these and look as cute as ever! Our choice: baby braids, baby. Those little braids fall at the sides of your face and frame it way better than loose front pieces ever would. And the cool thing is, absolutely anyone can wear them, no matter your hair length or personal style. Serious or playful, we swear by these braids and their ability to spice up any given outfit.
If you're finding yourself feeling as nostalgic as us, and yearning for a hairstyle to bring you back to the good ole times (while still meshing well with your adult style), you're in the right place. Keep reading for all the ways to style baby braids.
Beachy braids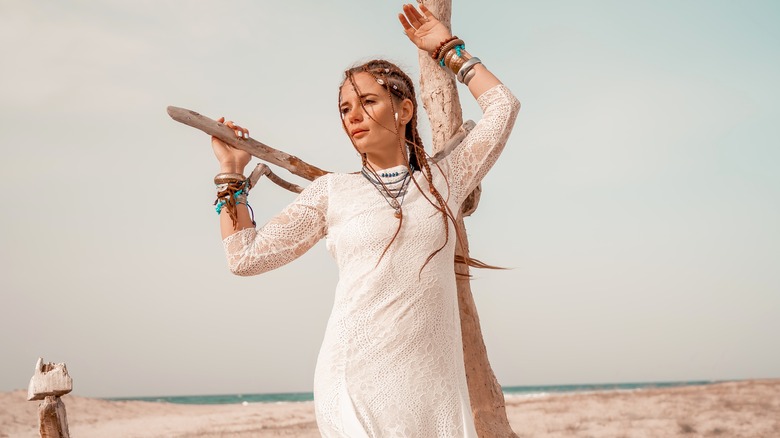 svetograph/Shutterstock
One way to style baby braids is to wear them to the beach. That's right, no need to worry about how best to keep your hair off your sweaty face while you enjoy your beach day. Baby braids are it. Hair up or down, these braids are super flattering and guarantee a tangle-free swim experience. Personally, we're partial to having your hair down and getting the mermaid hair experience in the water and beachy waves effect after.
For the best beachy baby braids, keep it simple. Braid your front pieces and tie them with basic, subtle hair ties and you're golden.
Y2K dream
Coming up with festival and concert outfits is the easy part. But coming up with hairstyles to go along with those same outfits? Few things seem harder. It can't be just any old hairstyle, it has to match the vibe of the outfit exactly. And not only that, but it needs to stand out. Otherwise, how will your favorite artist notice your existence? You can't just be another face in the crowd.
Our suggestion for your next Y2K-inspired concert fit is to tightly braid your front pieces with colorful highlights woven into them. Temporary hair color is the way to go.
Casual coquette
Contrary to popular belief, coquette style isn't high maintenance, nor does it require somewhere to be. Coquette can be just as casual as any other style, and baby braids are proof.
If you want to adapt your casual, everyday outfits into their more coquette-ish counterparts, all you need are baby braids and bows. Next time you get ready for your everyday activities — be it class, work, or running errands — accessorize by opting for some cute baby braids (hair sprayed for good measure) and pick your most adorable bows to go along with them. Your jeans will never look girlier.
Homebody braids
Only true homebodies know the importance of looking good while you lounge around, lest you end up looking like the sloth you act like (no judgment, we're on the same boat). Fancy pajama sets, expensive slippers, and a surrounding of comfy-cute throw blankets and pillows while drinking soda from a wine glass ... that is a homebody's dream.
Styling your hair, even if you have nowhere to be, is just one more thing you can do for yourself on your stay-at-home days. A basic yet adorable hairstyle, such as baby braids, will have you feeling like your best couch-lounger self.
Braided pigtails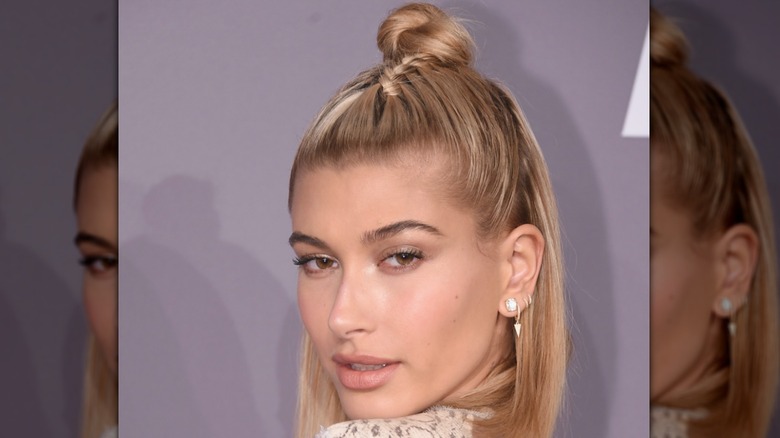 Michael Loccisano/Getty Images
If you were thinking that baby braids are too simple to style with versatility, you'd be wrong. Just like other braids, baby braids are amenable to different ways of styling. Bows, ribbons, hair clips, beads. You name it, baby braids can only be made cuter.
One style we're partial to is the baby braid pigtail look. All you need for it is to braid your front hair pieces into baby braids and gather some extra hair pieces on either side to tie it all back into pigtails, à la Hailey Bieber of course. Add some bows if you dare!