TikTok's 'Dot Makeup' Filter May Look Weird, But Do The Results Make Up For It? Here's What To Know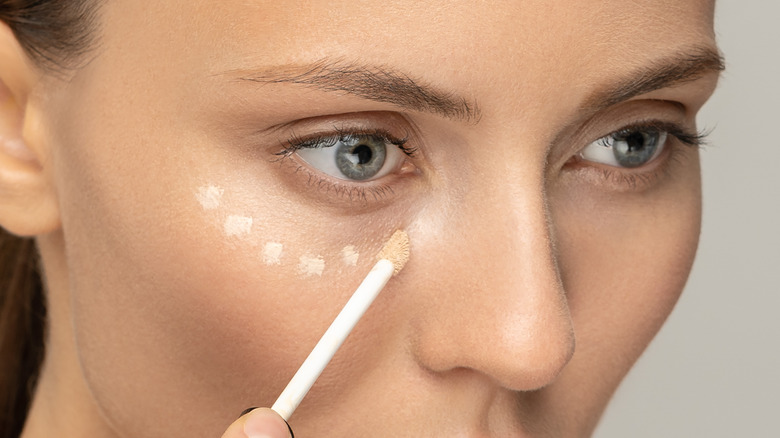 DimaBerlin/Shutterstock
Not only is the TikTok app itself controversial, but "BeautyTok" is also divisive — especially among young women and makeup enthusiasts. For instance, the famously controversial "bold glamour" TikTok feature virtually applies enough makeup and modifications to users' faces to change their look, and many women post videos showing these drastic digital changes, with reactions such as, "I look like a completely different person, stop." However, the app also has instructional makeup filters that teach users new ways to do their makeup. We often think of these healthier, helpful, more interactive makeup filters as hyper-modernized versions of online makeup tutorials.
Between TikTok's "revenge makeup filter" to make your ex quake and the Barbie contour filter to make you look like a doll, TikTok has instructional makeup looks for what appears to be every type of aesthetic. And we can't forget about the "dot makeup filter." When you search "dot makeup filter" on TikTok, you'll see many people with what looks like dots all over their faces. While it might be a disturbing sight at first, this filter helps TikTok users beautifully enhance their features.
TikTok proves the results are worth it
The dot makeup filter by Julia Dudok starts off looking like brown, beige, and pink polka dots on TikTok users' faces. Those dots are guidelines to show people where to apply each product. TokToker @mireyarios posted a video trying the filter, first saying she's heard great things about the results. The TokToker started by following the brown contour dots at the top of her forehead, mid-low cheeks, sides of her nose, and jawline. Next, she added concealer where the beige dots were at the center of her forehead, middle of the nose, around the bottom of the nose, below the brows and eyes, upper lip, lower cheeks, and chin. Then, she filled in the pinkish-red dots with blush on her cheeks. Finally, the TikTok user blended all the real makeup dots with a makeup brush. When she finished, she removed the filter and was very happy with the soft, luminescent results.
TikToker @kellystrackofficial also posted a video trying the filter, noting that she used only makeup from drugstores, proving that you can still explore the filter without spending too much money. She used a beauty blender and sponge instead of a makeup brush for blending, so you should use whichever option you're more comfortable using. The TikToker explained that the full-face dot method is fun but somewhat unnecessary, as there are less time-consuming ways to get the final blended look. However, the results were still beautiful and professional-looking.
Here are a few more tips for using the filter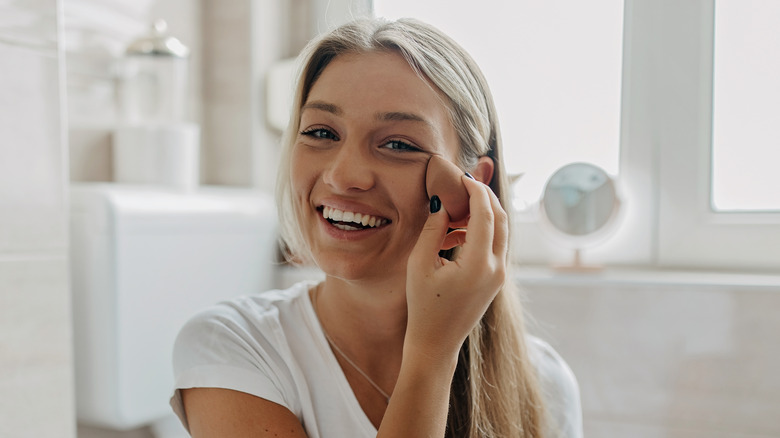 Supersizer/Getty Images
Because of the impressive results we see on TikTok, we recommend trying the dot makeup filter, even if looking at yourself covered in all those dots looks silly. But like any other social media-related trend, we recommend reminding yourself of a few points before jumping in and working with the makeup filter. For example, you'll only get good results with good products. Again, you don't have to — and shouldn't — break the bank on makeup for this technique. But attempting to master the look without any of the necessary products — such as concealer — or products that are too low-quality and don't look right on your skin will likely result in disappointment.
Moreover, while using foundation isn't part of the dots — so it doesn't seem required, it's still a good idea to start with some foundation to have a smooth and even base. One commenter on @kellystrackofficial's video asked if she started with foundation, and she replied, "Yes!" Thus, it can't hurt to apply foundation before working on the dots. You should also avoid comparing your results to other TikTokers. Everyone is different, and you don't know exactly what went into their video, such as better lighting or multiple takes. Therefore, you should try to avoid feeling upset if you think your results don't look as good as another TikTok user's. With all makeup strategies, practicing leads to improvement.