Deep Necklines Are The Dress Trend Of Fall 2023 - Here's How To Style Them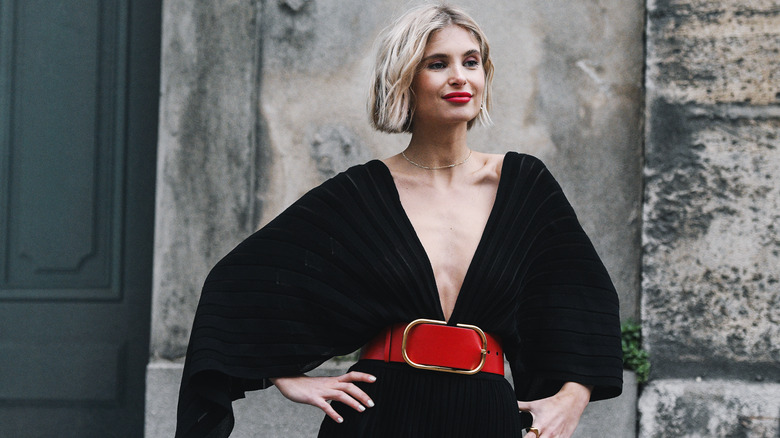 Creative Lab/Shutterstock
With the season changing soon, it's normal to see new fall fashion trends start to pop up. Add deep, plunging necklines to that list because they're soon going to infiltrate all of your dresses, from daytime to evening to holiday. If you are intimidated by this style because you are not used to a deep neckline, there are many layering tricks that can make it feel more comfortable for you.
Wearing a deep neckline is a sophisticated way of showing off more skin and elongating your neck. The benefit is that it gives the illusion of a longer torso, which can make you look taller. 
If you decide to give this bold neckline a try, you can count on it being an easy way to spice up your fall wardrobe. Set aside those regular crew necks, pass on the turtlenecks, and make way for dresses with deep, plunging necklines this fall.
Round plunging necklines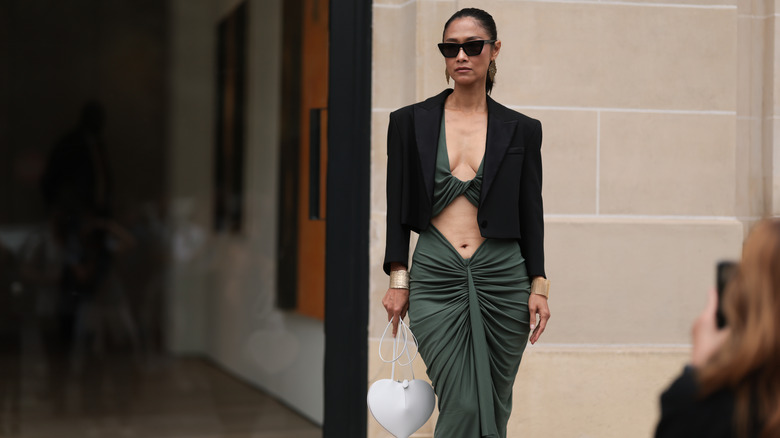 Jeremy Moeller/Getty Images
When it comes to plunging necklines, the focus is typically on deep v-necklines, but that isn't the only plunging neckline style. Rounded necklines can create a similar look. They are unique in a simple way and are much more modern and trendy than a typical v-neck. Round plunging necklines can also help create softer lines if that's the look you're going for.
Deep necklines worn over a turtleneck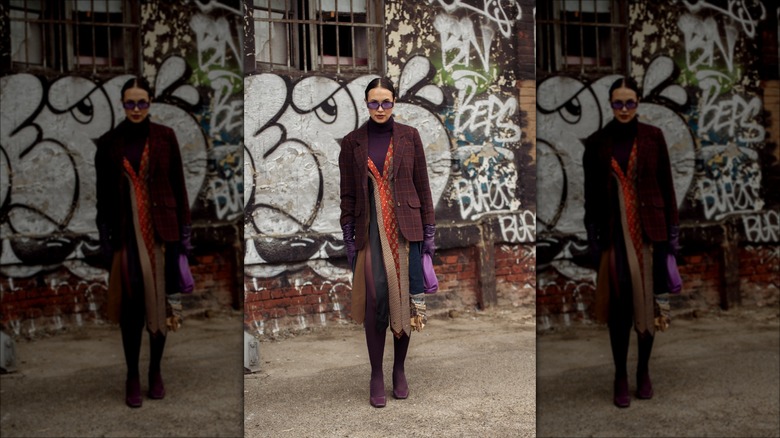 Raimonda Kulikauskiene/Getty Images
Just because you're rocking a plunging neckline, doesn't mean you have to show a ton of skin. Since deep necklines are set to be the go-to style for fall dresses, it's only appropriate to prepare them for colder temperatures. To do so, add a turtleneck layered underneath your plunging neckline. You'll get the same elongating look as you would if you were showing more skin.
Deep necklines plus cutouts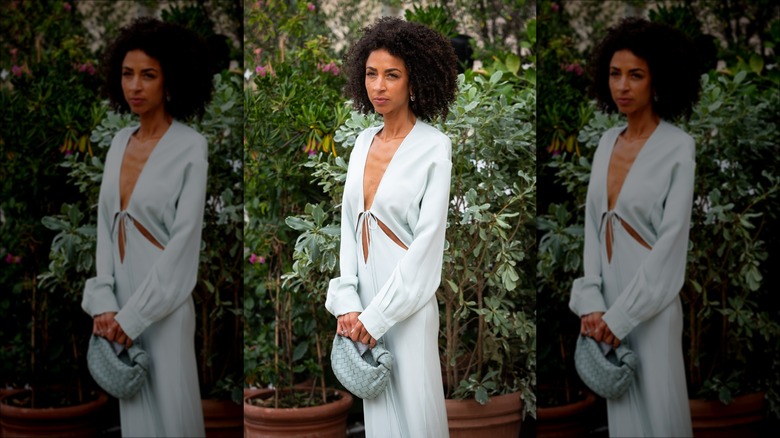 Claudio Lavenia/Getty Images
Cutouts were a breakout trend in recent seasons, so it makes perfect sense to pair them with plunging necklines, a trend on the rise. This duo is ideal to create a high-fashion look that's often seen in designer shows. These dresses also make for a stellar, peek-a-boo look during the fall season. Just be sure to throw a warmer coat over it when the temps dip.
Plunging cowl necklines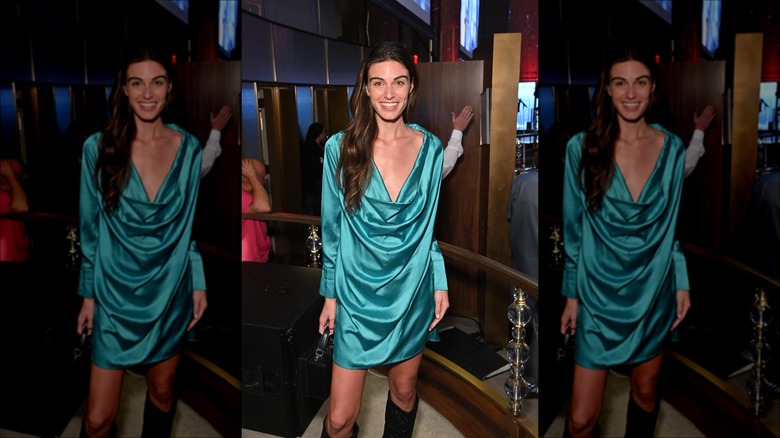 Bryan Bedder/Getty Images
Cowl necklines — with excess fabric that gathers — are a unique and stylish way of taking part in the deep neckline trend. You typically see dresses with this type of neckline in satin or silk fabrics, which creates a draping, waterfall effect. This style will bring a luxurious feel to any formal event or holiday party this upcoming season.
Layered deep necklines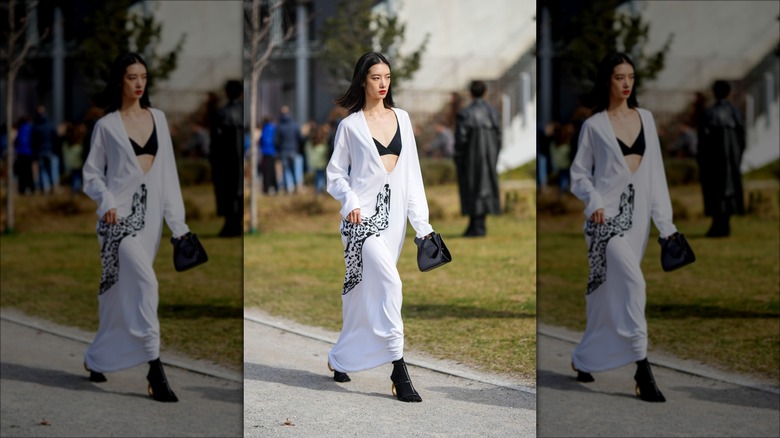 Edward Berthelot/Getty Images
You can layer a fall dress with a plunging neckline over a turtleneck for a covered-up look, and you can also use the style to showcase your favorite undergarments. As we've seen in other trends, showing your skivvies has become less taboo and more street-style. Pair your deep plunging neckline dress with a gorgeous bralette-style top that gives you coverage in a chic way.
Deep necklines plus a shorter hem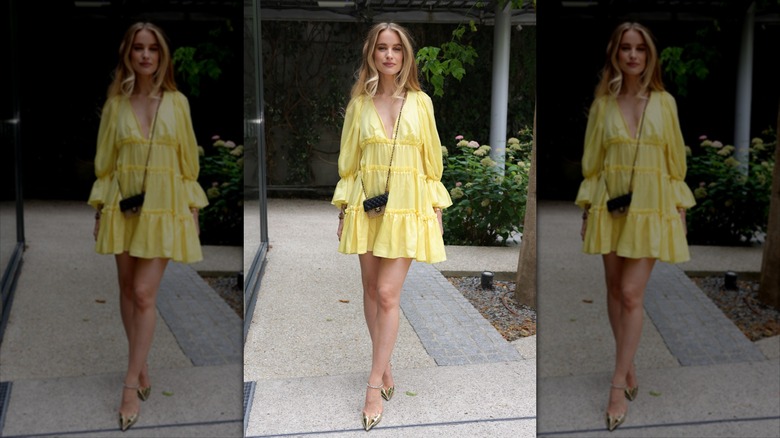 Pierre Suu/Getty Images
If you're already taking your fashion to another level with a plunging neckline, you might as well shorten your hem, too. This is a good trick if you want to look taller because you are extending the appearance of your neck and torso while also elongating your legs by exposing more of them. You won't simply look chic; throw on a coat for added warmth and you'll be runway ready.
Plunging neckline wrap dresses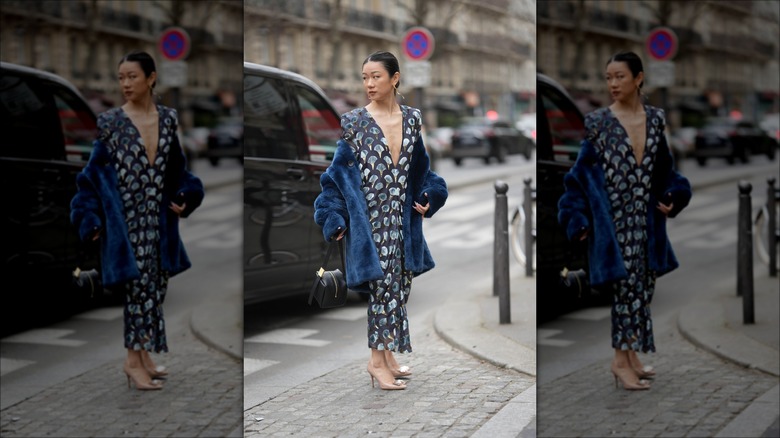 Edward Berthelot/Getty Images
One of the easiest ways to wear this trend is to reach for a wrap dress. They naturally create a plunging neckline and cinch the waist, which gives you a form-fitting look that is both chic and sleek. The many variations of wrap dresses can be modern or classic, or bold or subtle, but all make great use of a plunging neckline.