Blazer Dresses Are The Power-Dressing Trend Of 2023 - Here's How To Wear It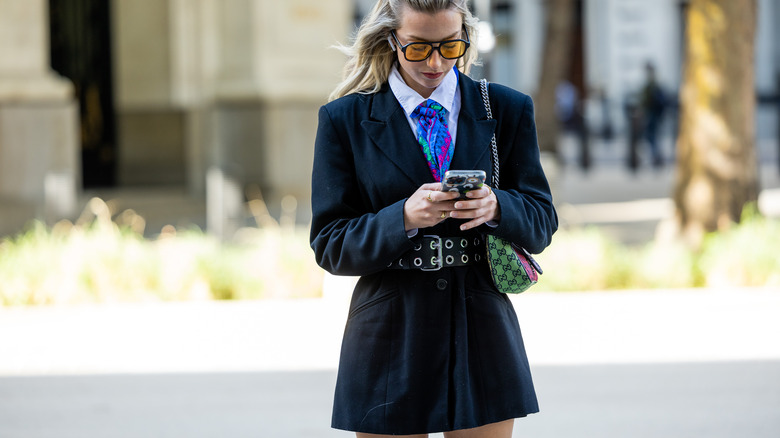 Christian Vierig/Getty Images
We already know that blazers are a key item in any wardrobe, no matter the style you have. Oversized blazers have become some of the easiest pieces to remix your wardrobe and give it a more laidback stylish vibe. However, as much as we love a good blazer, it's time to give it a refresh and take its same polished style somewhere else. Blazer dresses are the perfect next iteration of the staple piece, making it more than just an added layer and into a main outfit. These types of dresses incorporate the power and confidence of the blazer and work it into a feminine garment.
Not only are blazer dresses timeless, but they're always considered a modern piece. Sleek and chic, blazer dresses are street-style articles of clothing that can be reworked to fit your style. No matter what season, blazer dresses can easily fit into your wardrobe any time of the year. The blazer dress is the ultimate piece to give your closet a boost of confidence and power.
Add some hardware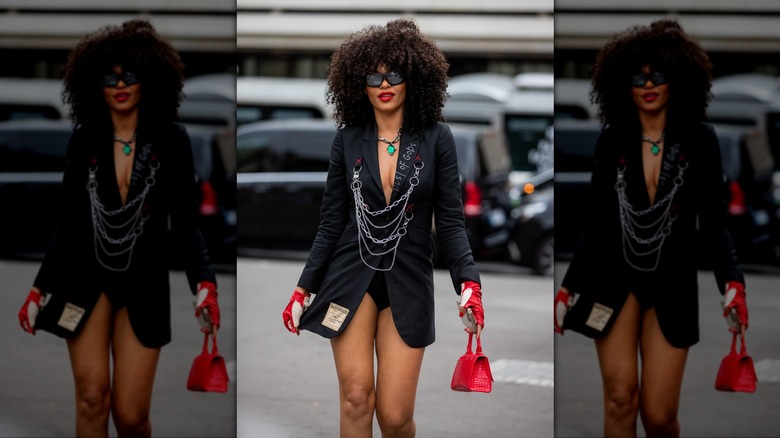 Christian Vierig/Getty Images
Giving your blazer dress a touch of hardware is the key to something less serious and more edgy. Blazer dresses with a metal touch like brooches, or chains can make it more personal and less of a polished office garment. No matter what color blazer dress you opt for, silver, or gold hardware gives it more edge and street-style vibes that it needs to transcend the season.
Make it bright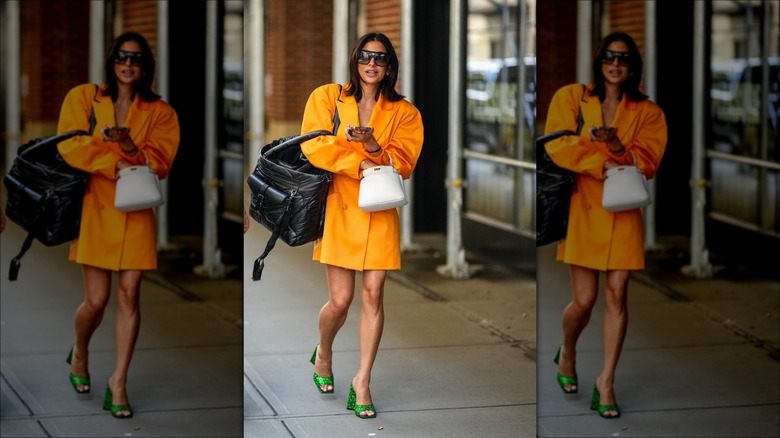 Edward Berthelot/Getty Images
Bright colors and hues are the perfect way to take your blazer dress to the next level. Although quiet luxury is all about muted tones, this combination is the perfect example of how color can be powerful. A brightly-hued blazer dress mixes the confidence of the garment with the fun of a saturated hue. If you want to wear your blazer dress in a more casual setting, giving it a splash of color helps make it more informal than serious.
Style with cutouts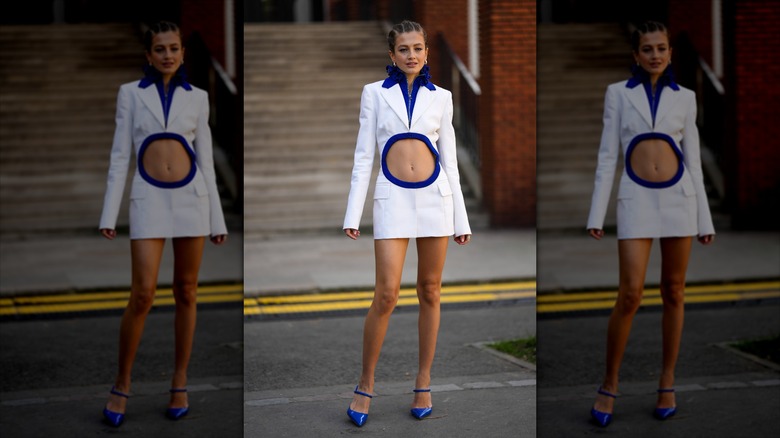 Edward Berthelot/Getty Images
We already know that cutouts have made their mark in fashion trends in past seasons. Although it's unusual to find cutouts in your blazers, they're known for being incorporated into dresses. Adding a cutout detail to your blazer dress leans more towards the dress aspect of the product rather than the blazer. If you don't want to look like you're wearing an old blazer, adding details like these will help create a more high-fashion moment.
Printed blazer dresses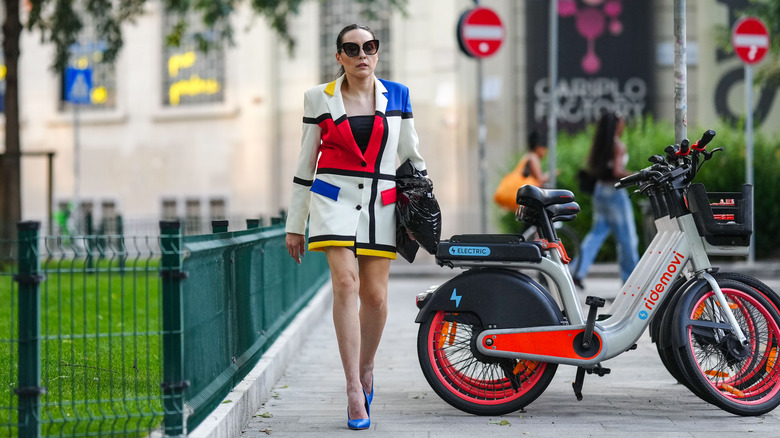 Edward Berthelot/Getty Images
Blazers often can get a bad reputation from their past as a workwear staple. While it's true that neutral and solid-colored pieces are easier to style, printed blazers can make the best dresses for a fun punch of color and design. Printed blazer dresses elevate the typical piece by adding something unexpected. Printed blazers are already rare to come across — create this same vibe in a blazer dress and you can get both a power piece, and a statement dress.
Classic black blazer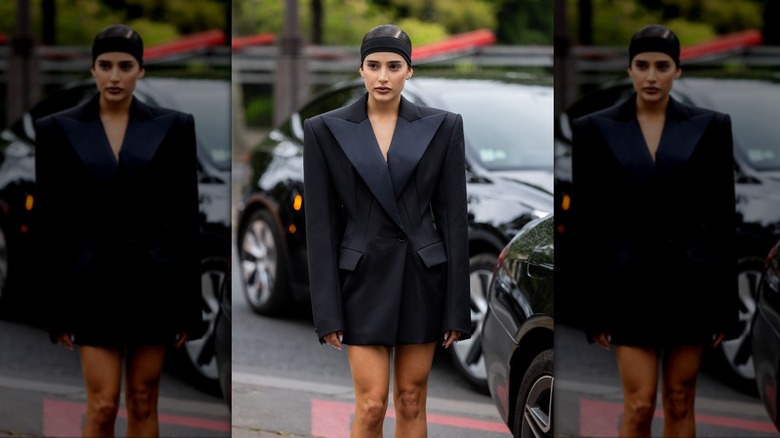 Christian Vierig/Getty Images
While colors and prints are fun, there's nothing as timeless and classic as a black blazer. When turning your blazer into a statement dress, you can't go wrong with the iconic black blazer. Not only are they chic and modern, but they also give an immediate touch of confidence and power. Often a workwear piece, sizing up in a black blazer can give you the perfect length to rock with just about any pair of accessories and shoes. Whether it's a formal event or just looking to add a dynamic vibe to your day, a black blazer dress is a must-have for any wardrobe.