Kate Middleton's Favorite Nail Polish Is An Essie Classic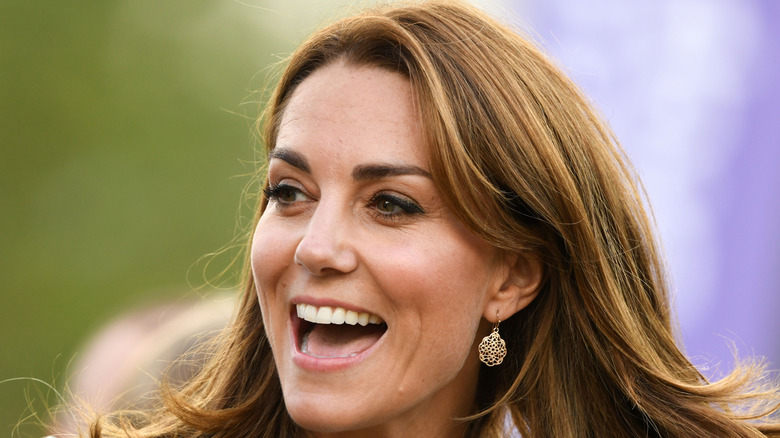 LINGTREN.COM/Shutterstock
Kate Middleton, the Princess of Wales, has many standards to uphold as a member of the British royal family. Deemed a fashion trendsetter by the public, she has even more pressure on her, with people looking to the princess for style inspiration. Everything from the shoes to the dresses Middleton wears are renowned for going out of stock as soon as she steps out in them. However, this isn't just limited to her wardrobe — people keep tabs on the nail polish the princess wears, too.
On her wedding day, Middleton made a splash when she wore nail polish by Essie, a favorite brand of the late Queen Elizabeth II, according to Town & Country. The sheer pink formula was reportedly custom formulated for the event, but it had the public flocking to get ahold of a similar hue. Essie's "Ballet Slippers" is considered to be the closest dupe to the pink polish that Middleton wore, and fortunately, it's still sold by the brand.
Essie nail polish can often be easily found at drugstores, as well as online, and it retails for around $10 — proving that you don't need the wealth of a royal to look chic. "Ballet Slippers" is a subtle, soft pink tone that anyone can rock to feel like a princess.
What is British royal family nail polish protocol?
The Princess of Wales inevitably encouraged more people to take a look at what Essie has to offer when reports claimed she wore the brand on her wedding day. Royal family watchers ran to get their hands on the muted pink shade, and over time, it seemed that this became Kate Middleton's color comfort zone. That being said, the royals have been known to lean toward neutrals for their nails, so perhaps Middleton simply fell in line. "The royal family tends to favor sheer, neutral shades on shorter, squoval-shaped nails," Sarah Gibson Tuttle, founder and CEO of Olive & June, told Harper's Bazaar. "It's a super-classic, clean look that looks timeless and royal appropriate."
Queen Elizabeth II was reported to have a preference for Essie's "Ballet Slippers" herself, and rumors have always suggested that opting for anything other than a neutral was a no-no for royal manicures. However, this has been disputed in recent years, with Meghan Markle notably stepping out in public wearing darker tones. "There's no actual protocol about dark nail polish," royal correspondent Omid Scobie clarified when asked about the matter by Harper's Bazaar. Scobie went on to note that, generally speaking, the royals are simply expected to choose an "appropriate" nail color.
Does Princess Kate prefer bare nails?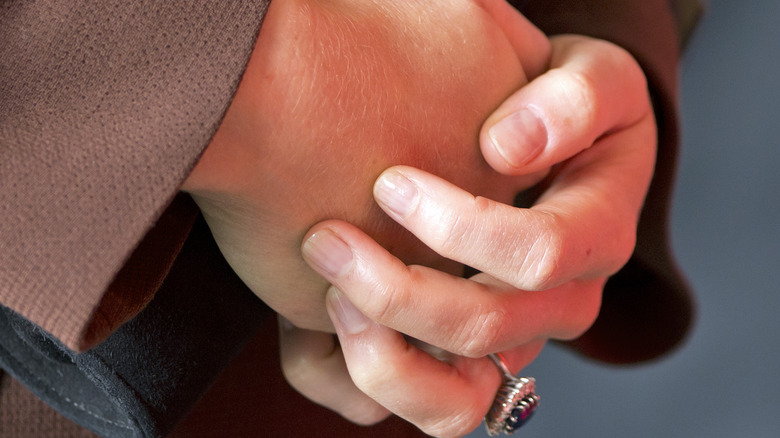 Max Mumby/indigo/Getty Images
The nail polishes that the royals wear have always been noted by trendsetters, and it's made the absence of them even more intriguing. Just a few years ago, the Princess of Wales was the subject of discussion when a royal style watcher noticed she had been going without nail polish. It resulted in a deep dive into old photos featuring Kate Middleton without nail lacquer, leading some to wonder why a royal would step out unpolished — even if their nails were as clean and maintained as hers seemed. Some chalked it up to Middleton's life as a busy, hands-on mom who loves spending time outdoors with her children, but the reason was never officially determined.
Regardless, it doesn't seem like it would be too unusual to see Princess Kate step out with a bold hue on her nails in the future. In the past, she has been seen wearing a deep shade of red on her toenails, proving that she doesn't confine herself to neutrals. Whether Middleton will solely wear Essie has yet to be determined, but as long as they continue creating colors fit for a royal, she'll have good reason to turn to the brand for inspiration.