The Leather Trench Is The Sophisticated '90s Trend Coming Back For Fall 2023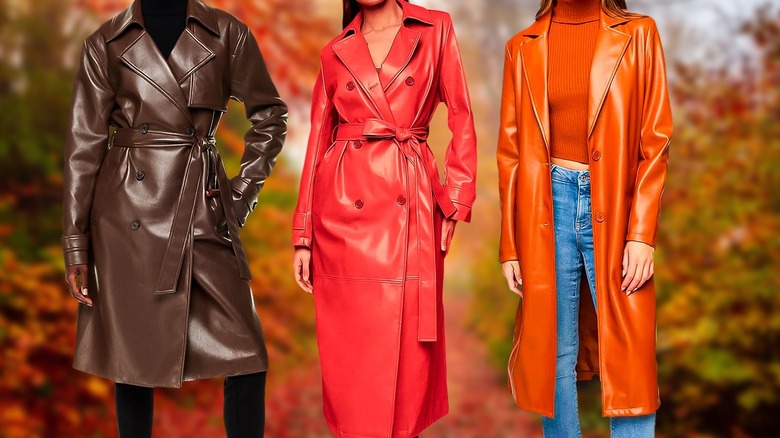 Static Media/Shutterstock
We've seen plenty of '90s fashion trends come and go in the last couple of seasons, and with the start of the fall emerging, we'll likely see many more. One trend currently shaping up to dictate our fall wardrobes is the ever-so-classic leather trench. While a khaki trenchcoat is a must-have for any autumnal rotation, a leather trenchcoat adds more of an edgy yet sophisticated vibe to your outfit. Leather is a classic in the colder seasons since it has a dark sheen that's luxurious and modern. 
Adding leather against knits or satin gives you a much more dynamic wardrobe that still keeps you warm. Apart from being practical, a leather trenchcoat is the epitome of street style that has an undefined coolness to it. Though black is the most popular color to go with, you can rock a leather trench in a number of shades, prints, and finishes. 
Iconic black leather trench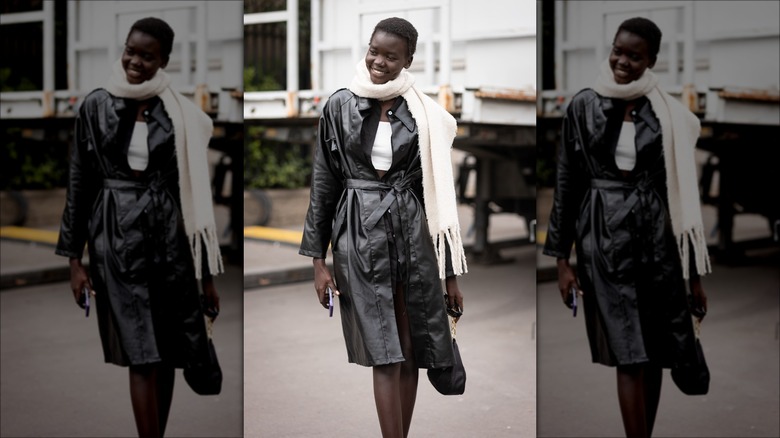 Claudio Lavenia/Getty Images
If you've ever seen a leather trenchcoat, the odds are it's been in black. Black leather trenchcoats are as classic as a regular khaki trenchcoat in the fall. A black leather piece is uber-chic and sophisticated, and you can wear it along with any other pieces, whether they're minimalist or maximalist. This universal garment works well, no matter the style you're going for.
Metallic leather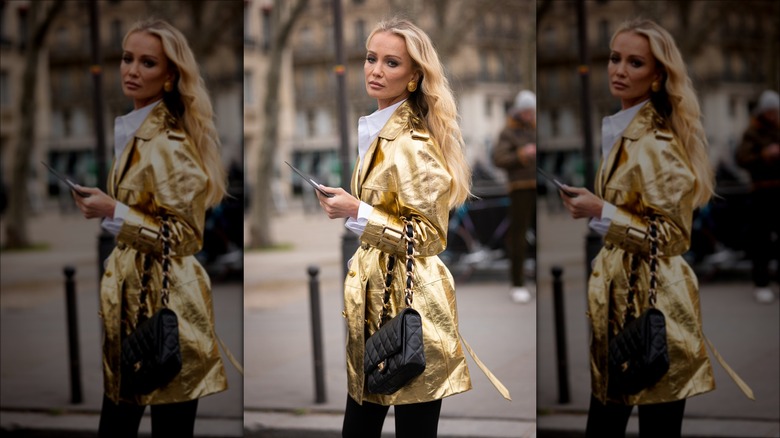 Claudio Lavenia/Getty Images
Just because it's fall doesn't mean you can't add a little glimmer to your outerwear. A metallic leather trenchcoat is the perfect shiny addition to complete your closet, without going too out-of-the-box. The perfect pairing for your metallic pants, a metallic leather coat is chic and modern while still being a funky statement item. There's no need to stick exclusively with dark and muted tones as the cold comes in; add a little retro charm to your coat with some metallic leather.
Barbie's leather trenchcoat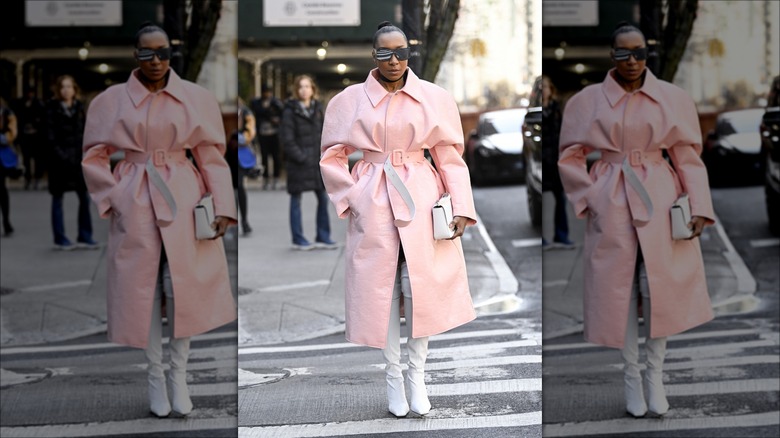 Daniel Zuchnik/Getty Images
With the Barbiecore fashion trend not stopping anytime soon, it's only fair to get ready for a Barbie fall season. A pink leather trenchcoat is both feminine and sleek, making it the best of two styles. For those looking to add something bright and airy to their rotation, a pink leather trenchcoat gives you something fun for a season that tends to be full of darker, neutral hues.
Fun-colored coats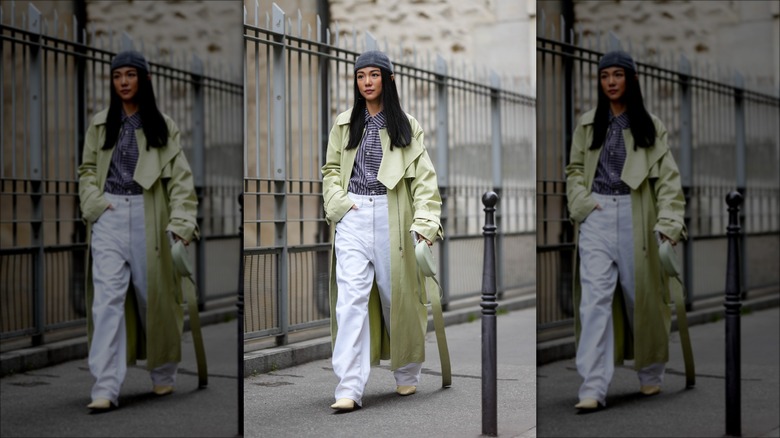 /Getty Images
Besides pink, other saturated hues can bring this '90s trenchcoat into the modern era. With dopamine dressing trends still making the rounds, be ready to see pops of color in the fall. The best part of these brightly colored leather trenchcoats is the fact that they can pair with any style or outfit. Even if you're sticking with a neutral or minimal look, a vibrant trenchcoat can add the perfect amount of color back into your wardrobe.
Leather accent trench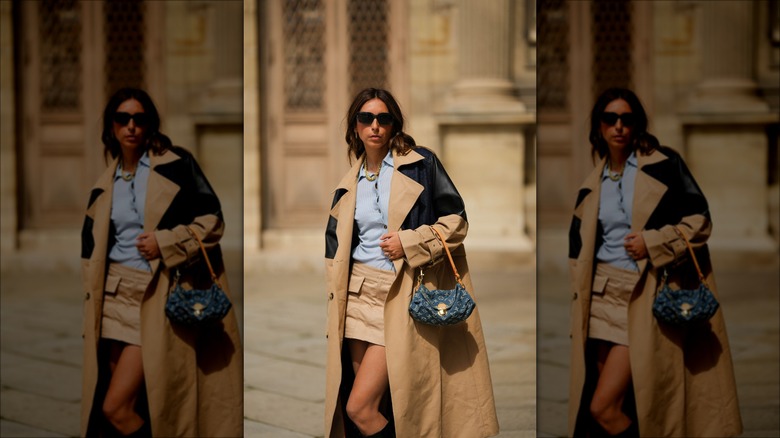 Edward Berthelot/Getty Images
Instead of an entirely leather trenchcoat, opt for chic leather-blocking accents. Even though these unique changes alter the traditional leather trench, they bring a fun new dimension while still maintaining the essence of the style. They're also less common than trenches that are totally leather, so you might just turn some heads. 
Fall hues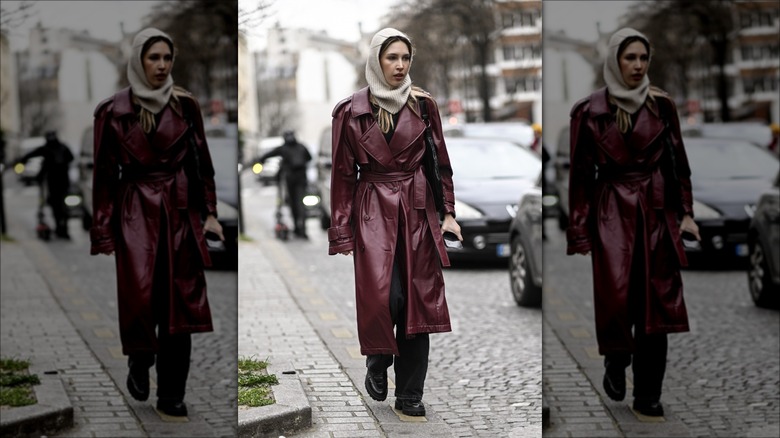 Daniel Zuchnik/Getty Images
Earthy tones and neutrals are staples for the fall season, which make them easy to style with each other. Sticking with these typical fall colors will also ensure that your leather coat remains on-trend for many years to come. These classic hues might be more saturated than your typical black leather trenchcoat, but they are still timeless and iconic. 
The printed trench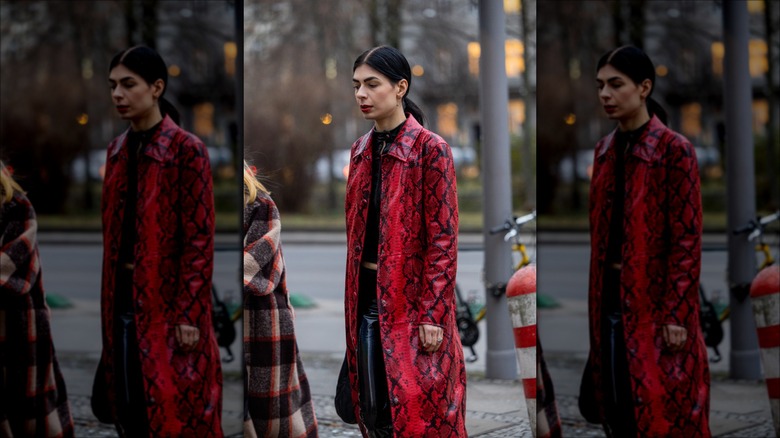 Christian Vierig/Getty Images
If we've learned anything about '90s fashion, it's that they loved a good print. If you're looking to break out of your comfort zone but don't know where to start, look for a leather trench in snake print, plaid, or cheetah. Although these prints make for less of a classic garment, they'll turn your trenchcoat from plain to statement.