Can You Wear A Cutout Dress As A Wedding Guest? Here's What To Know
Weddings are beautiful events that bring friends and family together. As the big day gets closer, it's normal to get into a frenzy about what you are going to wear to the event, particularly as you weigh up what is and isn't appropriate. No one wants to look out of place during a wedding (especially if it's going to upset the bride). Unfortunately, when it comes to cutouts specifically, there isn't a clear answer on whether this style is appropriate, and it truly depends on the wedding dress code and the couple getting married.
Associate Editor at Who What Wear Sierra Mayhew revealed that she'd "scream" if a guest wore cutouts to her wedding. If you are going to a more conservative ceremony, it's best to avoid showing skin as much as possible. However, the general consensus is that if the wedding is a casual event with a relaxed couple tying the knot, cutouts — or rather, a singular cutout — are something you can consider wearing as long as the dress is not too revealing. 
How to wear cutouts at a wedding
The key to wearing a dress with a cutout to a wedding is not to reveal too much. "[Your outfit] can have one sexy element like a plunging neckline, short hemline, cutout, low back, or a body con fit, but no more than one," The Knot assistant editor Simone Hill told Bustle. "It's a different story if you're hitting the club, but a wedding is not the club, no matter how low you're planning to get on the dance floor." 
As a rule of thumb, aim for no more than one cutout. Even if that is the key feature of the dress, too many cutouts can create an outfit that is out of place.
Keep in mind that this is only if the wedding is a casual affair. If you are going to a black-tie event, skip the cutouts altogether. Brides explain that cutouts are a terrible idea, up there with bridal-like dresses, for this type of event because they could potentially upstage the bride.
Tips for picking an appropriate wedding guest outfit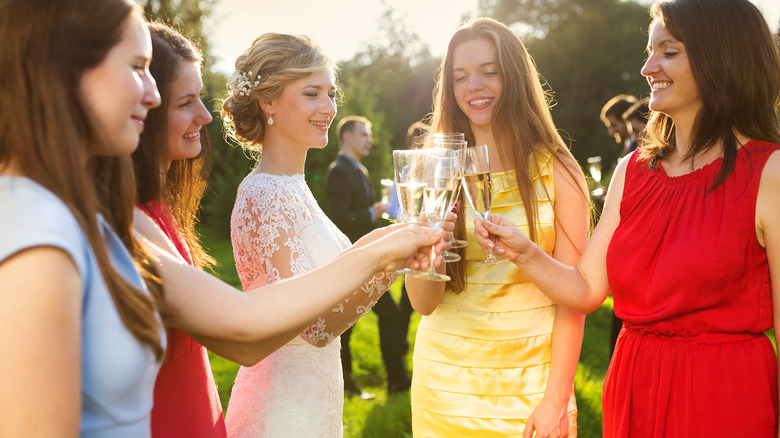 Halfpoint/Getty Images
If you want to play it totally safe, save the cutouts for another event and choose another outfit altogether. However, this too can be difficult if the bride and groom do not provide enough information about the dress code. "If no dress code is provided, I don't think you can go wrong with a semiformal or cocktail-attire-appropriate outfit. After all, it's better to be overdressed than underdressed, especially at an event like a wedding," stylist Gabrielle Hurwitz revealed to Martha Stewart.
It's also important to be mindful of the color you are wearing. At western weddings, you shouldn't wear white or anything close to it, under any circumstances. If you're attending a wedding from another culture, find out if there are similar color considerations to be aware of. For example, at Indian weddings, red, white, and black should be avoided, per Wedding Wire. 
Also, it pays to find out what color the bridesmaids are wearing. You don't want to look like an unofficial member of the bridal party, so it's best to leave that color alone as well.