Our Best Tips On How To Get Carrie Bradshaw's Iconic Curls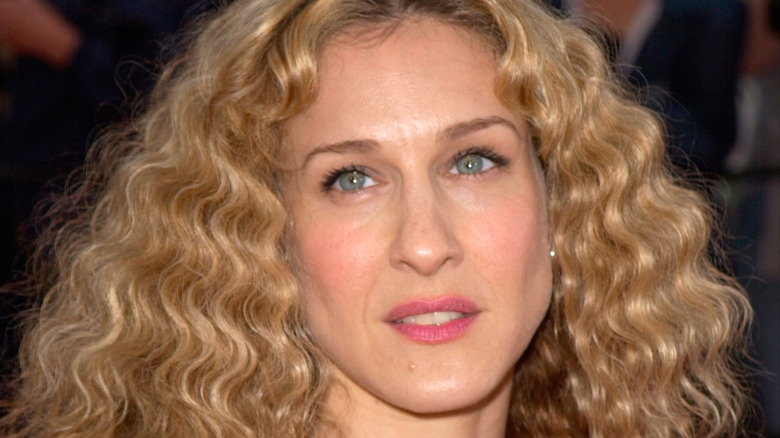 Featureflash Photo Agency/Shutterstock
Perhaps the most memorable trait of Carrie Bradshaw in the original "Sex and the City" series was her hair. As the show rolled on through the '90s, Carrie's flowing natural curls became as iconic as "Sex and the City" itself. "Before a scene would shoot, [Sarah] would run her hands through her hair to get it going; that was her vibe," hairstylist Sacha Quarles, who worked with actress Sarah Jessica Parker for a portion of the show, told Vogue. "It wasn't just a magazine cover. It was beauty with a real-life feel to it." Despite the show being revived as "And Just Like That," Carrie's nostalgic curls haven't made it into the new era. While her mane is still beautiful, it has a more polished look that suits this phase of her life.
These days, the character runs around New York City in "And Just Like That" with softer curls. In some instances, her tresses can even be considered wavy as opposed to curly. However, it still manages to suit her character, who hasn't let fame get to her as a successful, wealthy writer. Her loose curls give her an effortless, yet chic, look that works for both day and night. Whether you aspire to rock Carrie's "And Just Like That" locks or the tight curls she flaunts in the original "Sex and the City," haircare tools and treatments can help you achieve your goal.
Create the foundation for Carrie Bradshaw curls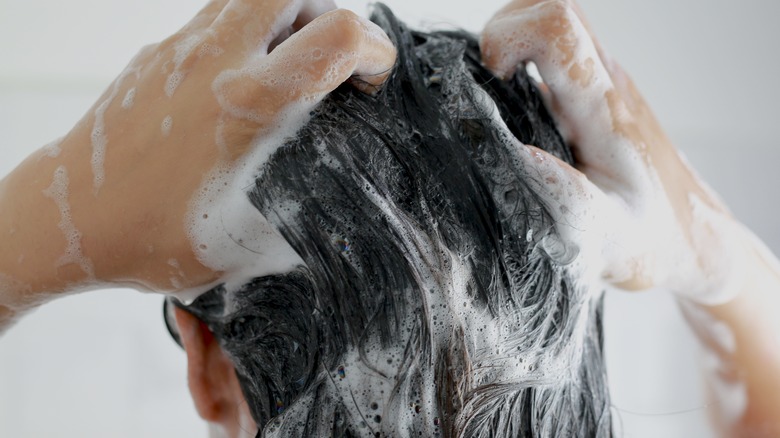 fongbeerredhot/Shutterstock
If you have straight or wavy hair, it may seem impossible to get anything close to Carrie Bradshaw's curly mane. However, you can mimic the look if you start with a proper foundation.
If you have waves or curls, you'll want to begin with curl-defining shampoo and conditioner in the shower to enhance the natural texture of your hair. Using shampoo and conditioner that is formulated to work with your tresses can help bring them to life. Furthermore, they can help you address any underlying issues that may pertain to your type of hair, such as frizz or dryness.
In the case of straight tresses, you might find it easier to work with clean, dry hair instead. This is because Carrie's curls always featured ample volume, and straighter locks can be easily weighed down when wet and conditioned. If you want to wash your hair beforehand, use a lighter conditioner and apply it to the ends of your tresses, staying away from the roots.
If your hair tends to be oily, you may be hesitant to skip washing. However, keep in mind that your natural oils can help when you're going without a wash. "The natural oils in your hair will act as the product, allowing your hair to be molded more easily," hairstylist and Tavi Hair founder and creative director Octavio Molina told Byrdie.
Effectively use a texturizing hair product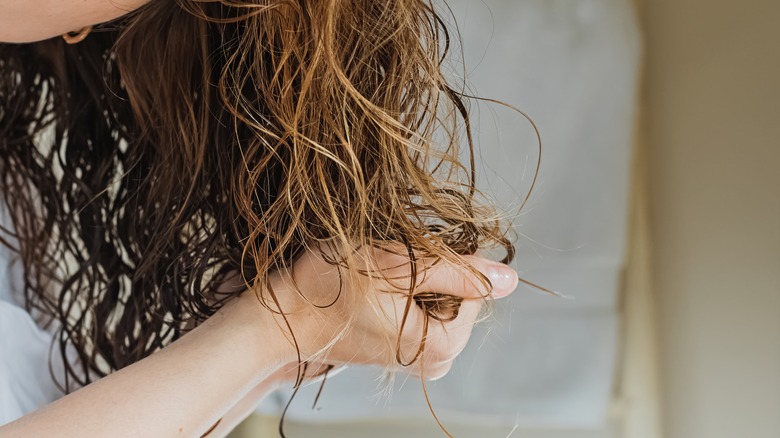 Chiociolla/Shutterstock
Because texture is the name of the game when it comes to curls, you'll want to have the right styling products for the task at hand. Texturizing products come in a wide range of formulas from mousse to clay. If you're new to clay, you might want to consider using it if you want curls that'll last throughout the day. "A light-hold clay or wax will act as a forming cream, allowing your hair to set in any direction you want," hairstylist and founder of Tavi Hair Octavio Molina told Byrdie.
If you're using a texturing spray, be mindful of how much you apply — adding too much can make styling difficult. "The most common mistake people make is spraying it too close and using too much," stylist Chad Wood told Hair.com by L'Oréal. "You should really spray an arm's length away, and you want to spray and mist and shuffle, brush out your hair, pull it out as you're misting. Do it ever so slightly and build it."
If you decide to opt for texturizing mousse instead, use it on your tresses before you begin styling, ideally when they're damp. Start with a golf ball-sized amount, and run it through your hair before applying heat. This texturizing product can also help your curls maintain their shape for longer once they dry.
Craft Carrie Bradshaw-inspired curls with heat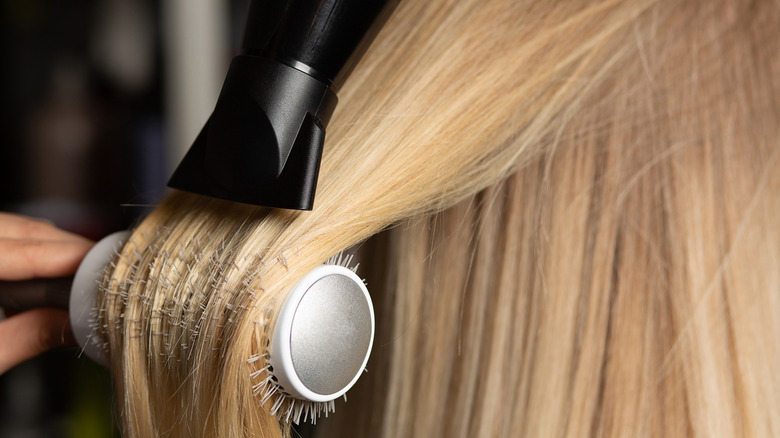 Viktoriya Pavliuk/Shutterstock
Before you reach for your hair dryer, you'll want to make sure your tresses are sealed with a heat protectant. In addition to preventing heat damage, this product can help you maintain your final style while limiting frizz and flyaways. Once it's been applied, grab a round brush and begin creating your Carrie Bradshaw-inspired curls.
If you have medium-length or long hair, you can simplify the process by sectioning portions into upper and lower segments. While working on the lower segment, roll your hair up in the brush toward the base of your scalp, stopping a couple of inches away from your roots. Then, begin adding heat with your blow dryer, and vertically unroll your tresses once they're sufficiently dried. Repeat this process with the upper segment of your hair until you have all of the curls you desire.
If you find that your locks aren't holding their curls, wait to unwrap each section you blow dry until it fully cools. Adding a spritz of hair spray once you're finished styling can also help maintain your look for longer. For more natural-looking curls, run your fingers through your hair after you finish to create a looser, more flexible style.
Get the style you want with curlers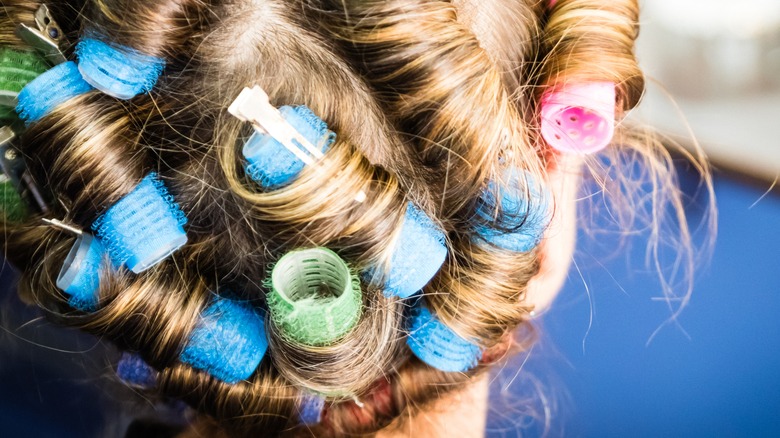 ihorga/Shutterstock
Not everyone prefers using their blow dryer or curling iron, no matter how much they want to channel Carrie Bradshaw. Luckily, rollers are an alternative for those who have some time and don't mind setting-and-forgetting their tresses.
To create curls that mimic Carrie's look from "Sex and the City," you might want to use foam rollers, which can help you develop tight ringlets. "Foam rollers have a very easy design for clients to use on their own," stylist Shelly Aguirre told Byrdie. "The clip to secure them is attached to the roller so some clients will have an easier time." Velcro rollers can help you achieve the same type of curls, and they come in a wide array of sizes, in case you ever want "And Just Like That" Carrie waves instead — the larger the roller, the bouncier the curl. These rollers work best on dry hair, but both Velcro and foam rollers give you the best results when worn for a few hours or overnight.
For faster results, you might want to opt for hot rollers. Similar to other types, they come in different sizes for different variations of curls. However, they use heat, as the name implies, to provide instant results. Just keep in mind that smaller rollers should be reserved for longer hair to prevent creating curls that are too tight.
Troubleshoot common curling mistakes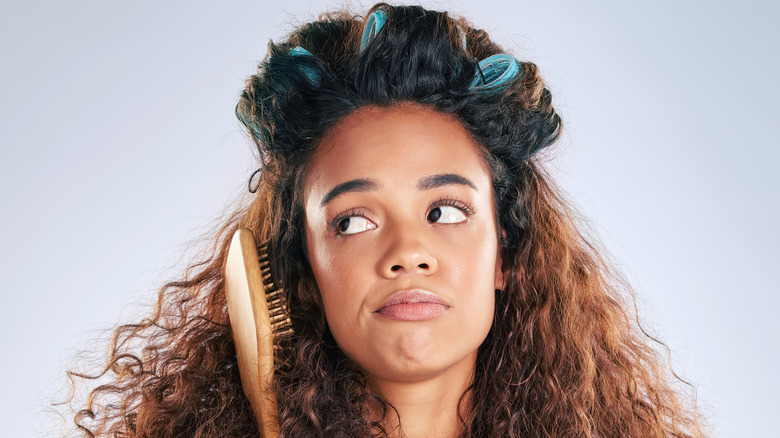 Peopleimages/Getty Images
If you're having trouble getting your hair to hold a curl, you might want to consider a few different factors. First, take the products you're using before curling into consideration. For example, if you're applying a hair oil before styling, you might be weighing down your tresses. Doing so can drastically cut the lifespan of any curl you add to your hair.
Next, reexamine your technique when you're styling, especially if using a curling iron. "If you want more volume, heat the root of your hair first and hold the iron perpendicular to the section—i.e., at a right angle—you're curling," hairstylist Javan Stone told Glamour. It should be straight off your head. "If you don't want volume, hold the iron straight down instead." Similarly, think about how you're releasing each curl — if you're allowing it to go limp, rather than holding it in your hand while it cools, you could be unintentionally creating looser curls.
Finally, don't be afraid to seal your curls as you work. This means spritzing your locks with hair spray before and during the styling process, rather than just at the end. By doing so, you'll extend the longevity of your look from sunrise to sunset.