6 Outdated Sweater Styles To Stay Away From For Fall 2023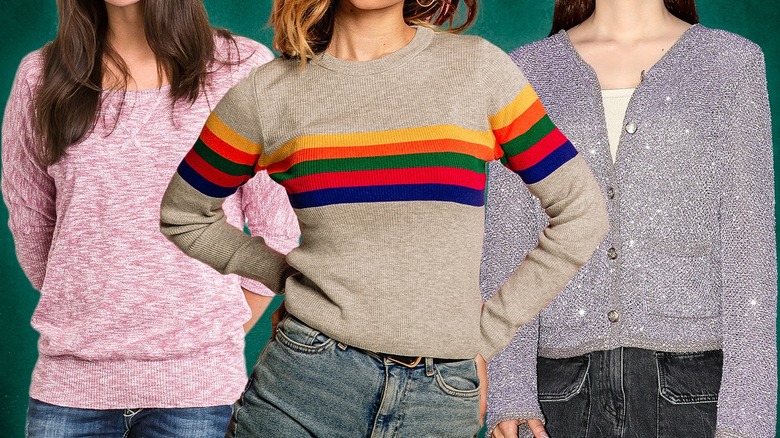 Static Media/Shutterstock/Getty
Unveiling your fall wardrobe is one of the best moments of the year. Putting on your favorite sweaters once again always brings about a cozy and warm feeling. However, not every sweater is worth bringing out for another season. Unfortunately, sweaters, like other fashion items, are subject to going in and out of style at a moment's notice. Some of these sweaters are no longer worthy of a space in your closet and are better suited for the donation pile. Thankfully, this year's fall fashion trends have plenty of replacement styles to choose from.
While sweaters are a classic piece for the fall, you want to make sure it doesn't ruin your overall look. Outdated sweaters will jeopardize your 'fit and make it look retro, and not in a chic way. While some retro sweaters, like sweater vests, have made a comeback, they've been remixed to match modern styles. These outdated sweaters have modern alternatives that will give you the same function as the original, with much more style. But for old sweater styles that haven't been updated, it's best to opt for newer trends instead. 
Dusters and long cardigans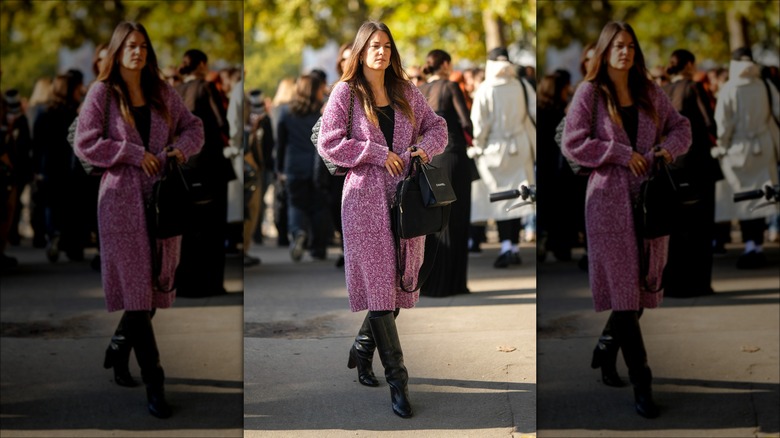 Edward Berthelot/Getty Images
The long cardigan, also known as a duster, is comfortable and can feel like a cozy hug. However, the length seldom does anything to favor silhouettes and can drown its users in fabric. Instead of dragging along the ground, opt for a perfectly fitted cardigan in a regular length. Cardigans have made a comeback along with the Y2K renaissance but should be used wisely to create chic and high-end looks. Match your cardigan with the same color top to create a sophisticated and chic fall outfit.
Cold shoulders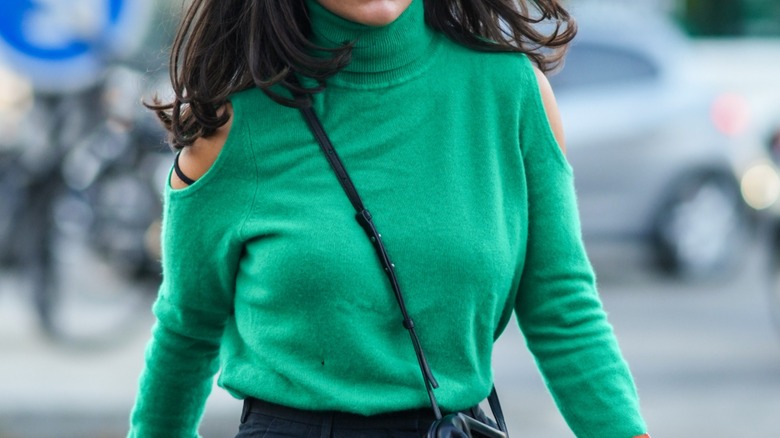 Edward Berthelot/Getty Images
Although cutouts are currently having a fun time with dresses and blouses, they're no longer welcome on your shoulders. Cold shoulder sweaters are both impractical and don't add much style to your look. A modern alternative to these dated styles is a chic asymmetrical sweater that will give you the same unique twist but doesn't leave your shoulders bearing the cold weather.
Cowl neck sweaters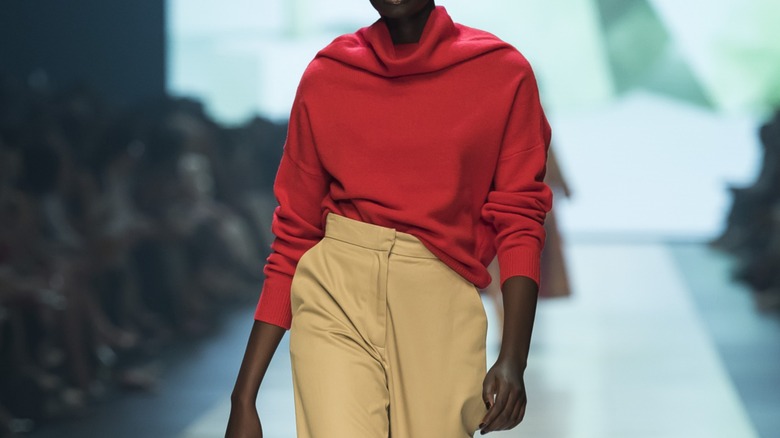 Naomi Rahim/Getty Images
Cowl neck dresses and satin tops are chic and luxurious. However, the same cannot be said about cowl neck sweaters, which tend to look dated and bulky. If you're keen on adding a neck detail, throw on an oversized scarf to your regular sweater for a chicer look. Cowl neck sweaters add too much fabric in one place and in reality, won't make you any warmer.
Shackets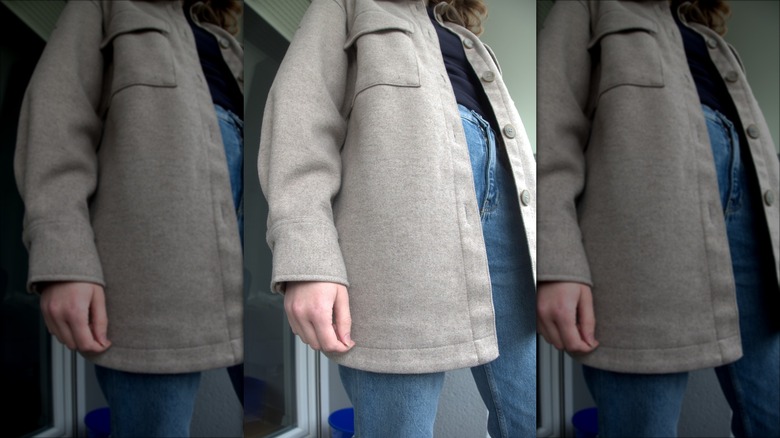 RandomSuggestion/Shutterstock
While this sweater and jacket combination may have been a major hit a few years back, its popularity has waned. This is because shackets can be bulky and make it harder to move around in them. Opt for a firm leather jacket or coat for something sturdy that gives you plenty of warmth. The other issue with shackets is their boxy design, which can ruin your outfit's silhouette.
High-low sweaters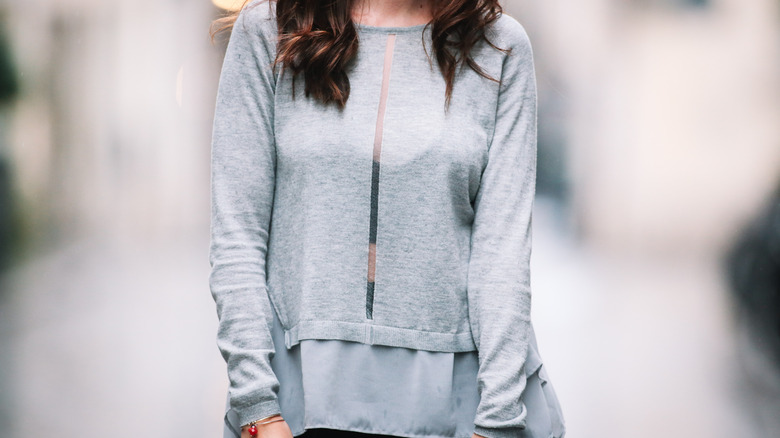 Edward Berthelot/Getty Images
For many years, high-low hems have been considered out of style. High-low hems were originally seen on skirts and dresses but were ultimately brought to sweaters and tops. While the thought of adding a unique detail to your sweater is a great idea, this design ultimately looks too dated. Instead of going with a mullet-inspired sweater, opt for layering your sweaters under a bralette or over a polo top. Layering gives you the same unique vibe but with better execution.
Cropped sweatshirts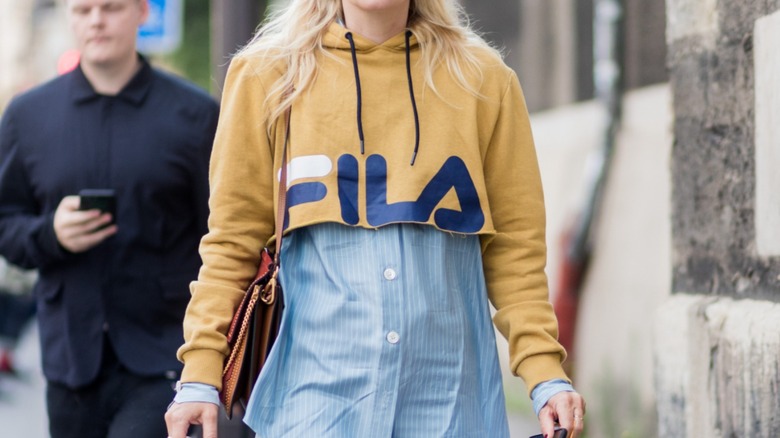 Christian Vierig/Getty Images
Although cropped items will always be around, these sweaters are simply impractical and outdated. Cropped sweatshirts were intended to give your look some edge and street-style, but the result is sloppy. Instead of going with an unsuitable sweater, reach for sweater vests or layering for the differing lengths. You can also opt for a regular sweater paired with a cropped jacket or coat, which still gives you the chicness of a cropped piece in a more sophisticated and polished way.