Steal Barbie's Look On A Budget: The Disco Dance Party Jumpsuit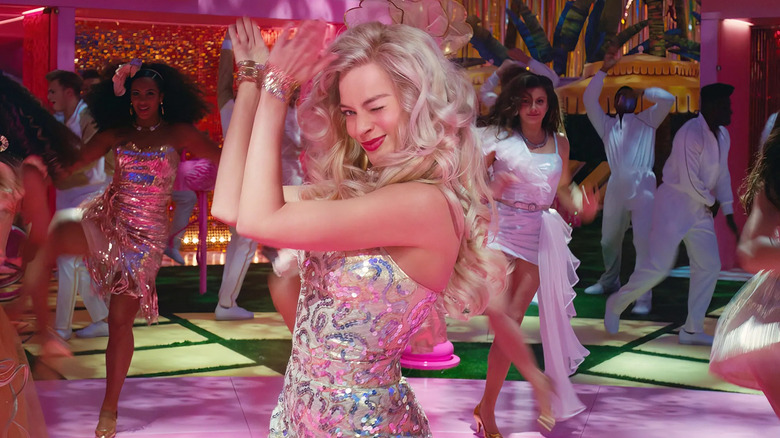 Warner Bros.
We may receive a commission on purchases made from links.
Between Barbie's picnic-ready gingham dress and her coastal cowgirl outfit, Greta Gerwig's "Barbie" movie offers a plethora of already-iconic, ultra-girly ensembles. While many of the film's noteworthy looks are super pink, a standout look features white, gold, silver, and lots of sparkles instead of the typical Barbie shade. You can find this disco-themed shiny jumpsuit in the infamous moment in the trailer when Barbie makes everyone nervous by randomly asking, "Do you guys ever think about dying?" in the middle of an otherwise upbeat dance number.
That sparkly jumpsuit presents an exciting alternative to all the pink in the movie, giving viewers who love fashion but don't want to see only one color something to admire. "There was so much white and gold ... It seemed like a real Barbie choice for a party,"  "Barbie" costume designer Jacqueline Durran told Entertainment Weekly. The ensemble also featured gorgeous accessories! The best part is that even we humans can rock outfits inspired by this daring disco jumpsuit — with strategic shopping, of course.
It's all about the sparkly jumpsuit
Barbie's sparkly jumpsuit is a head-turning piece that exudes main-character energy. To get Barbie's disco-themed look, you'll need a glamorous jumpsuit. If you want a similar yet affordable option, check out the LOVE&LEMONADE Contrast Sequin Backless Tube Jumpsuit which sells for under $35 on Shein. This jumpsuit's sequin-covered style and champagne color look very much like Barbie's, and it's also strapless like the outfit in the movie. Made of polyester, this jumpsuit features a backless design, providing instant sex appeal. The product had an almost-perfect rating of 4.82 out of five stars at the time of this writing.
If you want to nail the look but aren't a fan of sleeveless pieces, the Off-Shoulder Sequin Jumpsuit is available from Venus for $89. Covered in sequins, this rose gold jumpsuit is made of polyester and elastane and features 3/4-length sleeves and an off-shoulder neckline. One pleased reviewer gave the jumpsuit a perfect five-star rating and wrote, "The material is beautifully made and not heavy. It is so comfortable and looks like it was a lot more money than the price of Venus." 
Another option from Amazon is the Cosygal Women's Deep V-Neck Sleeveless Adjustable Spaghetti Strap Side Slit Wide Leg Pants Sequin Jumpsuit, selling for about $50. The sparkly jumpsuit has super-thin straps, pockets, and leg slits — and it's made of linen. It has 3.9 stars, and one reviewer wrote that they "Wore for DISCO party," so it perfectly captures the essence of Barbie's disco-inspired outfit!
Don't forget to add some dazzling accessories
To achieve a Barbie-like appearance with your jumpsuit, add accessories inspired by the dance party scene from the film. Barbie wore long, bold gold earrings with her jumpsuit, and you can find similar earrings for a low price on Amazon. The KaFu Lightweight Bohemia Geometric 14K Gold Round Disc Triple Long Earrings Dangle Drop Filigree Carved Statement Earring cost less than $10 and had 4.1 out of five stars at the time of this writing. One satisfied reviewer wrote, "Beautiful and shiny. They look spectacular. Many compliments."
Barbie also wore sparkly, thick bracelets that complemented her outfit. The Zealmer Sparkle Multicolor Rhinestones Stackable Stretch Bracelets for Women is a similarly glamorous option selling for under $15 on Amazon. With 4.1 stars, many people enjoyed elevating their ensembles with this piece of jewelry.
Another bold accessory in Barbie's dance party look was her dramatic semi-sheer floral headpiece. You can capture that ultra-feminine detail with the Cizoe Fascinators Hat for Women Hair Clip, available for below $15 on Amazon. The white mesh hair accessory is voluminous with a somewhat see-through floral design, providing the perfect finishing touch to the Barbie-themed outfit. Plus, it has 4.6 stars.