Steal Barbie's Look On A Budget: The Picnic-Ready Pink Gingham Dress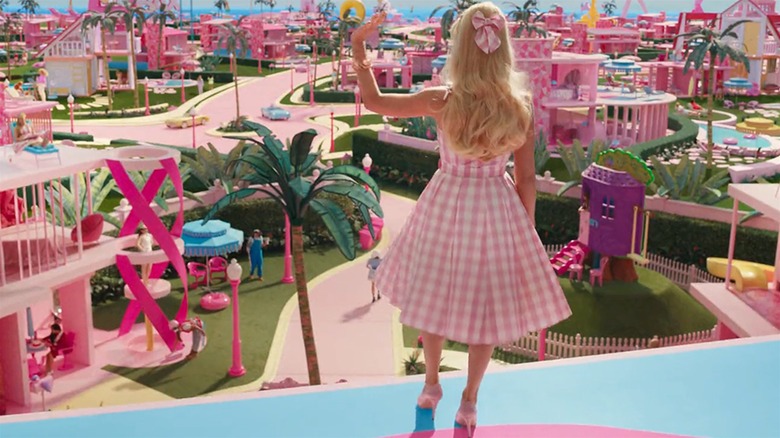 Warner Bros.
After a record-breaking opening weekend, the buzz surrounding the "Barbie" movie is only continuing to grow. Barbie — originally promoted as a fashion doll — and her companions are now estimated by Mattel to have acquired over a billion outfits since 1959. It only makes sense then that so much thought, talent, and production value went into creating the iconic doll's wardrobe in the new film and promotional Barbie looks of actress Margot Robbie in the months leading to its release.
One of the many fabulous looks showcased in "Barbie" is a retro 1960s-inspired belted pink gingham sundress paired with pale pink heels, a white floral necklace, and a pink hair bow. If you were one of the many who fell in love with this outfit, we have good news for you: We've created a quick guide to recreating the look in the most budget-friendly way possible so you can rock it yourself — just one step to giving yourself the ultimate Barbie-inspired makeover.
The pink gingham dress
The most important element of Barbie's look, of course, is the pink gingham dress itself. The piece features a cheery pink-and-white gingham pattern, a cinched waist with a matching belt, and a full skirt with a white ruffled underskirt. While you might typically have to wait years for the perfect similar dress to show up in a thrift store or have a replica specially made, the success of the "Barbie" movie has resulted in duplicates springing up all across the internet.
You can now score a handmade replica of Barbie's belted pink gingham dress on Etsy for just $20, as of publication. If you're a perfectionist aiming to precisely recreate the look, you may wish to add a white underskirt to get the full ruffle effect seen on Margot Robbie in "Barbie." As of this writing, you can nab one on Amazon for $23.99. However, the dress alone is undoubtedly enough to turn heads at your next summer event. 
Essential accessories
An outfit is not a complete look until it is combined with its very carefully curated accessories. In the "Barbie" movie, the doll's retro dream of a pink gingham dress is paired with a delicate white daisy necklace and pink pumps and topped off with the perfect pink hair bow. Luckily, none of these accessories is rare enough to make recreating the look an inaccessible option, at least for those who can shop online.
An adorable dupe for Barbie's daisy necklace is available on Amazon for only $5.99. While you're there, you can also get your hands on a pair of pale pink pumps for $39.99 and a jumbo pink hair bow for $7.99, all as of this writing. When all is said and done, you can own your very own version of this popular look for under $75 — surely a tiny fraction of the cost of the movie version.