17 Tips To Give Yourself The Ultimate Barbie-Inspired Makeover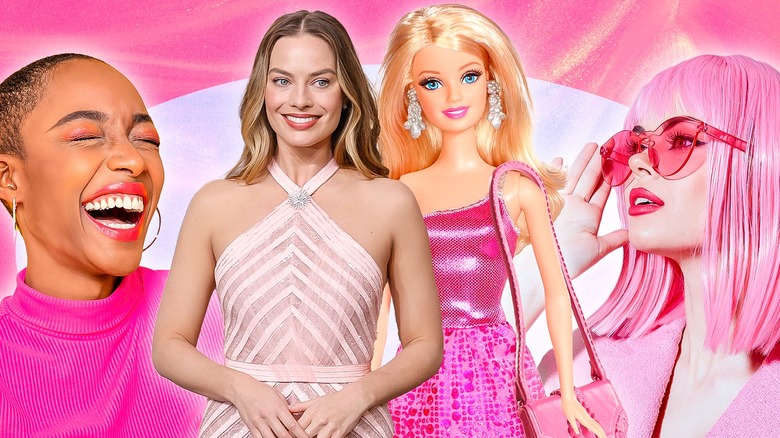 Static Media / Shutterstock / Getty
Calling all Barbie enthusiasts: Are you ready to embark on the ultimate Barbie-inspired makeover adventure? Yes, Greta Gerwig's highly anticipated "Barbie" movie premiered in Los Angeles on July 9, 2023, and now the whole world can only see pink — including us at Glam.
However, this makeover isn't just about fashion and beauty — it's a holistic journey that encompasses health, self-improvement, and an enhanced quality of life (but, of course, fashion and beauty are still generously sprinkled throughout). We're here to help you embrace the spirit of Barbie herself, a fearless and vivacious icon who has inspired generations of dreamers all across the globe.
With each tip, you'll take one step closer to unleashing your inner Barbie, who wants you to live life boldly and beautifully. Together, we'll dive into a pink-hued universe filled with fashion, beauty, fun, and a dash of Barbie's infectious optimism that's telling us it's time to make dreams come true, one shimmering step at a time. Now, come on, Barbie, let's go start this makeover party!
Experiment with pink makeup and allow your inner Barbie to shine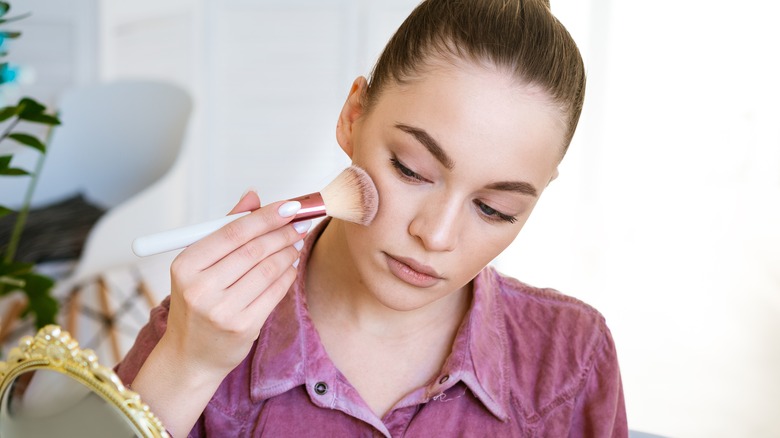 Pereslavtseva Katerina/Shutterstock
When embarking on a Barbie-inspired makeover, the first step is to go all-in with pink. Pink makeup might sound overwhelming at first, which is why taking baby steps is totally fine. Start slow and dip your toes into pink makeup by incorporating subtle hints of pink into your daily routine. A touch of pink blush on the apples of your cheeks can instantly give you that radiant, doll-like glow. When you're ready to amp up the pink factor, add pink eyeshadow and lipstick to your makeup game.
In fact, you'd be surprised how easy it is to pull off pink eyeshadow. Start with a light, delicate shade, blend it into the crease, and voilà — you have a subtle Barbie look. When it comes to pink lipsticks, the options are truly endless. If you're a pink novice, try a medium shade of pink, like a soft coral or rosy hue. Feeling a bit bolder? Go for a darker, attention-demanding shade, like a vibrant fuchsia or a daring magenta.
Now, let's address the pink elephant in the room. What if pink doesn't seem to suit you? Trust us, pink suits everyone — you just haven't found the right shade yet. Pink comes in many tones, from delicate pastels to bold and vibrant hues. Take a trip to your favorite makeup store and play around with different shades until you find the pink that makes you feel like the Barbie you truly are.
Treat yourself to a nail appointment (after all, Barbie always nails it)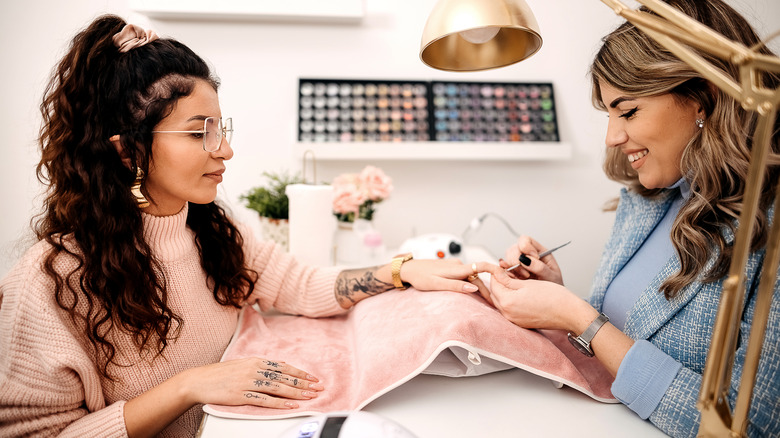 Stefanikolic/Getty Images
Whether she's getting ready for a glamorous event or a fierce soccer game, Barbie always ensures her nails are on point. So, why not take a page from Barbie's book and give your nails the love they deserve? You don't have to rock long nails or bold colors; you can simply take the time to trim, shape, and care for your nails, and that will make a world of difference. 
While maintaining your nails at home is doable, there's something special about treating yourself to a professional manicure and pedicure. Set aside some self-care time and indulge in the pampering experience. Let the skilled hands of a nail technician work their magic, and you'll be going home with new nails and a huge boost in confidence. Once you give your nails the TLC they deserve, you'll quickly realize just how fun it is to experiment with trends.
Barbie's world is all about embracing different styles and not constricting yourself. You can go for classic and elegant neutrals like soft pinks or creamy nudes. Or, you can channel your inner Barbie with energetic, playful colors like Barbie's iconic bubblegum pink or a fun coral glaze. Don't be afraid to express your vibrant personality through your nail choices. And, of course, you don't have to stick to shades of pink — while Barbie loves her signature color, she also approves of every other option.
Find your passions and unleash your inner Barbie dreamer
Grusho Anna/Shutterstock
Barbie is not just a fashion icon; she's also a career chameleon who fearlessly explores numerous professions. From being an astronaut to a veterinarian, Barbie proves that pursuing your passions is what life is all about. So, in order to complete a full Barbie makeover, it's essential to discover what makes your heart sing. Finding your passion is like finding the perfect pair of Barbie shoes — it may take some trial and error, but when you finally slip into that passion, it feels like a perfect fit.
"Discovering one's passion is discovering the deeper parts of yourself, who you are, and what your gifts are. It can truly be a powerful place when you connect to your passion or passions," licensed psychotherapist Babita Spinelli tells MindBodyGreen. Keep in mind that finding your passion doesn't mean you have to turn it into a career. It can simply be something you enjoy and pursue in your free time. Maybe you love painting, dancing, cooking, or writing. The possibilities are endless!
Always remember that finding your passion is all about finding joy, fulfillment, and personal growth along the way. And if anything, Barbie has shown us that being multifaceted is a beautiful thing. Don't limit yourself to just one passion. Explore different avenues, try new things, and expand your horizons. Just like Barbie, you can be a teacher, a chef, a writer, or an artist — all in one fabulous package!
Work on perfecting your posture — stand tall and strike a Barbie pose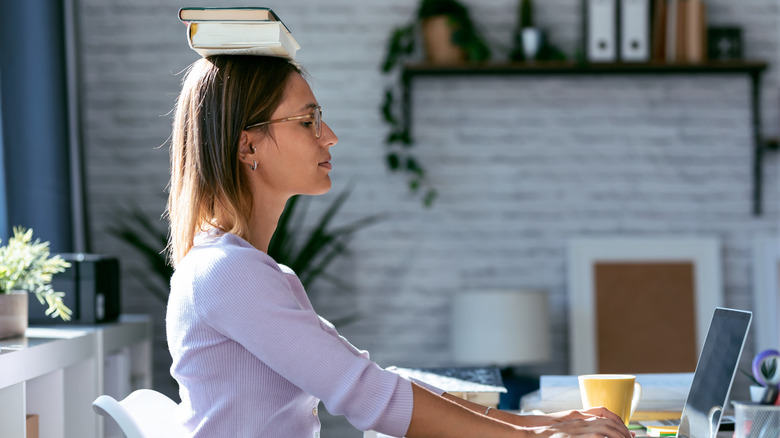 Josep Suria/Shutterstock
Have you noticed how Barbie exudes elegance with her impeccable posture? Well, it's time for us to take a cue from our plastic role model and work on perfecting our own posture. In today's modern world, where we often find ourselves hunched over computers and smartphones, maintaining proper posture can be a challenge. But luckily, fixing your posture is possible — it just takes time and dedication.
First, let's acknowledge that good posture isn't just about looking fabulous — it has many health benefits. Proper posture helps with your energy levels, reduces the risk of joint and muscle pain, and improves breathing (via WebMD). To help improve your posture, try regular exercise and stretching. Engaging in activities that strengthen your core muscles is particularly helpful as these exercises help stabilize your spine and promote proper alignment.
Proper posture involves more than just standing straight. "A lot of people think, at least from what I encounter, that they hold their body in the wrong position," AmSAT-certified teacher Lindsay Newitter tells Shape. "To fix it, they try to hold it in the right position. Neither of these are helpful. Good posture is having a full range of motion in joints and being able to easily find a place that's centered and neutral." If you suspect your posture needs more than exercises and stretches, try seeking professional guidance to assess your posture and guide you on the journey to standing proud.
Make highlighter your best friend and create that Barbie glow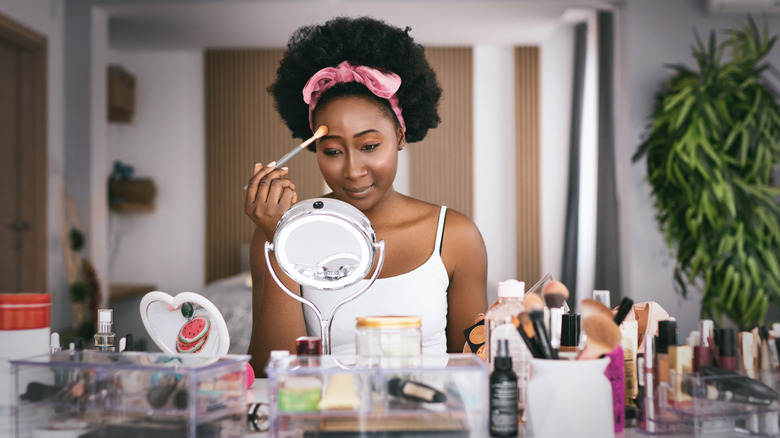 Aja Koska/Getty Images
If you want to achieve the ultimate Barbie makeup makeover, there's one magical product that will instantly add dimension, brighten your features, and make you shine like the star you are. Say hello to your new (or old) best friend: highlighter! This radiant essential should be a staple in every Barbie lover's makeup collection. Highlighter comes in a variety of forms like powder, cream, and liquid — each with its own unique texture and finish.
Some highlighters feature visible glitter particles that create a glamorous, disco-like effect, while others offer a subtle, pearl-like sheen. As far as colors go, you can opt for classic shades like silver, pearl, or gold — all of which are perfect for that timeless glow. However, if you're feeling a bit more brave, why not explore funky hues like pink, purple, or even blue? These shades will make you feel like a glowing Barbie goddess.
Keep in mind that highlighter is not meant to be slathered all over your face. Yes, it is possible to use too much highlighter. Instead, it's all about strategically placing it to accentuate your natural features. The go-to spots include the cheekbones, the tip of your nose, and the inner corners of your eyes. And don't forget the cupid's bow — a touch of highlighter on your upper lip's curve creates the illusion of fuller, pouty, Barbie-like lips.
Barbie's biggest fashion secret: Elevate your style with statement accessories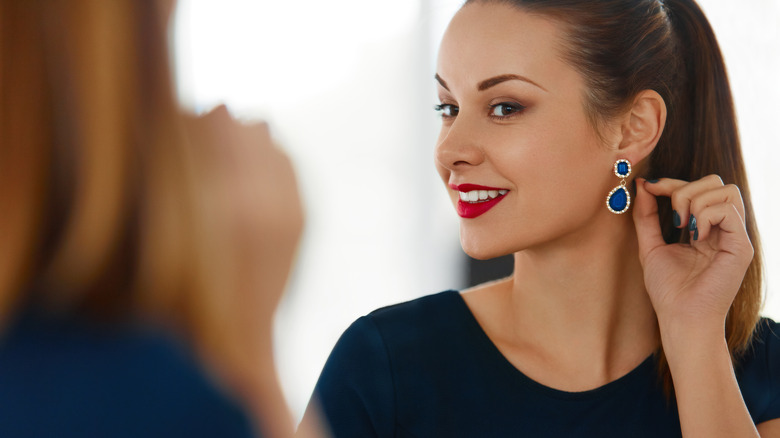 Puhhha/Getty Images
Barbie is known for her bold fashion choices, and her accessories always take center stage. When it comes to transforming your everyday look into a Barbie-inspired masterpiece, never underestimate the power of a statement accessory. Whether it's an eye-catching bracelet or a stunning belt, these fabulous additions can elevate your outfit and take it from basic to Barbie-like in an instant. Think of your accessories as your secret weapon, allowing you to infuse your outfits with that extra touch of glamour and fun.
When upgrading your wardrobe with statement accessories, go for something that truly speaks to your inner Barbie. It could be a pair of bold, oversized earrings with colorful gemstones or intricate designs. If that's not your thing, a beautiful, eye-catching purse may be the perfect statement piece for your look. Opt for a vibrant color, a unique shape, or fun detailing that screams Barbie fabulousness. Now, repeat after us: Barbie never shied away from making a fashion statement, and neither should I.
Practice self-care (because you're a Barbie worth pampering)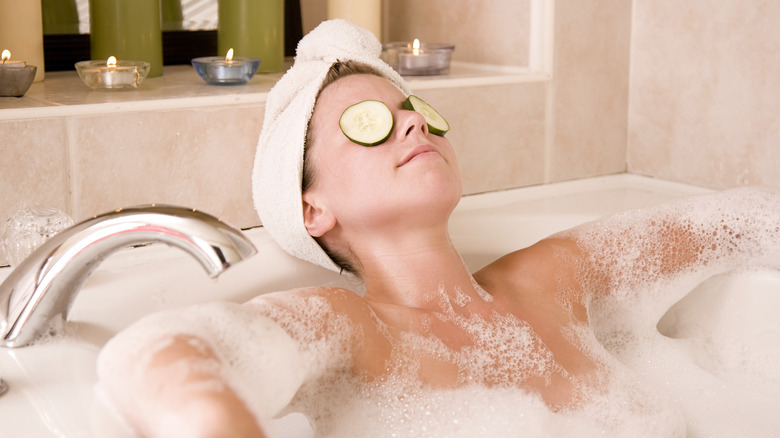 Patrickheagney/Getty Images
In our fast-paced world filled with endless responsibilities and demands, it's easy to forget to prioritize ourselves. But if there's one thing we know about Barbie, it's that she's a happy, healthy girlie, and we should do what we can to be the same. "Self-care is anything that you do for yourself that feels nourishing," licensed psychologist Marni Amsellem tells Everyday Health. "That can be something that's relaxing or calming, or it can be something that is intellectual or spiritual or physical or practical or something you need to get done."
Creating a self-care routine will help you keep your sanity, and it can be as simple as taking a warm bubble bath, practicing meditation, or devouring a good book. The key is to dedicate regular moments to focus only on yourself and nothing else. Physical self-care is equally as important. Regular exercise, nutritious meals, and sufficient sleep all help keep your body healthy.
And don't forget about mental and emotional self-care. This means setting healthy boundaries and learning to say no when needed. Remember, self-care is not selfish; it's essential to maintaining a healthy and fulfilling life. By taking care of yourself, you'll have the energy to give your best to the world. So make sure you create time for activities that bring you joy and peace, whether that be journaling, connecting with nature, or listening to Dua Lipa's music. (We're talking about Barbie; what did you expect?) 
Barbie-inspired hair: Elevate your look by getting highlights or lowlights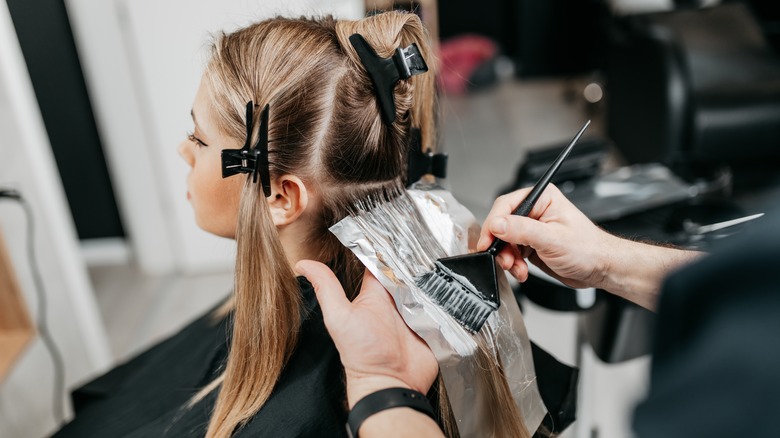 hedgehog94/Shutterstock
When we think of Barbie, one of the first things that comes to mind is her iconic luscious hair. If you're looking to elevate your hair game and channel that Barbie magic, getting highlights or lowlights can be the perfect solution. It's the easiest way to add dimension, visual volume, and a hint of Barbie-inspired allure to your look. Highlights involve adding lighter tones to your hair, while lowlights introduce darker shades. Both techniques can create depth and dimension that beautifully enhance your natural hair color.
While Barbie is often known for her long, flowing blond hair, there are so many fabulous Barbies out there with diverse hairstyles that you can draw inspiration from. Whether you want to go for a sun-kissed beachy look, a bold and edgy style, or even a vibrant pop of color, there's a Barbie hairstyle waiting for you to make it your own. As always, we encourage you to work with a professional hairstylist who can guide you through the process to ensure the end result is as Barbie-like as possible.
Barbie's fashion rule: Don't shy away from being overdressed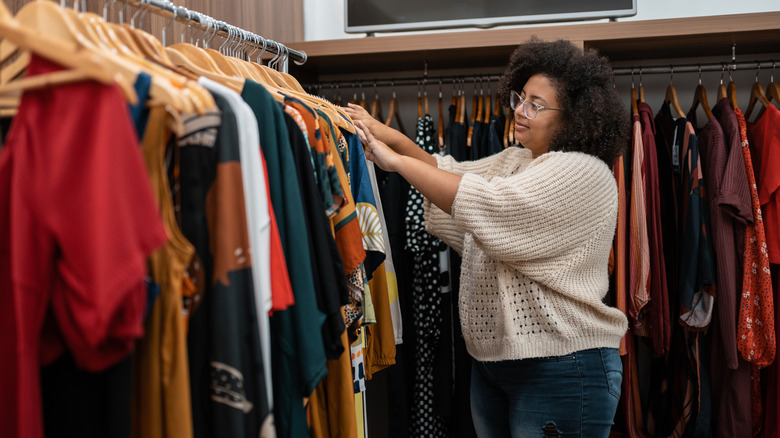 Mesquitafms/Getty Images
As the great Oscar Wilde once said, "You can never be overdressed or overeducated." Frankly, these words of wisdom perfectly capture the essence of Barbie too. So, don't be afraid to embrace your inner fashionista and go all out with your outfits, even if it means being a touch overdressed for the occasion.
Barbie herself is a shining example of always being impeccably put together, as she never settles for anything less than fabulous. So, if you have a little extra time on your hands and want to rock a fun look, why not take the opportunity and put together a glamorous ensemble fit for a life-size doll? However, keep in mind that being overdressed doesn't mean you have to wear an evening gown to a backyard barbecue (although, if that's your style, go for it!).
In this context, being overdressed is all about putting thought and effort into your appearance, ensuring you feel confident in whatever you wear. When you take the time to dress up, you also show that you value the occasion and yourself. Now take a page from Barbie's playbook and make every day a fashion show!
Keep your lips moisturized and glossy à la Barbie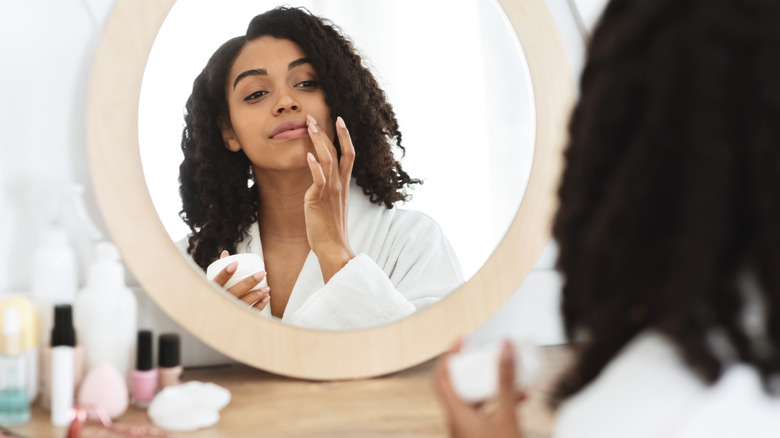 Prostock-studio/Shutterstock
Keeping your lips moisturized is vital for achieving Barbie's impeccably pink pout. One of the first things you need to know is that proper hydration is key (via Medical News Today). Ensure you drink plenty of water throughout the day to keep your body and lips moisturized from the inside out. To maintain soft lips, make a habit of regularly applying a lip moisturizer and reach for products with ingredients such as petroleum or beeswax.
And always make sure you apply lip balm under makeup to keep your lips hydrated all day. Don't forget to exfoliate your lips once in a while to remove any dry, flaky skin. You can gently buff your lips using a soft toothbrush or try a homemade lip scrub using sugar and honey. This simple step will leave your lips feeling soft, smooth, and ready to rock any lip makeup you want.
Speaking of lip makeup, glossy lips are a signature Barbie look. To recreate it, opt for a clear gloss to get a natural shine or experiment with various shades to add a touch of color. And if glossy isn't your thing, Barbie totally approves of matte and satin finishes too!
Believe in your abilities and unlock your confidence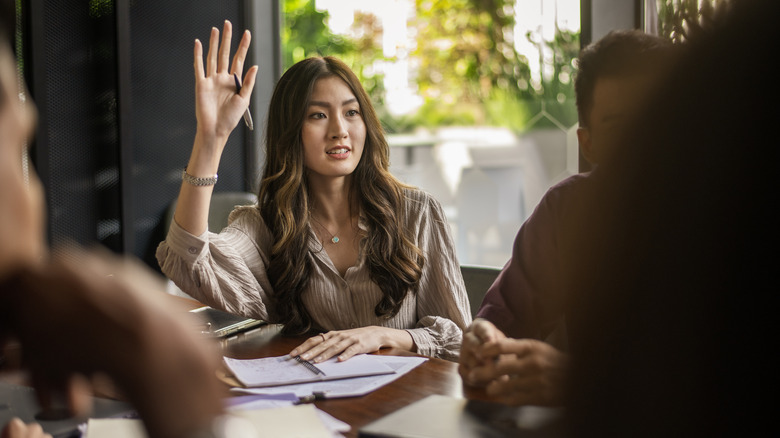 Lim Weixiang - Zeitgeist Photos/Getty Images
Barbie is the epitome of unwavering confidence. She never questions her abilities, doubts her instincts, or settles for less than she deserves. In your Barbie-inspired makeover journey, believing in your own potential is crucial. Just like Barbie, live and breathe the mantra that you can do anything you put your mind to. Trust your instincts and have total faith in your abilities. As cheesy as it may sound, it's true: When it comes to reaching for the stars, not even the sky is the limit!
Now before you skip this tip thinking that there's no way you can be Barbie-confident, we encourage you to take a moment to reflect on your past successes and the hurdles you've overcome. Allow those accomplishments to fuel your confidence and help you banish any self-doubt. Believe in your capacity to adapt, evolve, and overcome obstacles thrown your way. Remember that everyone, including Barbie, starts somewhere, and it's through perseverance and self-assurance that they get where they want to be.
Surround yourself with supportive people and build a circle of encouragement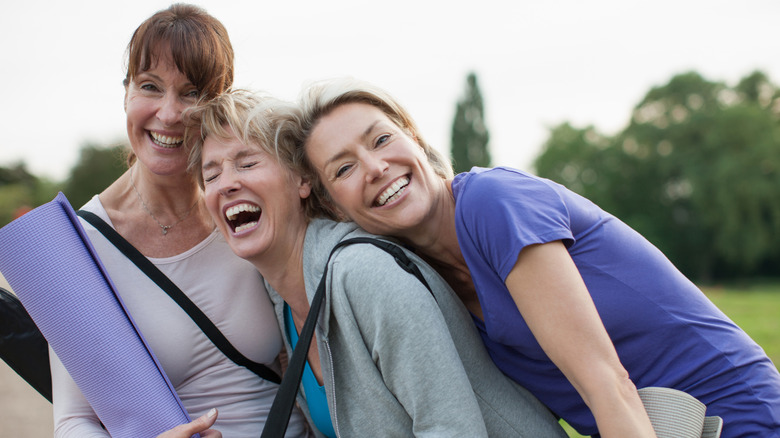 Tom Merton/Getty Images
In Barbie's world, she is never alone. She surrounds herself with a circle of supportive and uplifting friends who inspire and encourage her every step of the way. And yes — that is exactly what you need to do. Surrounding yourself with positive and supportive people is essential for your own Barbie-inspired journey. After all, the people you spend time with influence your thoughts and emotions more than you think, according to the National Institutes of Health. 
Your support system plays a crucial role in your life. They are the cheerleaders who celebrate your successes and are there for you through your darkest hours. They are the ones who believe in you even when you may doubt yourself — and they will vocalize that. Your support circle can consist of family members or friends. There are no rules except for this one: They need to be there for you. 
However, remember that building a supportive network is a two-way street, which means that you also need to be supportive and encouraging to them. Celebrate their successes, lend a listening ear, and provide words of encouragement when they need it most. And just like that, you create a Barbie-inspired community that uplifts and empowers — and is ready to conquer the world together!
Unleash the power of hair accessories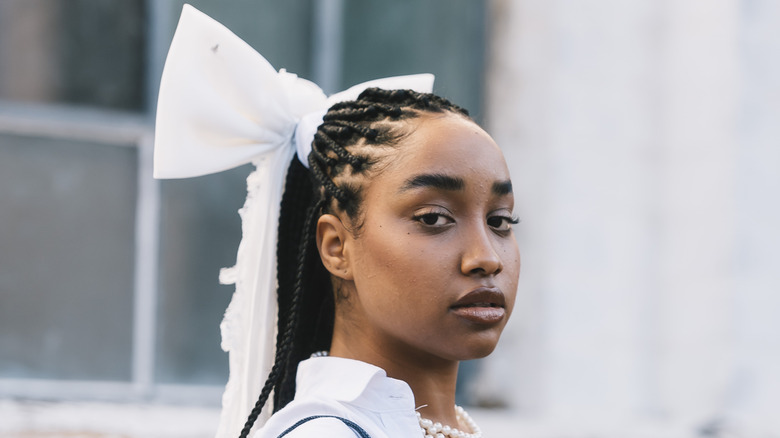 Naomi Rahim/Getty Images
We already talked about accessories in general, but when it comes to Barbie, hair accessories deserve a spotlight of their own. From barrettes to bows, there's an almost endless array of options to choose from. For example, versatile and timeless headbands are having a comeback and aren't going anywhere anytime soon. 
Whether you prefer a classic thin headband or one that is colorful and wide, headbands instantly elevate your hairstyle. Not to mention that they keep your hair in place, which is a huge added bonus. Hair clips, on the other hand, are perfect for adding a dash of color or sparkle to your hair, and they work with virtually any hairstyle. And those are just two examples — there are so many more to explore.
When experimenting with hair accessories, don't be afraid to also mix and match. Combine different types of accessories, layer them, or create unique arrangements that reflect your personal style. Treat your hair like a canvas that allows you to express yourself. Whether you're dressing up for an event or simply adding a touch of fun to your casual look, hair accessories can transform your hairstyle in a second.
Keep your teeth pearly white for a smile as radiant as Barbie's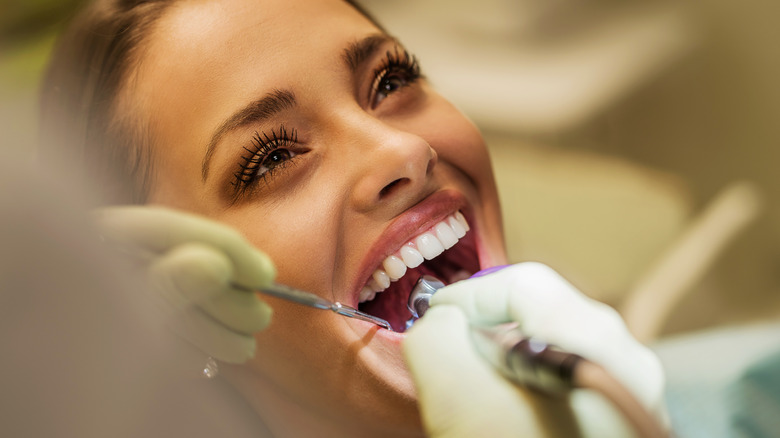 Brauns/Getty Images
A radiant smile is a hallmark of Barbie's appearance, which means it's an important part of this makeover. Luckily, there are guides that help you keep your teeth clean and healthy. And don't forget that taking care of your teeth is great for your overall health — which should always come first.
Now, if you do want to make your teeth a tad whiter, one of the best options is to visit a dentist and get a professional teeth whitening treatment. However, as those can be pricey, it is understandable that most people tend to go for an at-home whitening option first. "Teeth-whitening products are generally pretty safe to use," dentist Alina Lee Lane tells Live Science. "Don't use [whitening products] excessively or leave them on your teeth for longer than the recommended times," she adds.
While Barbie has the perfect smile, you must remember that she is a doll. Confidence shines through a genuine smile, and you have the power to light up a room with it, regardless of how white your teeth are. And according to Personal Dental Office, your teeth don't need to be pearly white to be considered "healthy." Having that said, with proper oral hygiene, regular dental visits, and mindful choices, your smile can radiate with the same brightness as Barbie's.
Shine bright like Barbie with metallic makeup and clothing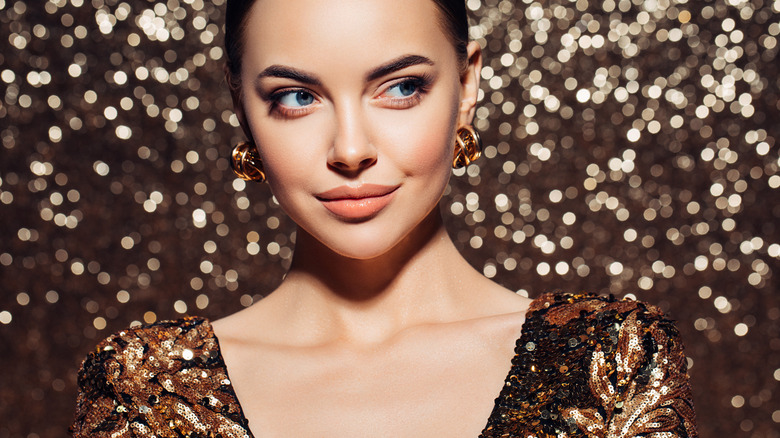 Coffeeandmilk/Getty Images
If you want to add a touch of oomph to your Barbie-inspired makeover, metallic makeup and clothing are the way to go. Incorporating metallic elements into your look can instantly elevate your style and give it a bit of an edge. Metallic makeup offers a myriad of possibilities to experiment with.
For a more subtle look (if there is such a thing when it comes to metallics), opt for a shimmery metallic eyeshadow. If you're feeling bold and adventurous, metallic liquid eyeliners can create dramatic and attention-grabbing cat eyes. And don't even get us started on how stunning metallic lipsticks are! For your nails, you can go for a mix of Barbiecore and metallics — a match made in manicure heaven.
If metallic makeup and nails aren't your thing, consider adding some shine to your look by incorporating metallic accessories. And if you're feeling really bold — yes, queen, we applaud you — go for metallic clothing. From shimmering dresses to metallic tops, skirts, or pants, these eye-catching pieces will make you stand out with their luminous appeal.
Maintain a healthy work-life balance to embrace success and happiness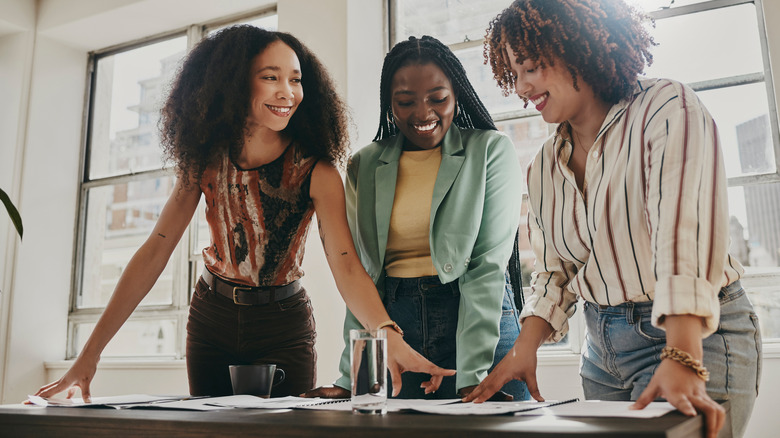 Delmaine Donson/Getty Images
It's easy to get caught up in our fast-paced world and forget about the importance of maintaining a healthy work-life balance. Of course, Barbie herself serves as a reminder that success and happiness can go hand in hand and that it is possible to find harmony between your professional and personal life.
As Forbes notes, a healthy work-life balance is all about setting boundaries and carving out time for both work and leisure. To ensure you're not overwhelmed with work and still have time for your private life, don't be afraid to delegate tasks when possible and avoid taking on more than you can handle. If possible, disconnect from work-related technology and create boundaries around digital engagement.
Avoid checking emails or work-related tasks during your designated personal time. "Without the ability to balance how you work and how you manage your life outside of work, your mental, physical, emotional, and spiritual health suffers," leadership consultant Kathy Caprino reveals to Tatler. "One of the most damaging regrets is 'I wish I hadn't worked so hard and missed out on so much.'" By finding harmony between work and leisure, you'll ensure that you're living a vibrant and fulfilling life, just like our beloved Barbie!
Wear high heels (if you want) and strut your stuff like Barbie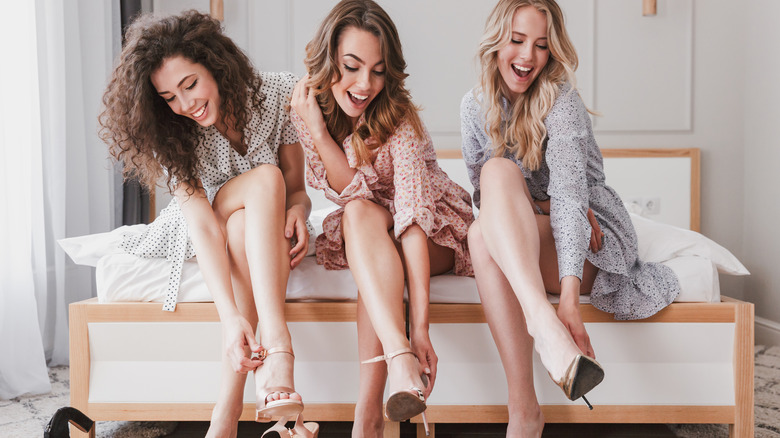 Dean Drobot/Shutterstock
High heels have been a signature shoe choice for Barbie throughout the decades, adding a touch of glamour to her iconic looks. If you're seeking to channel your inner Barbie, putting on a pair of cute heels can instantly elevate your look and make you feel fabulous. Now, if you are team Barbie heels, you know that they can provide you with an instant boost of confidence, making you stand taller and walk with more grace. The added height can also make you feel more empowered.
However, it's important to remember that Barbie doesn't exclusively wear heels, and neither should you. You can totally embark on a Barbie-inspired makeover without compromising the comfort of your feet. Comfortable shoes can also be stylish and trendy — from chic flats to fashionable sneakers, you can create a Barbie-inspired look without sacrificing how cozy your feet are feeling. (But a fun pair of heels never hurt! Well, maybe a little).
Remember, the essence of a Barbie makeover lies in expressing your own personality, celebrating your individuality, and wholeheartedly embracing yourself. Barbie herself has shown us that true beauty always comes from being authentically you!