Kate Middleton Is Proving To Be A Big Fan Of Trendy Mary Janes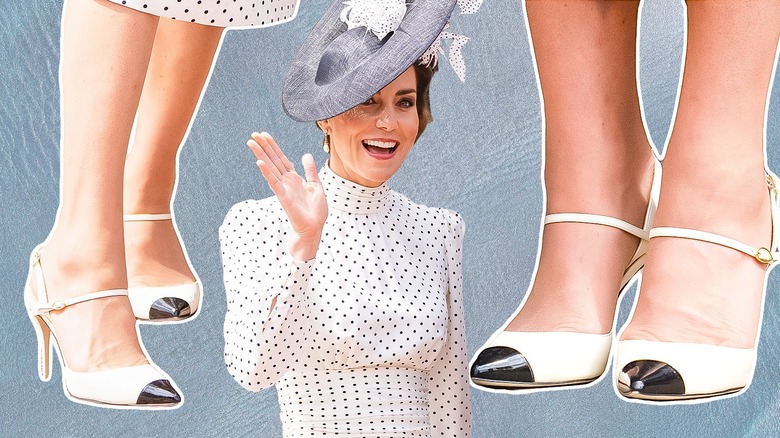 She was a vision in green at the 2023 Wimbledon men's finals and possibly the most classically stunning bride in the history of weddings. Kate Middleton, also known as Catherine, Princess of Wales, has become a fashion icon in her own right. In recent years, her taste has become elegantly refined. While she's not likely to wear anything too trendy anytime soon (she has appearances to keep up that require regal looks, after all), she is the queen of reigniting interest in classic pieces that once seemed fit only for grannies, like polka dot midi dresses and traditional drop earrings. Although in the past she has been known to favor wedges and stilettos, her go-to footwear these days is traditional Mary Janes. Indeed, the classic style is making a major comeback in shoe trend circles, with celebrities like Jennifer Lawrence and Gigi Hadid dressing these kicks up and down to go all around town — but, as usual, no one styles it better than Kate.   
It's easy being green
Kate wore her favorite Mary Janes on an outing to the Anna Freud Centre, where she is a patron, in recognition of Mental Health Awareness Week. She paired the chic two-toned Mary Janes with a retro green dress by Suzannah London that she has worn for more than one public engagement.
Centre Court-worthy footwear
As the royal patron of the All England Lawn Tennis Club, the Princess of Wales takes an active role in Wimbledon each year. In 2022 she presented the championship trophy to men's singles winner, Novak Djokovic, while wearing a classic polka dot dress with her favorite two-toned Mary Janes. 
Dressed up in Mary Janes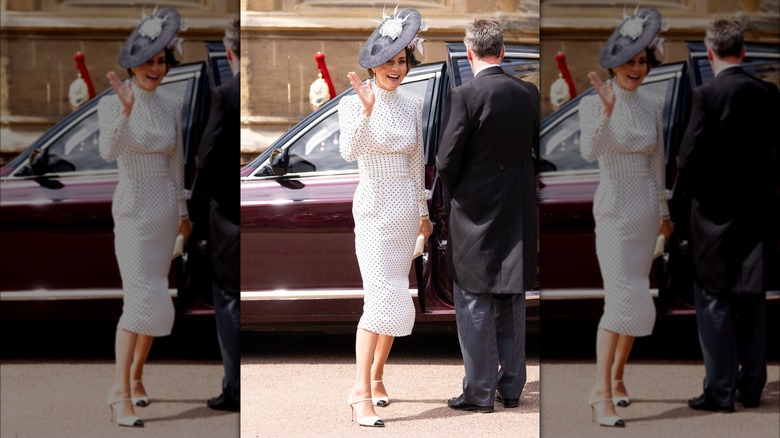 Pool/samir Hussein
The same Mary Janes made yet another appearance at the Order of the Garter Service at Windsor Castle in the summer of 2023, where Kate dressed them up from other occasions. The beloved heels were designed by Jennifer Chamandi and paired with yet another polka-dot ensemble, this time by designer Alessandra Rich. The black cap detail on the shoes is perfectly coordinated with the chic designer hat.
Like mother, like daughter
At the decidedly more somber occasion of Queen Elizabeth II's funeral, Kate's daughter Charlotte showed that Mary Janes are in style at any age. There's no doubt that her mum sported starter Mary Janes just like these as a child, and probably selected them for her only daughter herself.