15 Tips For Planning An Eco-Friendly Wedding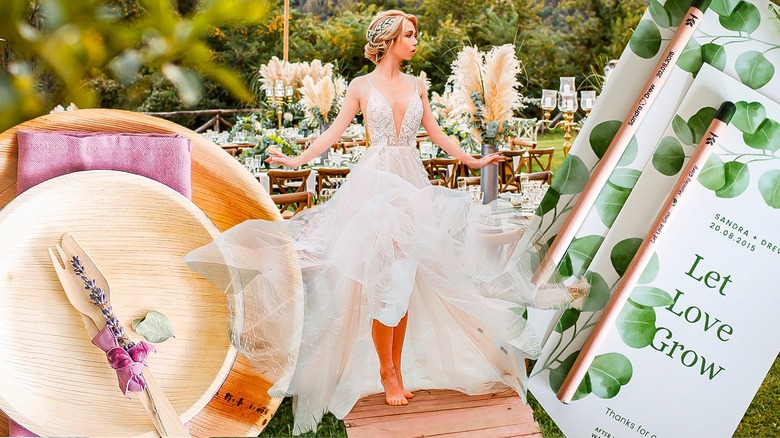 Static Media / Shutterstock
Weddings of the past few decades have continued to grow more and more extravagant. Consequently, so has the amount of waste they produce. The average American wedding only lasts six hours, during which up to 600 pounds of waste and more than 14,500kg of CO2 are produced.
No one wants to see weddings disappear, but many couples are finding it difficult to ignore the impact their special days are having on the environment. Instead, 2023 and 2024 couples are increasingly interested in planning sustainable, eco-friendly weddings, a modern wedding trend with roots in combating climate change, eliminating waste, and reducing their carbon footprint. The Knot's Lauren Kay told Fortune, "We're seeing across the board much more interest and recognition around sustainability."
"I think the pandemic really showed that we could do weddings differently," Bryan Smith, co-creator of the documentary series Sustainably Wed, tells The New York Times. "We can change this industry, and we can still have meaningful celebrations that maybe don't look like they did 10 or 20 years ago, but they can still be really impactful and special." Couples are planning eco-friendly and sustainable weddings by making intentional choices about vendors, venues, and individual values. If you are planning a wedding but unsure how to make it an eco-friendly affair to remember, follow their example by considering these tips for your big day.
Opt for a sustainable or ethically sourced diamond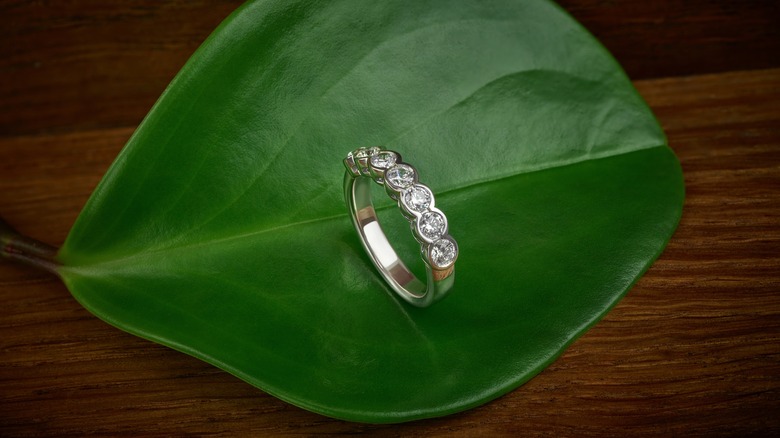 Mark S Johnson/Shutterstock
Planning an eco-friendly wedding can actually start with your engagement ring. Your choice not only symbolizes commitment and promise but can also have a direct impact on the health and well-being of Mother Earth. Diamond rings have been the most popular choice for engagements since the late 1940s, when De Beers, a British diamond company, came up with its signature slogan "A diamond is forever." While that may be true, real diamonds are extremely difficult to mine and cause irreparable damage to the environment as a result. The mines are also often stationed in areas populated by marginalized communities who are continually put at risk by the mining practices.
If you want an ethically sourced or conflict-free engagement ring, there are a number of ways to achieve your bling. Lab-grown diamonds and moissanite are popular, as they have the same, if not better, quality as diamonds and are significantly cheaper. Recycled diamonds, which are taken from old jewelry and recut or reset, are also an option. "Although the original source of the diamonds may be unknown and they may likely have been unsustainably sourced, recycled diamonds prevent continued future harm from unethical or improper diamond mining practices," fine jeweler Azra Mehdi shares with Brides.
Keep in mind that you'll need to do your research to determine which diamond dupe is right for you. You'll also have to research the place you buy it from to ensure their business practices are sustainable.
Select a venue that values sustainability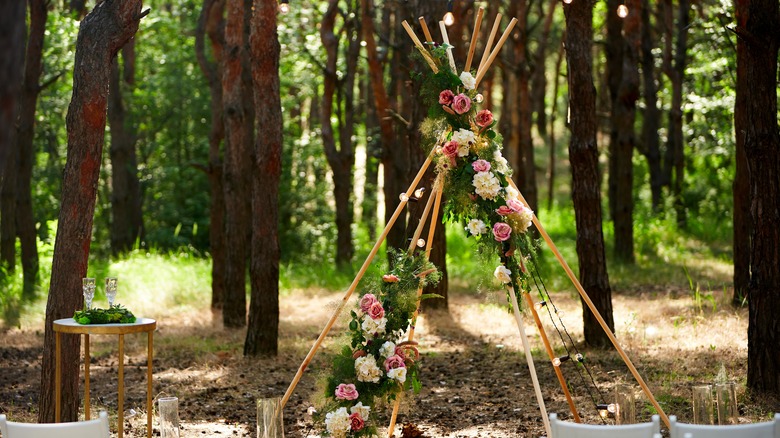 Artie Medvedev/Shutterstock
The venue is one of the first vendors couples normally lock in during the wedding planning process. Selecting a venue that values sustainability and has practices in place for their staff and daily operations, as well as their couples, is a key factor in throwing an eco-friendly wedding. Eco-conscious wedding venues can look and operate in a number of ways. Some run off solar panels or have built their structures from locally sourced or recycled building materials. Some prioritize composting to reduce food and floral waste, while others work exclusively with vendors in their community who share a passion for sustainable business practices.
The best way to figure out if a venue is the right choice for your sustainability efforts is to ask questions. Asking about their recycling and garbage plans, rental options they offer, and if they use renewable energy sources are great questions to gauge a venue's environmental impact. "The LEED certification process ensures that the venue is functioning in a sustainable and energy-efficient manner," Sachin Khona recommends to Junebug Weddings. "This includes water savings and materials selection. You'll feel better knowing your wedding is housed in a caring environment."
Looking for outdoor venues that harness the beauty of nature can also make a difference in the amount of single-use decorations you end up buying. The emphasis on natural light and gorgeous natural backdrops will make for beautiful wedding photos and keep your sustainability efforts high.
Choose your vendors wisely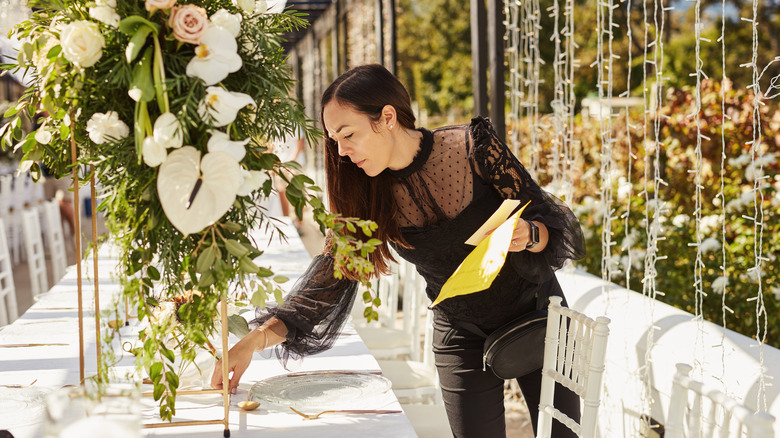 Luminola/Getty Images
Once you have selected your venue, you can begin choosing which vendors you want to help make your wedding vision come to life. Choosing your vendors wisely is just as important as choosing a sustainable or LEED-certified venue. This is due to their expertise as well as their environmentally friendly business practices and materials, which will help you successfully plan a green wedding.
Vetting potential vendors is all about asking the right questions. In addition to knowing what they charge for their services and looking at samples of their previous work, you'll want to know how they deal with waste at the end of a reception, what kind of suppliers they use, and if they use recycled or sustainable packaging materials. You can ask florists if they use floral foam or not, and ask caterers if they source their products from local farms or co-ops. Understanding a vendor's policy on single-use items like balloons, plastic straws, or plastic products can also be a good indicator of their environmental impact.
Have a plan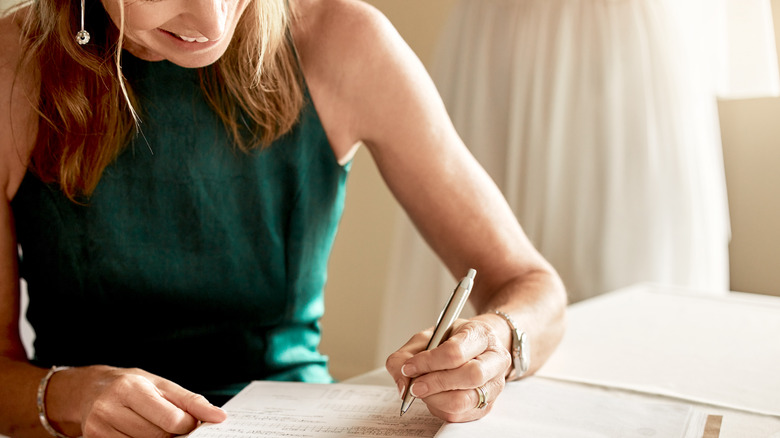 Kobus Louw/Getty Images
Having a plan for your decorations, clothing choices, flowers, and food is essential for throwing a sustainable wedding. Wedding planner and YouTuber Jamie Wolfer, whose videos are popular for DIY brides, stresses the importance of reducing the volume of items you purchase when planning an eco-friendly wedding. Especially until you're sure you will use it. "Before you go out and purchase anything, and I do mean anything for your wedding, make sure you have a plan," she says in her video "How to Have a More ECO-Friendly Wedding." "I got so excited to design and do things for my event that I just kind of went out and started buying things, and then realized later on that I purchased things I couldn't even really use ... make sure you have a plan going into it which will inevitably reduce the amount of things that you're buying."
Not only will having a plan limit the amount of waste you create, it will also bring down the cost of your entire event. The average couple spends between $2,000 to $10,000 on decorations alone, with high-end indoor receptions tipping the scales at more than $20,000. Knowing exactly what you need to buy (or rent) ahead of time can prevent unnecessary spending. Planning ahead also allows you to make educated decisions on products you will use throughout your day. You can choose Fair Trade products for your decorations, for example, or spend time thrifting the exact amount of items you will need for your event.
Embrace rentals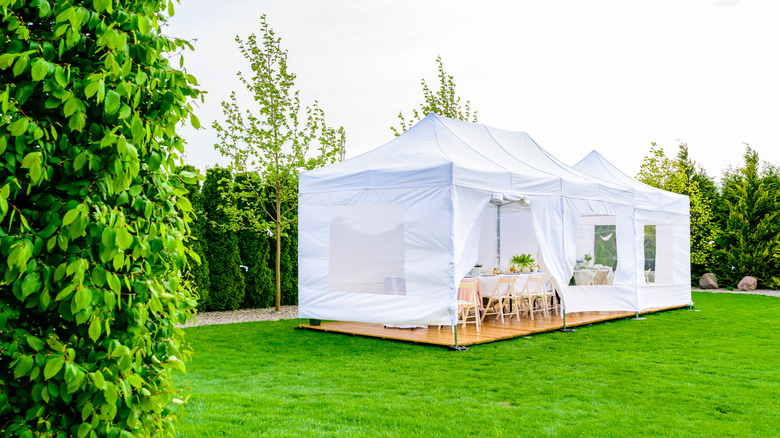 bubutu/Shutterstock
Rentals from a local vendor or your chosen venue are a lifesaver when it comes to planning an eco-friendly wedding. Rentals are by nature reusable, which means you don't have to spend a fortune on single-use tables, chairs, linens, or décor. You also don't have to go through the hassle of reselling anything afterward. Furthermore, renting items like furniture and décor for your wedding cuts down on emissions produced when shipping products you may or may not use to your house. "We try to encourage couples to think about the life cycle of a product," Michelle Miles, founder of the Sustainable Wedding Alliance, tells The New York Times. "So, for example, if you are ordering table runners or napkins, can they be hired rather than purchased?"
Clothing rentals are also a sustainable option, particularly for men's suits. Purchasing a brand-new suit entails having it manufactured, shipped, and tailored, all of which produce emissions and fabric waste. The bleaches and dyes used during the manufacturing process also contribute to water pollution and can have a negative impact on the communities where products are made. There are numerous suit and tuxedo rental options available online that can help break this pattern for your wedding, and many local suit shops provide suit rentals as well. Your man will look amazing, and you'll both feel better knowing you've made a positive impact on the planet.
Wear pre-loved clothing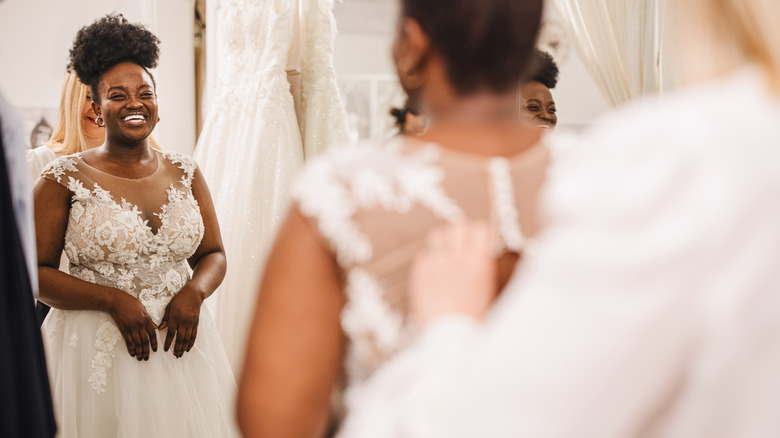 Anchiy/Getty Images
Pre-loved clothing is also an option for brides, and one that is becoming more and more popular as inflation soars and the cost of wedding dresses rises along with it. Views of pre-owned wedding dresses in 2018 increased by 93% in addition to a 42% increase in searches for vintage and secondhand wedding dresses. "Brides — and millennial brides in particular — are becoming more conscious consumers and want to see their dress worn more than once," Bruno Szajer, CEO and co-founder of secondhand bridal website StillWhite, tells Glamour. "They're looking at it from a sustainability perspective and understand that buying secondhand is better for the environment."
The demand for secondhand wedding dresses is high enough that, even with strange bridal sizing and the need for tailoring or hemming, most brides can find a dress that works for them. Websites like StillWhite, The RealReal, and PreOwnedWeddingDresses.com are accessible and user-friendly platforms to find pre-loved dresses for a fraction of what they would cost from a bridal store. These sites also sell secondhand accessories like veils, shoes, and jewelry. "Veils are only worn for part of the wedding, so thrifting one keeps you from spending a large sum of money on something that will be barely used," wedding and elopement planner Sean Oblizalo tells Insider.
Thrift wedding decorations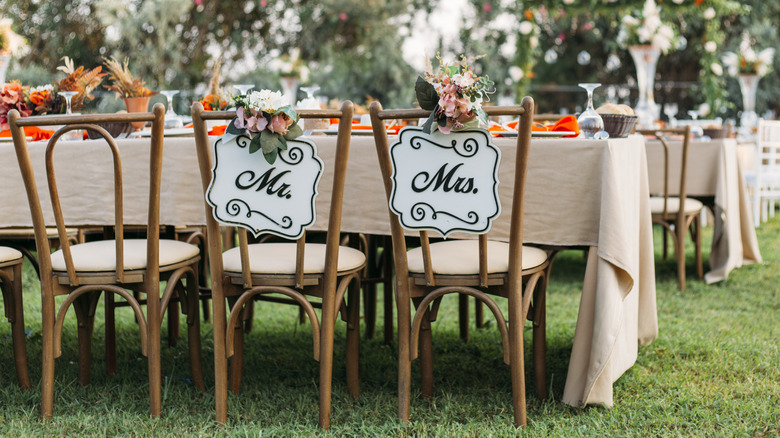 Hsyncoban/Getty Images
Stick to the reduce, reuse, recycle mentality by thrifting your wedding decorations. "Thrift stores usually have an array of vintage and unique frames that cost just a few dollars, which is a steal compared to pricey new frames," Bonnie Gringer shares with Insider. "Tablecloths and linens are the perfect items to thrift, as the fabric is usually long-lasting and can withstand years of reuse." In addition to linens and décor items like picture frames, thrift stores and online spaces like Facebook Marketplace are great places to find plates, glassware, silverware, vases, table runners, napkins, and more.
Of course, there are a handful of items you probably shouldn't thrift for your big day. Upholstered furniture and pillows that can harbor pests or bad smells should be avoided, while secondhand paper products like guestbooks or table numbers can look ratty. Focus on buying paper products made with recycled materials instead to maintain a beautiful but environmentally friendly wedding.
Keep your guest list small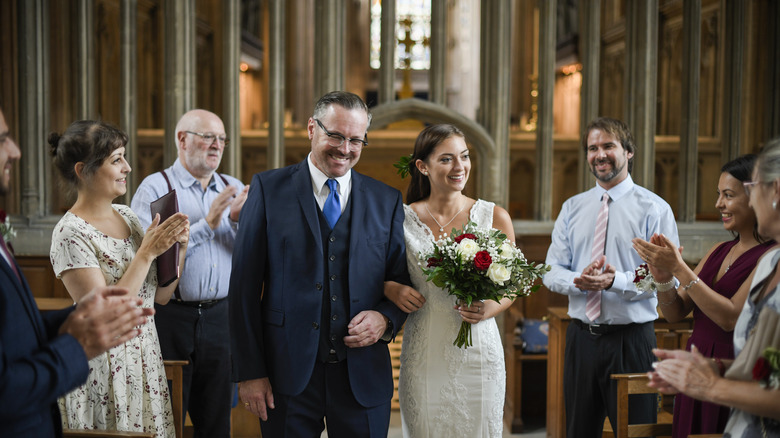 Rawpixel/Getty Images
Post-pandemic micro weddings and elopements are increasingly popular, not only with couples who want a more intimate wedding day but with those who want a sustainable event. The small, intimate affairs have become more normalized for their focus on the couple's values and relationships.
"A micro wedding takes away the feeling that you need to invite everyone you know just because there is room at your venue, from your mom's distant cousins to your former co-workers," wedding planner Kelsey Caligiuri tells Brides. Caligiuri notes small guest lists also lower the overall cost of your wedding. "Couples are able to spend less money on their wedding, while also being able to add in more details. Wedding costs can be extremely high and couples are able to both celebrate their love and put the money they saved towards a house, or starting a family."
Having a smaller guest list generally means fewer resources are needed to feed and entertain them. This means less consumption, less water, and less overall waste. There will also be fewer people that have to drive or fly to your wedding, cutting down on emissions and limiting the carbon footprint of your wedding day.
Be intentional with your invitations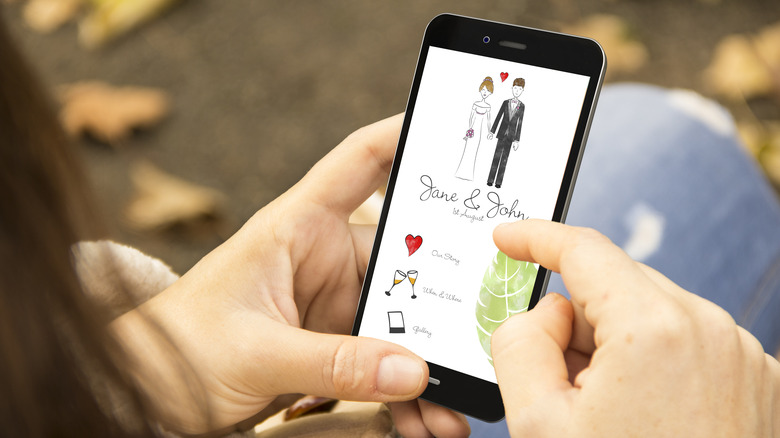 Milindri/Getty Images
Printed wedding invitations are a beautiful tradition to announce your pending nuptials. They offer invitees a glimpse at your wedding's aesthetic and vibe, they can be used to elevate detail shots on your wedding day, and they make lovely keepsakes. But wedding invites use a lot of paper, and the majority are thrown away soon after being opened, making them a pretty unsustainable choice. If they have a plastic coating or contain elements like glitter, they can't even be recycled.
Digital invitations are an increasingly popular way to spread the word about weddings. They are free to create and send, and you don't have to deal with postage or worry about the impact their creation had on the planet. These invitations can be just as aesthetically pleasing as a paper invite and fit in with your chosen theme. You can create your own image file and send it as an individual email to each guest, or utilize one of the many Evite services available online.
If you're partial to wedding stationery because you want the memento or want to keep tech-illiterate relatives happy, that doesn't mean you are doomed to have an unsustainable wedding. Many couples opt for a paper invite but keep the registry information, reception details, save the date, and RSVPs digital. It all comes down to what you value, but being intentional with how you send and distribute your invitations can go a long way in keeping your wedding sustainable.
Have a green wedding registry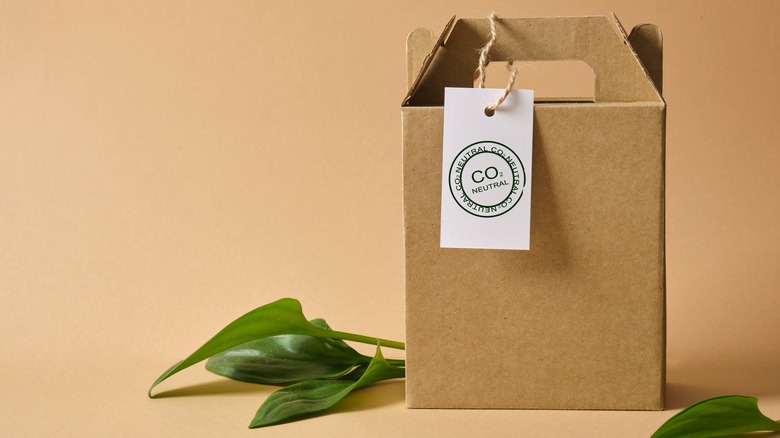 TShaKopy/Shutterstock
Eco-friendly wedding registries allow couples to be mindful of the types of products they are registering for to help maintain (or begin) a sustainable lifestyle. Green wedding registries like Everlastly break down the quality and environmental impact of each product on their site to make registering a more transparent process for you and your guests. You can also focus on registering for sustainable items like silicone cupcake liners, Fair Trade home goods, or bamboo linens. You get the items you need to start your new life, and everyone who participates does a little bit of good for the planet.
Of course, if you are one of the 76% of couples who live together before you get married, chances are you already have many of the items you would traditionally put on a registry. While there's no harm in upgrading some of your home essentials, items that don't require shipping – like gift cards, donations to your favorite charities, or eco-friendly honeymoon activities — are also good to include.
Choose locally sourced flowers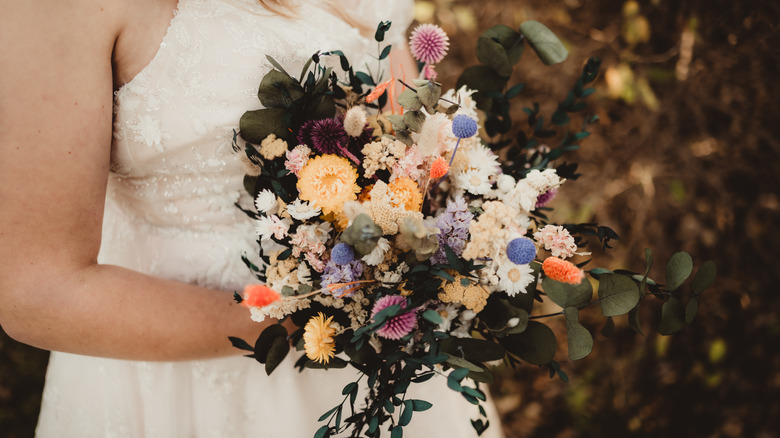 Madisonwi/Getty Images
Hosting an eco-friendly wedding is made easier with locally sourced, in-season flowers. For most brides, the flowers they choose tell a story about their relationship, their wedding, and their personality. But if you want peonies in December, tropical blooms, or specialty flowers that have to be shipped overseas, you are looking at a high price point and a high environmental cost.
Choosing locally sourced, seasonal flowers from a florist you trust is an eco-friendly option that will still give you the bouquet of your dreams. Seasonal flowers that don't have to travel to you are fresher, more vibrant and fragrant, and typically last longer than flowers that have to be shipped. They don't generate any cardboard or plastic waste as a result of being shipped either. Buying locally is also a good way to support farmers in your community and boost your local economy.
If you're not big on flower arrangements either way, consider a creative and reusable option like potted plants. "We once had a client want to walk down the aisle with kale as her bouquet; she used potted plants and herbs as her centerpieces," floral designer Sarah Johns tells Martha Stewart. "Guests were able to take the centerpieces home and replant those herbs and plants."
Use compostable table settings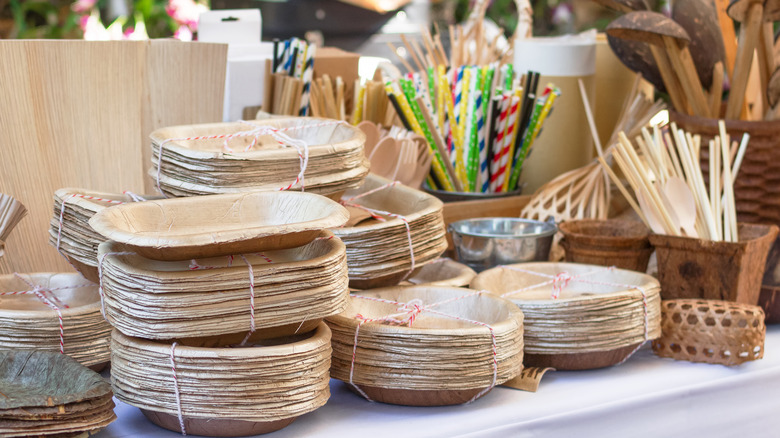 Undefined Undefined/Getty Images
If you're throwing a backyard wedding reception or a DIY bash, choosing compostable tableware is a sustainable solution that gives back to the earth. They come in a variety of shapes and styles to suit any wedding aesthetic, with all the sturdiness and durability of a regular plate. This biodegradable option is safe for the environment and breaks down without leaving behind any toxic chemicals. Compostable tableware is also light and smooth and comes in neutral colors that fit in with any color theme.
Although paper tableware is inexpensive and biodegradable, it takes significantly longer than compost-friendly options made from bamboo or other plants. Palm leaf plates are an exceptional and durable earth-friendly option. They are made from areca palm leaves that have fallen to the ground, meaning no trees were harmed in their creation. Recycled sugarcane plates can break down in three months, while tableware made from bamboo can take as little as 45 days to break down completely.
Skip the rice toss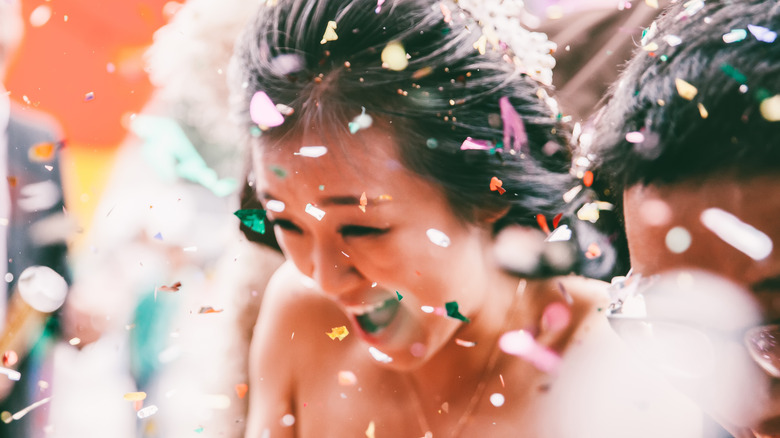 Chalffy/Getty Images
Although the tradition has its roots in well wishes, fertility, and blessings for a strong and fruitful marriage, throwing rice at the end of a wedding ceremony has seen its decline in recent years. There are environmental concerns with rice or paper, which can potentially harm wildlife in the vicinity. As a result, a 2021 YouGov survey found that 33% of couples don't believe the tradition should continue.
In lieu of rice for their grand exit, couples are choosing to throw flower petals, dried herbs, or leaves or have their guests blow bubbles. "I've had some clients, during the ceremony, start with something in their hand, like a rock, and they will give it to the first person and ask them to pass it on," wedding planner Katie Hall tells Well + Good. "In the end, every single person there touches it and the couple can bring it home. When they're going through rough times, they can hold it and say, 'These 150 people were witnesses to the fact that we love each other and are our advocates.'"
Opt for edible or eco-friendly favors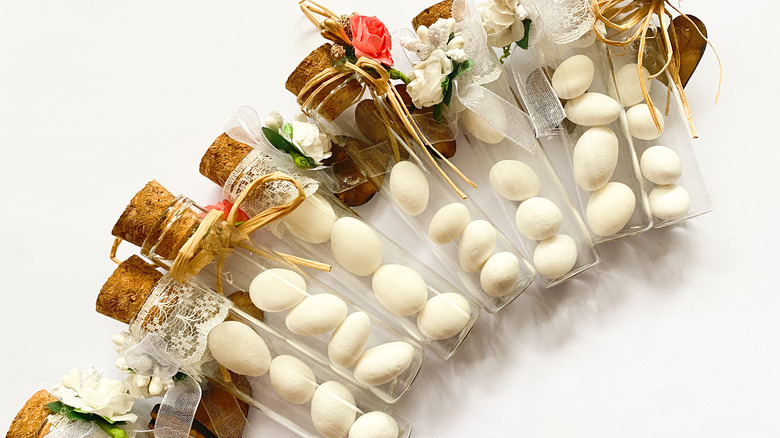 Begum Unkun/Getty Images
Favors are a huge point of contention for modern weddings. Some couples don't believe they are necessary. They are an added cost that many guests forget to take with them, leading to waste at the end of the night. Other couples love the personalized touch that favors bring to their wedding day.
If you're in the pro-favors camp, opting for edible or eco-friendly wedding favors can keep your wedding sustainable. Favors like personalized dog treats or the couple's favorite mini-bottles of alcohol that serve as escort cards are a good way to show off your personality and give guests something they'll actually enjoy. Edible favors are even better. "Guests would much rather enjoy an 'edible' favor, such as a donut from a donut wall or a burger from an In-N-Out Truck after drinking and dancing the night away," wedding planner Danielle Leilani tells The Knot. "Another sustainable favor idea might be a pack of seeds your guests can take home to start a garden."
Ditch grand exit lanterns and balloons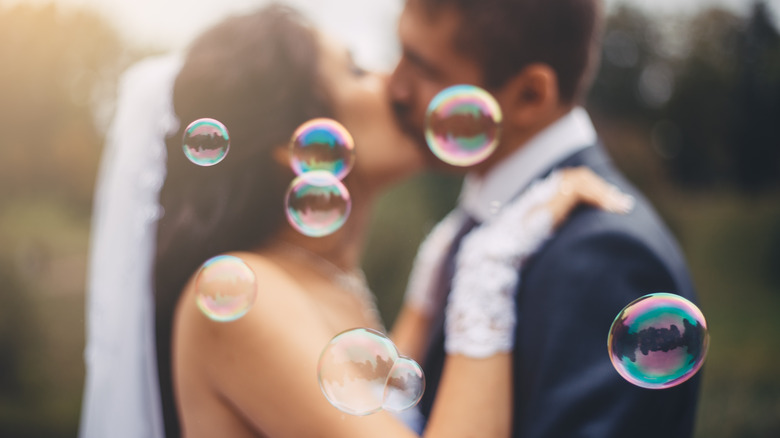 Vadven/Getty Images
Grand exits at the end of a wedding reception are spectacular to witness and make for gorgeous photos. However, kicking off your new marriage with a celebratory balloon drop or a release of sky lanterns, while beautiful, are major environmental hazards. Sky lanterns, fireworks, and sparklers can be a fire risk, while balloons can be ingested by or end up wrapped around the necks of wildlife.
Instead, you can enjoy your grand exit guilt-free with reusable or eco-friendly options. Lining your exit path with luminaries powered by LED candles will make for a warm, glowing farewell, and the candles can be reused for future parties you and your spouse throw. If you're interested in petals or flowers but your venue doesn't allow them for clean-up purposes, consider silk blooms that can be easily collected and reused after the honeymoon. You can also encourage guest participation by having them blow bubbles, wave colorful ribbon wands, or jingle bells on either side of your walk to your getaway car.