The Victoria Beckham-Approved Method For Doing Your Eyebrows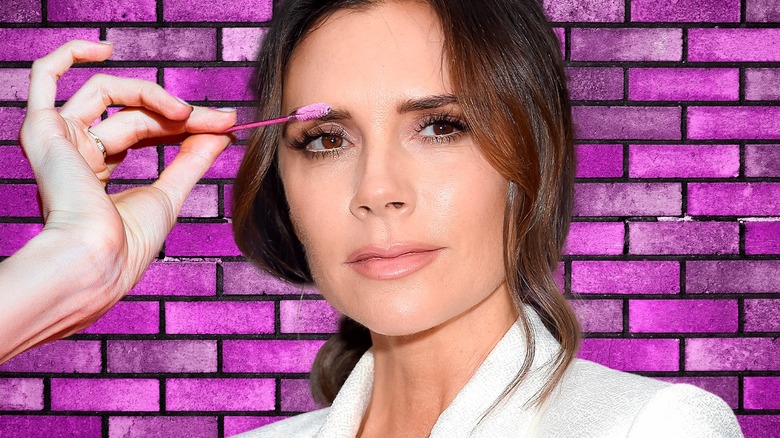 Static Media / Shutterstock / Getty
Victoria Beckham has come a long way since her days as Posh Spice, member of the Spice Girls. From cosmetics to clothing, Beckham has become synonymous with high fashion. Now, with the launch of her beauty line's first brow product, it's Beckham's eyebrows that are doing all of the talking.
For Victoria Beckham Beauty, Beckham launched the BabyBlade Microfine Brow Pencil, which features a creamy pencil tip on one end and a spoolie on the other end. As of this publication, the product comes in six different shades to suit any brow color. It promises to glide on smoothly and provide users with the utmost precision. With a pomade-like consistency, it's also designed to last the entire day without running or smudging. "I'm very particular when it comes to brow products, and I wanted to create the ultimate multitasking brow product," Beckham told Byrdie. "Using BabyBlade, I can create the finest individual hairs to fill in my eyebrows for a natural look. I was inspired by our bestselling Satin Kajal Liner and wanted to take this ultra-creamy, long-wearing formula and translate it into a brow pencil, and I think we've succeeded."
However, technique is everything when it comes to crafting the best brows for your face. As Beckham shows, a feathery look should be the end goal.
Beckham blends her brows for a feathery look
One of the biggest regrets Victoria Beckham admits to is over-tweezing her eyebrows as a part of the popular 90s trend. Now that we're well past the age of micro-thin brows and embracing our natural ones — no matter how bushy they may be — Beckham is helping to lead the charge. With her BabyBlade Microfine Brow Pencil, the former Spice Girl finishes off her look by blending. "I use the shade Medium Brown to create fine strokes that mimic natural hairs and brush through quickly to blend for a defined yet natural brow look," Beckham detailed to Byrdie. She also expressed her love for bushy, feathery brows, and her belief that brows should look like "sisters," rather than "twins." "I don't want a brow look that is too perfect or forced," she told Byrdie.
Given how much time and effort she puts into her iconic brows, it's no surprise that Beckham is serious about who sees her without them finely polished. In the past, the fashion mogul has revealed that her husband, soccer great David Beckham, has never seen her without her brows perfectly made up. She has credited her beauty line's brow product for restoring her confidence after becoming self-conscious about her eyebrows after the over-plucking era.
How to create Victoria Beckham-inspired brows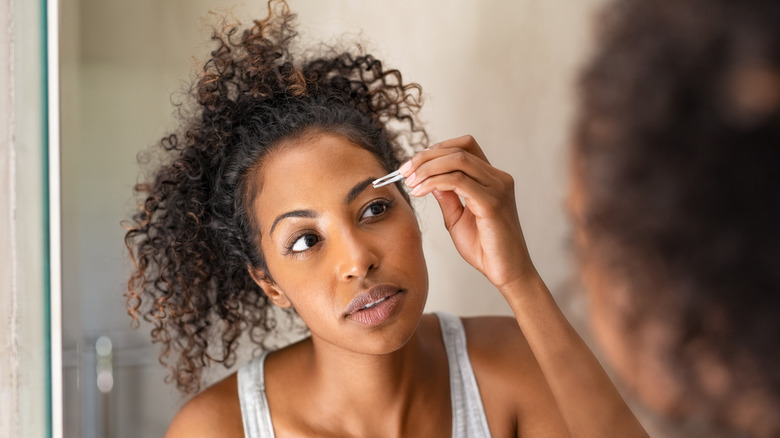 Ridofranz/Getty Images
Victoria Beckham might be turning to blending to create the perfect brows, but she isn't the only one — this method is a well-known foolproof way to create a more natural look. With the right products and technique, you can fine-tune your arches in minutes.
It's important to keep in mind that eyebrow hairs often consist of different colors. If natural is what you're going for, work with brow pencils in two different hues — one dark and one light. While it might seem counterintuitive, both shades will come together once you blend.
Even if you want to achieve thick, feathery brows like Beckham, remember that fine strokes are key. Instead of filling in your brows with bold strokes, go slowly and flick your hand upward to gently create depth. Remember to work in the direction of your hair growth to ensure that the end result has your brows looking as natural as possible.
When it comes time to clean up and shape your brows, do your best to avoid over-plucking. As you work with a tweezer, target out-of-place hairs and leave the rest in place — you'll be glad you did when it comes time to apply your brow makeup.