How To Get The Shoe Loved By Meghan Markle & Kate Middleton On A Budget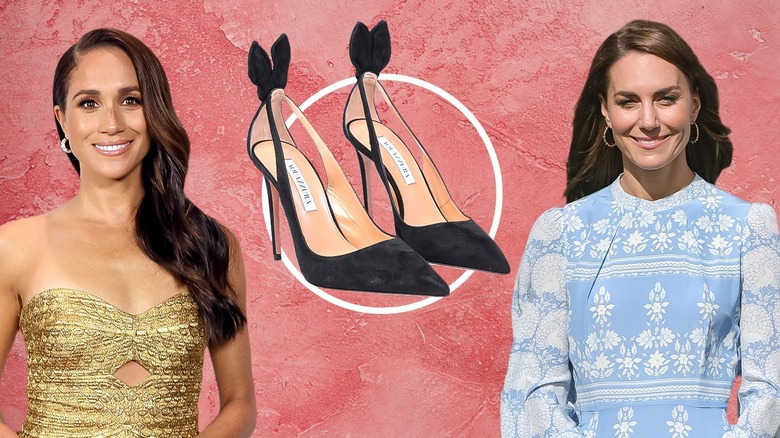 Static Media / Shutterstock / Getty
Accessories are arguably the most influential aspect of royal fashion — the curated looks of the British royal family never neglect the details, whether it's hats, handbags, or tiaras. But the style item that inevitably catches the eye of royal fashion fans is the fabulous shoes. Meghan Markle and Kate Middleton are both known for their taste in refined, modern heel designs and occasionally, their shoe collections will even intersect, giving a lucky pair of heels the ultimate endorsement for posh style. One such pair is the Aquazzura Bow Tie Pump 105. The Duchess of Sussex has been seen regularly sporting the Aquazzura Bow Tie Pumps since 2018 when she debuted the black suede shoes during a visit to the Royal Academy of Arts. In May 2023, the Princess of Wales joined in on the love for the sleek high heels and wore them during the coronation rehearsal for King Charles III.
The Aquazzura Bow Tie Pumps are everything you want. From a versatile black heel and a smooth silhouette to strong pointed toes, luxurious Italian suede, and a touch of cuteness via a knotted bow on the back. Tragically, these Aquazzura shoes sit far out of most folks' price range, with the designer heels typically costing $850. While you can always sniff around for a discount — at the time of writing, Neiman Marcus had the nude version of the shoes on sale for $332.80 — your best option for replicating this gorgeous look is to find the perfect Aquazzura dupe.
The best Aquazzura Bow Tie Pump dupes
Aquazzura has only been around for just over a decade, but the Italian shoe brand has already become synonymous with good taste. Aquazzura pumps are balanced, mature, and a little bit sexy, which is exactly what you should be looking for in any Aquazzura dupe.
For a variation on the Aquazzura Bow Tie Pump style at a much friendlier price point, we recommend Lulus Sarika Black Suede Pointed-Toe Slingback Bow Pumps, available for $39 at the time of writing. This shoe is almost a precise match for the Aquazzura originals. The pointed toe, suede material, and slingback style are all spot-on. The only key difference is the shape of the bow, which is slightly larger and has a more traditional bow appearance. The Aquazzura pumps have an upturned knotted bow that definitely feels more unique and stylized than the Lulus version, but for only $39, we're happy to deal with a difference in bow design.
Another intriguing option is the Coutgo Womens Ankle Strap High Heels, which are open-toe suede heels with a charming bow on the back. They are currently priced at $45.99. These aren't a one-to-one match for the Aquazzura Bow Tie Pumps, but they're a fun take on the style and ideal for summer events. And although these heels aren't slingbacks, the shape of the ankle strap creates a similar visual effect.
How to DIY the Aquazzura Bow Tie Pumps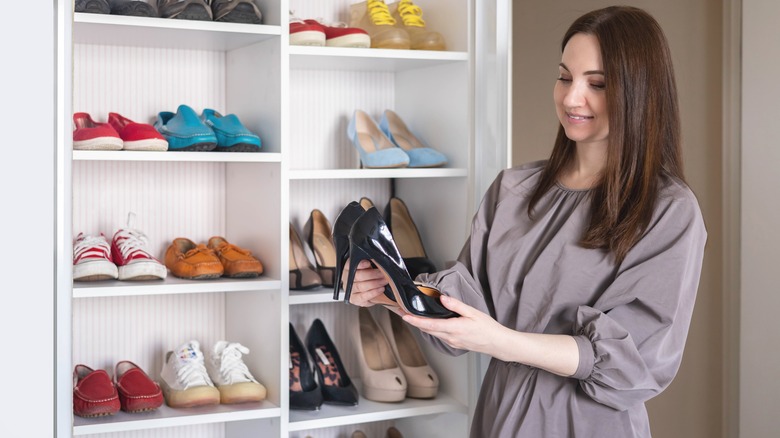 Kostikova Natalia/Shutterstock
If you can't find a pair of suede bow-tie heels that you love, it may be time to get a little crafty. Adding bows to shoes is a relatively easy DIY project; all you need is a pair of shoes, ribbon, and some glue. Start by selecting a pair of plain black pumps. If you don't already have a pair similar in style to the Aquazzura Bow Tie Pumps, we suggest the ASOS Design Samber Slingback Stiletto Heels, which, at the time of writing, are on sale for $32. 
Next, you'll need some ribbon. Find ribbon in a soft material that can match suede, like black velvet ribbon. Be mindful of the width of the fabric — if it's too wide, you'll end up with a chunky bow. Once you have the ribbon, experiment with tying different bow styles until you get a shape and size you like. Tie two bows, one for each shoe. Then, using glue (ideally a hot glue gun for durability's sake) attach the center knot of the bow to the back of each shoe, being careful not to interfere with any buckles or fasteners. Let the glue dry, and presto: you have a pair of knockoff Aquazzura pumps. Style takes effort, but it doesn't have to be expensive — with some thorough shopping and a little handiwork, you can possess beautiful shoes that'll take you anywhere from London to Montecito.