The Handbag Brand That Was A Favorite Of Queen Elizabeth's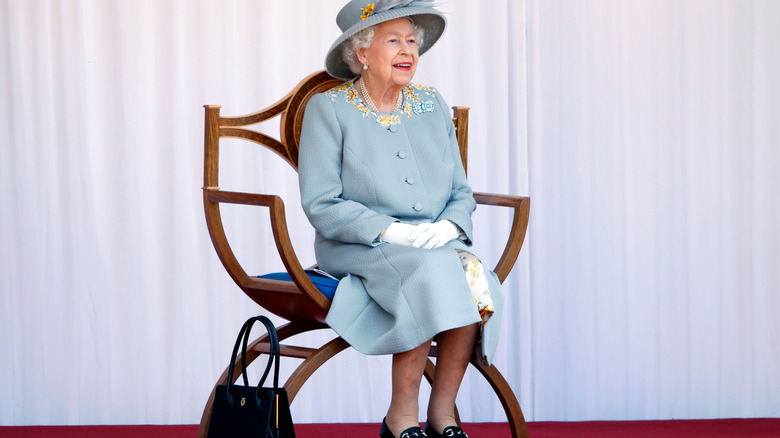 Max Mumby/indigo/Getty Images
Queen Elizabeth was a fiercely loyal monarch, both to her country and to her favorite clothing and beauty styles. She stuck with one coiffed hairdo for her seven decades of reign, wore the same nail polish for roughly 30 years, and was scarcely seen in the colors black or beige. The same can be said for the queen's love of handbags as it was an accessory she was rarely seen without. In fact, during her last public appearance with the U.K.'s new Prime Minister Liz Truss, the queen was photographed with a handbag on her arm.
Because handbags reflect a sense of personal style and provide a way to keep personal items near, they are a key addition to outfits for many people. For Britain's longest-serving monarch, in particular, handbags were to her like spike umbrellas were to James Bond: an ever-present necessity. According to The Mirror, Queen Elizabeth's handbags were used to send secret signals to her staff and finesse her way out of tough situations. For example, if she placed her bag on the ground instead of the table, it meant she wasn't having a good time and wanted a staffer to come to her rescue.
For an accessory that carried such importance, it's no surprise the late monarch had a favorite handbag maker. She reportedly owned over 200 handbags from one particular manufacturer, according to The Telegraph. So what is the handbag brand that won the heart of the late Queen Elizabeth?
Queen Elizabeth's favorite handbag brand was Launer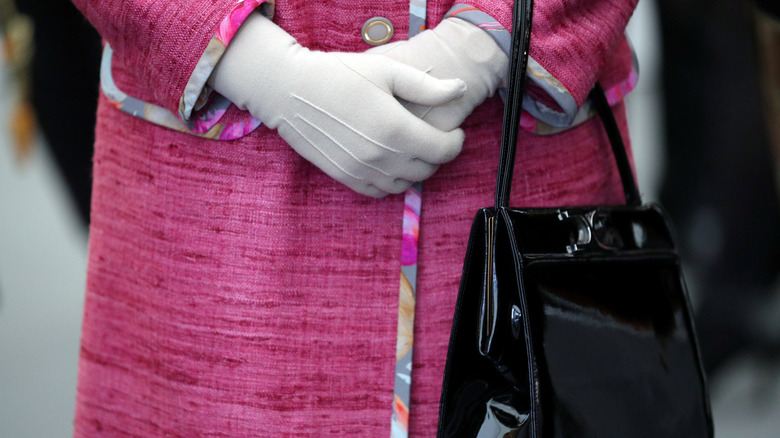 Wpa Pool/Getty Images
Queen Elizabeth almost exclusively wore the works of British couturiers and designers, according to The Washington Post. And Launer, a London-based leather goods company, was the maker of Queen Elizabeth's favorite handbags. Founded in 1940, Launer received an official Royal Warrant — "a sign of excellence, quality, and patronage" — from Queen Elizabeth and began supplying her with small leather goods in 1968 (via Launer.com). The queen was clearly not a fan of black and beige outfits, but she was hands down a devotee to Launer's bespoke black handbags, a fixture in most of her public engagements.
Among the 200 bags from her Launer collection, the black Patent Traviata tote was one of Her Majesty's favorites (via People). The iconic Traviata, described as "a style favoured by HM The Queen" according to the product's description on Launer.com, became a best-seller for the brand because of her. The handbag, which retails for $2,830 and is crafted from the highest quality material, features a structured silhouette and Launer's signature twisted rope emblem. 
A look into Queen Elizabeth's handbag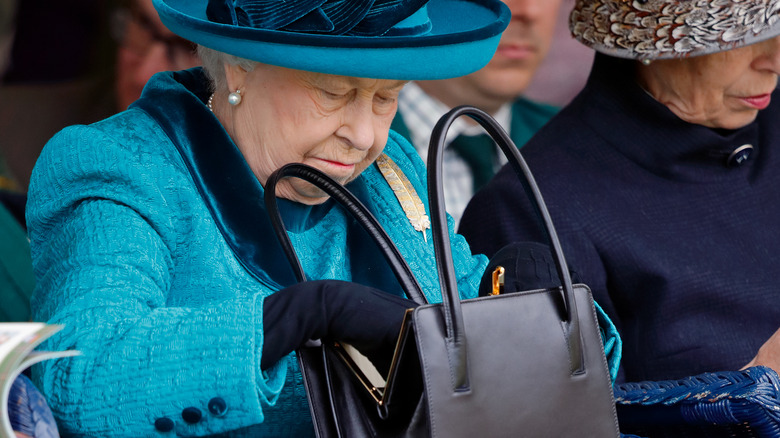 Wpa Pool/Getty Images
As it turns out, the queen didn't store secret marmalade sandwiches in her handbag for emergencies, as she revealed to Paddington Bear at the kick-off to her Platinum Jubilee concert. Sally Bedell Smith, author of "Elizabeth the Queen: The Life of a Modern Monarch" shared in The Lady magazine that Her Majesty's handbag usually stored essentials such as a compact and lipstick (which she had a habit of reapplying after every meal), reading glasses, mint lozenges, and a fountain pen. She rarely carried any cash, except for £5 or £10 notes for church offerings on Sundays.
The most surprising item in the queen's handbag, as observed by a dinner guest at the Berkshire home of the queen's cousin, was a bag hook, which she used to secure her handbag to the underside of the table.
Queen Elizabeth saw her handbags as indispensable. And aside from being practical, Her Majesty's black handbags were a neutral touch that complemented her often vividly colored, monochromatic attire.