Mohair Sweaters Are Outdated In 2023 For The Most Obvious Reason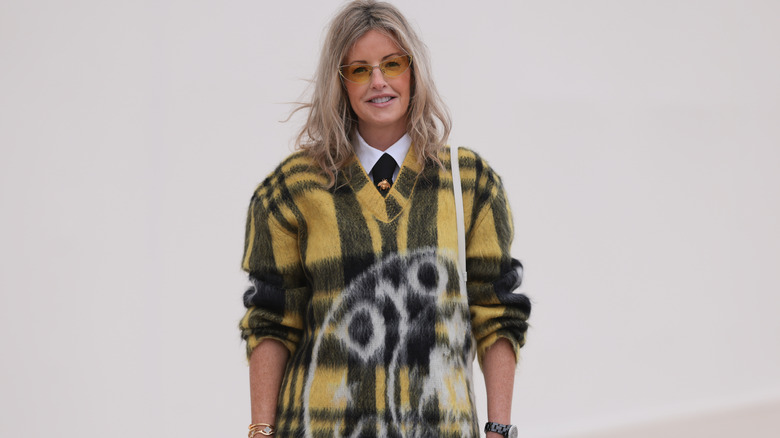 Jeremy Moeller/Getty Images
Sweaters are supposed to be cozy during cold weather. However, certain fabrics can ruin the vibe with itchy fibers, like mohair — made of wool and known especially for its itchiness. In the past, mohair sweaters were funky pieces that added plenty of texture and movement to all of our fall and winter looks. With over-the-top retro designs, mohair sweaters were one-of-a-kind pieces that brought warmth and style. Although it's luxurious and appears chic, it's not worth suffering through the fabric's uncomfortability, especially with other materials available. 
Since 2023 has seen the resurgence of practical minimalism, there's no need to wear itchy or uncomfortable pieces for the sake of fashion. The latest — and timeless — trend is about wearing chic pieces that make you feel good when you wear them. While a unique texture, the mohair look can be replicated with other details. With mohair officially out, it's time to give some love to other materials that can keep you chic and warm without the itch.
The mohair problem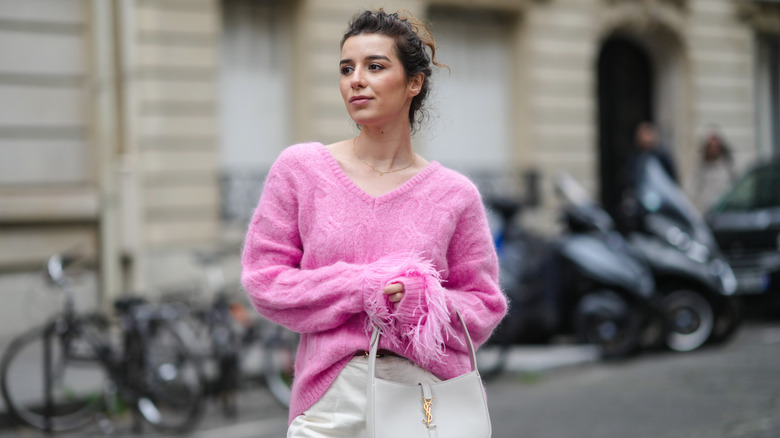 Edward Berthelot/Getty Images
Although mohair is designed to be the least itchy of wool fiber materials, people often find themselves sensitive to the fabric. While mohair uses soft Angora goat hair, wool in general has been considered a common allergen since the 1930s. Dermatology Center of Northwest Houston explains that contact with wool could trigger contact dermatitis, which occurs, according to Mayo Clinic, when the skin touches a substance and reacts with a rash. Although having a reaction to wool isn't necessarily life-threatening, it can make your day extremely uncomfortable. Mohair sweaters can also become itchier after a wash, and the hair might become stiff if improperly laundered which can become even more irritating.
Besides the delicate care required, mohair is simply out of touch with the current trends. While maximalist fashion is trending, there are plenty of other material choices to choose for your statement sweater. One of the reasons the mohair look has prospered for maximalists is because of the unruly texture of its hair fibers. However, even the standout characteristic of the sweater can falter after just one wash. If not washed properly, mohair sweaters can shrink and the hair can become ruined. Improper drying can result in your sweater turning into an unwearable shrunken size. But with newer, alternative options, these issues are in the past. Although mohair is resistant, no one has enough time to care for just one item.
Replace the mohair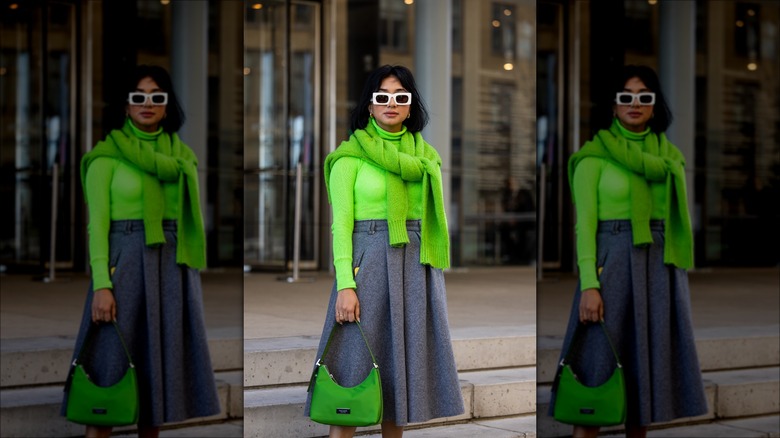 Christian Vierig/Getty Images
Thankfully, there are many looks to replace the outdated mohair sweater. Cashmere sweaters are luxurious alternatives that evoke the same quiet luxury style as the original. While it doesn't have the fuzzy hairs, cashmere is an ultra-soft, timeless piece. For more inexpensive options, look toward cotton or knits, which mimic the fuzziness of mohair but without the itch. Chunky knit sweaters are also a practical option for those looking for the same oversized look.
If you're keen on wearing the original fuzzy sweater, there are ways to pull a mohair piece off that don't look outdated, or uncomfy. Pair a collared button-up top underneath your fuzzy sweater for a fall-layered look. The button-up will cover your skin from the fibers while giving a collared detail to your ensemble. This preppy styling trick modernizes your mohair sweater and keeps the fibers away from your skin, including the neckline. You can also opt for solid long-sleeve thermals underneath that don't show but still offer coverage. If you're looking to add a little something extra to your sweater, look toward accents like feathers or other embellishments for a flair that doesn't itch.