The TikTok Middle-Part Filter, Explained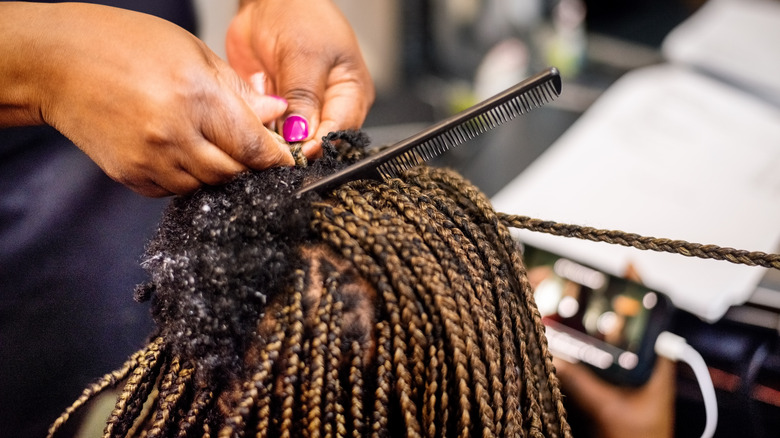 Nickylloyd/Getty Images
There are many ways to wear your hair, but the beginning of your style starts with your scalp. Specifically, the part in your hair can dictate how your hair falls, whether you rock a pixie cut or have tresses that reach below your shoulders. Now, a mechanical engineer has created a filter on TikTok that helps users determine whether their hair is truly parted in the center of their scalp.
Konnie Wells works as an engineer during the day and braids hair as a side business, according to Yahoo Life. However, one challenge she regularly faces is nailing the center part for her clients. "Seven out of 10 times, I'm gonna get it wrong," she told the publication. Feeling a bit discouraged, she decided to create the TikTok filter to make it easy for her to find the center part, and others are reaping the benefits. After two days of work, Wells' filter was ready for its debut. "I used Procreate and Nomad Sculpt and watched, like, a bunch of tutorials," Wells told Yahoo Life.
The filter, which launched on May 22, has been used in about 50,000 TikTok videos and become a popular tool among stylists. Wells noted that she is working on improving the filter to cater to various face shapes. She also expanded on what led her to pursue the project in the first place.
How to use the middle-part filter on TikTok
Anyone can use Wells' filter on TikTok by searching "middle-part filter" in the app. To make it easy to use the filter, set up your phone on a tripod and direct the camera towards your head. When you back away, a dashed pink line should appear on-screen over the center of your face, indicating that the filter is aligned correctly. If you turn your head too far, the dashed line will turn green, signaling that you need to realign yourself for accurate results.
When you use the middle-part filter, you may realize that your own middle part is off-center. If your inclination is to remedy the problem as soon as possible, all you need is a tail comb. Using the end of your comb, you can divide your locks to meet the dashed line that appears in the filter. The final result should be tresses that are truly parted right down the middle.
The origin of the TikTok middle-part filter and why your part matters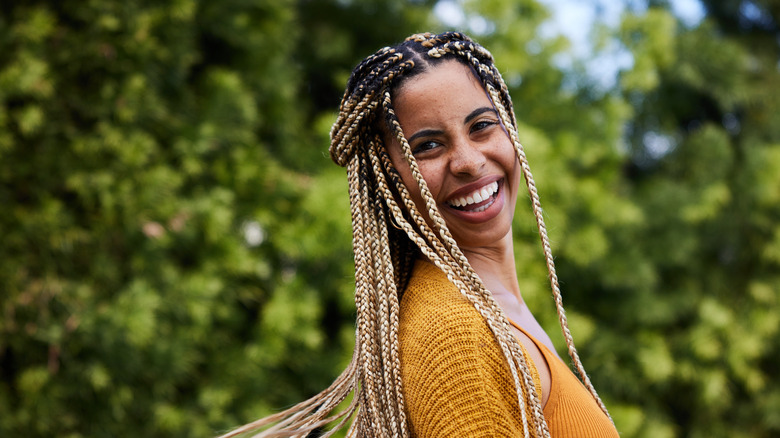 Goodboy Picture Company/Getty Images
Wells created the filter with her Black hair clients in mind. She told Yahoo Life that the hair part is essential to braiding. "I didn't think that other races cared about their middle part as much because when you get braids, your parting is a bit more permanent," Wells explained. "If you get [braids] and your part is off, it's like, are you really going to want to start over?" She was frustrated with the lack of tools suited to help her style her own hair, leading her to create more solutions. In the future, Wells intends to fine-tune her filter with the help of professional coders and hairstylists.
Whether you're on Team Side Part or Team Middle Part, the way you choose to part your hair can make a real difference when it comes to your overall appearance. The middle part, which has yet to go out of style, can help you create a classic, polished finish. "The middle part is one of the most fashionable hair trends," celebrity hair stylist Cheryl Bergamy told InStyle. "It gives a more youthful look without looking childish." If you're looking for a way to soften your facial features, however, you might want to opt for a side part. This type of part can also add more elegance to your final look.