15 Hair Colors That Complement Cool Undertones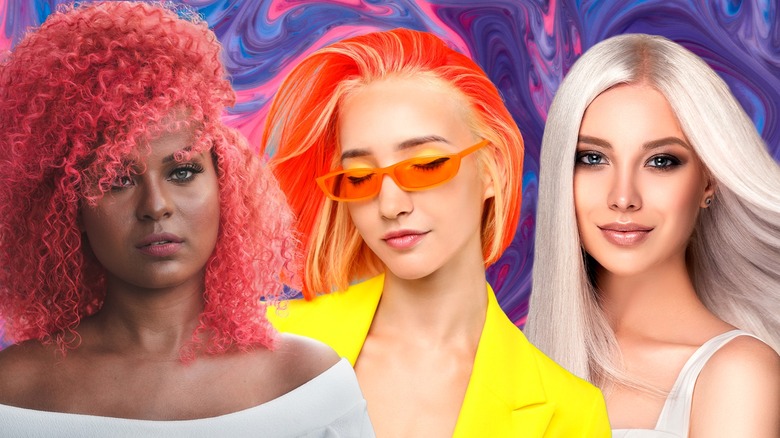 Static Media / Shutterstock
Have you ever had a foundation that seems to be the right color and yet, the shade just looks off on you? Your undertone may be responsible for making you look washed out. We all have one of three undertones: warm, neutral, or cool. Finding out your undertone can help you pinpoint hair colors, jewelry, and even foundation shades that best complement your skin and help you shine.
A great way to figure out your undertone is through the vein trick, per Healthline, which involves looking at the veins on the inside of your wrist. If your veins have more of a greenish tint to them, then you likely have a warm undertone, which means you have a warm, golden tint to your skin. In contrast, people with bluish or purple veins are likely to have cool undertones, which means a more red or pinkish tint to their skin. If neither of these applies to you, then you likely have a neutral undertone, which means your undertones are very similar to your actual skin color.
Celebrities like Mindy Kaling, Taylor Swift, and Adele have been known to rock their cool undertones and all have bold hair colors that balance the pink or reddish hue on their skin. The hair color best suited for your cool undertones will depend on several factors, including whether you have fair, medium, or dark skin, and can range anywhere from an icy blond to a deep mulberry color, depending on the look you desire.
Scandinavian blond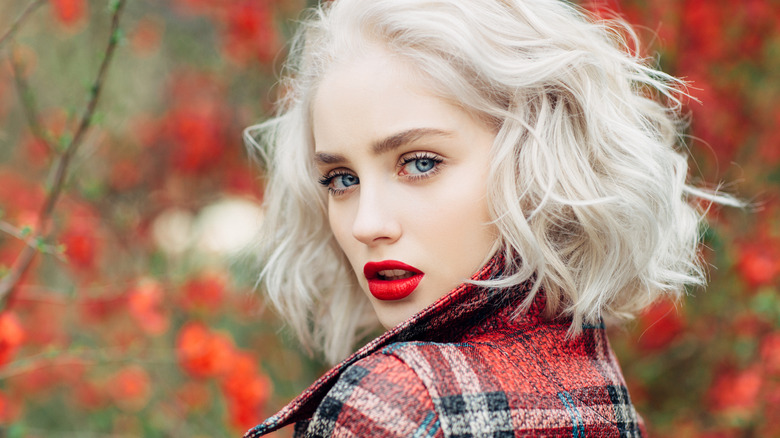 Coffeeandmilk/Getty Images
Bright white blond hair may just be the "It Girl" hair trend of 2023 and if you have cool undertones, then this is your time to truly shine. Fair skin with cool undertones will find the icy Scandinavian blond to be the most flattering hair color. On the other hand, darker skin tones will flourish with a more buttery blond version of the Scandinavian blond to balance out the reddish hues in their skin while also rocking light blond hair. Add in the Scandi hairline trend, which incorporates some lighter-colored face-framing pieces to complete the look. 
Strawberry blond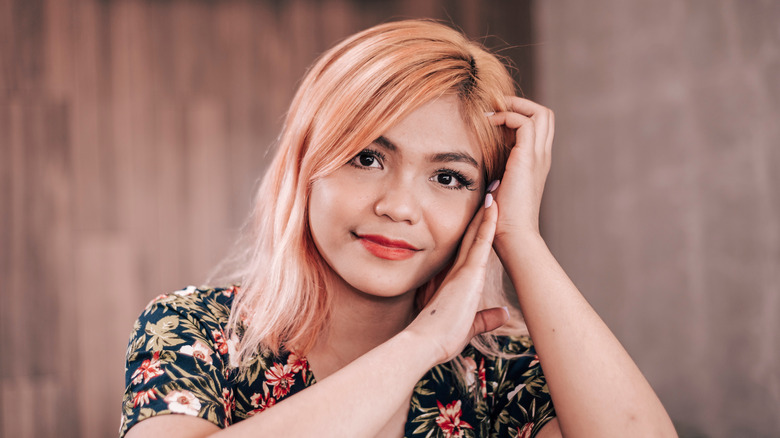 MDV Edwards/Shutterstock
Did you know that less than 2% of the world's population has red hair (per BBC)? Even if you aren't amongst the rare redheads, you can now join the pack with your strawberry blond locks. This color is the perfect combination of red and blond that helps cool-toned individuals stand out. A warm strawberry blond color can help brighten up your face, especially if you have a medium to dark skin tone. It's also the perfect blond color if you have darker roots and wish to go a bit lighter but still desire a natural look.
Brond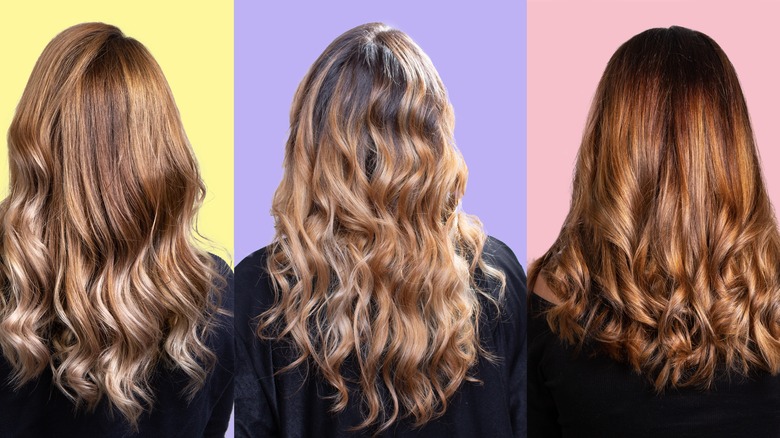 sruilk/Shutterstock
Brond hair is the new sensation on TikTok and it features the perfect mix between blond and brown hair. After all, why should you pick between being a brunette or a blond when you can be both? This low-maintenance look with brown roots adds a touch of warmth that's more than plenty for cool undertones, while also giving a sun-kissed effect with very thin blond highlights. Luckily, you can tailor this look to fit with your natural aesthetic. 
Chestnut brown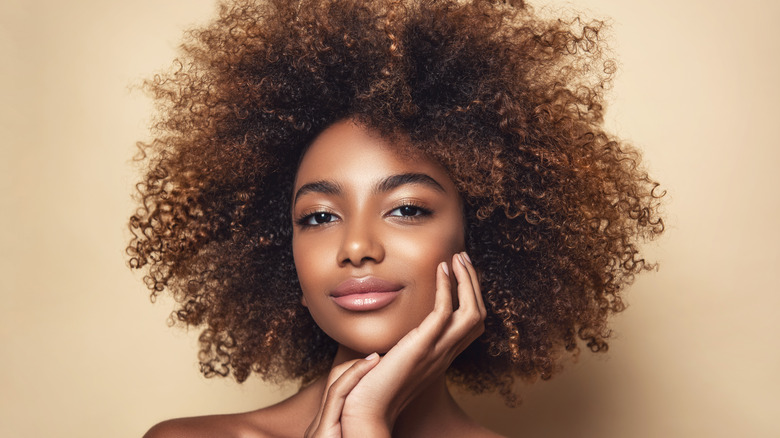 Sofia Zhuravetc/Shutterstock
For cool-toned skin, it is possible to pull off light brown hair. But rather than a warm honey color, an ashy chestnut brown hue is going to best complement your skin while adding a subtle vibrancy and depth to your hair. To keep your brown hair dynamic and anything but boring, you can also add hints of golden auburn to balance out the pink and reddish hues of your skin.
Chocolate brown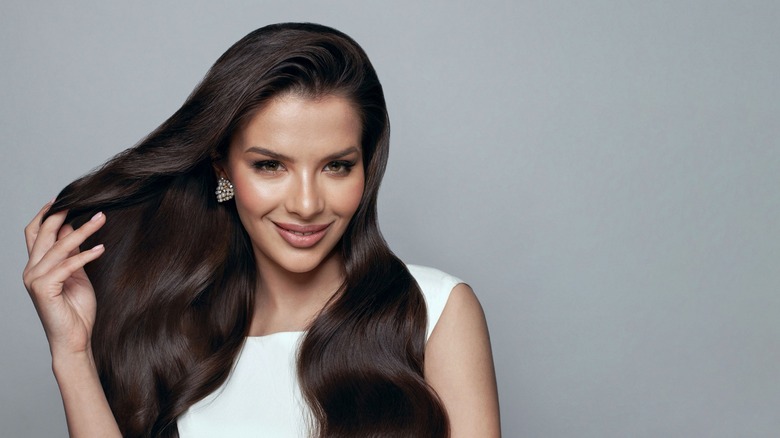 MillaF/Shutterstock
A rich chocolate brown is such a timeless hair color that carries an air of sophistication and class with it. Plus, this color is flattering on a variety of different ages and, luckily, also different skin tones. Ash or deep chocolate brown would be the perfect color for those with fair skin and cool pinkish undertones, while a rich creamy mocha or milk chocolate color would be a good option for dark brunettes that aim to go a tad lighter. However, cool undertones should avoid light caramel or golden brown hair tints that better complement a warmer skin tone.
Blue black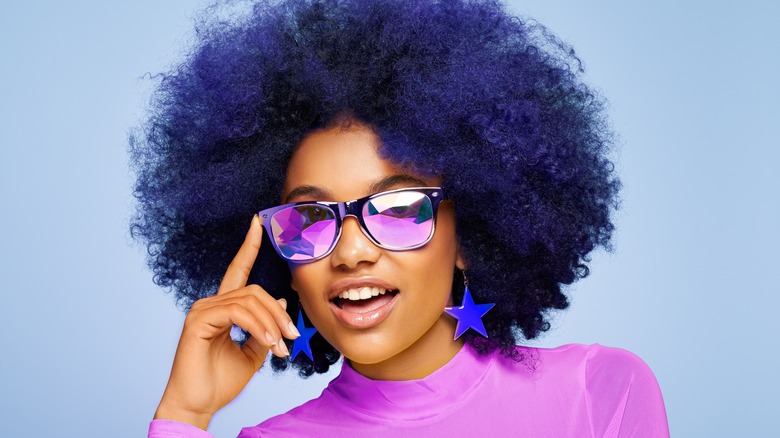 Oleg Gekman/Shutterstock
If there's a hair color out there that can make heads turn, it has to be this inky blue-black color, also known as midnight blue. This cool-toned hair color combines a black base with a cool blue hue, which naturally complements cool undertones while also adding softness and depth. Plus, this dark blue aesthetic is the perfect color to dye your hair when fall is right around the corner.
Jet black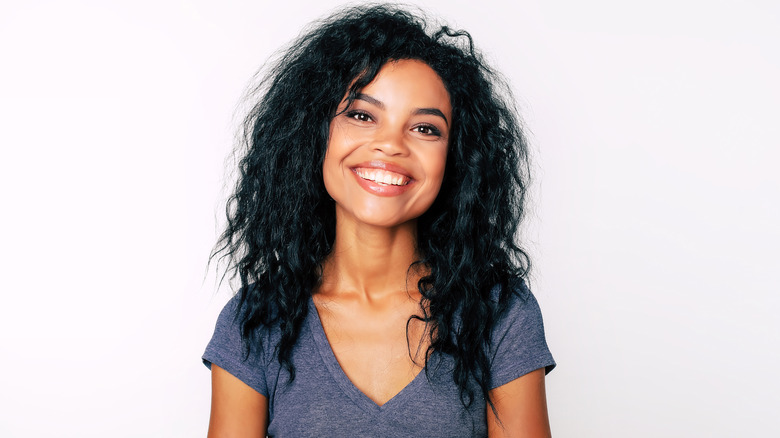 My Ocean Production/Shutterstock
A stark jet black carries an air of mystery not achievable by other colors. Yet, there's always the fear that this bold color will wash out cool undertones. If you desire jet black hair then ensure that it has cooler tints or hues to it like violet or blue rather than reddish brown which can run the risk of making you look pale.
Cherry red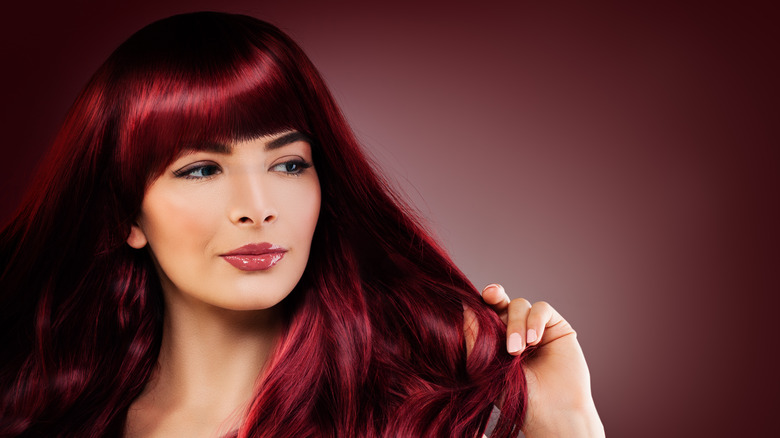 Jnemchinova/Getty Images
For the red hair lovers, opt for a trending cherry red hair color that will complement the reddish undertones of your skin. This cherry red can also be combined with naturally brown hair for a chocolate cherry cola color that is perfect for a barely-there red tint.
While red hair is extremely flattering, you have to be prepared for it to fade into a lighter shade over time. "The red hair color molecule is larger than other color molecules which is why it fades and rinses out so quickly," hair colorist Aaron Bradford explained to The Zoe Report.
Pastel pink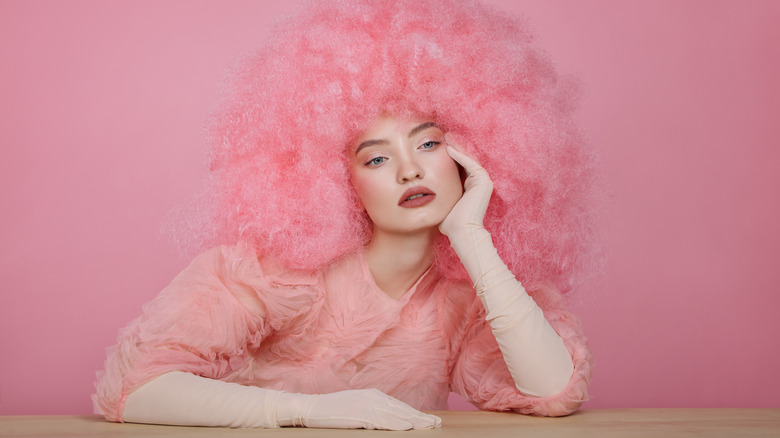 Lambada/Getty Images
For the full Barbie effect, look no further than pastel pinks to give you all the feels. While this hair color may not be for everyone, having cool undertones gives you an edge as the hues in a pastel pink shade pair well with the bluish-violet tints of your skin. "The hack to choosing the perfect pink hair color is simply spotting the undertones in each individual shade of pink," celebrity colorist Chad Kenyon told Mane Addicts. "Some pinks have more gold or warmth, whereas others have more blues and violets, or cool tones."
Rose gold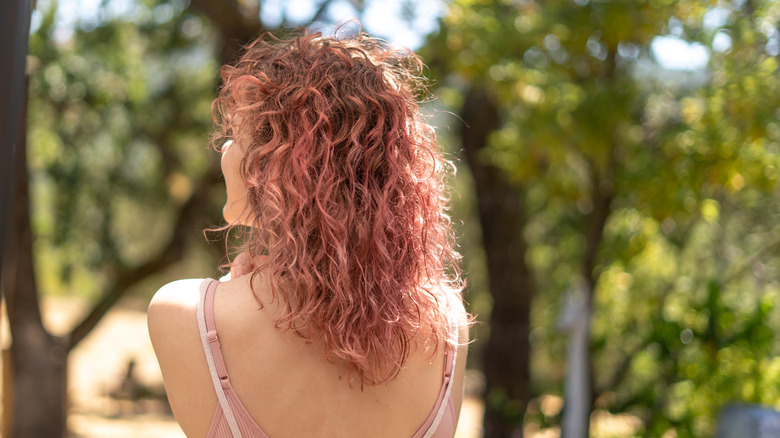 Syd White/Getty Images
Rose gold is a vibrant and contemporary hair color that will spice up your everyday look. Rose gold shades work for people with all kinds of skin tones. However, if you have cool undertones, then a metallic rose gold color will perfectly complement your skin while adding a touch of soft femininity. Multi-dimensional highlights also work well with this color, especially if you have lighter brown or blond hair.
Lilac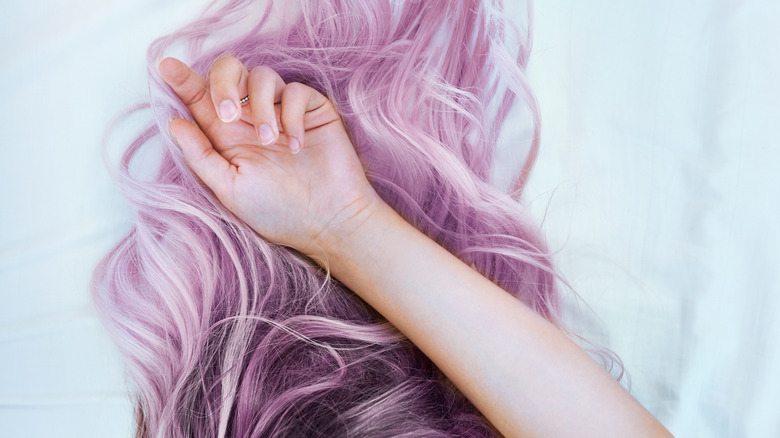 Laylabird/Getty Images
Pastels generally perform well on cool undertones. So, similar to pastel pink, lilac is also a beautiful color that can enhance the cool blue and purple undertones of your skin. Unlike warm undertones, cool undertones thrive in soft and subtle pastel hues like light purple or lilac. If you have darker skin, you can even experiment with brighter lavender shades that allow you to have some contrast between your hair and skin color, letting both shine equally. 
Deep purple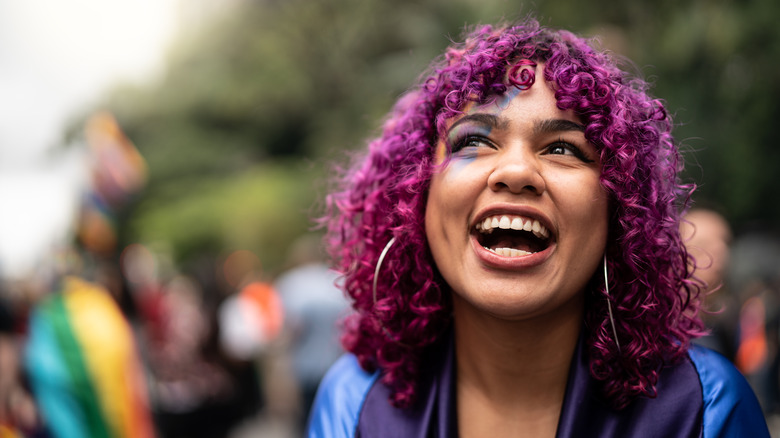 Fg Trade/Getty Images
For darker skin tones with a cool undertone, a deep purple color can complement the skin well. If purple seems like too stark of a color for you, then try opting for a brownish plum color that can give you a vibrant and glossy finish that shines perfectly under the sunlight without looking too over the top. If you're feeling more adventurous, then opt for a colorful purple, like eggplant, that can complement the rich, cool tones of your skin.
Burgundy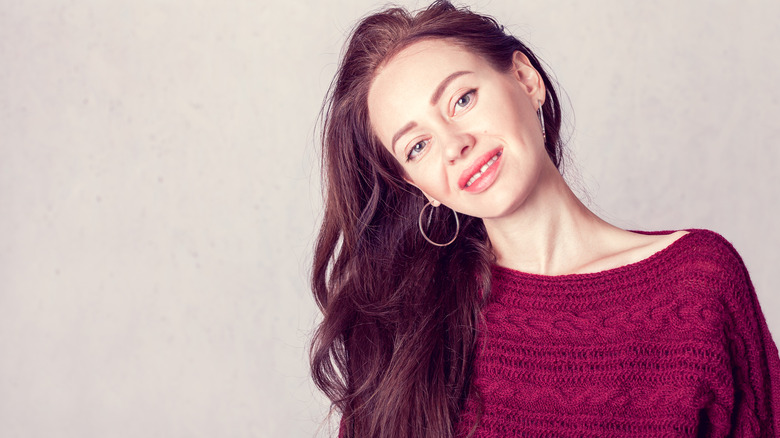 Angelika-angelika/Getty Images
Tangerine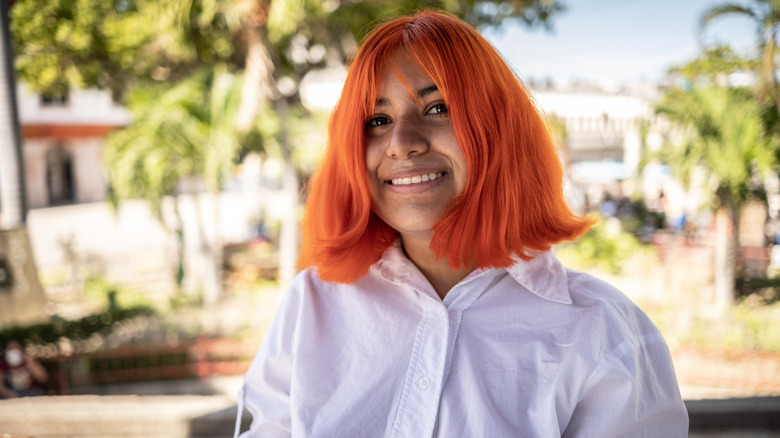 Fg Trade Latin/Getty Images
If you don't have a warmer hue to your skin, then pulling off orange hair can be a difficult task. This is why muted oranges are definitely a no-go. However, for medium to dark-skinned individuals with cool undertones, there's still hope. You just have to opt for a bright tangerine rather than a pale orange to make your skin truly pop. If you want to ease into the color, try a few tangerine highlights or even an ombre to see how you feel before fully committing to the look.
Silver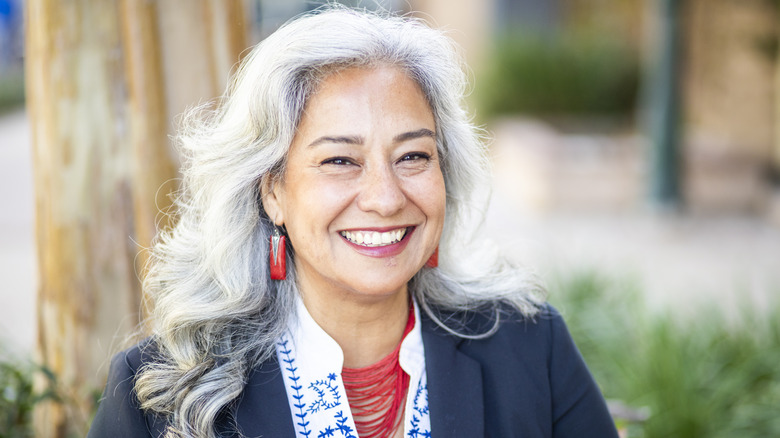 Adamkaz/Getty Images
Silver hair was made for people with cool undertones. The trick to pulling off this color with the most success is by opting for a silver that has a bluish tint to it. This will really complement cool undertones without washing you out or making you look too ashy. However, unless you're rocking your natural grey or silver roots, just be aware that silver-dyed hair can fade rather quickly and may require you to visit the salon every few weeks to maintain the look.