Bobbi Brown's Best Tips For Not Letting Your Makeup Wash You Out If You Have Gray Hair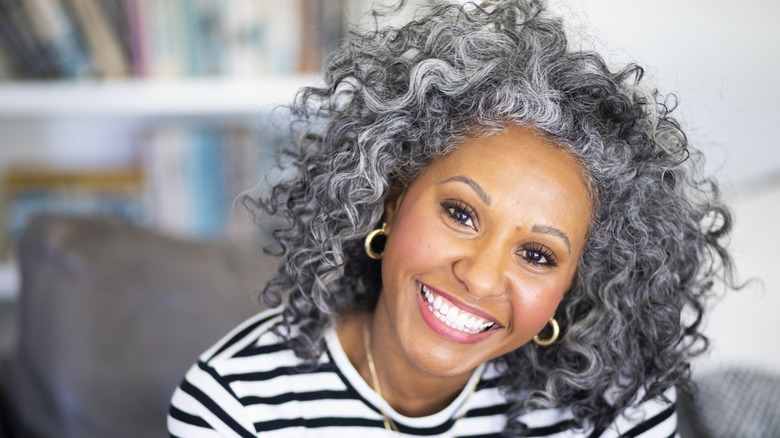 Adamkaz/Getty Images
Gray hair is having quite the moment, whether it's done in the salon or just grows that way. More and more women (and men!) are seeing the pull of gray-toned hair. In particular, those people who've spent many years and lots of money covering up their grays are learning to buck societal expectations about aging, and instead are embracing their silver strands by letting their hair grow out completely or blending grays in using herringbone highlights.
Cosmetics mogul Bobbi Brown is one of those women who appreciates the beauty of gray, both personally and professionally. She's not alone in that endeavor, as celebrities like Andie MacDowell and Jamie Lee Curtis are vocal about their preference for this form of natural beauty. Brown, for her part, stopped by "Good Morning America" to lend her style expertise to anyone who needs a little help tweaking their makeup practices to best complement their grays. After all, a person's mane is a major statement-maker, so a shift in the shade has a huge impact on the makeup colors that not only work but bring out their best.  
Think pink for lips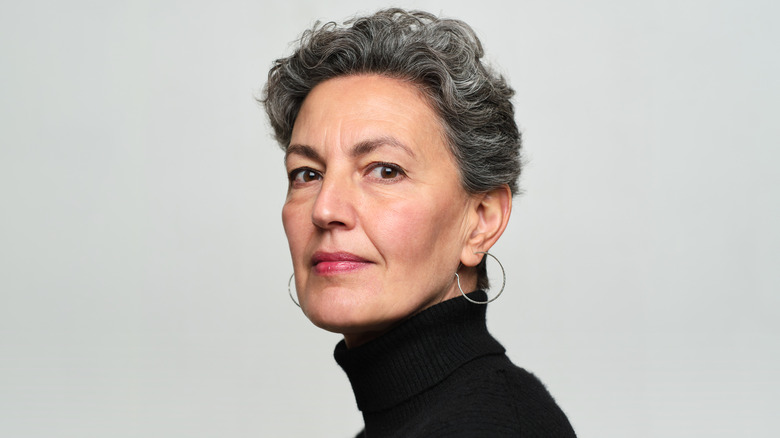 Tempura/Getty Images
Neutral lip colors are risky for people with gray hair because they'll make them look washed out, according to Bobbi Brown. So steer clear of any nude shades that are too light, beige, peachy, or brown when selecting the perfect lip color moving forward. Instead, contrast the gray-toned hair with a bit of well-chosen lip color. In particular, Brown suggests a nice shade of pink that can lend a bit of brightness but still look natural at the same time. "You need pops of color, there's no question," she said.
Rose and coral shades are also excellent options for silver sisters. Brown says that women with darker skin can choose a bolder shade of pink, whereas those with fair skin should go a little softer. Of course, a lot of other factors come into play when selecting a lip shade, like clothing hues and the level of intensity in the rest of the makeup, so keep a range of colors on hand to test with different ensembles.
Punch up the blush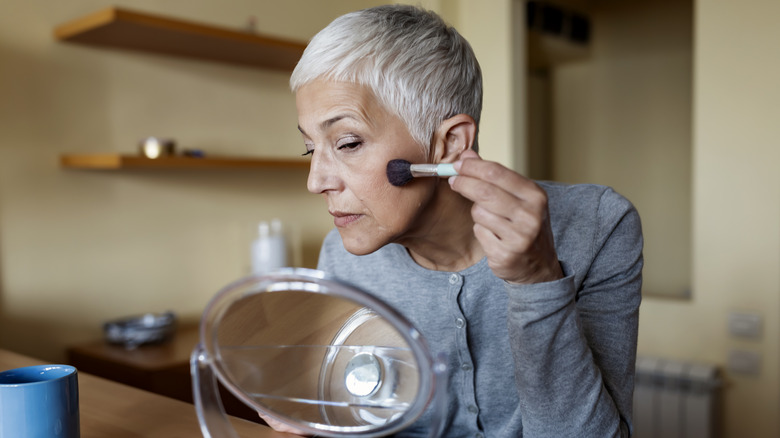 Realpeoplegroup/Getty Images
Women with blond or light brown hair are already used to preventing complexion washout with a bit of well-placed blush. But when darker-haired people embrace their grays, it's a bigger transition because they can't rely on their bold hair anymore to add color. To combat this, makeup expert Bobbi Brown suggests a pink blush for people of all skin tones. 
"To do that, just smile and you'll see the apples of your cheeks," Brown detailed to Katie Couric Media. It doesn't matter if you choose a balm or powder blush. Simply blend it in starting at the apples with a makeup brush or your clean fingers and move toward the ear along the cheekbone. Don't go too intense with a contrasting color, however, as excessively dark blushes (red or pink) will stand out way too much. A good rule of thumb is that if you have to ask yourself whether the blush is "too much," then it probably is. 
Bring back the brows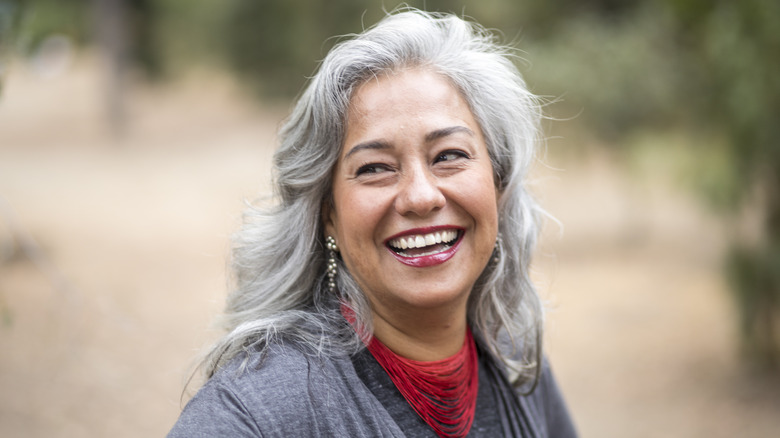 Adamkaz/Getty Images
The brows perform a critical function, in that they frame the all-important eyes. An unfortunate side effect of aging is that brows often start to thin out, so even if they don't turn totally gray like the hair on your head, sparse brows can still cause a person to look washed out.
To compensate for that, Bobbi Brown says to first maintain good brow grooming standards using a comb or brush, and tweeze as necessary to get rid of stray hairs. Then, use an eyebrow brush, wand, powdered eyeshadow, or combination of brow products to gently fill in the brows. Do not draw outside the lines for this project. Instead, stay within the brow's natural line to keep them nice and authentic-looking. Brown suggests selecting a shade of brown that's as close as possible to the color of your eyebrows so that everything looks natural.
The eyes have it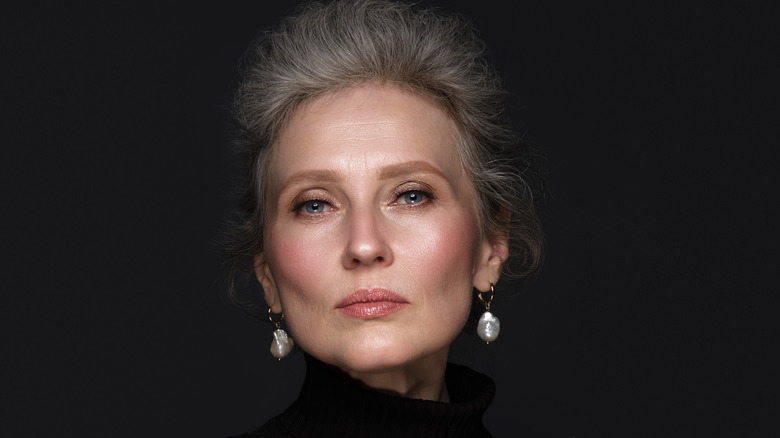 KOBRIN PHOTO/Shutterstock
There's a tremendous amount of variation in the eye makeup game, but certain colors are absolutely the best for ladies with gray hair. Makeup guru Bobbi Brown says to start by sweeping a neutral shade of shadow across the lid, then top it off from lid to crease with a darker color in gray or taupe. "Eyeliner is going to make your eyes stand out, and it's really great when you use an eye pencil that works with your color — so for women with blue eyes, there's nothing more beautiful than a navy," Brown said on "Good Morning America." "Navy is great for women with white hair."
And although the instinct might be to be more demure and subdued with makeup as we age, Brown says that a little bit of sparkle and shimmer is still a great idea for women with gray hair. This can be accomplished with a subtle shimmer in eyeshadow, blush, or lip color — whichever one or two makes you feel the most confident and beautiful.