How Altina Schinasi Developed The Classic Cat-Eye Glasses Frame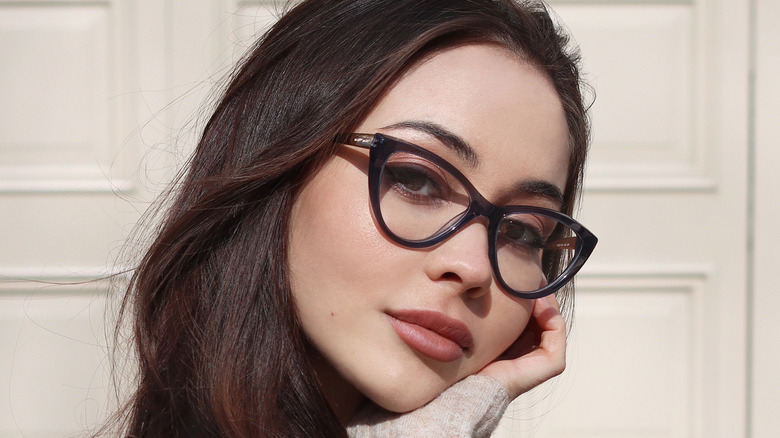 cuttingtool/Shutterstock
Finding the best eyewear frame to suit your face can be a challenge, whether you're a casual sunglasses wearer or you've worn eyeglasses your entire life. Yet cat-eye glasses are a popular choice for many, providing a unique, flattering shape with a kittenish touch. Retro interpretations may incorporate classic embellishments like rhinestones and curved edges, while modern styles feature minimalistic, rounder shapes. But have you ever stopped and wondered where those cat-eye frames originally came from?
If you were on Google recently, you may have come across a rather glamorous Google Doodle profile celebrating the 116th birthday of a woman named Altina Schinasi — better known as the inventor of the timeless cat-eye glasses. Without her contribution to the eyewear industry, we may have never been introduced to one of the most stylish frame options on the market. Curious to know more about what inspired the cat-eye look? Adjust your glasses accordingly, and let's explore what led Schinasi to create this iconic frame.
Disappointed by dull eyewear, Schinasi sought a solution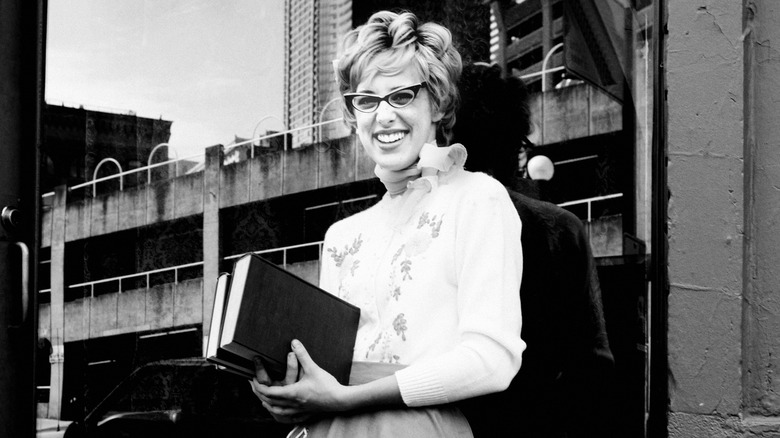 Bobbieo/Getty Images
Some might say that Altina Schinasi followed in the inventor's footsteps of her father, Moussa, a Sephardic Jewish Turk who immigrated to New York. If you've ever encountered a cigarette-rolling machine, you can thank him. The massive earnings from his invention enabled the Schinasi family to live in the Manhattan mansion where Altina was born in 1907.
According to her Google Doodle biography, Schinasi always had an eye for design, pursuing lessons at The Art Students League and later becoming a window dresser. While eyeing up the competition along New York's Fifth Avenue window displays, Schinasi noticed something was amiss. Namely, women's eyeglass frames were dismally drab, with hardly any options to choose from. Like so many of us, Schinasi simply wasn't content to settle for run-of-the-mill choices when it came to matters of personal appearance, leading her to come up with cat-eye glasses.
Although Schinasi didn't mold the prototype herself, she did successfully pitch the concept to Lugene, a luxury optical manufacturer. "[The cat-eye design] was based on the mask of the stock character from Italian commedia dell'arte, and it was extremely on trend in the 1930s when there was a Harlequin collection at Schiaparelli ... and even a Harlequin Great Dane advertised on the dog pages of Vogue," author Jessica Glasscock wrote in "Making a Spectacle: A Fashionable History of Glasses." Thus, cat-eye glasses were commonly referred to as 'Harlequin' frames when first introduced. 
Cat-eye glasses have endured the test of time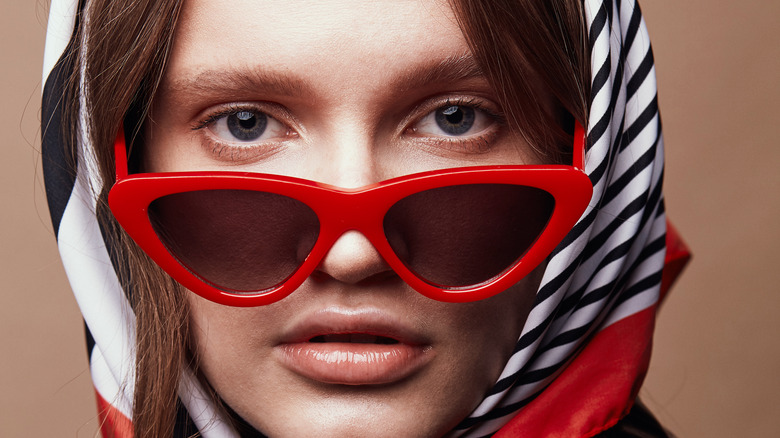 Jaroslav Monchak/Shutterstock
Following a successful launch, it wasn't long before Schinasi's frames began reshaping the women's eyewear scene. After earning the Lord & Taylor Annual American Design Award in 1939 for her feisty eyewear solution, Schinasi focused her artistic energy on film and architecture. Though she moved on from designing eyewear, Schinasi left an indelible mark on fashion as we know it. Old Hollywood stars, from Marilyn Monroe to Audrey Hepburn, were fervent fans of the cat-eye look and the glamorous silhouette has remained popular since their time. 
Schinasi passed away at the age of 92 in 1999, but her legendary eyewear invention lives on. Today, there are versions of cat-eye glasses everywhere, from inexpensive discount store sunnies to Chanel eyeglasses. The shape can flatter virtually anyone's face, whether you opt for something subtle and slimmed-down or a statement-making, oversized frame.
At the time of writing, cat-eye frames are still one of the bestselling styles around, a point that would undoubtedly make Schinasi proud. Regardless of what direction eyewear trends take down the line, we can't picture a world where cat-eye frames fall out of favor.