How To Use Jojoba Oil For Strong And Healthy Hair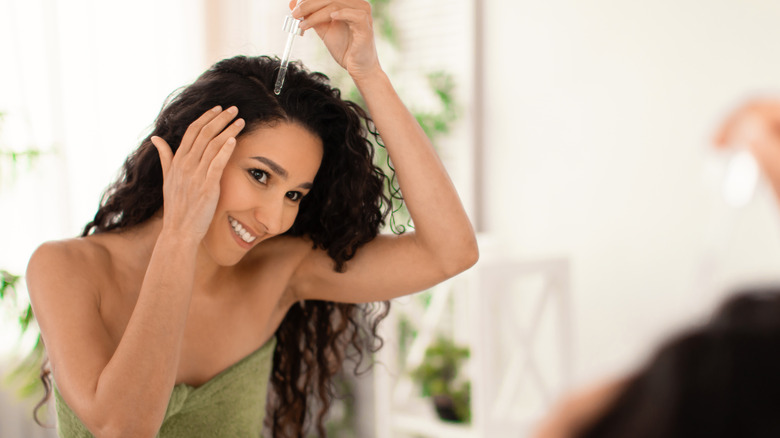 Prostock-studio/Getty Images
If you've tried just about every product under the sun that's geared towards strengthening your hair and promises more luscious locks, but have yet to actually experience those much-desired results, it may be time to get back to the basics and try a pure, single ingredient oil, like jojoba. This oil is extracted from the seeds of the jojoba plant, which is native to the southwestern region of the United States.
It's commonly used to nourish and nurture hair, skin, and nails. Whether you're dealing with dry hair, dandruff, split ends, or simply a dull texture, jojoba oil has the ability to strengthen and moisturize your mane for a renewed glow. The oil is gentle and can easily be found in most grocery or health food stores. Rich in vitamins C and E, copper, and zinc, jojoba oil is the perfect remedy for lackluster hair and it may be high time to give it a go.
The perks of jojoba oil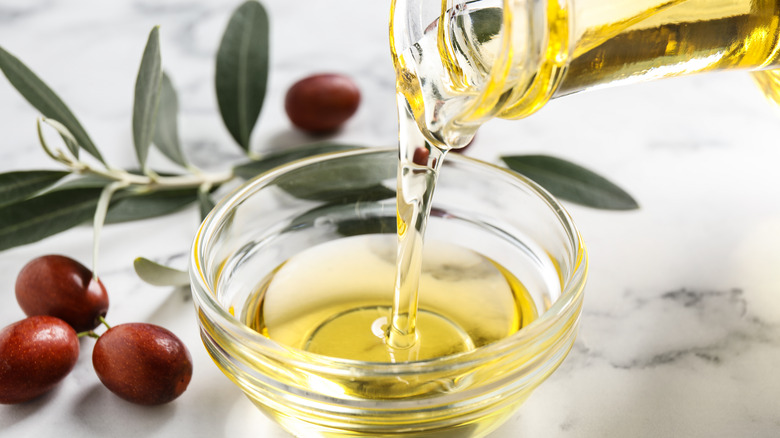 New Africa/Shutterstock
The main benefit of jojoba oil is its ability to moisturize effectively. "The fact that jojoba oil seals in moisture and mimics the scalp's sebum from root to tip means less breakage overall," Ghanima Abdullah, a cosmetologist and hair expert, told Byrdie.
Jojoba oil also contains behenic and oleic acids, which are key components that result in ultra-soft hair. These acids also have strengthening properties and are responsible for building up the health of the hair's roots and balancing the scalp in terms of oil production.Additionally, many hair products that contain jojoba oil have been shown to cause less breakage of the hair. 
One benefit of jojoba oil that does not have much research to back it up is its ability to aid in hair regrowth. So while the jury is still out on that specific claim, overall, this oil is a great go-to when it comes to achieving strong and healthy hair.
Use it as a hair masque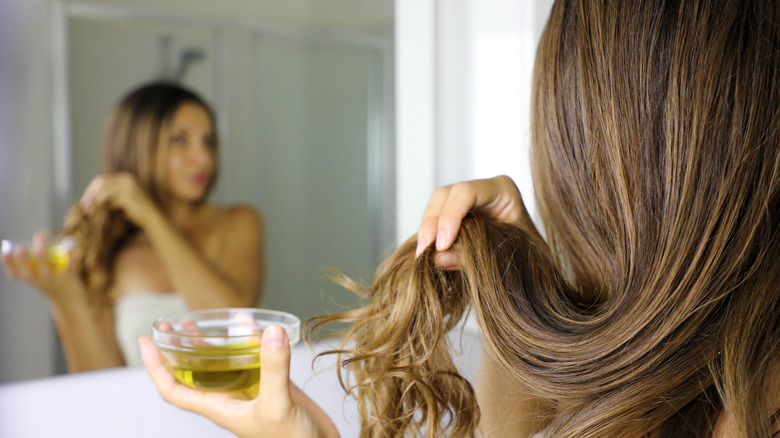 Zigres/Shutterstock
To give your hair the gift of a deep, moisturizing treatment, try a DIY hair masque at home. Warming your jojoba oil prior to applying it is a wise move and this can be done on the stovetop or in the microwave. Depending on your hair length and volume, you may need more than a couple of tablespoons to fully saturate your hair. Once the jojoba oil is warm, but not too hot, begin applying it to your scalp and downwards through your hair to the ends. You may want to drape your shoulders with a towel to prevent the oil from dripping onto your clothes during this process.
Allow the oil to sit for about 20 minutes. Once it has soaked in, you'll want to thoroughly rinse it out, then shampoo and condition your hair. It's possible you may need to shampoo twice if your hair is still feeling heavy with the oil.
Use it as a hair sealant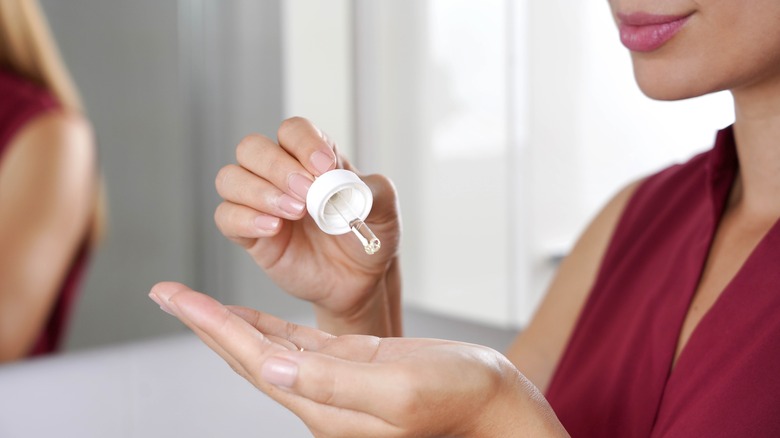 Zigres/Shutterstock
Jojoba oil is a great hair sealant and one of the best ways to use it for strong and healthy hair is to treat it as a leave-in conditioner. This will shield your hair against becoming overly dry and can also dissolve excess sebum that may have built up in the hair after your last wash.
To use it as a sealant, you'll want to apply the jojoba oil to damp, clean hair. The amount necessary will vary depending on the thickness of your hair. If your hair is prone to becoming too oily, then naturally you should use a lesser amount. Thick, fuller hair will benefit from a more plentiful application. 
You'll notice your hair is shiny, less frizzy, more contained, and silky smooth with the moisture of the jojoba oil. Simply leave it in your hair until your next shampoo and enjoy the nourished results.
Add it to your other hair products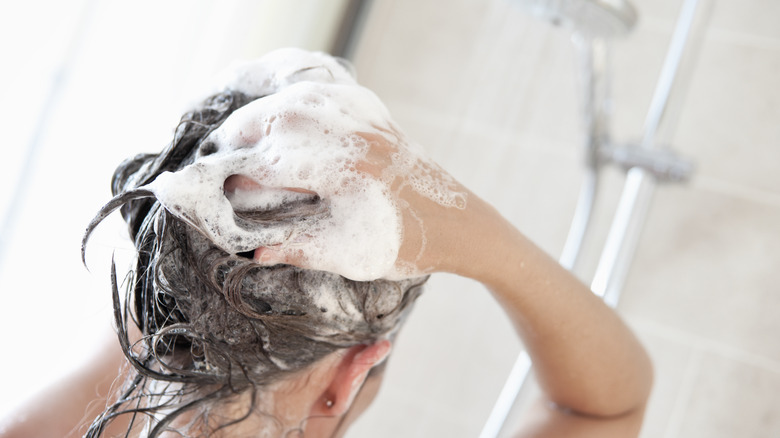 Southerlycourse/Getty Images
If you're a little apprehensive about putting jojoba oil directly on your hair — which we totally get, especially if you are dealing with oily hair and are more prone to buildup — then mixing a small amount into your regular shampoo or conditioner might be your golden ticket. A few drops ought to do the trick and you can simply carry on with your standard washing routine.
Alternatively, a lot of hair products contain jojoba oil already and you can purchase shampoo, conditioner, hair serum, leave-in conditioner, or hairspray with jojoba oil listed in the ingredient list. This is probably the easiest — and least messy — option out there.
While jojoba oil allergies are rare, it's always wise to do a small test patch on your wrist before using any new product, particularly if you have sensitive skin. Once you're good to proceed, it shouldn't take long for you to notice the silky, shiny results of your strong, healthy, luminous locks.
Other hair oils to try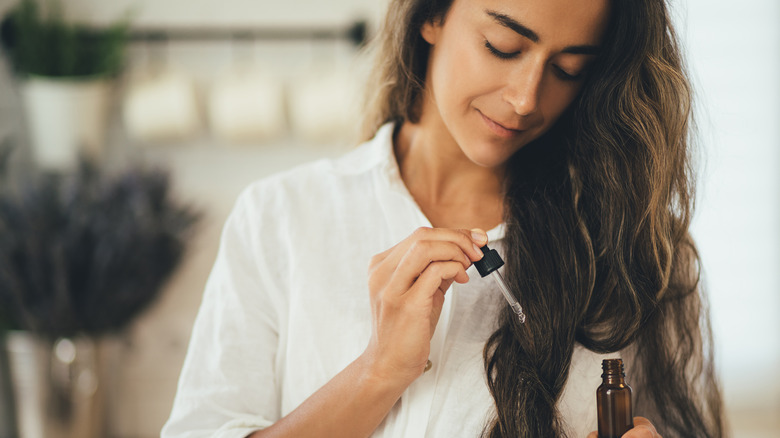 polinaloves/Shutterstock
If you aren't loving the results of jojoba oil on your hair, either due to heaviness or the extra oily feeling, it's possible that there could be a better-suited oil out there for your particular hair type. Coconut, almond, olive, Moroccan argan — all of these oils are moisturizing and can have a beautiful effect on the health of your hair. These oils are known as carrier oils and tend to have a neutral scent. Castor oil is another option you may not have considered. It is rich in ricinoleic acid which seals in moisture and can be a wonderful aid for a dry scalp. 
Luscious, strong, healthy hair is a great feeling and can certainly be a self-confidence booster. So, if you haven't yet found the oil that gives you your desired locks, keep exploring until you find the right match. These oils are all known to be deeply nourishing and the super simple application process is only a positive as well.