The Camel Trench Is The Most Timeless Outerwear Option - How To Style It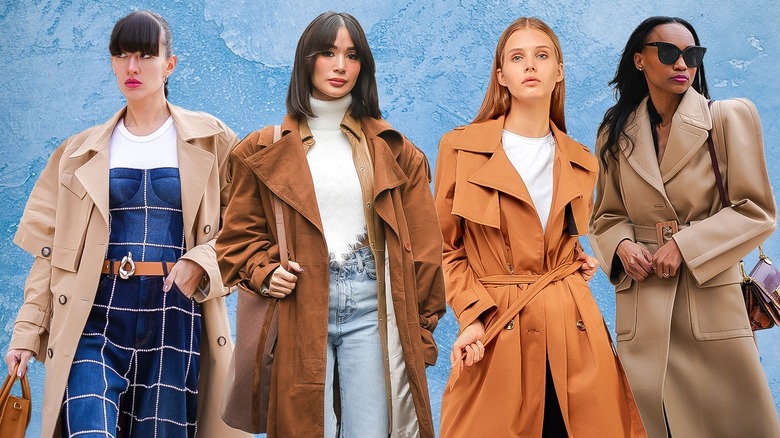 Static Media/Shutterstock/Getty
One of the best things about fall (besides pumpkin spice) is being able to bring out all of our coats. With many coats available, you have endless options to fulfill your outerwear needs. However, the cream of the crop is undoubtedly the classic camel trenchcoat. Everyone associates the camel trench with fall and winter since it's been around for decades and serves as a staple of the sophisticated aesthetic. 
From spy movies to style influencers, no one can resist this iconic piece. However, with the camel trench being around for as long as it has, you'll need to be smart with your styling to stand out. Luckily, this garment offers a lot of versatlity in everything from specific tones to shape and length to the outfits you can wear it with. The good news is if you can nail this trend, there's no need for any other outerwear piece in your wardrobe.
Maxi-length trench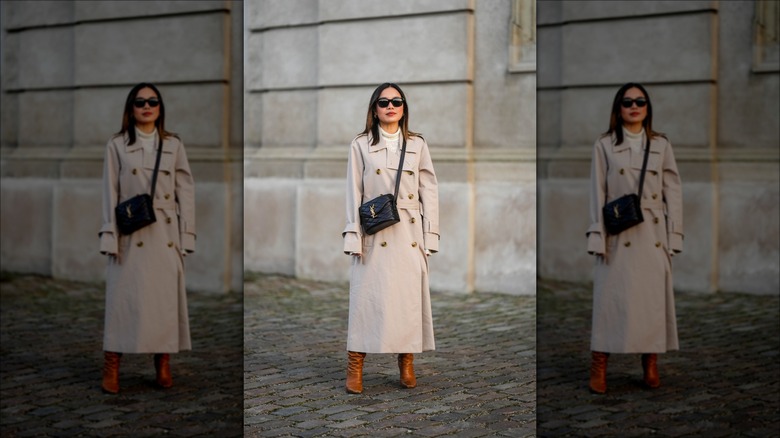 Edward Berthelot/Getty Images
A typical trenchcoat will hit around mid-calf or right below the knee. However, since this year is all about maxi-lengths, it's time to bring some extra fabric to our favorite coat. The maxi camel trenchcoat is a staple for the fall since there are multiple ways to wear it. Simply close and belt it for a trenchcoat maxi dress style, or use it to cover your entire wardrobe. For those rainy days, these maxi-length trenchcoats will conceal your clothes from the elements or make your outfit chicer without showing what's underneath.
Business casual coat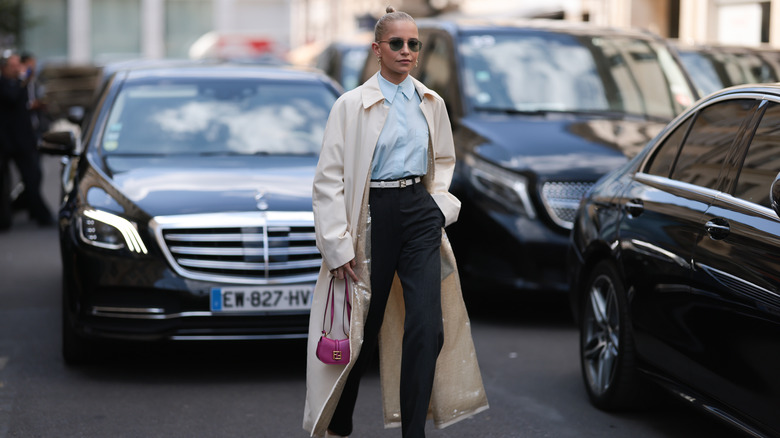 Jeremy Moeller/Getty Images
A chic camel trenchcoat works for dressed-up and casual looks alike. However, this piece shines best when styled against stylish dressy pieces. To get the most from your trench, try matching it with a button-down top, trousers, and heeled boots. Don't forget to add minimalist accessories like belts and earrings for a complete look. Not only will this be your go-to outfit formula for the season, but it will look like you're always running out of a meeting.
Over pops of color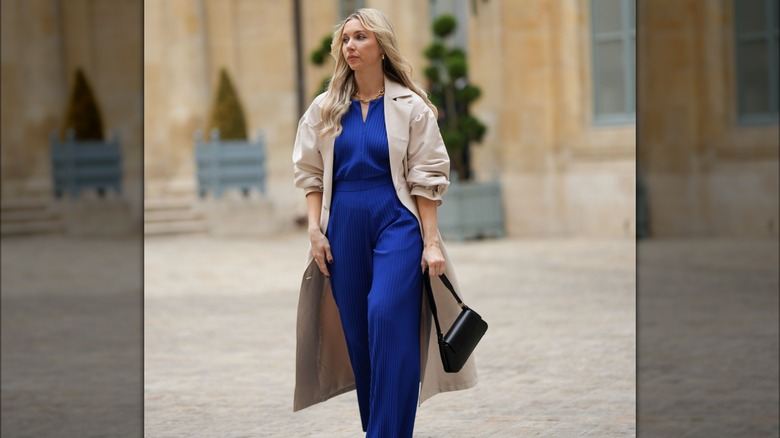 Edward Berthelot/Getty Images
Camel trenchcoats go with practically anything since they feature a neutral hue. This flexibility comes in handy when you're looking to create a vibrant look. A camel trenchcoat in your closet will tone down your saturated, maximalist looks, make them seem more expensive, and save you from accidentally wearing a mismatched coat.
Light camel trench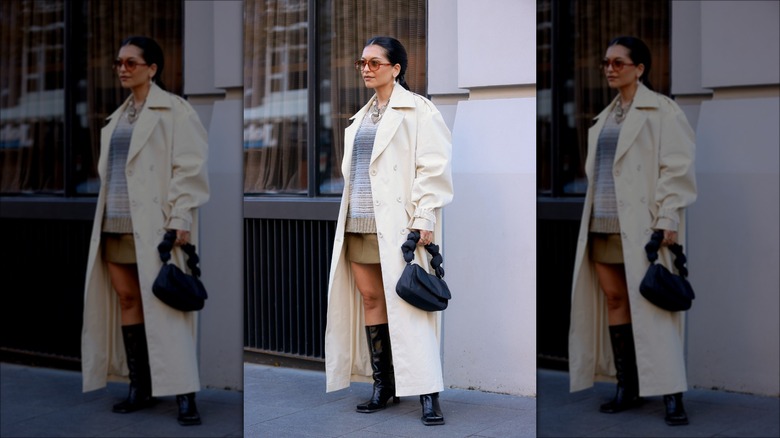 Hanna Lassen/Getty Images
The camel color can come in various tones and hues. Most know it in the natural camel-khaki shade, but there are also lighter options that stand out. A lighter, creamy camel trenchcoat has the same versatility as a regular camel trench but comes with the twist of an almost-white quality. This light-colored option is perfect for those who want to avoid a darker outfit. A brighter camel coat also helps create more contrast against all-black looks, which are staples of the fall season.
Oversized coats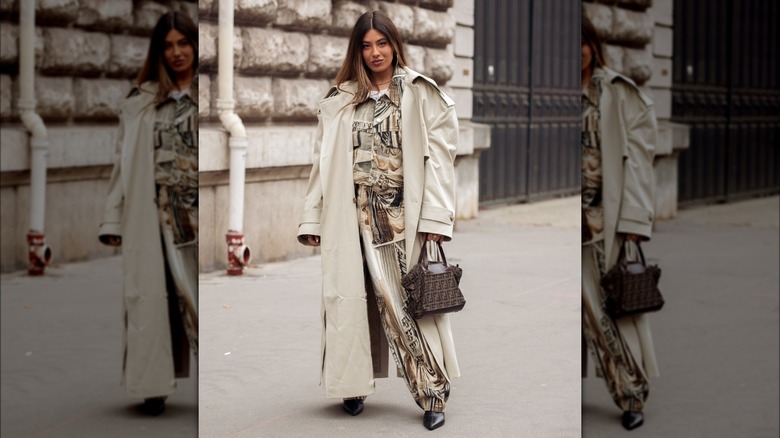 Raimonda Kulikauskiene/Getty Images
Like the maxi-lengths, oversized is also having its moment in fashion. An oversized camel trenchcoat might seem overwhelming, but it's an ideal finishing piece to bring your look together. Acting like a blanket, the oversized trenchcoat appears chaotic and unleveled but in the most high-fashion way possible. Add a belt on top to cinch everything together and look more polished.
Add the accents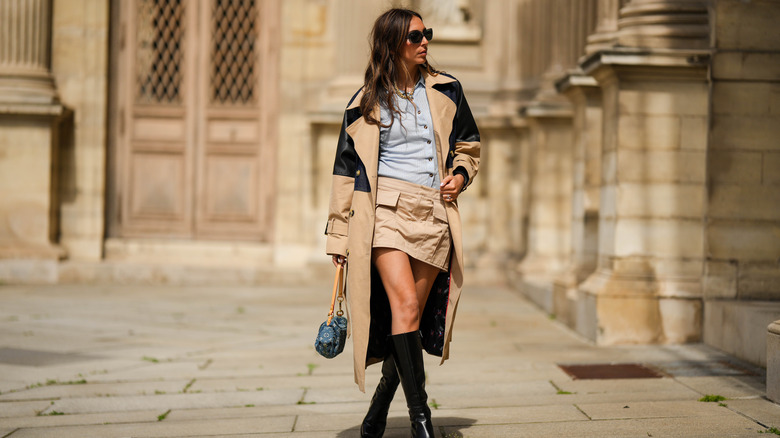 Edward Berthelot/Getty Images
Although the classic camel trenchcoat is iconic, there's nothing wrong with giving it some flair. Add finishing touches to your camel trenchcoat, like suede material, leather accents, or rhinestones, to give it a more dynamic vibe. A simple way to add a different look to your trench is by swapping out the camel belt it comes with and adding a uniquely colored belt. This switch can take your coat to the next level, making it more tailored to your style.